'Future Forward' take their first steps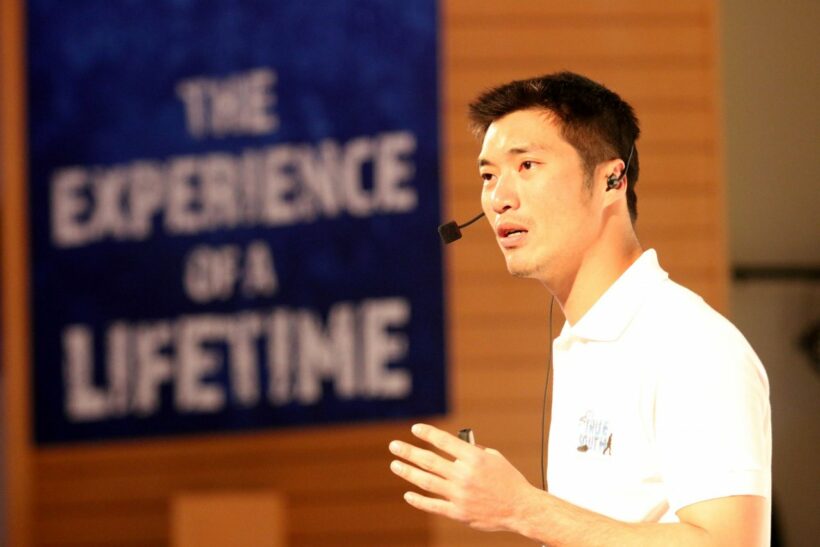 By Wasamon Audjarint
With a promise of inclusive democracy to resurrect politics from its "lost decade", the young-blood Future Forward Party was launched yesterday.
Thanathorn Juangroongruangkit, a scion of the Thai Summit business family, and law academic Piyabutr Saengkanokkul yesterday launched the party at a "Drinking Coffee with Thanathorn and Friends" event, ostensibly named to circumvent the junta's ban on political gatherings of five or more people.
They also submitted their application for registration of the new party to the Election Commission after the introductory event. Thanathorn, Piyabutr and 24 others hailing from a cross-section of society co-founded the party with the aim of restoring faith in participatory democracy after Thailand has been bogged down in more than a decade of political crises and coups.
Promoting human rights as their key theme, they said they would not follow the patterns of old-fashioned politics with military people as key players and military-designed mechanisms. The party, after contesting in the next general election, will have to engage in the parliamentary process stipulated in the junta-written 2017 charter, which provides for a junta-handpicked Upper House and complex voting systems that will pose stiff challenges for contesting parties.
Thanathorn pledged that the party's MPs would not take part in the "undemocratic" process of selecting an "outsider PM" with appointed senators.
Thanathorn and Piyabutr said they did not want to defy the junta's political ban, but did not elaborate on their political plans for the upcoming election, now scheduled for February next year. The 39-year-old tycoon said he did not agree with the ban and called for it to be lifted to allow all parties to get started and reach out to people during the pre-election period.
Hyped in social media as a "new hope", the party is made up mostly of members from progressive backgrounds. Thanathorn was once a student activist who joined protests with grassroots people before turning into the tech-savvy vice executive chairman of Thai Summit Group.
Piyabutr was well known as a member of the academic group Nitirat that has opposed Article 112 of the Criminal Code banning lese majeste, which the group believes has been misused with political motives. Piyabutr said his stance on Article 112 remained the same but it did not mean it would be co-opted in the agenda of Future Forward Party.
"Democracy is the key theme of our party. Any policy will have to be based on consensus," he said.
Other members of the party include the former director of Amnesty Thailand, Chamnan Chanruang; education academic Kunthida Rungruengkiat; disabilities rights activist Nalatporn Krairerk; and print labour union president Surin Khamsuk. They said they were unable to announce their policies yet due to the junta's ban, but added that the focus would be on the lost benefits of social minorities and disadvantaged people.
"I wish that people of all sexes, genders and ideologies can be viewed equally as humans," said Nalatporn.
"Disabilities might have been seen as burden but I believe we can push for more beneficial policies through a party system." Meanwhile, Democrat Party leader Abhisit Vejjajiva said new parties like Thanathorn's would force his own party to work harder in responding to the people's needs. Pavin Chachavalpongpun, an exiled professor and prominent junta critic, described Thanathorn as "a breath of fresh air".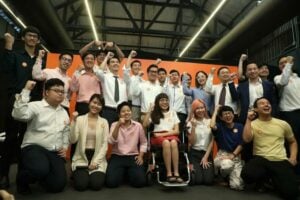 COMMENT
The two words that will cause problems for 'Future Forward' are 'future' and 'forward' – taking Thailand into its future as a citizen of the world and being 'forward' thinking are not ideologies that fit well with the old guard, Bangkok's elite or the military. Whilst we haven't seen all the Future Forward polices mapped out as yet, due to the ban on political meetings, we did get to meet many of Future Forward's team 'over coffee' yesterday (must have been a very busy barista).
Apart from the 39 year old car-parts billionaire pin-up boy there's a lot of forward-thinking academics lining up behind Thanathorn to give his fledgling party depth and width. Law students, professional protestors, legal advisors, journalist-specialising-in-disability-issues, an expert in Finland's education system, a LGBT activists – no doubt worthy, interested, motivated people but perhaps a bit green going up against seasoned politicians. Or the Thai military machine which represents Thailand's 'old ways' and all the things Future Forward want to change.
It's going to be an interesting run up to next February's election.
Tim Newton, Phuket Gazette
ORIGINAL STORY: The Nation
Keep in contact with The Thaiger by following our
Facebook page
.
Never miss out on future posts by
following The Thaiger
.
UPDATE: Bangkok protesters mass at the front of Government House, earlier PM addresses nation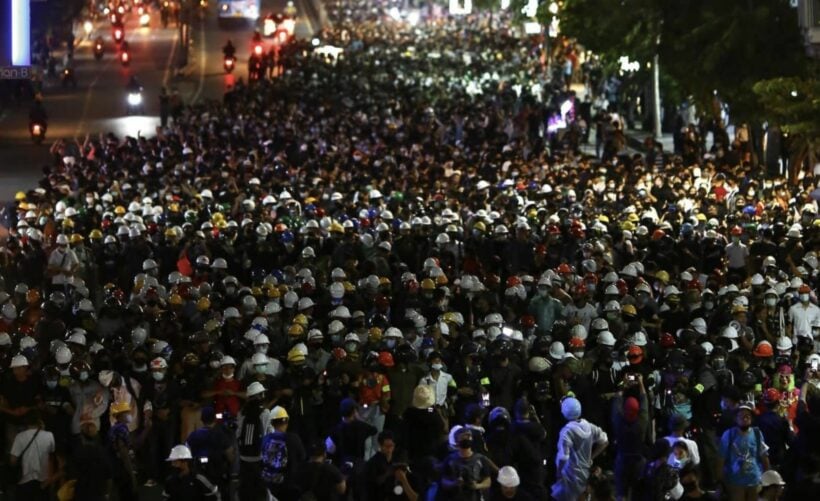 UPDATE: The protesters announced that the rally would end and disperse peacefully at 9.35pm. They wrapped up the gathering after delivering a symbolic letter of demand for the prime minister's resignation at the front of Government Hose. Apart from some earlier scuffles with police around 7pm, there were no major incidents this evening.
EARLIER: Happening at Bangkok's Government House around 9pm…
Protesters started arriving around 7.30pm, again demanding the PM's resignation, and even had a letter prepared for him to sign, PM Prayut was not at Government Hose at the time. Protesters continued to amass at the front of Government House after breaking through a police cordon at Urupong Intersection. Earlier they gathered at the Victory Monument roundabout (and BTS station).
Police have blocked off the entrance to Government House with 2 public buses, barbed wire and police dressed in riot gear that have been shipped in from Saraburi Province. Protesters are already preparing for a potential confrontation and are dressing in raincoats, hardhats, goggles and armed with umbrellas, presumably in anticipation of another spray from the water cannons. They continue to shout "Prayut, get out!" Protest leaders are also calling on the growing crowd to remain "chilled" and not resort to violence.
"If he won't resign, we won't go home."
Behind the 2 buses there are also the high powered water cannons which were used against protesters last Friday night at the Prathunwan intersection in central Bangkok. Despite the calls for the continuation of a peaceful protest, both sides appear ready for some conflict this evening. Earlier protesters were demanding the release of some of the movement leaders who continue to be arrested with an array of charges, some still in detention in prisons north of the city.
The Prime Minister appeared on television tonight at 7pm and committed to the Thai people to help resolve the current impasse between the widening protest movement and the Government. He went on to say that his government "is prepared to withdraw emergency rules banning large gatherings in Bangkok" if the growing protest movement "remains peaceful".
"At this point, we all need to take a step back, to step back from the brink, away from the path that would plunge Thailand into disaster."
PM Prayut did no address the issue of the demands for his resignation.
An emergency session of Parliament has been scheduled for next Monday and Tuesday where opposition parties say they will challenge the government coalition to address the demands of the protesters, including the tetchy issue of reforming the role of the Thai monarchy.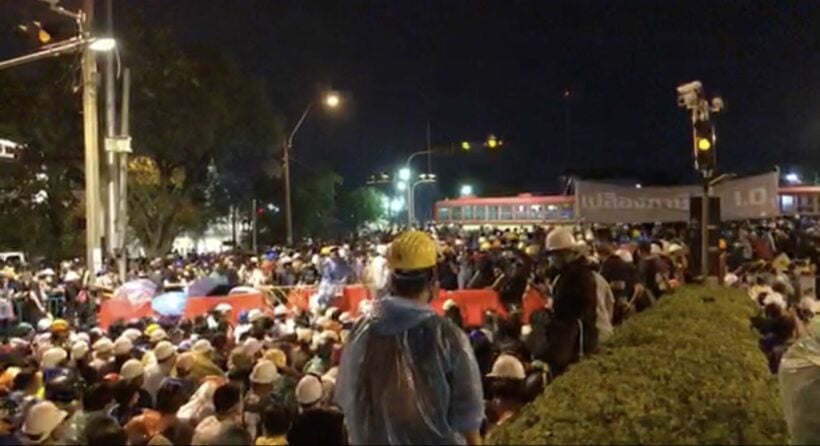 Keep in contact with The Thaiger by following our
Facebook page
.
Never miss out on future posts by
following The Thaiger
.
Samut Prakan woman bitten by snake while using the toilet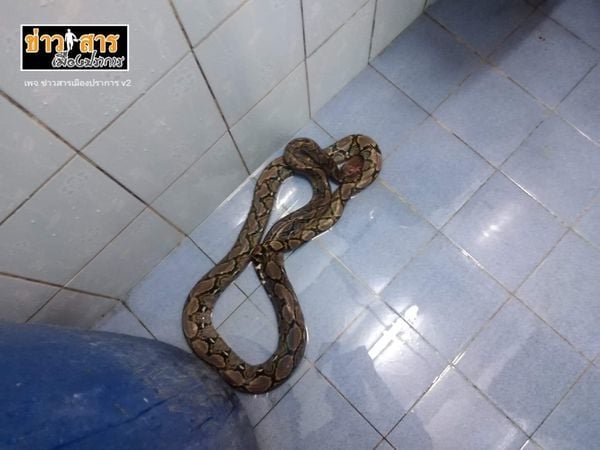 A python has bitten a woman on her backside and finger while using the toilet at a home in Samut Prakan, southeast of Bangkok. Rescue volunteers were called to her home, and said there was a lot of blood at the scene. The woman was later taken to the hospital.
The incident may sound shocking to some, but in Thailand, reports of snakes biting people who are on the toilet isn't that uncommon. Snakes can live and thrive in the sewers, usually hunting down rats, and sometimes enter pipes leading up to the toilet bowls.
Just last month, an 18 year old university in Nonthaburi, a suburb just west of Bangkok, was bitten on his penis by a python that was in the toilet bowl. He had to get 3 stitches. Another man's penis was bit by a snake while he was using the bathroom last year. He ended up with 15 stitches.
SOURCE:Facebook
Keep in contact with The Thaiger by following our
Facebook page
.
Never miss out on future posts by
following The Thaiger
.
One more person faces possible life sentence for alleged acts during royal motorcade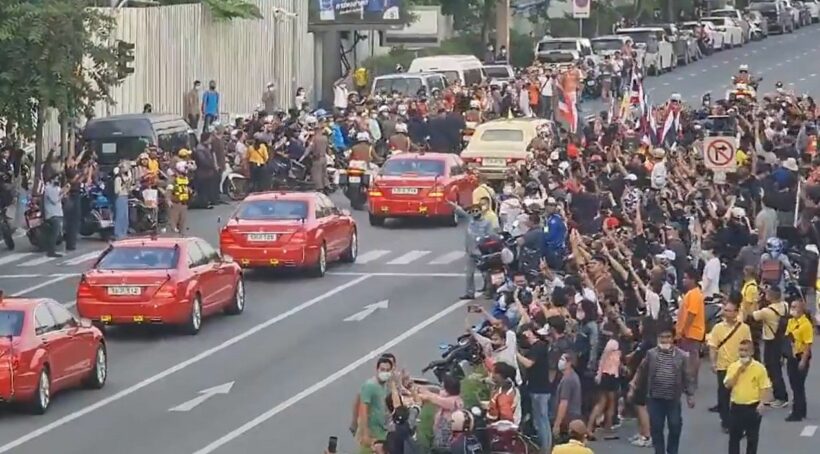 Police have issued an additional arrest warrant for a protester who allegedly attempted to "harm the HM the Queen's liberty" during a royal motorcade last week. The motorcade happened to be on the same day and same route as a pro-democracy protest in Bangkok. So far, 3 protesters face charges for an alleged "act of violence against the HM the Queen's liberty" and could face up to life in prison if found guilty.
Suranat Paenprasert, a coordinator for Active Youth, now faces charges of 16 to 20 years in prison, or even up to life in prison, for allegedly violating Section 110 of Thailand's Criminal Code which prohibits acts of violence against the HM the Queen or Her liberty.
Section 110: Violence against the Queen
Whoever commits an act of violence against the Queen or Her liberty, the Heir-apparent or His liberty, or the Regent or his/her liberty, shall be punished with imprisonment for life or imprisonment of sixteen to twenty years.
2 other protesters, Ekkachai Hongkangwan and Boonkueanoon Paothong, also face the same charges of alleged "violence against the Queen's liberty" during the royal motorcade. The New York Times reports the "act of violence" was apparently yelling at the royal motorcade. In photos, crowds of protesters were seen on the royal motorcade route holding their hands up in the 3-finger salute, a symbol of defiance.
Many of the protesters were also shouting "our taxes", in Thai, at the occupants of the yellow Rolls Royce.
Ekkachai and Boonkueanoon may also face charges under Thailand's lèse majesté law under Section 112 of Thailand's Criminal Code, according to an earlier report from the Bangkok Post. If found guilty, the additional charge would make their punishment more severe.
Section 112: Insulting or Defaming the Royal Family
Whoever, defames, insults or threatens the King, the Queen, the Heir-apparent or the Regent, shall be punished with imprisonment of three to fifteen years.
SOURCES: Nation Thailand | New York Times
Keep in contact with The Thaiger by following our
Facebook page
.
Never miss out on future posts by
following The Thaiger
.