E-commerce sites will be blocked if they don't pay local VAT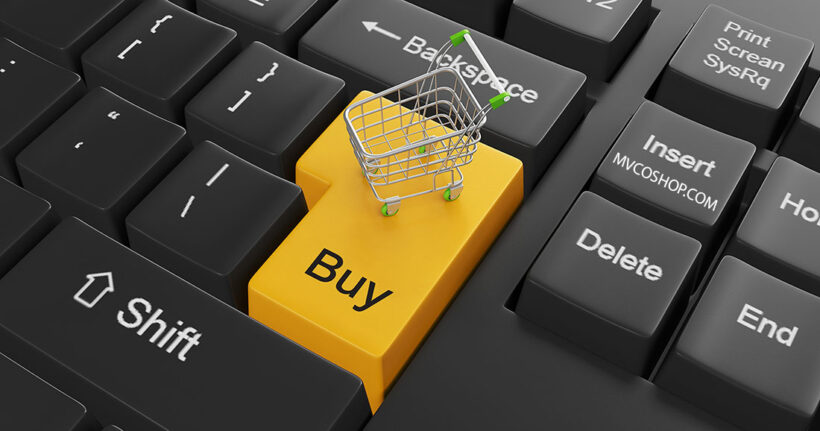 Do you shop online? Plenty do, and increasingly retail is heading offshore and the main winners are Thai Post. A legal loophole, allowing foreign e-commerce companies to avoid paying Thai VAT, may soon be plugged with new legislation.
But the Thai Revenue Department is threatening to block giant foreign e-commerce websites if they don't pay VAT taxes in the future, according to The Nation.
Director general Prasong Poonthanet says the department would this month submit a tax bill covering e-commerce to Finance Minister Apisak Tantivorawong for endorsement before it goes to Cabinet for approval.
If the draft law is approved, it will be forwarded to the National Legislative Assembly for debate. Prasong said the department wanted to impose a 7% VAT (value added tax) on goods sold to consumers in Thailand.
The department would seek collaboration from the Digital Economy and Society Ministry in encouraging foreign e-commerce operators to participate in the tax collection system, he said.
His comment signalled that Thailand is prepared to block foreign e-commerce websites if they refuse to pay local taxes. Asking whether such operators might attempt to shift the tax burden to Thai consumers, Prasong said if they charged higher prices, consumers would instead buy from local businesses.
Currently, he says, foreign e-commerce operators take advantage of a legal loophole by issuing multiple bills for each transaction, none for more than 1,500 baht and thus not subject to taxation.
SOURCE: The Nation
Keep in contact with The Thaiger by following our
Facebook page
.
Local residents and vendors demand action on Pattaya Beach erosion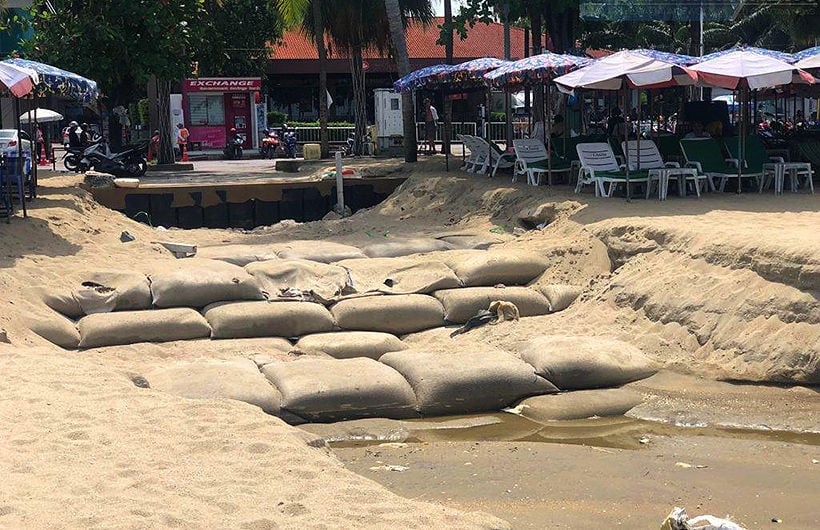 PHOTOS: The Pattaya News
Recent heavy rains over the past week in Pattaya have caused significant deep erosion and gaping holes on Pattaya Beach that have now been sitting in plain view for nearly a week. The situation is an unsightly embarrassment and a potential hazard for tourists, according to local residents and beach vendors.
The Pattaya News reports that, earlier this week, storm waters were flowing onto Pattaya beach into the Gulf after torrential rains, notably at the beach area near Central Festival Pattaya, and have been washed away.
The erosion is at least a metre deep in places, exposing some of the underpinning sand-bag foundations that were placed there doing the re-instatement works last year. Local vendors are complaining that tourists were avoiding the beach.
Beach vendors say this erosion has happened nearly a week ago and is very dangerous especially at night time. They are asking for city officials to speed up repair work and fix the problem.
Earlier this week residents were complaining about an unknown white sediment floating around some of the areas where the erosion had occurred. Last year some 400 million baht was spent re-building some of Pattaya's beaches which end up damaged and washed out to sea any time there are heavy rains.
SOURCE: The Pattaya News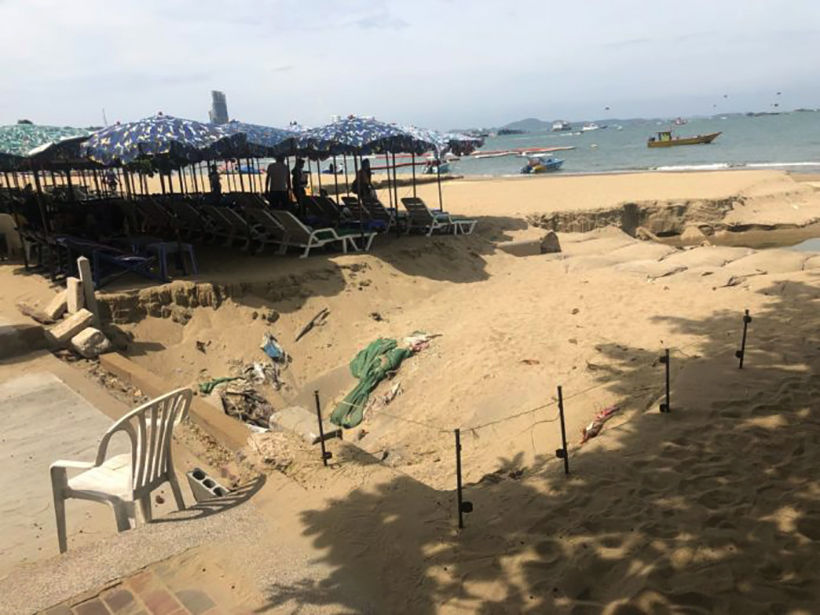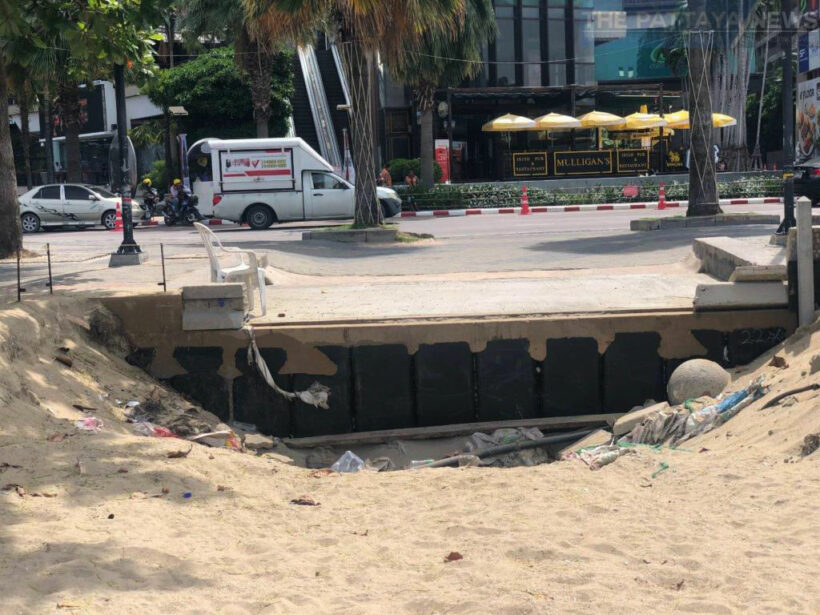 Keep in contact with The Thaiger by following our
Facebook page
.
Charter court will hand down ruling on Thanathorn share case on November 20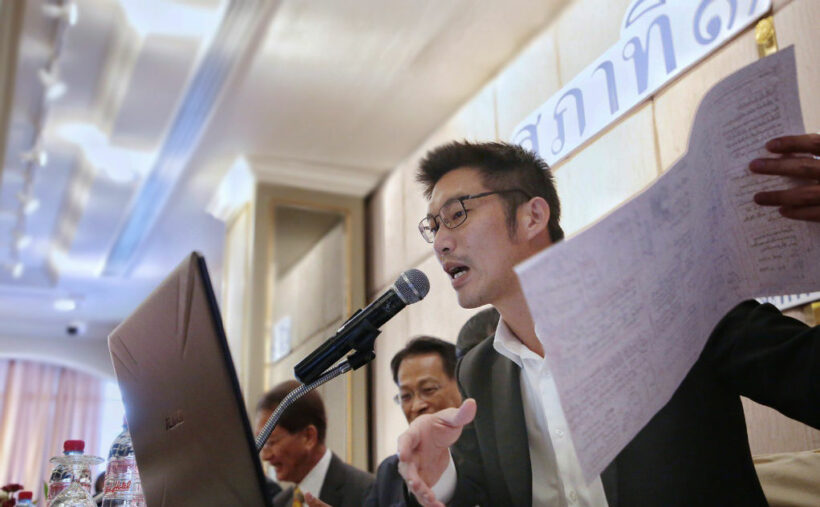 PHOTO: Thai PBS World
The Thai Constitutional Court is set to issue a ruling in Future Forward party leader Thanathorn Juangroongruangkit's media share ownership case on November 20. The court wrapped up its inquiry yesterday with the questioning of ten defence witnesses, including Thanathorn who arrived at the court greeted by well-wishers.
Thanathorn, who held 675,000 shares in V-Luck Media, has repeatedly insisted they were sold to his mother on January 8, weeks before he registered to run as a candidate.
As judges fired questions at him during today's hearing, the usually cool-headed party leader appeared tense, saying he couldn't recall the legal details of divesting the shares. His supporters say the case has been trumped up to take out Thailand's most popular politician and deliver a gut punch to the FFP and its radical reform agenda.
Read more about the case HERE.
Both Thanathorn and the Election Commission, which filed the case with the Constitutional Court, were given 15 days from today to submit their closing statements to the court.
SOURCE: Thai PBS World
Keep in contact with The Thaiger by following our
Facebook page
.
Soi Dog assisting displaced animals in flood-ravaged north east Thailand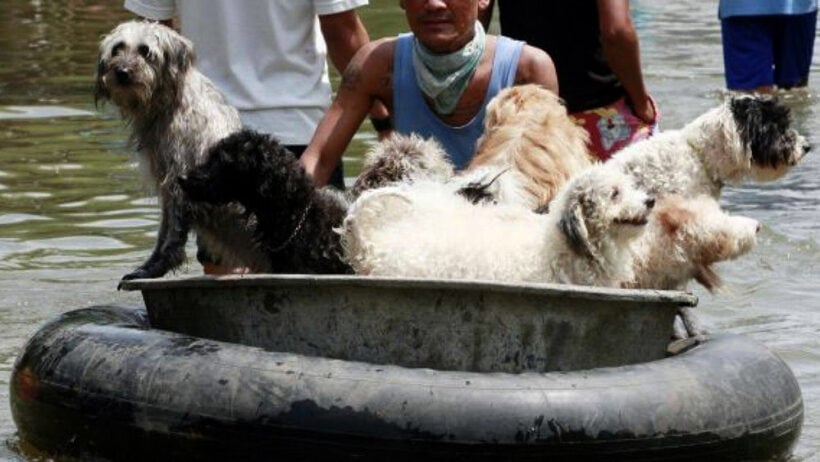 PHOTO: Fox News
The record flooding in September in the province of Ubon Ratchathani, north east Thailand, lead to the destruction of many homes, the fleeing of hundreds of people to safe areas and the subsequent leaving behind of many owned pets, as well as the displacement of a large number of stray animals who live in the area.
The Soi Dog Foundation has cooperated with the Department of Livestock Development in Ubon Ratchatani to help both the domestic and stray animals affected by the floods.
Focusing on their well-being, especially dogs, the foundation joined the campaign to raise help using the #SaveUbon hashtag with Facebook fan page posts, and supported with the donation of 10.8 tonnes of dog and cat food, and 5 bamboo pavilions for stray dogs stranded in an open space without protection from the sun at the area of ​​Tha Kok Hae temple, Muang District. There are still many dogs that need to be taken care of.
Soi Dog has also provided a mobile sterilisation clinic to neuter and vaccinate these dogs from both Muang and Warin Chamrap districts throughout October.
Together with Chomromkhonraksard Ubon (Ubon Animal Lovers Club), Soi Dog is also helping to find owners of the dogs that became lost during the flooding. The foundation had moved 60 dogs to house of Ms.Orathai Saisena, an Ubon Ratchatani woman who has a history of helping stray dogs around the town by providing temporary shelter at her home, including many dogs in the area which were scattered after the floodwater receded.
Right now, Soi Dog and the Ubon Animal Lovers Club are coordinating to help reunite owners and pets.
For further information about Soi Dog, and their work, click HERE.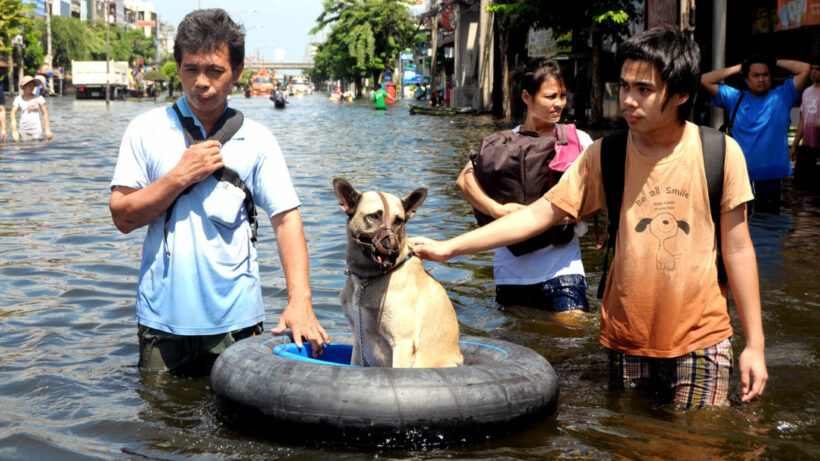 PHOTO: grist.org
Keep in contact with The Thaiger by following our
Facebook page
.