E-commerce sites will be blocked if they don't pay local VAT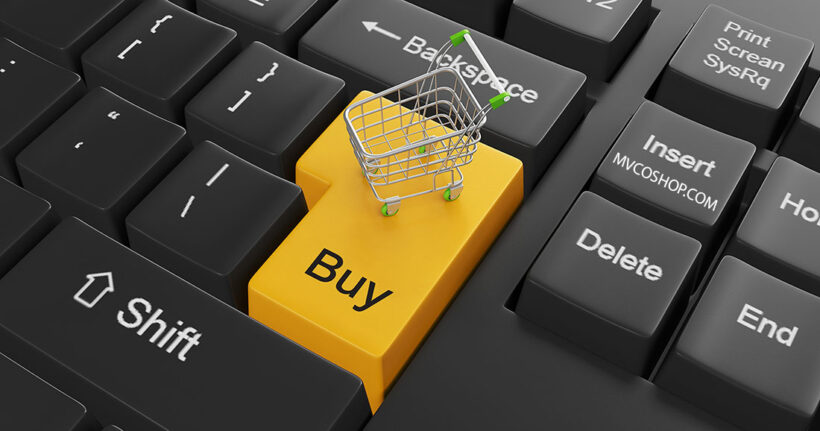 Do you shop online? Plenty do, and increasingly retail is heading offshore and the main winners are Thai Post. A legal loophole, allowing foreign e-commerce companies to avoid paying Thai VAT, may soon be plugged with new legislation.
But the Thai Revenue Department is threatening to block giant foreign e-commerce websites if they don't pay VAT taxes in the future, according to The Nation.
Director general Prasong Poonthanet says the department would this month submit a tax bill covering e-commerce to Finance Minister Apisak Tantivorawong for endorsement before it goes to Cabinet for approval.
If the draft law is approved, it will be forwarded to the National Legislative Assembly for debate. Prasong said the department wanted to impose a 7% VAT (value added tax) on goods sold to consumers in Thailand.
The department would seek collaboration from the Digital Economy and Society Ministry in encouraging foreign e-commerce operators to participate in the tax collection system, he said.
His comment signalled that Thailand is prepared to block foreign e-commerce websites if they refuse to pay local taxes. Asking whether such operators might attempt to shift the tax burden to Thai consumers, Prasong said if they charged higher prices, consumers would instead buy from local businesses.
Currently, he says, foreign e-commerce operators take advantage of a legal loophole by issuing multiple bills for each transaction, none for more than 1,500 baht and thus not subject to taxation.
SOURCE: The Nation


Read more headlines, reports & breaking news in Thailand. Or catch up on your Thailand news.
Chiang Mai Song Thaew drivers see red over Grab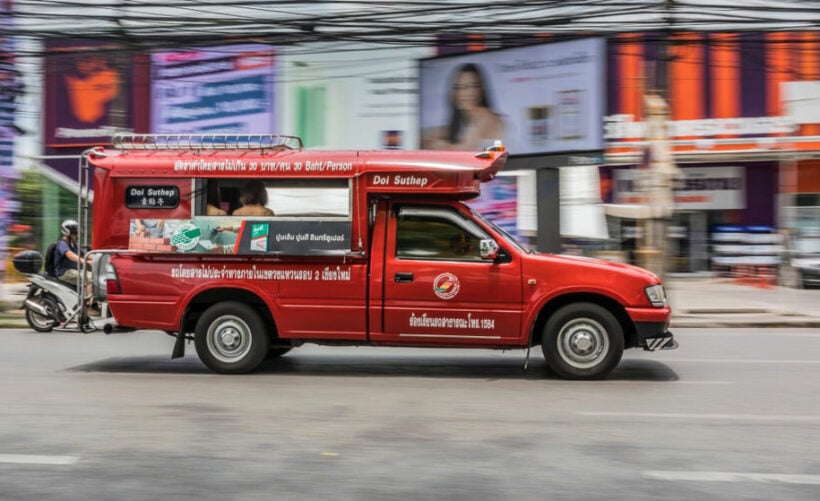 Chiang Mai's Grab vs traditional public transport continues. The issue has simmered for two years with occasional outbreaks of violence and an ongoing war of words on social media.
Thai PBS reports that the spat has become a major problem again between the public Red Song Thaews  and Grab Cars in the northern city.
On the one hand members of the public are finding Grab more convenient, personal and better service. While the Red Bus drivers are complaining that their income is dropping, by more than 50% in some cases.
The Department of Land Transport and airport authorities reported 344 Grab drivers had been fined for picking up passengers at Chiang Mai airport since January 1.
Speaking to Thai PBS, students said Grab was much better and provided a personal service often at only a small increased cost.
"It goes to exactly where we want and is quicker than waiting for a Red Bus."
One student even claimed they had been dumped so that the Red Bus driver could pick up tourists – a more lucrative kind of passenger.
The deputy of the local Red Bus association Bunreuang Wangmee said his organisation represented 2,465 members. While he admitted that some overcharged most kept to the 20 baht to 30 baht charges. He claimed that meant they were better value than Grab Car.
He said that some of his members had seen their daily income plummet from 1,200 baht to 400-500 baht per day.
SOURCE: ThaiPBS
WeWork opens up in Bangkok. What is WeWork?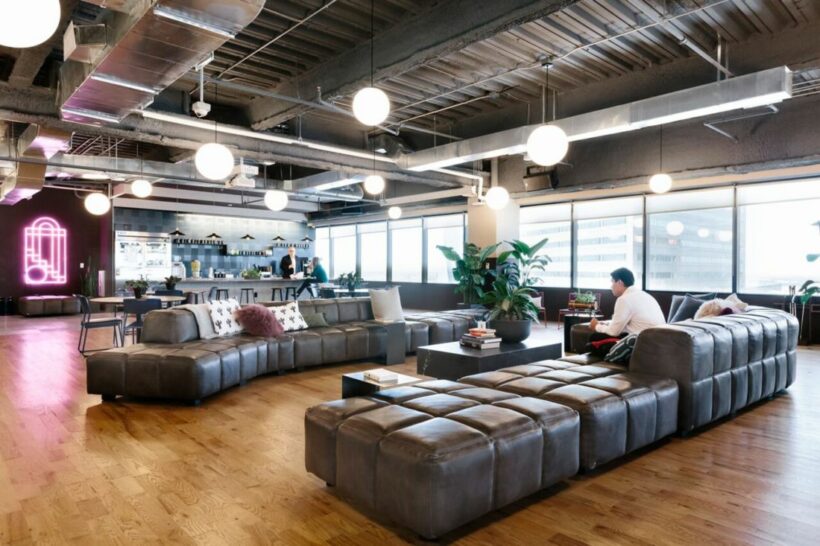 "This will pave the way for WeWork's unique proposition to connect two major groups within the WeWork community: corporations looking to innovate, and start-ups looking to grow and better establish their business."
WeWork has started operations in Thailand. So what is WeWork?
WeWork – a platform for creators that provides space, community and services to help people build a life, not just a living – announced yesterday that it was officially entering Thailand with the introduction of WeWork Labs in Bangkok's Asia Centre Building on Sathon Road and T-One Building on Sukhumvit Road.
Fortified by strong demand from enterprises, small and MSMEs (micro, small, and medium entrepreneurs) and start-ups, the American company is making landfall in Sathorn and Thonglor. In Asia Centre, WeWork will occupy five floors, welcoming 1,200 members to its community, while it will occupy seven floors in Thonglor's T-One accommodating 1,700 members.
"With Thailand embarking on a new phase of economic development, building on its digital transformation goals, WeWork is committed to becoming a partner to help achieve the 'Thailand 4.0' vision by acting as a launch pad for the mid market segment," WeWork's Southeast Asia managing director Turochas "T" Fuad said.
"As our footprint in Thailand grows, we see a huge potential for serving the demand from the MSMEs to Fortune 500 companies looking to us as a solution for flexible, high-quality spaces, along with accelerating their business in the local ecosystem empowered by a global network."
"As we are creating a new engine to drive the Thai innovation economy, we see how start-ups in Thailand need the global and Southeast Asian perspectives to attract investments and break into new markets," said Dr Krithpaka Boonfeung, deputy executive director for the National Innovation Agency's innovation system.
"With WeWork Labs' expertise in stimulating the growth of local start-ups and innovation-based businesses, we are confident that closer partnerships will pave the way for strengthening Thailand's local ecosystem."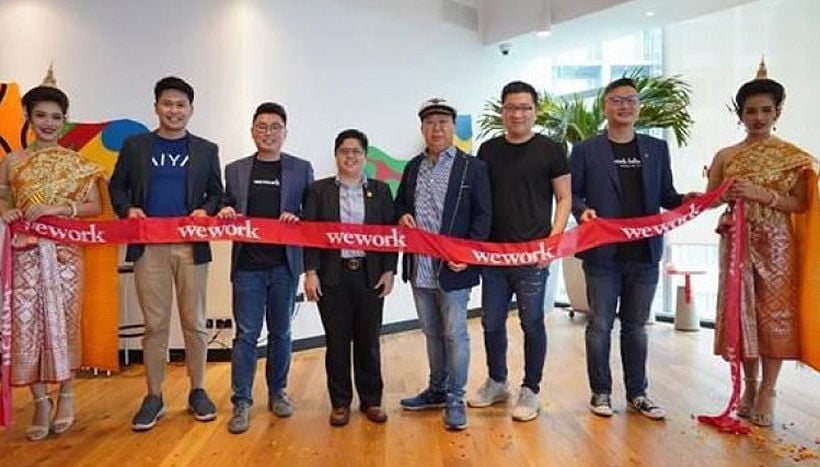 SOURCE: The Nation
French man arrested stealing mobile phone in Pattaya – VIDEO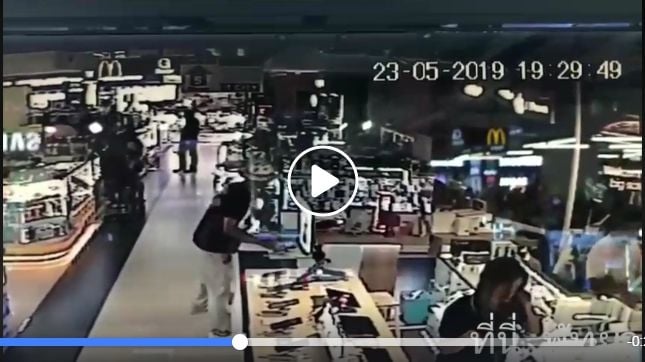 VIDEO: Pattaya Message
A French man has been charged after snatching a smartphone in a department store in Pattaya.
The Pattaya Message reports that Mueang Pattaya Police were notified of the incident yesterday evening. Police arrived and took the suspect into custody after other shop-holders helped to catch the suspect.
The man was identified by police as 40 year old Laurent Meriem, a French national. He had snatched the Huawei P30 Pro smart phone worth 31,900 baht. He was taken to the Meang Pattaya Police where he was charged with theft.
Perhaps he hadn't read the latest news about Huawei's phones!?
วงจรปิดจับภาพต่างชาติขโมยโทรศัพท์บนห้างพนักงานไล่จับส่งตำรวจวุ่น เมื่อเวลา 21.30 น.วันที่ 22 พฤษภาคม 2562 ร.ต.อ.เจนรพ วันทองสังข์ รอง สวป.สภ.เมืองพัทยา จ.ชลบุรี รับแจ้งจากประชาชนว่าได้ควบคุมตัวผู้ก่อเหตุลักทรัพย์ไว้ได้ เหตุเกิดที่ร้านโทรศัพท์ บีบี โฟน ภายในห้างตึกคอมพัทยาใต้ ต.หนองปรือ อ.บางละมุง จ.ชลบุรี หลังรับแจ้งจึงนำกำลังเจ้าหน้าที่ตำรวจรีบเดินทางไปตรวจสอบ ที่เกิดเหตุพบพลเมืองดีและพนักงานร้านควบคุมตัวผู้ก่อเหตุทราบชื่อภายหลังคือMR.MERIEM LAURENT อายุ 40 ปี สัญชาติฝรั่งเศส พร้อมของกลางโทรศัพท์มือถือ ยี่ห้อหัวเว่ย รุ่น พี 30 โปร สีน้ำเงิน จำนวน 1 เครื่อง มูลค่า 31,900 บาท จึงควบคุมมายัง สภ.เมืองพัทยา พร้อมแจ้งข้อกล่าวหา ลักทรัพย์ในเวลากลางคืน เป็นบุคคลต่างด้าวหลบหนีเข้ามาอยู่ในราชอาณาจักรไทยโดยไม่ได้รับอนุญาต ส่งพนักงานสอบสวนดำเนินคดีตามขบวนการทางกฎหมายซึ่งทางพนักงานร้านได้นำกล้องวงจรปิดในขณะเกิดเหตุมอบให้เจ้าหน้าที่ตำรวจไว้เป็นหลักฐาน ซึ่งจับภาพขณะที่ผู้ก่อเหตุเป็นผู้ชายลักษณะสูงใหญ่สวมกางเกงขายาว เสื้อสีดำลายสมอ สวมหมวก ทำทีเดินดูโทรศัพท์ แล้วอาศัยจังหวะที่พนักงานร้านเผลอหยิบโทรศัพท์ แต่โทรศัพท์ได้มีการป้องกันโดยติดตั้งสายสัญญาณเตือนไว้ ทำให้ผู้ก่อเหตุต้องออกแรงกระชาก แล้วออกตัววิ่งหนีอย่างรวดเร็วท่ามกลางสายตานักท่องเที่ยวจำนวนมาก เมื่อพนักงานร้านสังเกตเห็นและสัญญาณเตือนภัยดัง จึงรีบวิ่งตามไปก่อนที่จะมีพลเมืองดีช่วยจับกุมส่งเจ้าหน้าที่ตำรวจได้ดังกล่าว

Posted by Pattaya Message on Wednesday, May 22, 2019