Local gelato producers serve up the good stuff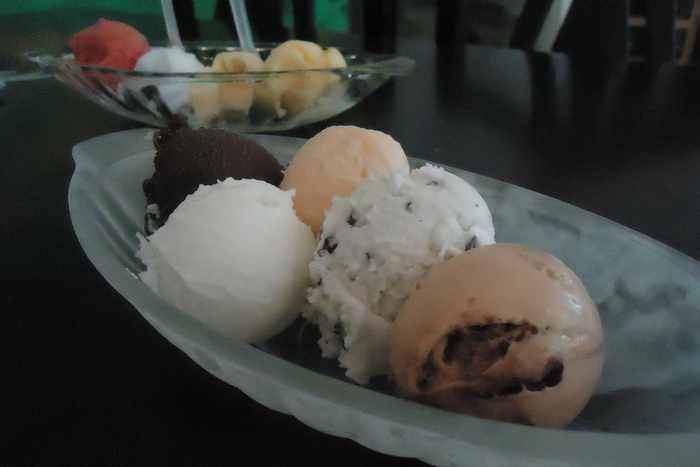 PHUKET: In the high season, more than 4,000 scoops of gelato and sorbet – chocolate, licorice, durian, rice and wasabi flavors among them – are produced every day on Phuket by local ice cream makers.
Though that's nearly 10,000 kilograms a month, and does not include sales by big players such as Haagen Dazs and Movenpick, there is still room in the business for newcomers.
So says Pittaya "Net" Phasee, and he should know. Trained as a telecommunications engineer, Net changed his career course dramatically after a posting in Australia led him to discover the creamy delights of a Melbourne shop called Gelatissimo. He opened Gelato Time three years ago, and hasn't looked back.
"It's hot here, and there are a lot of tourists," he says; explaining the key ingredients of ice cream success.
Though the Gazette's four featured gelato makers all came to the business via different routes, learning their craft in school, from a relative or from a long-time professional, each has found a unique way to shine in the Phuket market.
Carving out a niche
The biggest local producer is Giovanni Durante of Pluto Ice Cream. With a staff of 16, he churns out a staggering 9,000kg of gelato per month in the high season.
With a certificate of authenticity from the Thai-Italian Chamber of Commerce, Giovanni, who has an uncle in the business in Italy, takes pride in making the real McCoy. He uses real Italian machines and imports the best Italian ingredients.
"In Thailand, there are a lot of copies," he says. "I only use genuine ingredients."
He supplies about 80 per cent of Phuket's five-star hotels, numerous local restaurants, and exports his gelato to nearby provinces and as far afield as Bangkok and Chiang Mai. Two years ago he also opened a factory in Vietnam.
Fellow Italian Flavio Manzoni is a chef by profession and makes his Manzoni gelato "as a hobby". Working with hotels and chefs to develop special flavors to pair with selected menu items, he has created more than 300 flavors.
"I once made a seaweed and wasabi flavor for a Japanese restaurant," he says. "It tasted fishy and spicy. They loved it."
He's also made goat milk with fruit, white carrot, and roasted cherry tomato sorbet with basil.
Many of Flavio's flavors are 100 per cent organic, made with milk sourced by Pura Organic and coconut syrup instead of sugar.
Since opening his shop five years ago, he has built up a client base that includes hotels, schools and restaurants in Phuket and Khao Lak.
The longest-running gelato producer is Kanchana Buranadunrongkul. When she opened Gelati Natura in Patong more than 25 years ago, it was only the second ice cream shop in the town. The shop is closed now but the tradition continues, as the gelato is sold in Da Sandro, the restaurant she runs with her son, Alessandro Vassallo, and to a few long-standing hotel customers on the island.
Kanchana continues to use the recipes she learned in Italy from a family in the business for more than a century, with one small change.
"People want less sugar these days, so I've reduced the amount I use just a little bit," she says.
Newcomer Net's niche is Asian tourists and the fruit flavors that appeal to them.
"I'd say 70 per cent of my customers are Chinese," he says. "They love my durian and mango flavors."
He uses only the best durian – montong, as well as nam dok mai mango, star gooseberry and passionfruit.
Starting out, Net tried to sell to hotels, but most already had suppliers. Schools were a problem because "there were too many vacations".
He now sells his ice cream by the cup at key tourist locations on Phuket, including the Big Buddha, Simon Cabaret, O2 Beach Club and Phuket Paradise Trip, and also supplies a cafe and disco in Phang Nga.
Costs
Getting started in the business is not cheap. A top of the line Carpigiani gelato machine costs more than seven million baht.
But treated right, machines can be a one-time charge. Alessandro told the Gazette that his machine was purchased secondhand – 20 years ago.
"It was an investment, even that many years ago, but it is still running," he said.
Imported ingredients aren't cheap either. The vanilla beans that go into Pluto's ice cream cost 400 euro per kilogram. They have an intoxicatingly deep, sweet scent unlike anything available in the grocery store and just three are enough to make 120kg of gelato.
Giovanni uses five sugars to make his gelato perfectly creamy. One of them costs 7-800baht/kg, but it's worth it, he says, to ensure that you "never find one little bit of ice" in his products.
Challenges
Though machines do the mixing, a little elbow grease is still required.
On occasion, Net single-handedly scoops out 500 cupfuls of ice cream in a single day. And though Kanchana has help now, her recipes used to require her to crack open 210 eggs in one sitting.
Recipes that are sure-fire elsewhere may need revision to produce a delicious result here.
"The sugar is not as refined here, the milk and whipped cream are different, even the water is different – in Italy it has more minerals in it," Giovanni said. It took him three months of tweaking to adapt his Italian recipes to Thai ingredients.
Profits
For those who make the investment and stay the course, the rewards can be sweet: profits in the gelato business are good, very good.
Flavio broke it down: "I sell my organic gelato at a very competitive price of 320 baht per liter. One liter yields about 18 scoops, which means one scoop costs the restaurant no more than 20 baht. Most restaurants sell the scoops for at least double that."
"The profit margins are huge," he says – but not for him. "I'm not selling the gelato by the scoop – it's my clients who have the high profits."
Alessandro noted that the profit margin on gelato was "much higher" than that on food sold at his restaurant.
"Making the ice cream is very low cost," he says, pointing to Phuket's fresh, local and low-cost ingredients, and explaining that his mother only uses what's in season.
That low cost means that in 20 years, the price per scoop of Kanchana's ice cream has risen only one baht per year, from 20 to 40 baht.
Growth
Gelato is a healthy product – it normally contains just 6 per cent fat, Giovanni says, compared to some high-end ice creams that have 15 per cent.
Sales are equally robust. Giovanni saw an increase of 40 per cent in 2010-2011, after he built his factory in Wichit, and 38 per cent the following year. Last year sales in Krabi accounted for a large part of his growth, as well as new local high-end resorts and restaurants that he added to his client roster. He already has a factory in Vietnam and is currently in talks to build another in China.
To those who think they've identified their own niche and want to enter the market, Net recommends consulting the Business Incubator program at Rajabhat University Phuket before starting out.
Net originally inten
— Mauri Grant & Leslie Porterfi

Join the conversation and have your say on Thailand news published on The Thaiger.
Thaiger Talk is our new Thaiger Community where you can join the discussion on everything happening in Thailand right now.
Please note that articles are not posted to the forum instantly and can take up to 20 min before being visible. Click for more information and the Thaiger Talk Guidelines.