Local gelato producers serve up the good stuff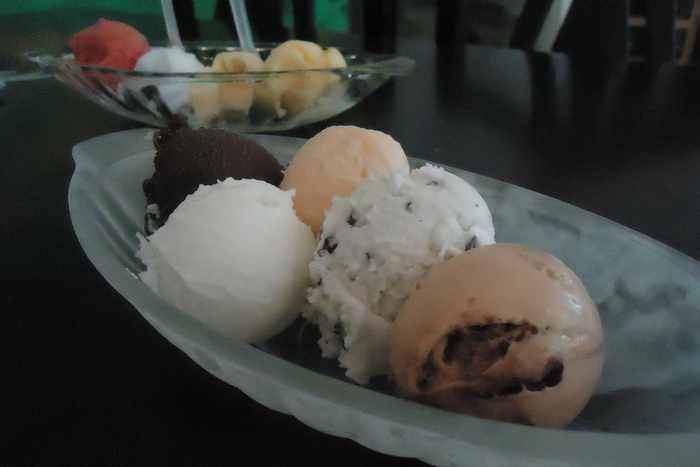 PHUKET: In the high season, more than 4,000 scoops of gelato and sorbet – chocolate, licorice, durian, rice and wasabi flavors among them – are produced every day on Phuket by local ice cream makers.
Though that's nearly 10,000 kilograms a month, and does not include sales by big players such as Haagen Dazs and Movenpick, there is still room in the business for newcomers.
So says Pittaya "Net" Phasee, and he should know. Trained as a telecommunications engineer, Net changed his career course dramatically after a posting in Australia led him to discover the creamy delights of a Melbourne shop called Gelatissimo. He opened Gelato Time three years ago, and hasn't looked back.
"It's hot here, and there are a lot of tourists," he says; explaining the key ingredients of ice cream success.
Though the Gazette's four featured gelato makers all came to the business via different routes, learning their craft in school, from a relative or from a long-time professional, each has found a unique way to shine in the Phuket market.
Carving out a niche
The biggest local producer is Giovanni Durante of Pluto Ice Cream. With a staff of 16, he churns out a staggering 9,000kg of gelato per month in the high season.
With a certificate of authenticity from the Thai-Italian Chamber of Commerce, Giovanni, who has an uncle in the business in Italy, takes pride in making the real McCoy. He uses real Italian machines and imports the best Italian ingredients.
"In Thailand, there are a lot of copies," he says. "I only use genuine ingredients."
He supplies about 80 per cent of Phuket's five-star hotels, numerous local restaurants, and exports his gelato to nearby provinces and as far afield as Bangkok and Chiang Mai. Two years ago he also opened a factory in Vietnam.
Fellow Italian Flavio Manzoni is a chef by profession and makes his Manzoni gelato "as a hobby". Working with hotels and chefs to develop special flavors to pair with selected menu items, he has created more than 300 flavors.
"I once made a seaweed and wasabi flavor for a Japanese restaurant," he says. "It tasted fishy and spicy. They loved it."
He's also made goat milk with fruit, white carrot, and roasted cherry tomato sorbet with basil.
Many of Flavio's flavors are 100 per cent organic, made with milk sourced by Pura Organic and coconut syrup instead of sugar.
Since opening his shop five years ago, he has built up a client base that includes hotels, schools and restaurants in Phuket and Khao Lak.
The longest-running gelato producer is Kanchana Buranadunrongkul. When she opened Gelati Natura in Patong more than 25 years ago, it was only the second ice cream shop in the town. The shop is closed now but the tradition continues, as the gelato is sold in Da Sandro, the restaurant she runs with her son, Alessandro Vassallo, and to a few long-standing hotel customers on the island.
Kanchana continues to use the recipes she learned in Italy from a family in the business for more than a century, with one small change.
"People want less sugar these days, so I've reduced the amount I use just a little bit," she says.
Newcomer Net's niche is Asian tourists and the fruit flavors that appeal to them.
"I'd say 70 per cent of my customers are Chinese," he says. "They love my durian and mango flavors."
He uses only the best durian – montong, as well as nam dok mai mango, star gooseberry and passionfruit.
Starting out, Net tried to sell to hotels, but most already had suppliers. Schools were a problem because "there were too many vacations".
He now sells his ice cream by the cup at key tourist locations on Phuket, including the Big Buddha, Simon Cabaret, O2 Beach Club and Phuket Paradise Trip, and also supplies a cafe and disco in Phang Nga.
Costs
Getting started in the business is not cheap. A top of the line Carpigiani gelato machine costs more than seven million baht.
But treated right, machines can be a one-time charge. Alessandro told the Gazette that his machine was purchased secondhand – 20 years ago.
"It was an investment, even that many years ago, but it is still running," he said.
Imported ingredients aren't cheap either. The vanilla beans that go into Pluto's ice cream cost 400 euro per kilogram. They have an intoxicatingly deep, sweet scent unlike anything available in the grocery store and just three are enough to make 120kg of gelato.
Giovanni uses five sugars to make his gelato perfectly creamy. One of them costs 7-800baht/kg, but it's worth it, he says, to ensure that you "never find one little bit of ice" in his products.
Challenges
Though machines do the mixing, a little elbow grease is still required.
On occasion, Net single-handedly scoops out 500 cupfuls of ice cream in a single day. And though Kanchana has help now, her recipes used to require her to crack open 210 eggs in one sitting.
Recipes that are sure-fire elsewhere may need revision to produce a delicious result here.
"The sugar is not as refined here, the milk and whipped cream are different, even the water is different – in Italy it has more minerals in it," Giovanni said. It took him three months of tweaking to adapt his Italian recipes to Thai ingredients.
Profits
For those who make the investment and stay the course, the rewards can be sweet: profits in the gelato business are good, very good.
Flavio broke it down: "I sell my organic gelato at a very competitive price of 320 baht per liter. One liter yields about 18 scoops, which means one scoop costs the restaurant no more than 20 baht. Most restaurants sell the scoops for at least double that."
"The profit margins are huge," he says – but not for him. "I'm not selling the gelato by the scoop – it's my clients who have the high profits."
Alessandro noted that the profit margin on gelato was "much higher" than that on food sold at his restaurant.
"Making the ice cream is very low cost," he says, pointing to Phuket's fresh, local and low-cost ingredients, and explaining that his mother only uses what's in season.
That low cost means that in 20 years, the price per scoop of Kanchana's ice cream has risen only one baht per year, from 20 to 40 baht.
Growth
Gelato is a healthy product – it normally contains just 6 per cent fat, Giovanni says, compared to some high-end ice creams that have 15 per cent.
Sales are equally robust. Giovanni saw an increase of 40 per cent in 2010-2011, after he built his factory in Wichit, and 38 per cent the following year. Last year sales in Krabi accounted for a large part of his growth, as well as new local high-end resorts and restaurants that he added to his client roster. He already has a factory in Vietnam and is currently in talks to build another in China.
To those who think they've identified their own niche and want to enter the market, Net recommends consulting the Business Incubator program at Rajabhat University Phuket before starting out.
Net originally inten
— Mauri Grant & Leslie Porterfi
Keep in contact with The Thaiger by following our Facebook page.
Never miss out on future posts by following The Thaiger.
Facebook removes "information-influencing" pages linked to Thai military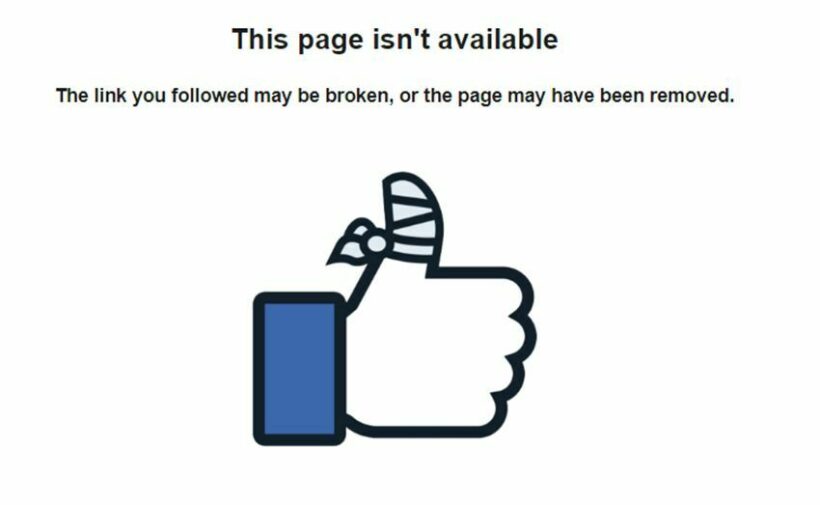 Facebook has confirmed the removal of 185 accounts run by the Thai military and allegedly involved in information-influencing. The social media giant says the accounts were deleted for engaging in what it calls, "coordinated inauthentic behaviour". In total, 77 accounts, 72 pages, and 18 groups have been removed from the platform, in addition to 18 Instagram accounts. It's the first time Facebook has taken such action against accounts linked to the Thai government.
The accounts were associated with the Thai military and were targeting people in the southern provinces, Facebook said its regular report on coordinated inauthentic behavior. The south of the country has been the scene of decades-long conflict, with insurgent groups in the majority-Muslim, Malay-speaking region calling for independence. To date, around 7,000 people have died in the ongoing struggle.
Facebook says the deleted accounts were most active last year and used both fake and real accounts to manage pages and groups, both openly military pages and pages that hid their links to the military. Some of the fake profiles pretended to be people from the southern provinces.
The report mentioned a post by the now-removed account named "comprehending the operation" in Thai. The page posted the logo for Amnesty International Thailand and wrote "The NGO never cares about ordinary citizens because they have no role in society. Normal people are not famous. Any case is not big news. They are not worth the investment of foreigners so they will not do anything to help. This is why we don't see anything from the NGO."
On another now-removed account, named "truth about my home Pattani" in Thai, a post said "Muslim leader declares southern border is a peace zone. The southern separatists started a movement by spreading the idea that Thailand is under control by different believers so that people would come and fight for their religion. This was declared that the action clearly violates Islam faith."
When contacted by Reuters, the military had no comment on the removal of the Facebook accounts, with a spokesman saying the organisation does not comment outside of official press conferences.
The head of Cybersecurity Policy at Facebook, Nathaniel Gleicher, has confirmed the reasons behind the platform's decision.
"This is the first time that we've attributed one of our takedowns to links to the Thai military. We found clear links between this operation and the Internal Security Operations Command. We can see that all of these accounts and groups are tied together as part of this operation."
He adds that the accounts had spent around US$350 on advertising on both Facebook and Instagram. One or more of the pages had about 700,000 followers and at least one of the groups had 100,000 members. Gleicher says the accounts were removed because of their misleading behaviour and not because of the content being posted. The content included support for the military and the monarchy, with allegations of violence and criticism of insurgent groups in the south.
It's not the first time accounts linked to the Thai military have been removed by a social media platform. In October, Twitter removed 926 accounts it says had links to the army and posted pro-military and pro-government content. The Thai army has denied any involvement with the accounts in question. In November, Twitter also suspended an account posting pro-monarchy content that was found to have links to the palace and to thousands of other accounts posting similar content.
To read the February 2021 Coordinated Inauthentic Behavior Report, click HERE.
Keep in contact with The Thaiger by following our Facebook page.
Never miss out on future posts by following The Thaiger.
Airline executive arrested for failure to pay wages of 150 workers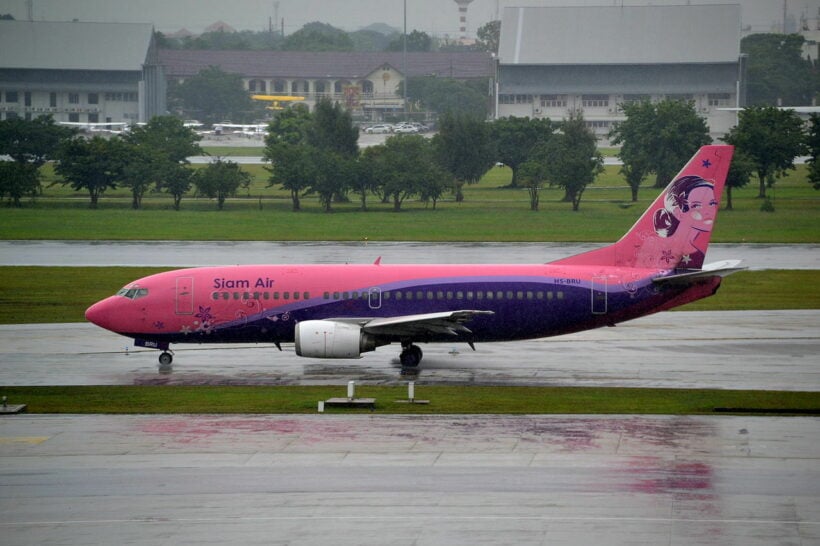 An airline executive has been arrested in the central province of Samut Songkhram, after complaints from150 employees that they had not been paid. Chawengsak Noiprasan, who had a court warrant issued against him in October, was taken to Don Muang police station from a property in the Bang Khan Take sub-district. He is a board member of Siam Air Transport.
The airline began operations in October 2014 with services out of Don Mueang to Hong Kong, using 2 Boeing 737-300s. 2 Boeing 737-800s were added to its fleet in late 2015. It expanded by adding Zhengzhou and Guangzhou in China to its network in early 2015. In late 2015, the airline launched flights to Macau and Singapore. In 2017, the airline ceased all operations.
But according to an article in the Bangkok Post, the carrier operates a number of scheduled and charter flights from Bangkok's Don Mueang Airport. The Post reports that, as Chawengsak signs the company's legal paperwork, all legal matters concerning the airline fall to him.
The Metropolitan Police Bureau says the executive has admitted to ignoring a 30 day notice issued by the labour inspector and ordering the payment of wages to 150 workers. It's understood he is also wanted in relation to 7 other cases.
The authorities sought Chawengsak's arrest following complaints from employees who say they haven't received their wages for 2 months. It's understood the airline had previously deferred salary payments for over 8 months. 150 workers filed an official complaint with Don Mueang police and also approached media outlets, asking them to pressure the airline into paying the money owed.
SOURCE: Bangkok Post
Keep in contact with The Thaiger by following our Facebook page.
Never miss out on future posts by following The Thaiger.
Governments & old media versus social media – who will win? | VIDEO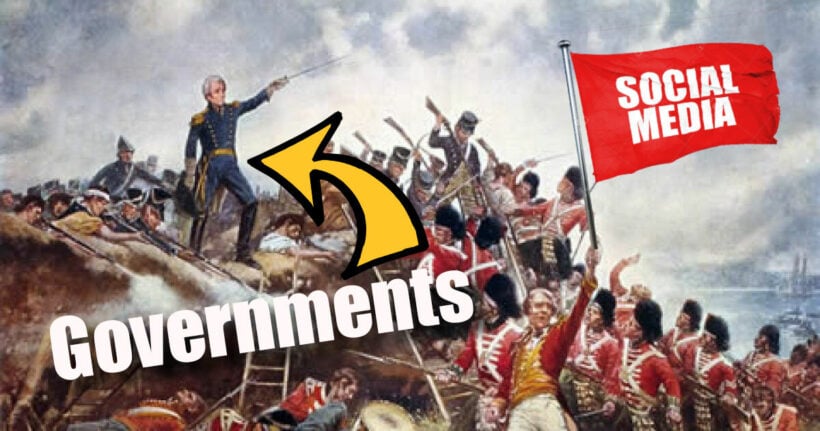 We look at the recent changes made by the Australian and Indian governments to except control over the world's biggest social media platforms. India has issued strict new rules for Facebook, Twitter and other social media platforms just weeks after the Indian government attempted to pressure Twitter to take down social media accounts it deemed, well, anti social. There is now an open battle between the rise of social media platforms and the governments and 'old' media that have been able to maintain a certain level of control over the 'message' for the last century. Who will win?
The rules require any social media company to create three roles within India… a "compliance officer" who ensures they follow local laws; a "grievance officer" who addresses complaints from Indian social media users; and a "contact person" who can actually be contacted by lawyers and other aggrieved Indian parties… 24/7.
The democratisation of the news model, with social media as its catalyst, will continue to baffle traditional media and governments who used to enjoy a level of control over what stories get told. The battles of Google and Facebook, with the governments of India and Australia will be followed in plenty of other countries as well.
At the root of all discussions will be the difference between what governments THINK social media is all about and the reality about how quickly the media landscape has changed. You'll get to read about it first, on a social media platform… probably on the screen you're watching this news story right now.
Keep in contact with The Thaiger by following our Facebook page.
Never miss out on future posts by following The Thaiger.