Bangkok nightclub has special booth to vet and upcharge foreigners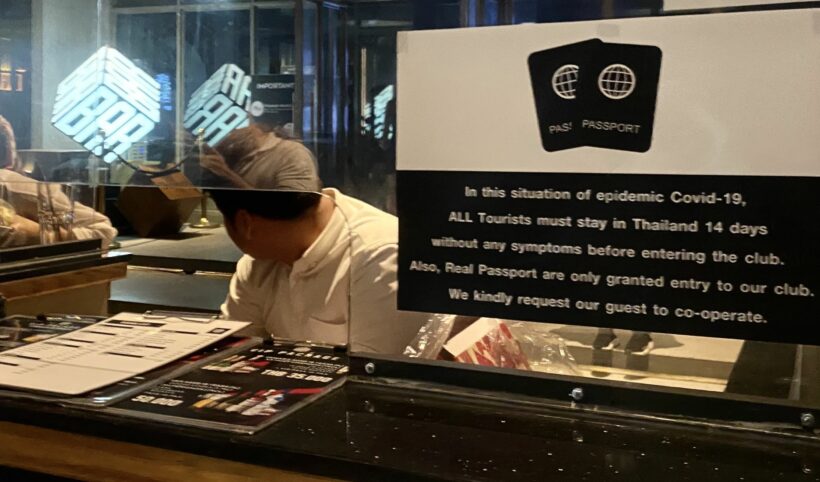 A Bangkok nightclub has set up what resembles an immigration counter outside the venue to check foreigners' IDs and make them pay up before entering. At BarBarBar in Thong Lor, Thais get in free, but foreigners are asked to step aside to the booth and either pay 500 baht or buy a bottle of alcohol before entering the venue.
Bouncers outside BarBarBar check everyone's IDs before they enter, making sure they're at least 20 years old. But foreigners are pointed to the booth and are basically vetted before entering.
An employee sits behind a clear barrier to check IDs and collect cash. A sign reads: "In this situation of epidemic Covid-19, ALL tourists must stay in Thailand 14 days without any symptoms before entering the club. Also, real passport are only granted entry to our club. We kindly request our guest to co-operate."
Foreigners have 2 options at BarBarBar: Pay 500 baht or cut a deal for a group of foreigners by purchasing alcohol. Menus are at the counter listing some alcohol packages priced at 15,000 baht and 17,000 baht.
While the club has an advisory for foreign tourists, only around 200 foreign tourists have been able to enter Thailand since travel restrictions were put in place in March. The first group of visitors on the new Special Tourist Visa (just 39 people) arrived last month and were recently released from quarantine.
Also… who takes their passport to a nightclub? The nightclub has taken other forms of identification, like a digital work permit, but apparently the club has turned people down for not having their real passport. A man left a review on Google saying he was an old customer at BarBarBar, but the last time he tried to get in the bouncers turned down him down because he just had a photo of his passport. "Really racist," he wrote.
Here's what some of the reviews say on Google…
"Didn't let me in because I was a foreigner… Racist bar. Will never go back."
"A great bar. But if you are a westerner, you're not welcome there."
"This place clearly doesn't want foreigners. Middle of a pandemic, zero tourists in the country, and they want to charge 500 baht while Thais are free. I guess it's free if you buy a bottle, which I was going to do, but the rudeness I experienced at the "foreigners counter" along with the foreigner charge was a no go for me. Walked 30 metres to another club, bought a bottle and enjoyed my night."
The Thaiger reached out to BarBarBar for comment, but they did not respond.
Foreigners in Thailand are familiar with dual pricing. The upcharge for foreigners at tourist destinations like temples and national parks led local blogger Richard Barrow to start the initiative 2PriceThailand. Since then, the Tourism Authority of Thailand announced they would start discussions with national park officials and the Wildlife and Plant Conservation department about ending dual pricing for foreigners.
While duel pricing is nothing new in Thailand, some venues and events started banning foreigners after the coronavirus outbreak. Back in July, Fullmoon Terrace and Bar in Lat Phrao, the northeast suburbs of Bangkok, refused to serve foreigners. Blogger Yan Marchal posted a video of himself visiting the bar and being asked to leave almost as soon as he sat down.
Keep in contact with The Thaiger by following our
Facebook page
.
Never miss out on future posts by
following The Thaiger
.
Court acquits PM Prayut Chan-o-cha, allowing him to stay on at military residence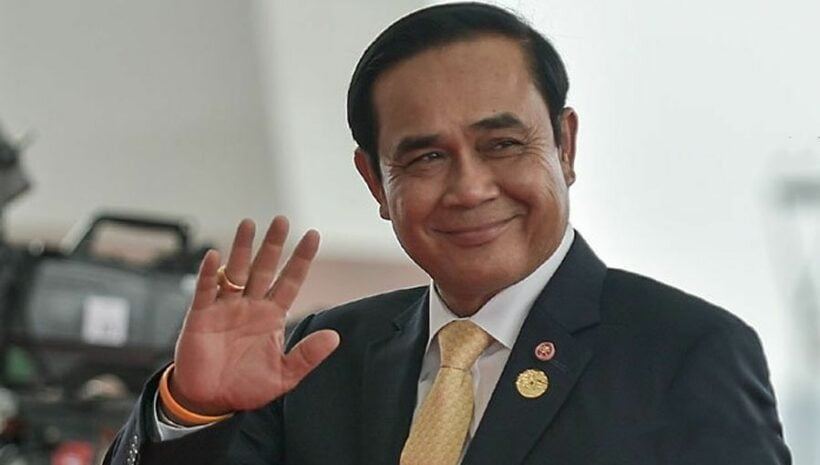 PM Prayut Chan-o-cha will be staying in office and at his military residence. Bangkok's Constitutional Court ruled today that the prime minister and former Thai general and commander of the Thai Army has not violated the charter by occupying a military-owned residence. The court says under military regulations, former officers can remain at their Army residence after their retirement at the discretion of the Thai Army commander.
Pro-democracy protesters have been pushing on Prayut to resign since July, along with calling for a rewrite of the 2017 Constitution together with reform of the government and role of the monarchy. Recently, Prayut was accused of violating the Constitution by staying at an official Army residence, rent-free, after his 'retirement' as General Prayut in 2014. Some say the tenancy represents a conflict of interest and the prime minister was abusing his power. A guilty ruling would've potentially put an end to his premiership.
Sections 184 and 186 of the Thai Constitution forbid a government minister from "receiving any special money or benefit from a government agency, state agency or state enterprise apart from that given by the government agency, state agency or state enterprise to other persons in the ordinary course of business."
Prayut told the court that he was staying at the residence at the First Infantry Battalion of Royal Guards because his home in Baan Phitsanulok was being renovated and that his security team suggested he live at the Army residence for safety, a source told Nation Thailand.
Similar housing has been provided to former Army chiefs who are now members of the Cabinet, Privy Council and Parliament, according to the Royal Thai Army. They add that the residence was provided to Prayut because the prime minister "deserves the honour and security it provides."
SOURCE: Nation Thailand
Keep in contact with The Thaiger by following our
Facebook page
.
Never miss out on future posts by
following The Thaiger
.
Thai Airways to resume flights from Bangkok to Chiang Mai and Phuket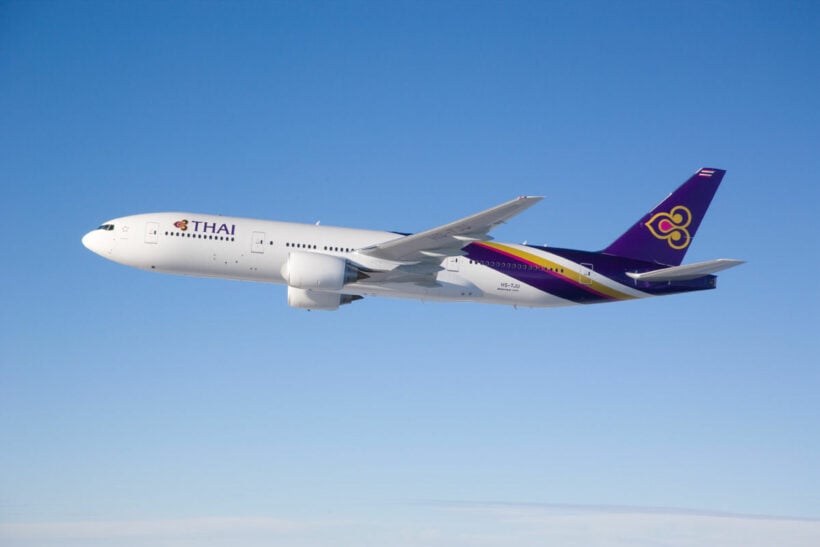 After nearly 9 months on the ground due to the coronavirus pandemic, along with problems balancing their accounts, Thai Airways will resume flights between Bangkok and Chiang Mai as well as Bangkok and Phuket later this month. The flights will start back up on Christmas day.
Flights from Bangkok to the 2 key tourist provinces have been grounded since April 1. Starting December 25, the airline will run 3 flights a week on both routes. A source told the Bangkok Post that the new schedules will run until at least February 28.
Thai Lion Air, Thai Air Asia, Nok Air, Thai Smile, VietJet Air and Bangkok Airways have returned to the domestic skies since July and slowly adding frequency to their routes.
In addition to resuming the domestic flights, the Thai Airways is relaunching some international flights from January 1 to March 27 including weekly flights to Frankfurt, London, Copenhagen, Sydney, Seoul, Manila, Taipei and Osaka. Flights from Bangkok to Tokyo will be available 3 times a week and flights from Bangkok to Hong Kong will be available every day.
Thai Airways has been tackling bankruptcy throughout the lockdown and trying to make up for more than 300 billion baht in losses. Since many flights were suspended due to travel restrictions, Thai Airways has tried to make money by business ventures on the ground, like a pop-up restaurant serving in-flight meals and selling off unwanted equipment from their warehouse. There also disposing of much of their older fleet, including all of their Boring 747-400s.
SOURCE: Bangkok Post
Catch up with the latest daily "Thailand News Today" here on The Thaiger.
Keep in contact with The Thaiger by following our
Facebook page
.
Never miss out on future posts by
following The Thaiger
.
Court to deliver verdict on PM's military residence this afternoon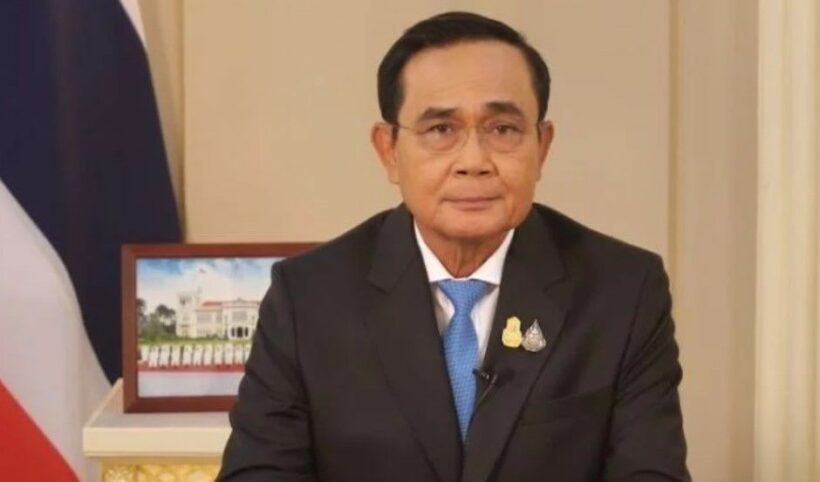 Security is expected to be extremely tight at Bangkok's Constitutional Court today, as the ruling in the matter of the PM's residence is delivered. Prayut Chan-o-cha is accused of violating army rules by occupying a military residence rent-free, despite having retired from the army in 2014. Critics say his tenancy represents a conflict of interest. Should the court agree with them, it will spell the end of his premiership, something pro-democracy protesters have been calling for since July.
Thai PBS World reports that the court has issued a statement to confirm that only approved parties will be allowed in the courtroom, including the PM, the complainant, and relevant lawyers and officials. The case was brought earlier this year, following a request from the leader of the Pheu Thai opposition party, Sompong Amornwiwat. The court has confirmed the verdict will be broadcast on its You Tube channel from around 3pm, meaning the public can watch it live.
Bangkok authorities are apprehensive about potential unrest should some parties disagree with the court's findings. Piya Tavichai from the Metropolitan Police Bureau has confirmed that hundreds of police officers will be on duty, in and around the court buildings, with the front entrance already sealed off. A planned rally by the anti-government protest group, Ratsadon, has now been switched to the Lad Phrao Intersection, in the Chatuchak district of the capital.
We'll all know the decision around 3pm this afternoon.
SOURCE: Thai PBS World
Keep in contact with The Thaiger by following our
Facebook page
.
Never miss out on future posts by
following The Thaiger
.