Alcohol sellers empty kegs of beer outside Health Ministry to protest Covid rules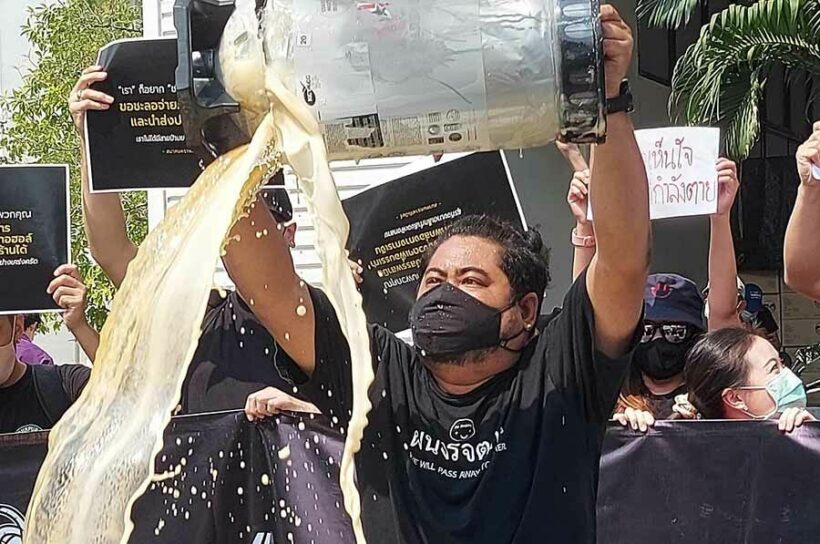 Bar owners and breweries in Bangkok have come together to register their frustration at ongoing Covid-19 restrictions by emptying kegs of beer outside the Ministry of Health. Yesterday's protest action comes a week after the coalition of alcohol sellers called on health officials to ease the rules that are having a severe impact on their livelihoods. In a protest they call, "Justice Poured Out", representatives of bars and breweries emptied around 12 kegs of spoiled alcohol down the drain in front of Department of Disease Control offices.
Archirawas Wannasrisawas from the Craft Beer Association says the protest was to highlight the amount of beer going to waste as a result of the ongoing sales ban. He says over 300 venues and 5,000 individuals in the Bangkok metropolitan area have been impacted by Covid-19 restrictions and are currently losing around 150 million baht a month.
The group is proposing that officials allow bars to re-open and restaurants to serve alcohol, provided safety measures are in place, such as social distancing, no dancing, and no sharing of glasses. Alcohol representatives are also demanding additional reforms, such as the removal of the advertising ban and lifting the restrictions on hours of sale.
SOURCE: Coconuts
Keep in contact with The Thaiger by following our Facebook page.
Never miss out on future posts by following The Thaiger.
At least 22 people arrested at Bangkok protest, officer dies of heart failure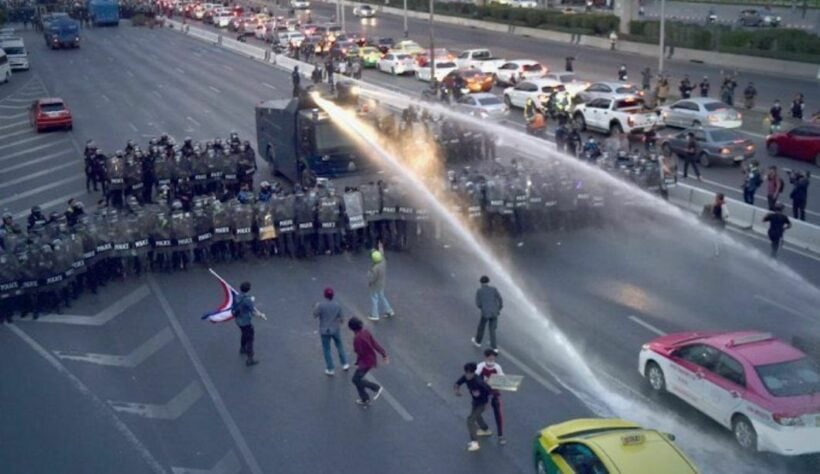 At least 22 people were arrested during the Bangkok protest yesterday, which turned violent as pro-democracy activists marched toward the prime minister's residence, according to Thai Lawyers for Human Rights. An officer died during the rally, which the human rights group says was due to heart failure.
Some protesters threw ping pong bombs and firecrackers in the violent clash with police, the group says. Police armed in riot gear fired rubber bullets and hit protesters with batons. Water cannons and tear gas were used to break up the crowds after some protesters had breached the barricade of shipping containers that had been blocking the way to the prime minister's residence at a military base on Vibhavadi Rangsit Road, according to the Bangkok Post. At least 33 people, including 23 police officers, were injured.
Out of the 22 arrested, 4 were minors who were picked up from the Din Daeng police station by their parents and will need to report to the Juvenile and Family Court this afternoon, according to the human rights group. The detained protesters face charges of fighting, blocking or harming a police officer.
Protesters from REDEM, or Restart Democracy, which is a spin off of the Free Youth group, were marching to PM Prayut Chan-o-cha's residence to call on monarchy reform and an end to Thailand's military influences in government.
เปิดบันทึกจับกุมผู้ชุมนุม #ม็อบ28กุมภา 22 ราย รวมเยาวชน 4 ราย บรรยายพฤติการณ์ อาทิ

– ผู้ชุมนุมปาระเบิดปิงปอง-ประทัดยักษ์ ส่วนจนท.มีเพียงโล่บังป้องกันตัว
– จนท.ได้รับบาดเจ็บหลายนาย เสียชีวิต 1นาย
– ผู้ชุมนุมไม่ยอมเลิก จึงจับกุม

เหตุจนท.เสียชีวิตนั้น ข่าวระบุเป็นอาการหัวใจล้มเหลว pic.twitter.com/sX3J9Jb5Ux

— TLHR / ศูนย์ทนายความเพื่อสิทธิมนุษยชน (@TLHR2014) March 1, 2021
Keep in contact with The Thaiger by following our Facebook page.
Never miss out on future posts by following The Thaiger.
Injuries and arrests as Bangkok protests turn violent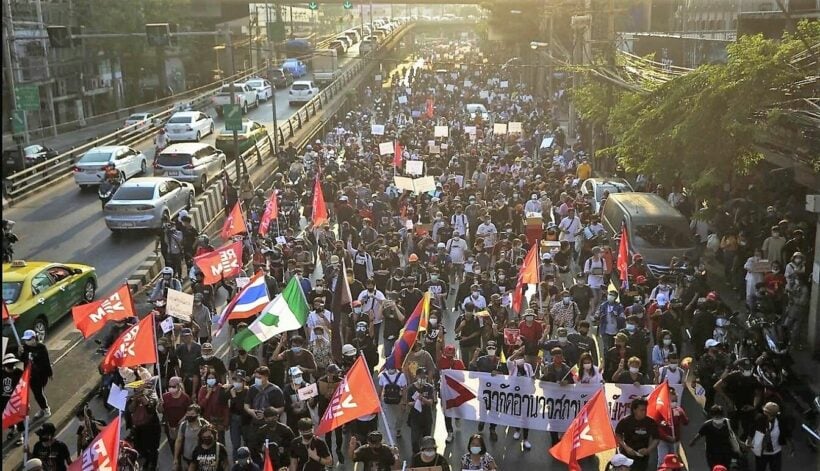 Pro-democracy protesters clashed with police in Bangkok yesterday, leading to injuries and arrests as activists attempted to reach the residence of PM Prayut Chan-o-cha. At least 33 people were injured, including 23 police officers. The clashes happened in front of 1st Infantry Regiment barracks, King's Guard on Vibhavadi Rangsit Road and involved around 1,500 activists from REDEM (Restart Democracy), part of the Free Youth group. The group has been protesting against the government and calling for reform of the monarchy since protests began in July of last year.
Yesterday, the Metropolitan Police Bureau deployed over 2,000 riot police, with barricades erected to prevent protesters reaching the PM's home. The Bangkok Post reports that at around 6.30pm, activists clashed with police. Officers deployed tear gas and water cannon and allegedly used rubber bullets as protesters threw objects their way.
Piya Tawichai from the MPB has denied that police used tear gas or water cannon, accusing protesters of instigating violence by using weapons and vandalising government property. Thai PBS World reports that yesterday's demonstration was the most violent anti-government protest in recent weeks. Protesters' demands include the PM's resignation and reform of the monarchy.
SOURCE: Bangkok Post | Thai PBS World
Keep in contact with The Thaiger by following our Facebook page.
Never miss out on future posts by following The Thaiger.
Royal Thai Police accused of "ticket" promotion system to buy senior positions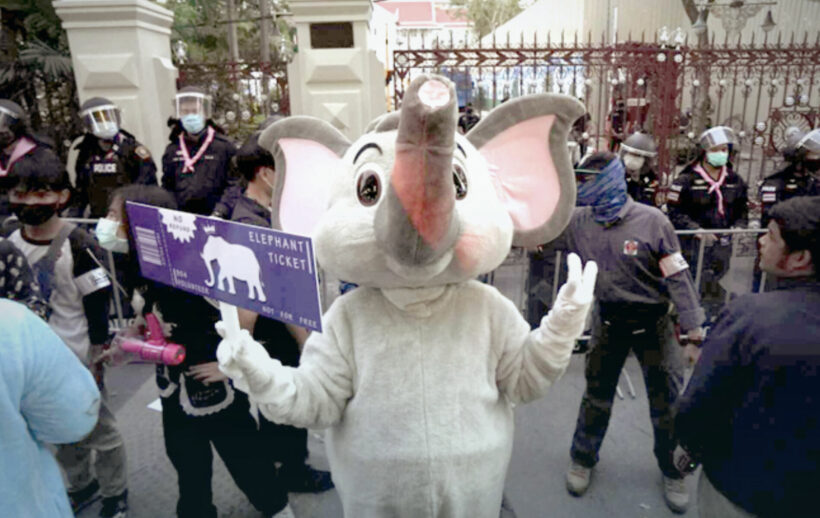 The Royal Thai Police are being accused of using so-called "elephant tickets" to buy their way into promotions and pay their way up the police force's chain of command. The corruption among the police force and the buying of positions without meeting the requirements for a promotion has been a longtime problem, according to the Bangkok Post.
The "elephant ticket" issue was recently brought to light by an opposition MP at a censure debate who said it fast tracked the promotion system and allowed some people who were unqualified and undeserving to raise their rank. Some Thais have protested the "elephant ticket." Many gathered in front of the Royal Thai Police headquarters in Bangkok last week, including one person who dressed up as an elephant.
At the censure debate on February 19, Move Forward Party MP Rangsiman Rome called out PM Prayut Chan-o-cha, who chairs the Police Commission overseeing the Royal Thai Police, and said the prime minister allowed the "elephant ticket" promotions. Prayut later said there were problems within the police force and that he would handle it.
Police who want a promotion need a ticket, which is basically just a reference or a stamp of approval from a senior officer or even a politician or business person. To get an "elephant ticket," some can pay for the ticket. A source told the Post that positions for police superintendents cost between 5 to 10 million baht.
Others can get a ticket by doing favours for their superior or even just serving their superior for a long time, sources told the Bangkok Post. The higher the position a senior officer has, the more tickets they have to give out.
To read the full special report by the Bangkok Post, click HERE.
Keep in contact with The Thaiger by following our Facebook page.
Never miss out on future posts by following The Thaiger.