ASEAN addresses 'fake news'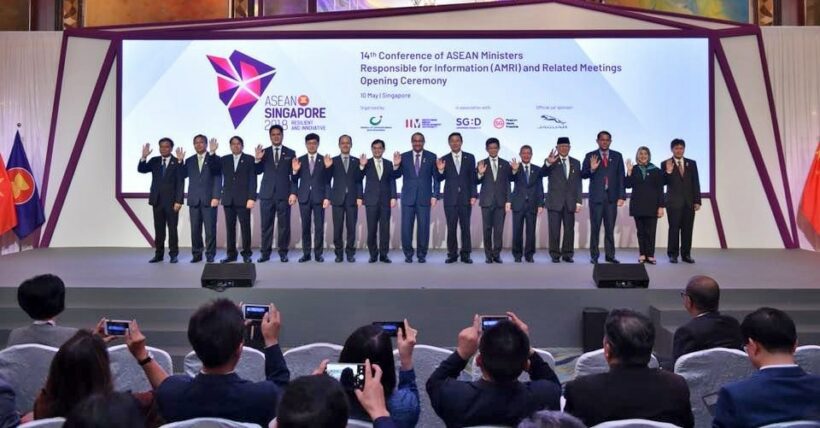 The Association of Southeast Asian Nations (ASEAN) has acknowledged that "fake news" is one of the new challenges its member-countries must grapple with now that digital media are citizens' primary sources of information.
False and misleading news was among the chief topics at the 14th meeting of the Asean Ministers Responsible for Information today (Thursday).
The ministers issued a Declaration on a Framework to Minimise the Harmful Effects of Fake News. At the meeting, which had "Inclusive and Informed Digital Asean" as its theme, the ministers also agreed that member-countries should work together to improve digital literacy, encourage relevant agencies to develop guidelines for responding to fake news, and share "best practices".
They set out four "broad strategies" for members to use in addressing online falsehoods – education and awareness, detection and response, norms and guidelines, and community and "ground-up" participation. These can be tailored to the unique circumstances of each country in terms of laws and regulations, it was agreed.
The ministers stated that mitigating the harmful effects of fake news was "everyone's responsibility". Singapore Finance Minister Heng Swee Keat said the framework would improve regional cooperation in establishing "a trusted digital ecosystem where people will be guaranteed access to reliable sources of information".
Singapore's Minister for information and Communications, S Iswaran, said the meeting would nurture "a digitally ready ASEAN" and "fuel digital growth" in the region.
"Members must work closely together to promote socially responsible online behaviour," he said, "to ensure that the digital space remains one that is safe, reliable and conducive for everyone to interact with one another freely and with confidence."
Fake news emerged as a concern at an AMRI roundtable discussion last year. Singapore has planned a workshop at the current meeting on best practices and countermeasures. Several ASEAN members have already taken steps towards curbing the negative effects of fake news.
Earlier this year, Malaysia turned its fact-checking portal Sebenarnya.my into a mobile-phone application. Citizens can check the authenticity of news and submit queries regarding unverified information.
Masyarakat Anti Fitnah Indonesia, a civic group, set up a Facebook page where people can report and discuss suspected falsehoods. It has six full-time fact-checkers and a search engine listing legitimate news sites. Heng said Singapore convened a parliamentary select committee earlier this year to investigate deliberate online falsehoods.
"The committee held public hearings to seek views from various sectors on practical solutions to address fake news and is currently putting together its recommendations," he said.
Heng noted that the World Economic Forum has identified "misinformation going viral online" as one of the biggest threats to society. ASEAN is not immune, he said.
The ministers also approved a set of Core Values on Digital Literacy as a starting point for further discussion aimed at helping citizens "navigate the digital media landscape safely and responsibly".
Also endorsed was a Framework for Co-production in the Audio-Visual Sector to improve content producers' skills in production techniques. The Digital Terrestrial Television broadcasting system (DVB-T2) and Integrated Receiver Decoder Technical Specifications will be revised to ensure mobile and portable DVB-T2 receivers meet minimum standards. The system allows people to watch free-to-air channels on their portable devices via terrestrial transmission. Government messages can be transmitted while people are on the move.
STORY: The Nation


Read more headlines, reports & breaking news in Thailand. Or catch up on your Thailand news.
Belarusian 'Anastasia' will be in Moscow detention another 3 days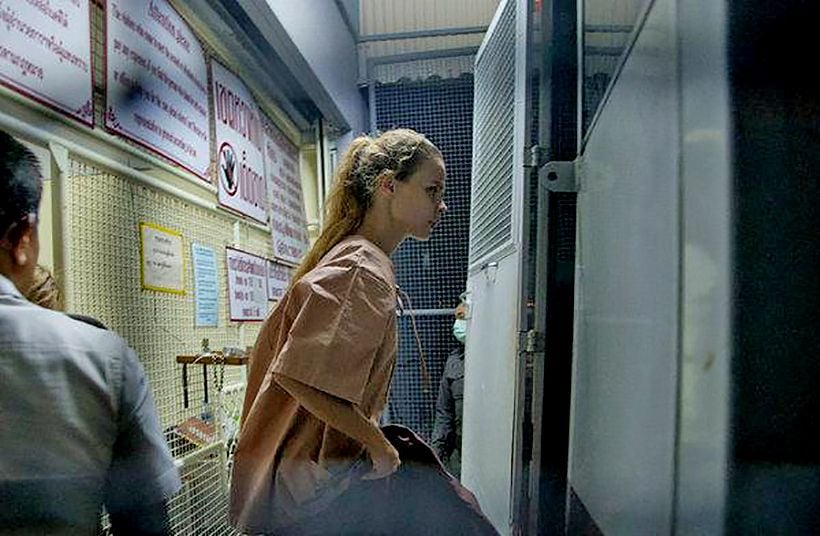 Anastasia Vashukevich, aka. Nastya Rybka, the Belarusian model/sex-educator/Instagramer who spent a year in a Thai jail awaiting last week's Court case, and was then deported, remains in a Moscow jail as of last night after the presiding judge decided to extend her detention by 72 hours.
She was arrested at Moscow airport on Thursday after being deported from Thailand on Tuesday night. She, and seven others, pleaded guilty last Tuesday for participating in a "sex training course" in Pattaya nearly 12 months ago.
During a hearing yesterday in Moscow, she said she did not want to "in any way compromise aluminum mining magnate, Oleg Deripaska".
According to Interfax she said in the hearing, "I have had enough."
Her lawyer Dmitry Zatsarinsky, told reporters that his young client "has committed no crime" and had "nothing to do with" Deripaska and "still less with US President Donald Trump".
On Friday her lawyer denounced Anastasia's arrest, which was made while she was in transit in Moscow after a flight from Thailand on her way to Belarus.
The Belarusian gained notoriety last year when she claimed she had proof of Russian collusion with the Trump Presidential election campaign. She has now had her detention in Moscow extended by three days by a Russian court.
According to Interfax reports, she told the court she denied the accusation of prostitution, telling the court that "I am not guilty of what I am accused."
She unexpectedly pleaded guilty in a Bangkok court to charges of prostitution relating to last February's sex training course in Pattaya. The Thai judge suspended the group's sentences but deported them, effective immediately.
Anastasia had been in custody in Thailand since a police raid in what AFP described as the "sleazy seaside resort of Pattaya" last February.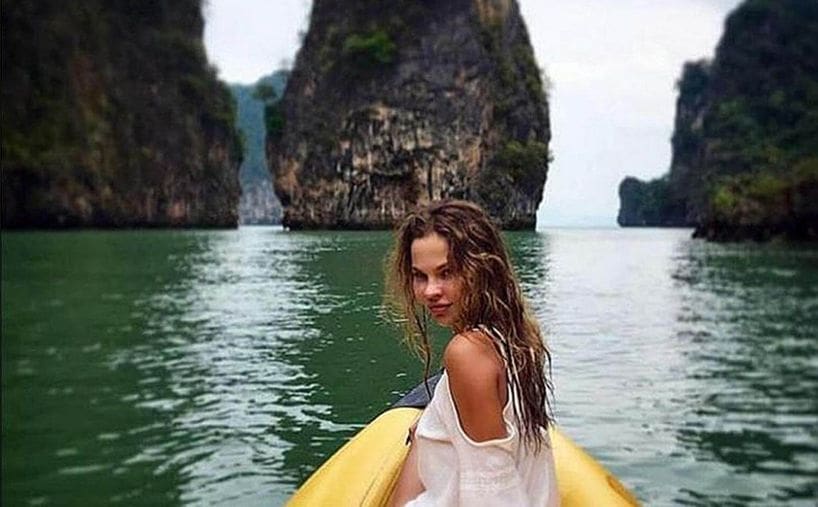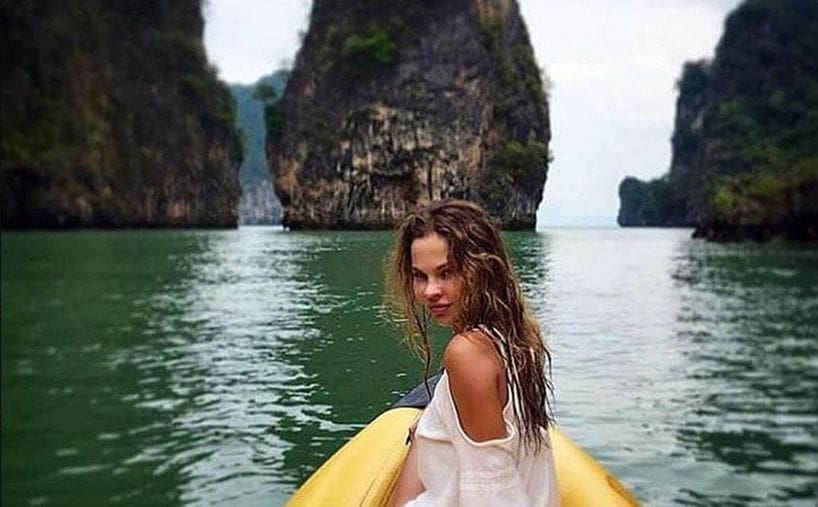 Anastasia cruising around Phang Nga in 2017 – Instagram
New 500 baht fine for drunk cycling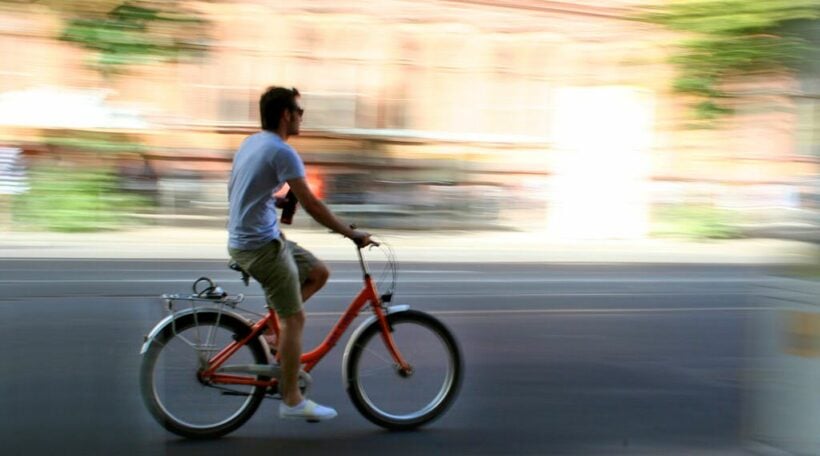 Up to now drink-driving cyclists have not been included in the laws governing drunk drivers of other vehicles in Thailand. But with the rising popularity of cycling as a fitness trend, that's about to change with a new 500 baht fine if bought drunk in control of a bike.
Drunk bicyclists who are currently immune to litigation because there is no law to make drunk cycling an offence. The new laws are covered in the upgraded traffic bill which passed the first reading of the National Legislative Assembly last week.
But, according to the Bill drafters, riding bicycles in public while being drunk is still regarded as a petty offence and the penalty would be just a 500 baht fine.
The same new traffic bill also seeks to empower traffic police to seize driving licenses of drivers found to be drunk behind the wheels and judged incapable of driving.
The bill will also merge the Land Transport Department and police databases to coordinate and share information on backgrounds and traffic violations records of drivers and motorcyclists.
A score system is being introduced under which law-breaking drivers will have their scores cut for every traffic violation.  Everyone will start a 12 month period with 12 points. If the scores are down to zero, the drivers will have their driving licenses suspended for up to 90 days.
Bangkok smog: Police get out their hoses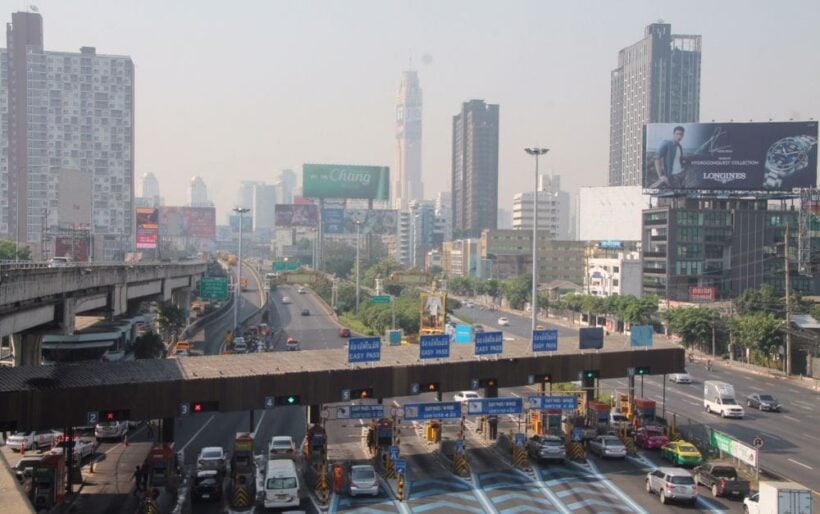 by Kornkamon Aksorndech 
Traffic police and volunteers sprayed water at four locations in Bangkok this morning in a bid to curb the dust and smog pollution.
Pol Maj General Nithithorn Jintakanon, commander of the Traffic Police Division of the Metropolitan Police Bureau, presided at the dispatch of 150 police officers and volunteers from his headquarters on Vibhavadi-Rangsit Road.
They chose four high-traffic locations and sprayed water in front of the Government Complex on Chaeng Wattana Road, the Din Daeng expressway toll gates and at the Ratchadapisek-Lat Phrao intersection on Lat Phrao Road and a Ramkhamhaeng Road intersection.
#pissinginthewind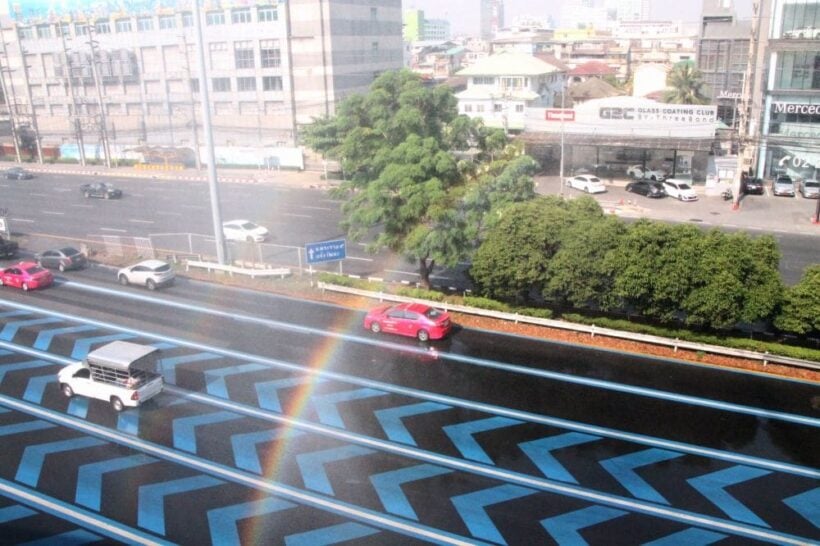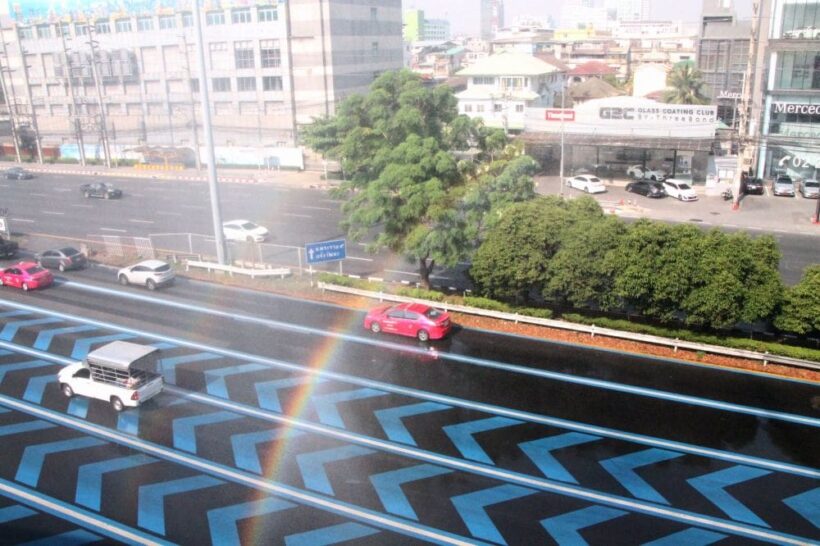 SOURCE: The Nation