Phuket's Patong beach temporarily closed due to poor weather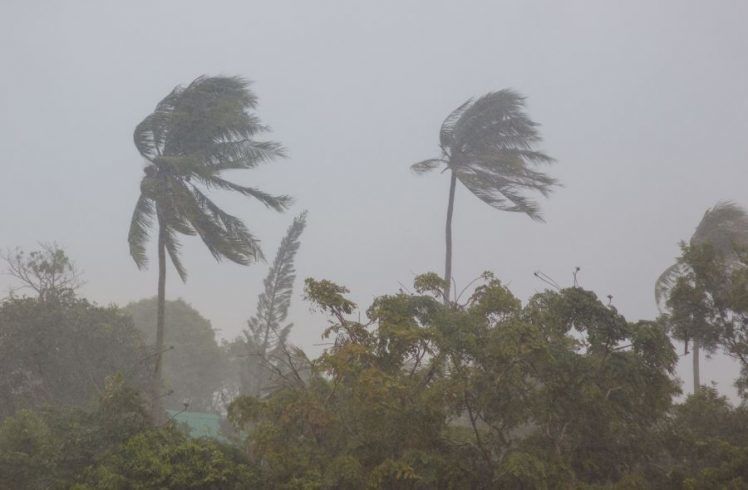 PHOTO: Thai Meteorological Department 
The lingering remnants of tropical storm Podul passing through the north of Thailand, and currently making itself felt in Phuket, has lead Patong Chief Lifeguard Somprasong Sangchart to declare Patong beach closed for the day, with red flags posted the length of the beach.
Mr Somprasong urges beach-goers to heed the warnings and stay out of the water.
"We have been keeping a close on the weather in recent days, but today the weather is just too much. We set red flags all along the beach and I have ordered lifeguards to keep eye on the beach to tell tourists to stay away from the water."
"When the weather improves, we will look at setting up 'safe zones' marked with yellow-red flags so that tourists know where they can enter the water. But until then, please stay out of the water."
It's understood that similar measures will be put in place at other beaches along the west coast until the current weather front passes.
Read the latest about storm Podul HERE.
SOURCES: ThaiVisa and The Phuket News
Keep in contact with The Thaiger by following our
Facebook page
.
Police return four cars to victims of rental scam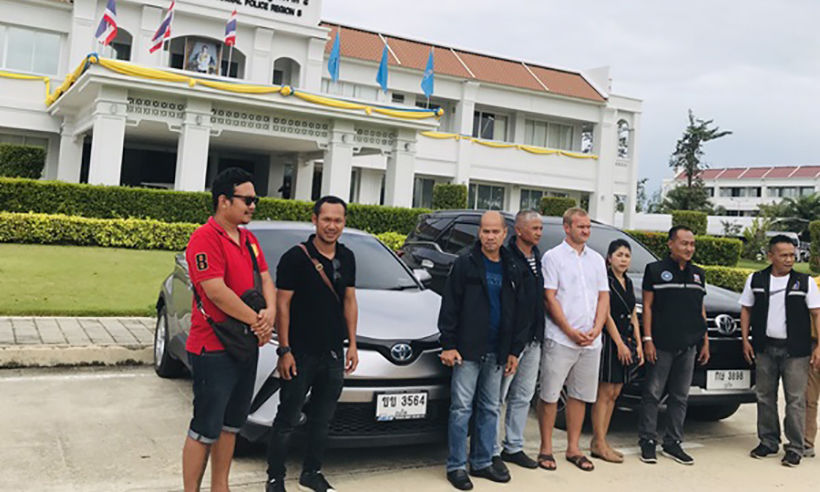 PHOTO: Phuket Hot News
Region 8 police have returned four cars to the victims following a car rental scam in Krabi and Phuket areas over recent months.
Earlier on September 17, 2 car owners from Phuket, Ratchadaporn Udomsuk, the owner of white Toyota Fortuner valued at 1,590,000 baht, and Anan Suwannachom who owns a black Toyota Fotuner worth 1,590,000 baht, reported to police that their cars had gone missing after they rented them out.
Police tried to track down a man named 'Dech' who rented the white Fortuner from Ratchadaporn. He then tried to pawn her car in Krabi. After that, a man named 'Dam' contacted her from Ao Luek, Krabi, claiming that if she still wanted her car back, she would have to pay him.
She agreed to pay him some remuneration at a petrol station in Ao Luek. Police was waiting until he showed up and then arrested the man. The officers found that Dam possessed a .38 mm gun with 5 bullets with him as well. During the arrest, police learned that the black Fortuner was also also located in the Ao Luek area as well.
Police returned the cars to the two owners on the following day as well as a grey Toyota CHR that was returned to Nikitin Evgeny from Russia, and a black Fortuner that belonged to Surotjana Suwanno from Phuket.
Police revealed that the four cars were part of a car rental scam that rents cars from people and then pawns the car in other provinces. There are still at least 20 cars under investigation in the same case.
SOURCE: Phuket Hot News
Keep in contact with The Thaiger by following our
Facebook page
.
Phuket university's safe-sex campaign attracts 390 volunteers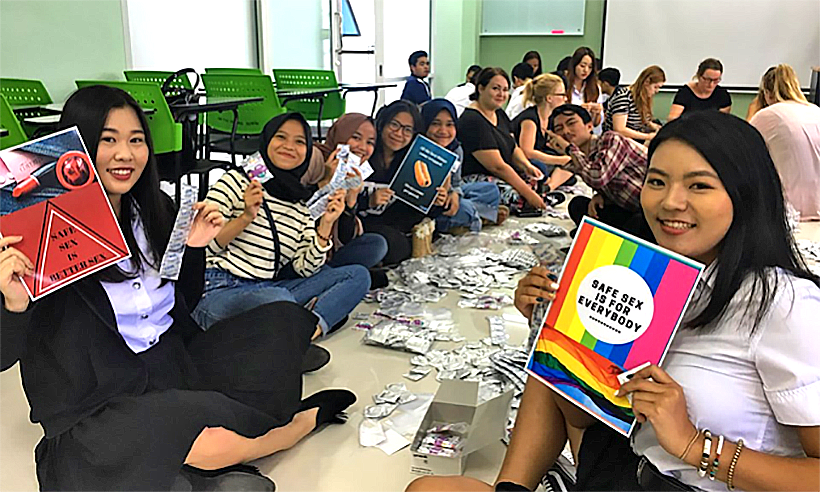 Yesterday, saw the return of Prince of Songkhla University's Safe Sex Campaign. Now in its third year, some 390 PSU students turned up to support the campaign by making safe sex packs, which are then distributed free to bars in Patong. The safe sex packs include a condom and lubricant.
It was the biggest turn-out of students since this corporate social responsibility program began 3 years ago. It was supported by students from all over the world, including many students studying the University's intercultural communications course. 
Carex, the company who very kindly donate the condoms, shipped 60,000 condoms to PSU for the big day yesterday. Students then worked together to put the condoms together with lubricant and information on HIV testing, into packs for distribution. In the past this activity has always been well attended but yesterday saw the highest number of students taking part.
A whopping 40,000 safe sex pack were completed with 2 hours as 6 rooms on the campus were taken over as the students kept turning up to be involved.
The organisers would like to thank the PSU students for helping promote safer sex on the island of Phuket.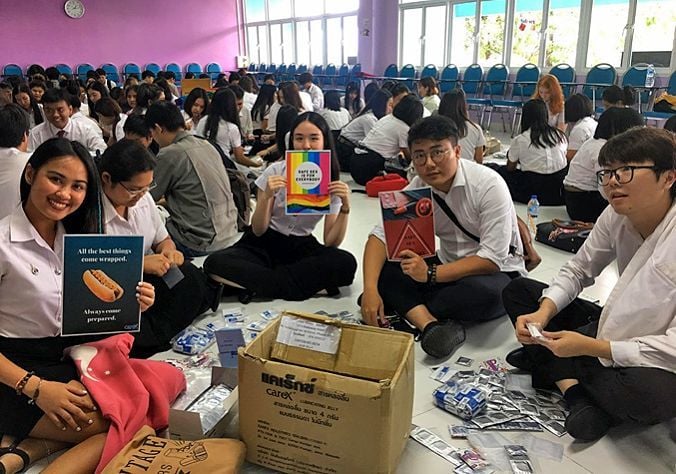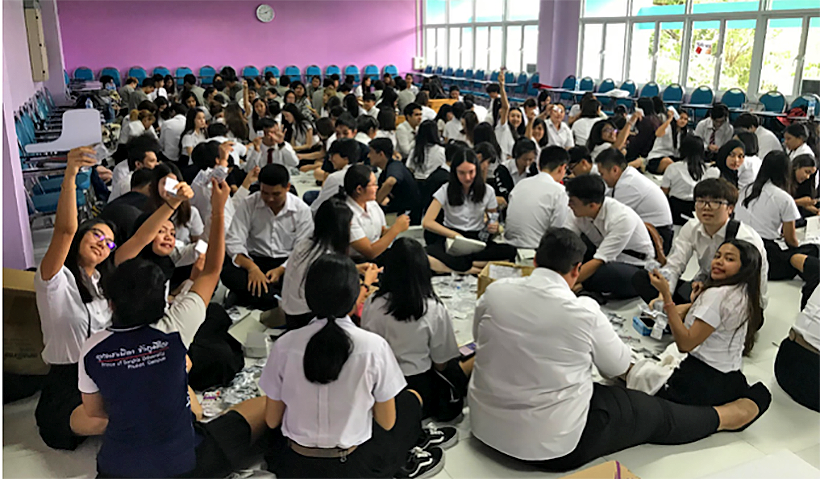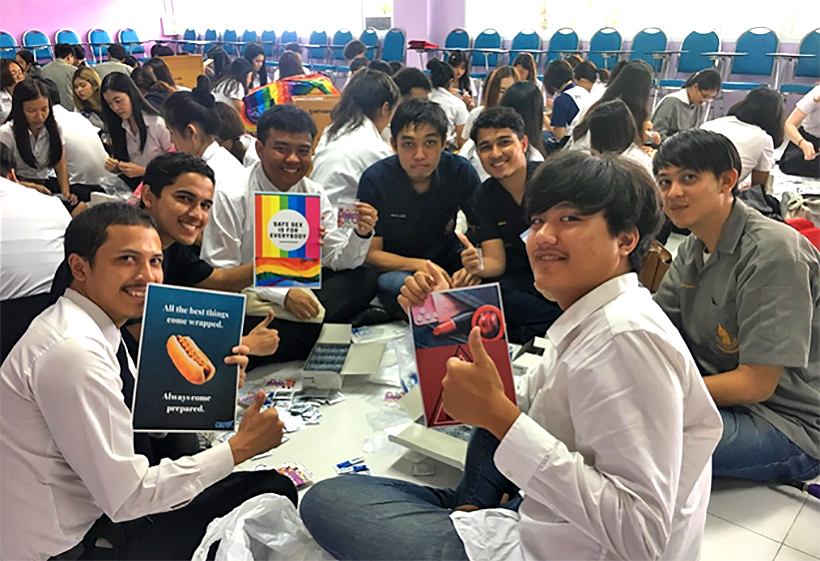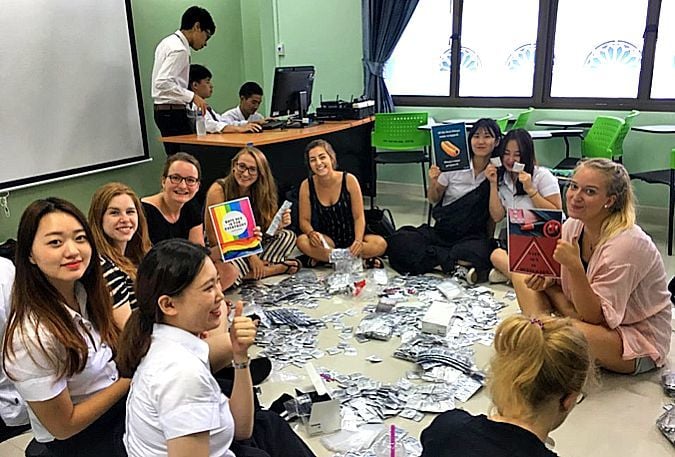 Keep in contact with The Thaiger by following our
Facebook page
.
New branding for the old town – tweaking Phuket's Old Town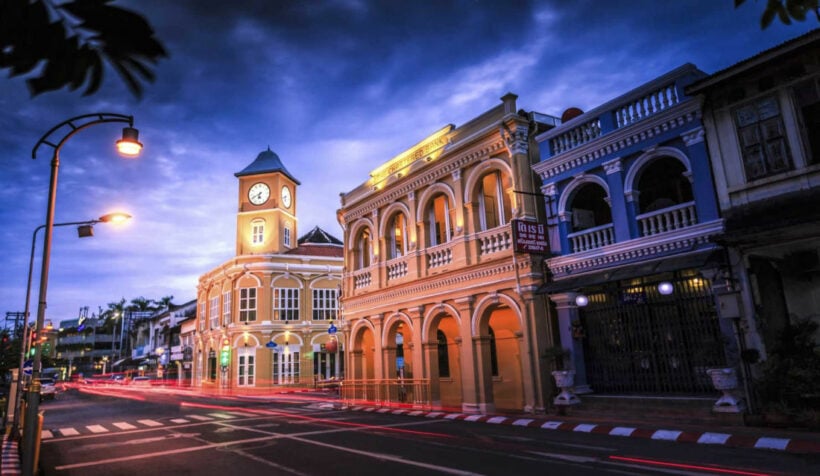 PHOTO: Many renovated buildings and putting the crappy overhead cabling underground  is bringing the old town alive
Though Phuket remains among the world's most popular tourist destinations, injecting some 477 billion baht to the Thai economy, with its "Pearl of the Andaman Sea" branding, its future status is being questioned due to competition from Indonesia and Vietnam.
In response, Phuket is making a move to focus on the city's "Old Town" to attract more tourists, along with an "Endless Discovery" branding campaign to highlight the variety of local tourist options.
Don Limnantapisit, the president of the Phuket Old Town community, says most tourists have visited just about everywhere in Phuket but often bypass the Old Town.
Though the Old Town area has for 15 years encouraged tourist visits so that it wouldn't disappear from Phuket's map, only in the past two years has it seen much success in attracting tourists – thanks to the power of social media.
As well, CNN recently included Old Town on its list of Asia's 13 most picturesque towns (it's also in The Thaiger's list of Asia's Top 10 Prettiest towns).
Thailand's Fine Arts Department and Phuket are working on a plan to register Old Town as a UNESCO World Heritage Site. The new "Phuket Endless Discovery" branding aims to tease the curiosity of travellers, said the president of the Phuket Tourism Association, Bhummikitti Ruktaengam
Statistics show a significant growth in travellers for meetings, incentive travel, conventions and exhibitions (MICE)  in Phuket. The figure for 2018 showed an increase to 2,216,230, up 168% from 2017, bringing in 19.5 billion baht.
SOURCE: The Nation – Pornpilin Julapan

PHOTO: phuketoldtownhostel.com
Keep in contact with The Thaiger by following our
Facebook page
.