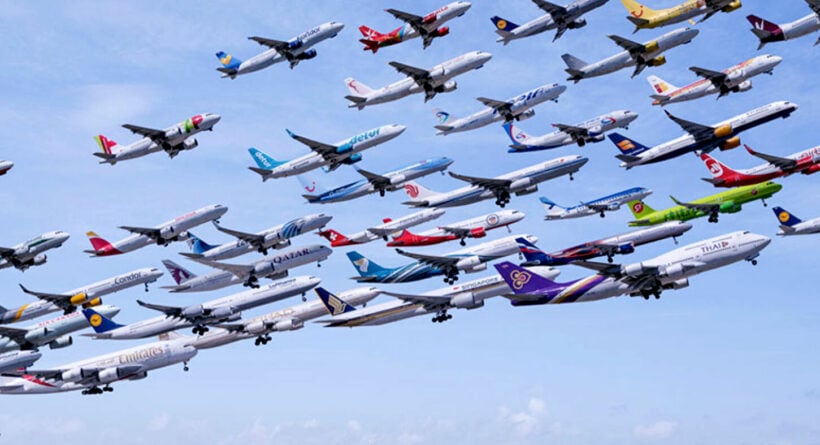 With several airlines in the Middle East announcing July 1 reopenings of flights to Phuket, Thai Airways has finally announced plans to fly in and out of the island from Europe. As the Phuket Sandbox plan climbs closer and closer to being officially approved, airlines are scheduling flights. Now Thai Airways has announced direct flights from 5 European cities beginning July 2.
According to an announcement on the struggling airline's Facebook page, Thai Airways flights will operate to Phuket from the key European travel hubs of London, Paris, Frankfurt, Copenhagen, and Zurich. Thai Airways appears to also have planned flights from Hong Kong to Phuket beginning on July 2.
If Nick Thomas-Symonds gets his way, that Phuket-London route may face difficulties, as the Shadow Home Secretary of the United Kingdom has called for Thailand to be added to the Red List, forbidding all travellers coming from Thailand to enter the UK.
The Thai Airways flights will coincide with the sandbox reopening of Phuket to fully vaccinated international tourists, which recently passed the first step of the government's approval process. The Cabinet is expected to approve the plan tomorrow and then it awaits publication in the Royal Gazette, making the proposal an officially approved plan.
The reopening has met criticism though, as while it did offer the convenience of allowing transit via Bangkok and clarifying the rules for children travelling, the main caveat that has snagged travellers attention is the expansion from 7 days to 14 days that arrivals must stay on Phuket. While allowed to wander, and free from a full quarantine, tourists will be forbidden from leaving the island even on popular day excursions to nearby islands.
The announcement by Thai Airways comes following several airlines releasing Phuket flight schedules this week. Qatar Airways announced first, with 4 scheduled flights a week. Etihad Airlines and Emirates Airways followed suit the next day, with 3 flights and 4 flights a week respectively. KLM was a bit more hesitant, announcing that Phuket would be on their flight schedules only from October on.
SOURCE: Bangkok Post