Phuket's tourist evolution – Diversity is the best option Part 1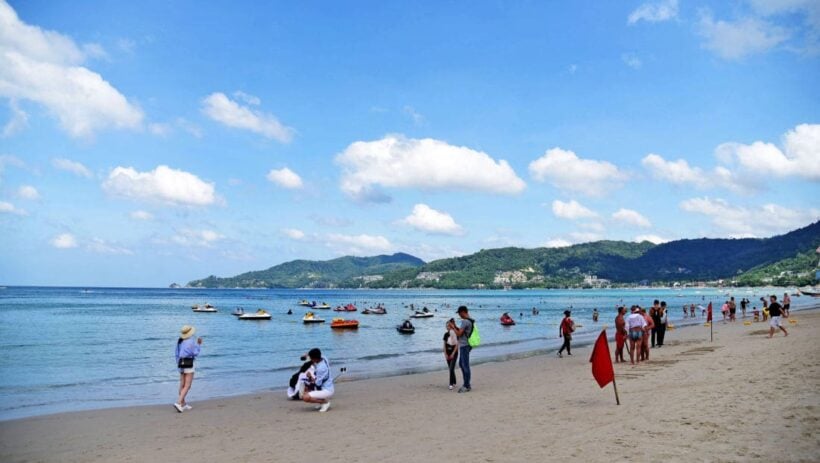 by Guest Writer
Today's guest writer has been managing resorts around Phuket for two decades and has represented his brand at international expos along with promotions for Phuket over the years. His knowledge is first-hand and steeped in local experience. He has asked to remain anonymous.
At the end of the 1990's into the early 2000's Phuket saw the drastic increase in number of guests from Scandinavia countries with their tour operators investing many millions of Baht in developing new resorts to cater for their expected dramatic increase in tourism to Thailand. 
Today most of these resorts still stand and have successfully operated since but, some (as ours have) have seen the Scandianavian guests moving out and focusing more on Khao Lak as a preferred destination plus the resort towns of Hua Hin and Rayong who emerged as preferred destinations for the Scandinavian market. They too have seen changes with the development of small communities of private housing to cater for this market in preference to traditional resorts. This is also true for couples and the 'silver' market (over 60s). Families however are very much geared towards purpose-built family-friendly resorts, or resorts operated/managed by their tour operator. 
In the early 2000's we also saw the beginnings of the Russian market starting to check out Phuket as a new destination. I remember when one tour operator, who is very successful now, came to our resort to ask for some rooms and if they could pay on departure for their guests rather than before their arrival. We were one of the first to say 'yes' and even today the tour operator always recalls that early business assistance when they chat with me. 
Since then Phuket experienced arrivals from Russians drastically increasing year on year beyond any expectations, until now. For our resorts, we relied on the Russian market to fill nearly 80% of the resort for high season and they just carried on asking for more and more rooms until April this year when this market's numbers dropped through the floor. As Egypt has re-opened and Vietnam is seen as the 'new' place to be seen, Russian guests are now heading to these destinations and Phuket has been left behind.  
Will they come back? Only time will tell, but over the past year the number of families has increased heavily with over 60% of one major tour operator's guest arrival list being families. So if the Russians do come back (and everyone is positive that they will), it COULD mean that there is a shift in choice of beach or choice of resort offering more kid-friendly opportunities.  
Resort operators therefore need to look at the future and 'change with the times'. In some cases this might mean having to change their guest room configurations to cater for market swings or as in the case of a friend's resort, knock down single rooms and build more family-friendly accommodation! Upgrade facilities to cater to the new markets. This also goes for local establishments – restaurants, attractions, tours and retail shops. 
In our resorts, we have increased the number of family rooms by over 100% with 50 rooms currently being converted to cater for this market. 
The Chinese are still getting over the Phuket boat tragedy last July and the recent 'auction' of the boat just dragged on this pain and uneccessary loss of friends and families. When we visited Chinese travel partners late last year, their anger and sadness of this tragedy was still front of mind and Chinese social media was still encouraging others to travel to safer countries who look after their visitors. 
Chinese partners had moved their advertising campaign budgets to other destinations, and this was noticeable as Japan took over as the number one choice of Chinese visitors during their 'golden week' last year. But Thailand is still a very important market to our travel partners and they will continue to support Thai and Phuket tourism.
The Chinese visitor should be welcomed with open arms here in Phuket and we need to understand the power of their social media in relation to recommendation of eateries, shopping opportunities and where to be seen with their selfies! 
One simple selfie can have over 5 millions LIKES within a few minutes and that is fabulous free PR for the island and the location where they took the selfie. Welcome to the world of social media and millennials! 
The move away from group tours to individual travelers (FITs) continues as we hear of our partners in China reducing tour groups down to 40% (Beijing operator) and 50% (Shanghai) of their total guest mix and the power of the online platforms to 'book and travel' on the same apps means that the Chinese have plenty of choices of where to go. Visa-free countries for the Chinese visitor are being added all the time and the Chinese tourist have been happy to explore new destinations.  
Two major Chinese partners mentioned that it is not just Thailand feeling the decline in Chinese tourists this year, but also several countries within Asia this year.  
Tomorrow we'll look at the new nationalities that are looking to Phuket, some statistics from our hotels over the past year and some of my thoughts about Thailand's strong currency.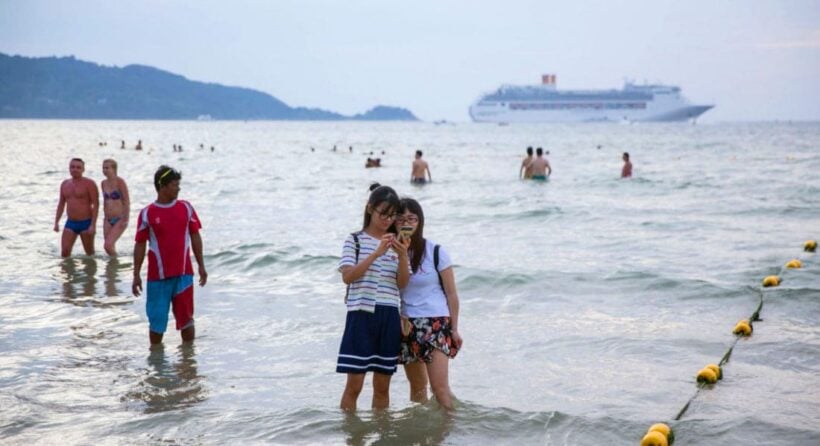 Weather warning for southern and eastern Thailand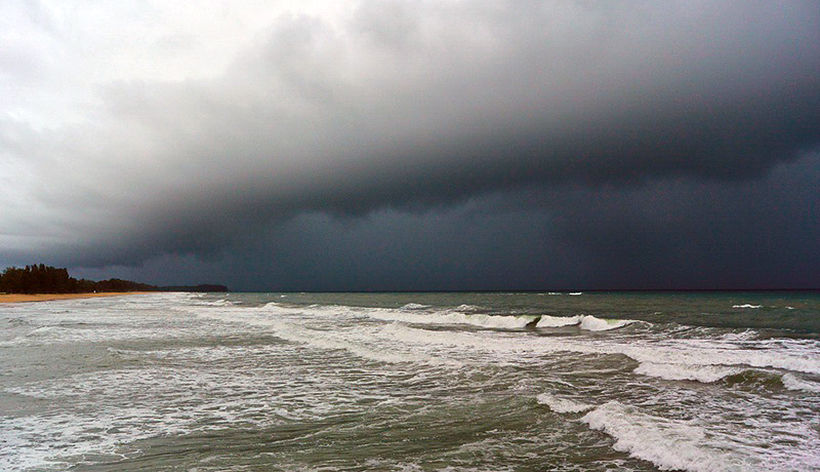 Five day forecasts for Phuket, Pattaya and Koh Samui below
The Thai Meteorological Department has issued a weather warning to alert people to approaching heavy rains and strong winds in the South.
The TMD predicts more rain from from today up to July 21 in the Southern and Eastern regions due to a tropical depression approaching westward from the Pacific, which is likely to gain strength and move through The Philippines into the northern South China Sea, and the strengthening southwest monsoon that prevails over the Andaman Sea and the Gulf of Thailand.
"Outbreaks of heavy rain are also possible for those areas. People should be aware of severe conditions that may cause flash floods and heavy water runoff."
The warning says that waves in the Andaman Sea are likely to be 2-3 metres high and, in the Gulf, about 2 metres high. In storm areas, they will reach 3 metres.
The affected areas listed by the TMD are Nakhon Nayok, Chachoengsao, Chon Buri, Rayong, Chanthaburi and Trat in the East, Chumphon, Surat Thani, Nakhon Si Thammarat and Phatthalung in the South's east coast, Ranong, Phang Nga, Phuket, Krabi, Trang and Satun in the west coast.

Phuket's five day forecast

Pattaya's five day forecast

Koh Samui's five day forecast
Phantom V wins Multihull Solutions Regatta in Phuket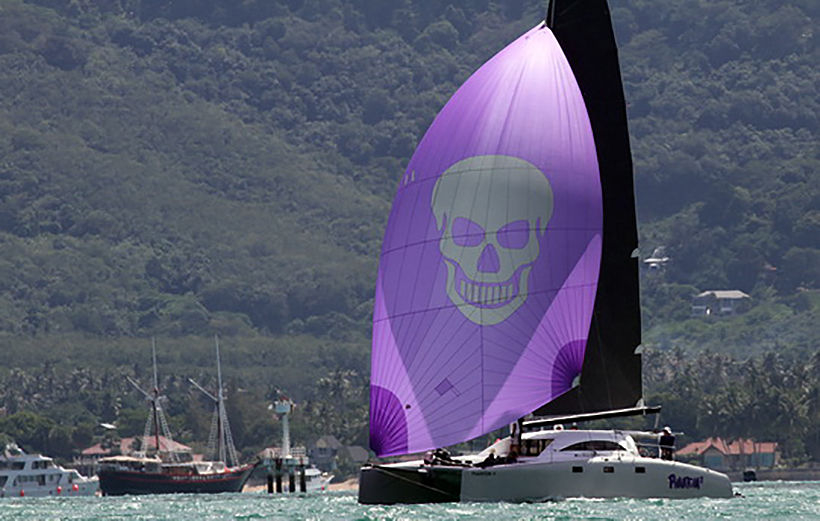 PHOTOS: Phuket Yacht Club
The 2019 Multihull Solutions Regatta has been run and won after the final day of excellent racing conditions off southern Phuket.
The Stealth catamaran Phantom V with its boat builders Alan Carwardine and Roger Diggleman on board, as well as owner Andrew Hurford, won the Racing Multihull Division of the 2019 Multihull Solutions Regatta. Its four first-place finishes, while never finishing lower than third, helped Phantom V clinch the title.
Warwick Downes' Bonza (the old Fugazi) flew around the course all regatta earning line honours on most of its races but had to settle for second overall though it did win two races during the event.
On the final day, Dan Fidock's new Fugazi (a Bakewell White 10.5) shed its teething problems as it romped through the water like a bat out of hell earning line honours (and second overall) in race one crossing the finish line in 1:35:29 after it sailed out around Koh Bon and then Koh Loh before turning for home at the Phuket deep port safe water mark. It also won race two on the day for the Racing Multis, a three-lap windward-leeward giving the boat its first victory of the regatta.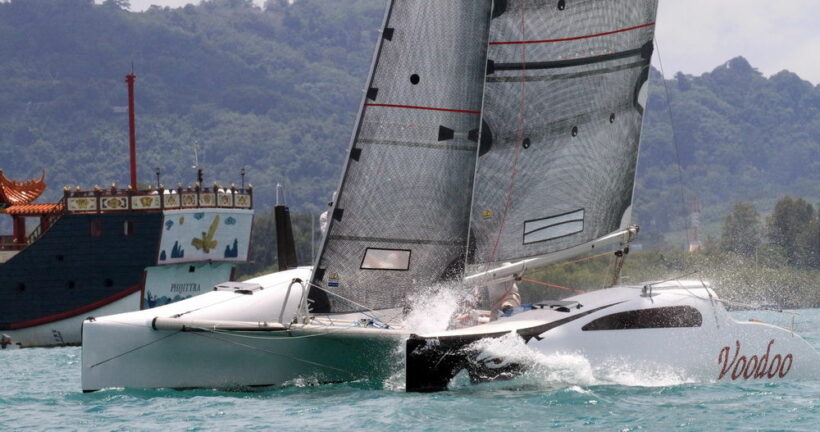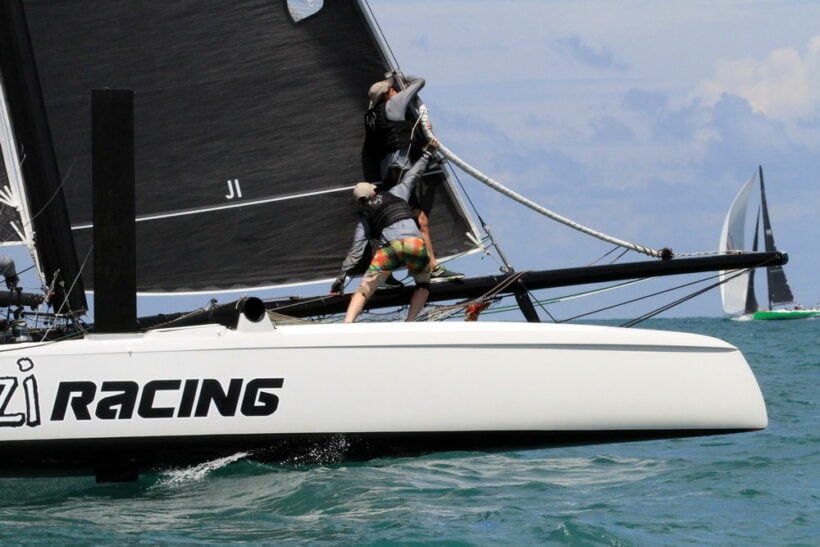 Glyn Rowlands' Twister 2 who featured three generations on board finished fourth and if not for a FPSA on race three might have even placed higher. Dirk Weiblen's No Fear came last in the five-boat division but a combination of DNSs and DNFs saw it only start three of the seven races held in the Racing Multis.
The Firefly division was a Battle Royale from the get-go between arch-rivals Twin Sharks and Voodoo as only a point separated them going into the final day of racing. And fittingly, it was all decided on the last race when Twin Sharks managed to push Voodoo into fourth place with a port vs starboard incident on the downward leg of the last lap enabling Twin Sharks to move into second place in the race and grab the title.
George Eddings' Blue Noze was in the midst of it all throughout the regatta winning one race and taking third overall. Rau Waldron's Surf Patrol finished the regatta with a strong performance winning the last race but placed fourth overall, followed by Marc Chapus and his crew on Moto Inzi, who never really did get over their teething problems finishing last in the majority of the races.
Zam Bevan's ShoVel won all its races in the Cruising Multihull division but its sole competitor Bill Kane's The Sting was granted "the perseverance trophy" for its "never say die" attitude during the event.
The 2020 Multihull Solutions Regatta will be held from July 10-13. Contact title sponsor Andrew de Bruin at andrew@multihullsolutions.asia if interested in chartering a multihull.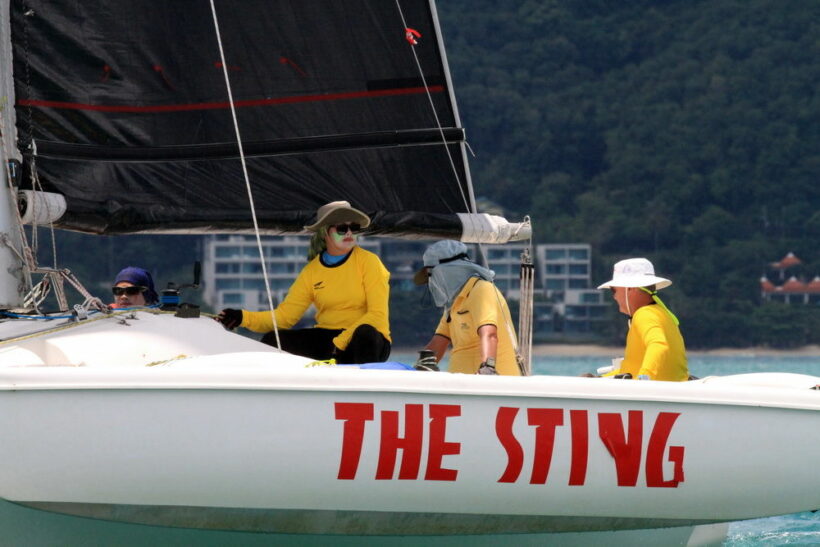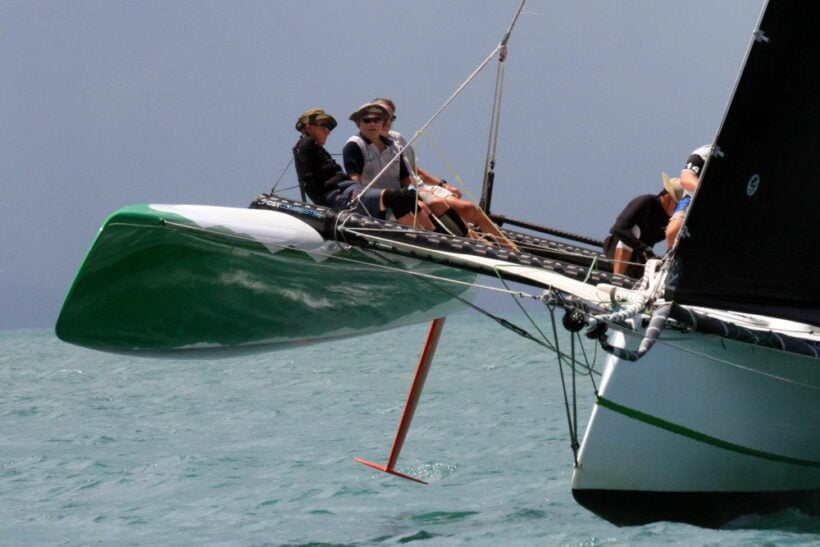 Investigation continues into electrocuted student at public park in Phuket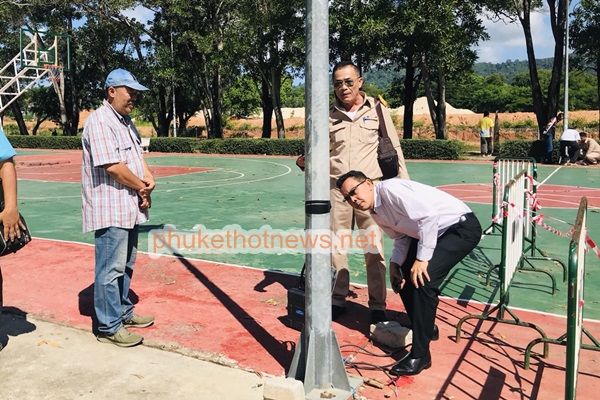 PHOTOS: Phuket Hot News
Forensic police, along with the experts from the Phuket Provincial Electricity Authority office, investigated the basketball field in Suan Luang Park following the tragic death of an 18 year old Thai-Egyptian student of Prince of Songkhla University, Kahled 'Nikki' Nour, on July 13. He was electrocuted after touching a lamp post next to the basketball court.
Nikki was laying down near the lamp post at the basketball field before he got electrocuted while his friend, Cherdsak 'Enzo' Vaiano, was also shocked but survived and is now recovering at Phuket International Hospital.
Chaiyot Panyawai, a former Phuket senator and a relative of Nikki, along with other relatives, witnessed the representatives of the PEA and the outsourced company, responsible for the lamp post, gathering evidence with the police at the park.
Officials noted there was a wire repair earlier and some wires remained exposed and merely covered with black tape. They explained that they will file a full report to the police.
Meanwhile, Chaiyot said the people involved must be very careful of the lamp posts, not only in the area of Phuket Municipality, but everywhere around Phuket. The local official of each area must check their public lamp posts often.
Also, he mentioned that witnesses at the scene told him that CPR didn't work while they called the ambulance. It took about 30 minutes for the ambulance to arrive which was too late for Nikki. He called for an adjustment to emergency response by placing ambulances at different exercising spots, such as Suan Luang and Sapan Hin Park, to provide faster response for this kind of unexpected incident.
He said that there are a few things that he still doubts about the incident. There was an official telling him that there were some insects creating a hive inside the pole causing the leak, but what he saw was that the joint of the wire touched the post from the inside.
Also, he mentioned that the junction of the ground wire was obviously loose and the ground wire was "below standard". He believes that the tragic incident was caused by negligence but there would be an investigation to see who is responsible.
After the incident, the Phuket Municipality provided support to the family for the funeral but the compensation hasn't been discussed because the family and relatives have yet to hear about the official cause of death.