New Robinsons Tower in Singapore reaches for the sky with a green thumb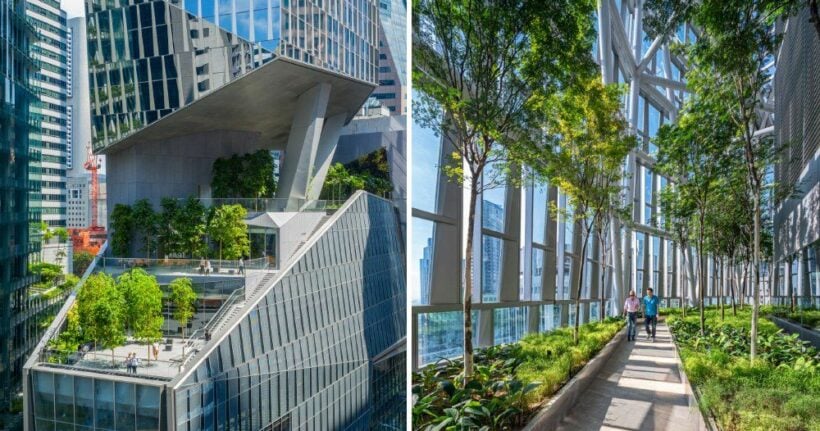 Thailand's capital could never be accused of having one of the world's most interesting skylines. Except for maybe the Mahanakorn 'lego building', there is little cutting edge skyline architecture in Bangkok.
It's a different case a few hours flight south in the Lion City, Singapore.
Pushing all sort of limits is the new Robinson Tower in the CBD. The first impression is of the upper section floating above the lower, with a leafy garden flowing between the two.
A closer inspection reveals a core that provides the backbone fo the entire structure. The twenty floors of offices also has a terraced rooftop garden.
Designed by New York's Kohn Pedersen Fox Associates, the tower is also home to retail and food outlets in the lower section of the building, all arranged around another greenspace in a central atrium.
The architects say the design was influenced by Singapore's Landscape Replacement Policy, which requires developers to incorporate publicly accessible green spaces equal in area to any greenery removed to develop the property.
"The dynamic tower frees itself from the canyon of stoic facades, integrating green space at unique vantage points and ultimately cultivating the public realm alongside a boutique, mixed-use program," said Bruce Fisher, design director at KPF.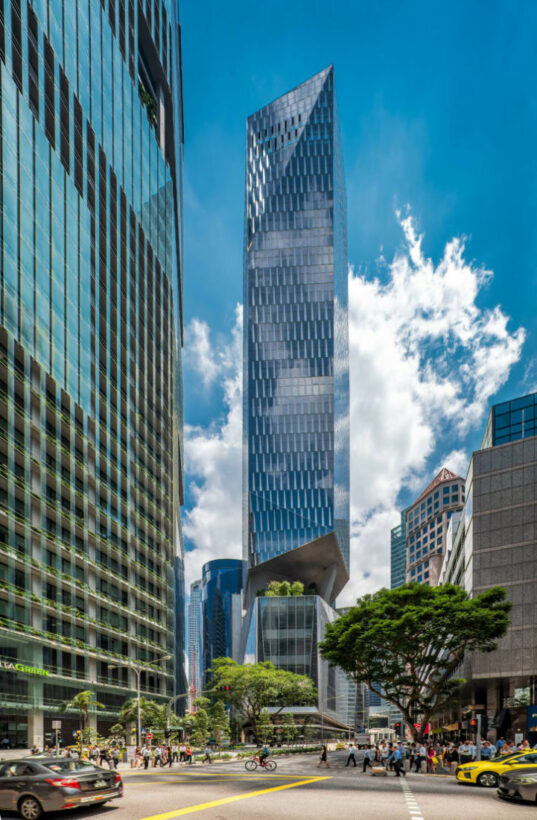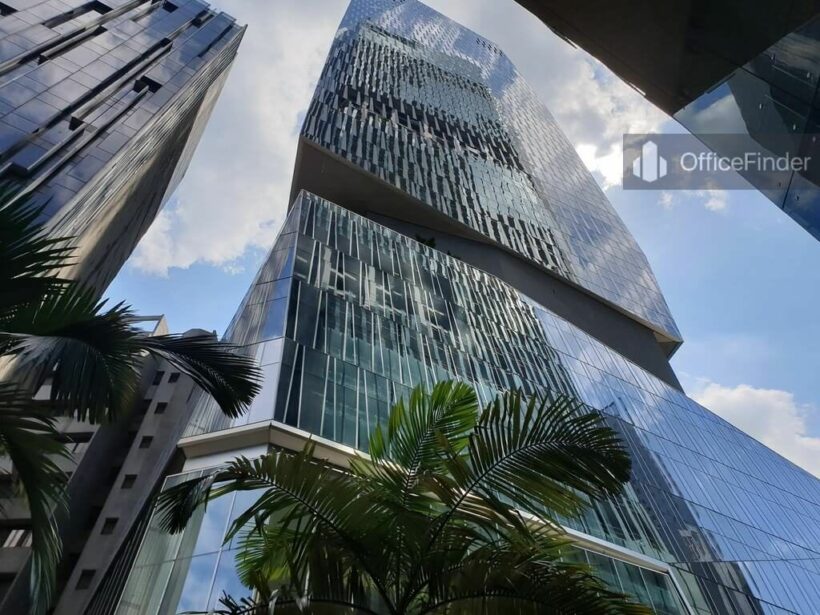 Keep in contact with Thaiger by following our Facebook page.
Never miss out on future posts by following Thaiger.
Hong Kong slaps Singapore Airlines with 2 week ban over Covid infractions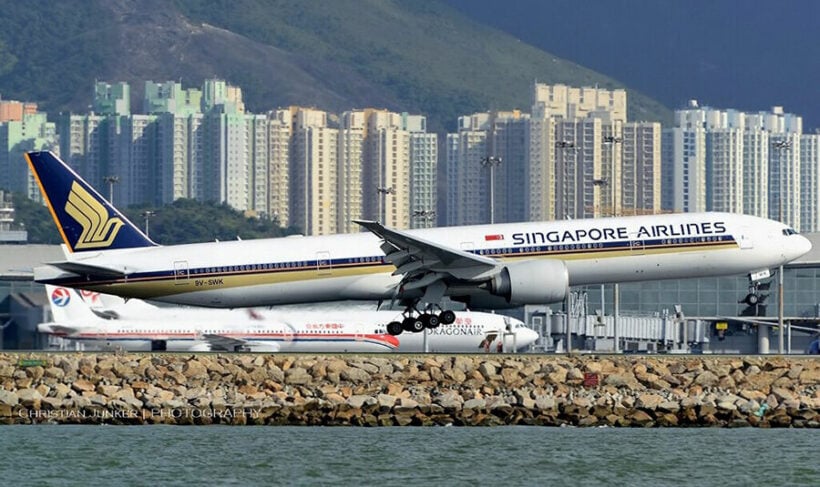 Hong Kong has implemented a 2 week ban on Singapore Airlines passenger flights from Singapore, after a passenger tested positive for Covid-19 on Wednesday. Hong Kong authorities say 3 other passengers on the flight also failed to follow the territory's Prevention and Control of Disease Regulations.
Singapore Airlines have confirmed the ban, which is in place until April 16, but say it will not affect outbound flights from Hong Kong to Singapore. Both countries have been in talks for several months about a possible travel bubble that would mean quarantine could be waived for passengers travelling between the two destinations. Officials hoped to implement the arrangement last November, but it was shelved indefinitely due to a resurgence of Covid infections.
The Bangkok Post reports that in recent months, Singapore's infection rate has fallen, thanks to strict restrictions on entry and other disease prevention measures. Prior to this week's incident, officials in Hong Kong had once again floated the travel bubble idea with their counterparts in Singapore. It's believed 6 other countries are also being considered for the arrangement with Hong Kong, but Singapore is currently the priority.
Non-residents are currently denied entry to Hong Kong, which is restricted to holders of Hong Kong identity cards or passports. Arriving passengers are subject to 21 days' quarantine. The territory has so far recorded 11,500 infections and 205 deaths. Singapore has reported 60,450 cases and 30 deaths.
SOURCE: Bangkok Post
Keep in contact with Thaiger by following our Facebook page.
Never miss out on future posts by following Thaiger.
Singapore begins flying with Covid-19 vaccinated employees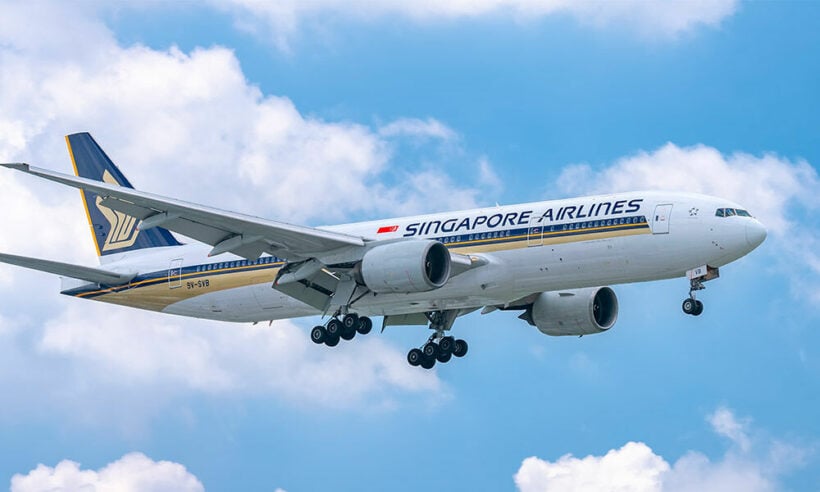 Singapore Airlines is beginning to fly with Covid-19 vaccinated employees. The airline says pilots and cabin crew on 3 international flights from the country have received both doses of the Pfizer-BioNTech vaccine.
The airline said pilots and cabin crew on 3 international flights from Singapore had received both of the required doses of the Pfizer-BioNTech vaccine. The move to become the world's first carrier to feature all plane employees vaccinated against the coronavirus is being pushed by the government as it is urging workers to sign up for its vaccination program.
The carrier says more than 90% of its cabin crew and pilots have, indeed, signed up for the inoculation program, with 85% already receiving at least the first dose. The airline says it expects all employees to be fully vaccinated by March. The 3 flights with vaccinated crew go outbound to Bangkok, Phnom Penh and Jakarta-all in the southeast Asian region.
According to Singaporeair.com, as of January 2021, SIA will reinstate services to Dubai, Moscow and Munich, and increase the frequency of its existing services to points in the United States, Europe and South Africa. From March 2021, SIA will reinstate services to Tokyo Haneda.
Scoot's services to Kuala Lumpur, Manila and Perth will be temporarily suspended, while SIA and SilkAir will increase their frequencies on those routes. At the same time, SIA and SilkAir will temporarily suspend services to Penang, Surabaya and Taipei while Scoot will operate to these destinations at higher frequencies. These changes, which are subject to regulatory approvals, are expected to take place in November and December 2020.
The affected travel period for these destinations are as follows:
• Kuala Lumpur: From 17 November 2020
• Manila: From 4 December 2020
• Penang: From 8 December 2020
• Perth: From 5 December 2020
• Surabaya: From 9 December 2020
• Taipei: From 16 December 2020
Meanwhile, Abu Dhabi's Etihad Airways says its flights are only being operated by pilots and cabin crew who had been vaccinated, which a spokeswoman later said it meant the crews had received at least 1 dose.
SOURCE: Bangkok Post
Keep in contact with Thaiger by following our Facebook page.
Never miss out on future posts by following Thaiger.
Woman jailed in Singapore for lying to Covid contact tracers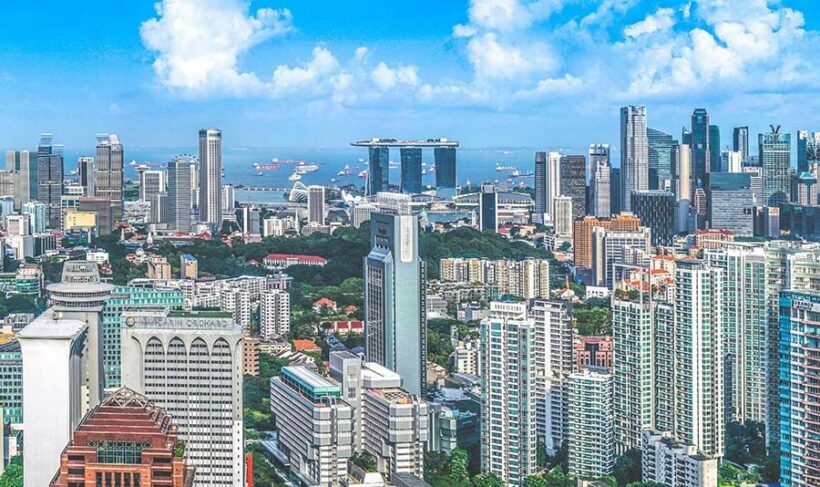 A 65 year old Singaporean woman, who tested positive for Covid-19 in February, has been jailed for 5 months after officials discovered she lied about having contact with a male friend. Oh Bee Hiok did not disclose that she'd met up with 72 year old Lim Kiang Hong 5 times in the weeks leading up to her diagnosis. It's understood she kept the information from contact-tracers as she didn't want family members to think she was having an affair with Lim. Court documents confirm he subsequently tested positive in March.
"She did not want her family or Lim's family to find out that they were going out so frequently, as she thought that their family and friends would suspect that they were in a romantic relationship and spread rumours about them being in an extra-marital affair."
According to a Thai PBS World report, Oh spoke to Lim on the phone after she was admitted to hospital with Covid-19 and asked him to keep quiet about their meetings. However, officials discovered the truth after checking phone call records, CCTV footage, parking records, and credit card transactions.
Oh has pleaded guilty to obstructing contact-tracing efforts, for which the maximum penalty is a fine of SG$10,000 (approximately 227,000 baht), 6 months' imprisonment, or both. In sentencing her to 5 months in prison, Judge Marvin Bay accused her of being selfish and going against the public interest.
"In this regard, the court must send a clear message that any act of withholding information likely to mislead contact tracers is totally unacceptable."
Singapore has so far recorded over 58,800 cases of Covid-19, with 29 deaths.
SOURCE: Thai PBS World
Keep in contact with Thaiger by following our Facebook page.
Never miss out on future posts by following Thaiger.