Road deaths
Thailand
Two Thai men die in unrelated road accidents hours after both winning the lottery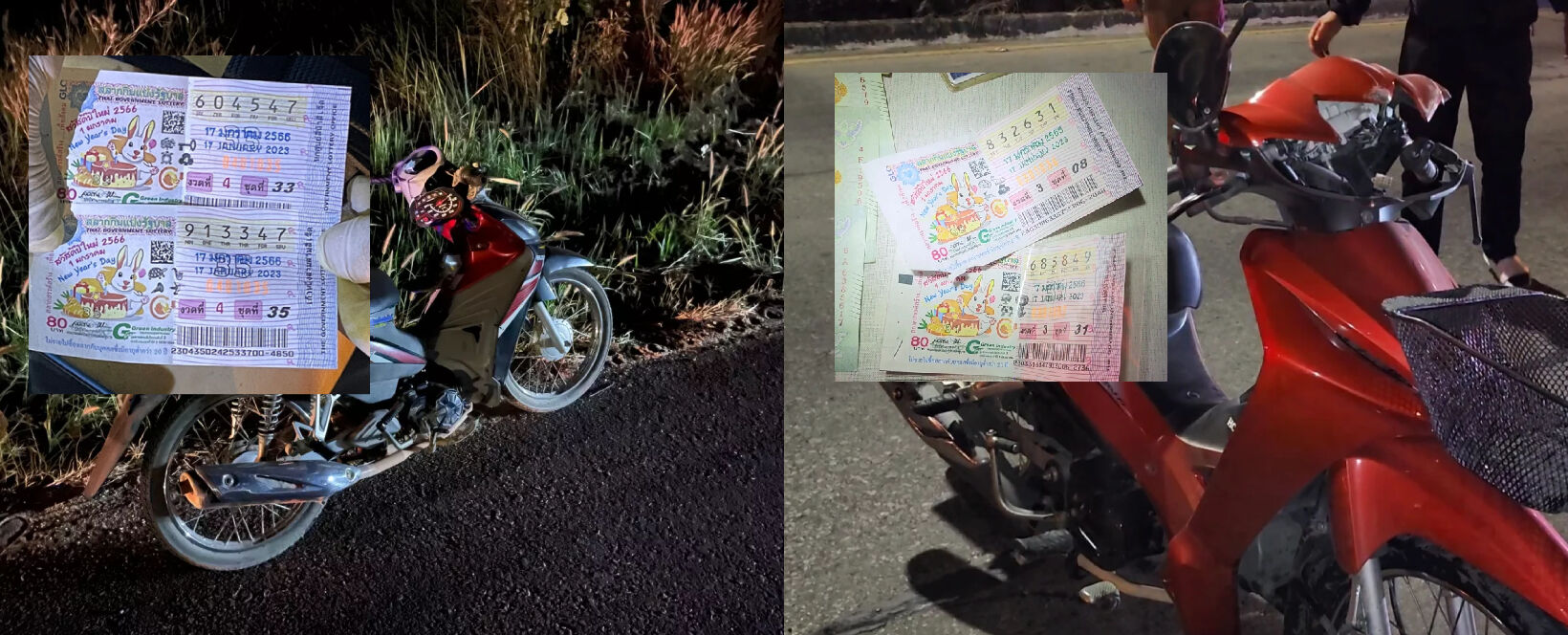 Two Thai men were killed in unrelated road accidents in different regions of Thailand last night. Both of them had won the lottery earlier that day.
In Chiang Mai, 40 year old Thitibodin [surname reserved] lost control and fatally crashed his motorbike into an electricity pole just after midnight outside the Chiang Mai Provincial Land Transport Office on the Chiang Mai – Hod Road in Mueang district.
Officers at Mueang Chiang Mai Police Station and volunteers from the Ruam Jai Chiang Mai Foundation found his body lying in a pool of blood 10 metres away from a Red Honda Wave motorbike with a Chiang Mai registration plate.
Police said blood was pouring from his cracked skull.
When police searched Thitibodin's house, they found two lottery tickets for the January 17 lotto draw. The final three numbers on the second ticket – 849 – were drawn, meaning Thitibodin won 4,000 baht.
Meanwhile, a security guard died after crashing his motorbike into the back of a lorry carrying sugarcane in Khamphaeng Phet province in central Thailand last night.
At 7.30pm, officers at Khlong Khlung Police Station were informed of a fatal road accident in the Wang Bua subdistrict.
Police found the body of 45 year old Supachai Suwannampan lying dead on the road, 30 metres away from a black and red Suzuki Shooter motorbike with no license plate.
Blood was pouring from Supachai's skull, too.
Nearby, a large truck carrying harvested sugarcane was parked on the roadside.
Police searched Supachai's property to find two lottery tickets for yesterday's draw.
The last two digits on one of the tickets – 47 – were drawn in yesterday's government lotto, meaning Supachai won 2,000 baht.
In October last year, a 40 year old Thai man in Pattaya went out drinking to celebrate winning the lottery but did not wake up the next day.
Police found his body surrounded by empty bottles of liquor and found no signs of foul play. He had won the lottery to the tune of 100,000 baht.