Five killed in Sa Kaew passenger van crash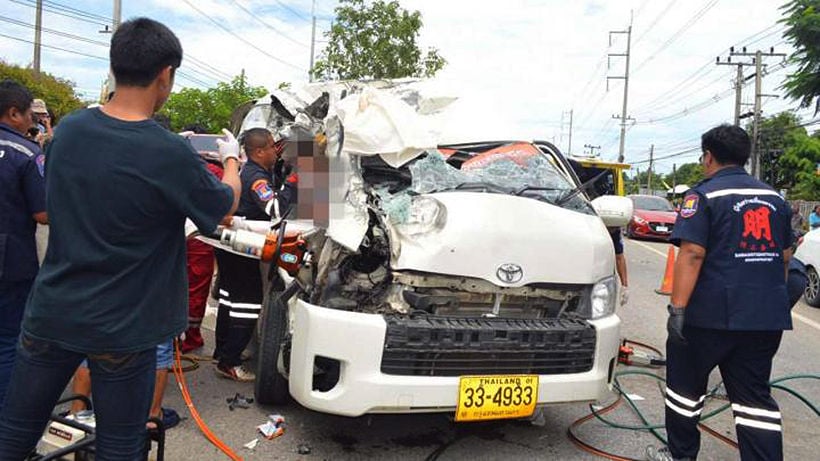 PHOTOS: Thai Rath
A Thai van driver has been killed along with four Cambodian passengers after a car veered across a traffic median and crashed head-on into them. The accident occurred at 10.30am yesterday on the Aranyaprathet-bound Suwansorn road in Wattana Nakhon district of Sa Kaew, on the Cambodian border, east of Bangkok.
Police report that a Cambodian girl and the car driver were critically injured while four other Cambodian passengers travelling in the van sustained minor injuries. Witnesses told police that the car driver, 20 year old Chaiwat Saithong, was driving to university when he lost control of his car, crossing over the traffic median and crashing with the van, driven by 28 year old Thirapong Suphonok.
Thirapong was killed along with a Cambodian boy, 11, and three Cambodian women.
Chaiwat, who was rushed to a nearby hospital, will be placed under custody, questioned and chareged when he recovers.
The owner of the van, 52 year old Charas Daenthaisong, says his driver was transporting the Cambodian migrants from the Prathunam area in Bangkok to the Rong Klua Market in Sa Kaew's Aranyaprathet district where they would cross the border at the Klong Luek checkpoint back to their homeland.
SOURCE: The Nation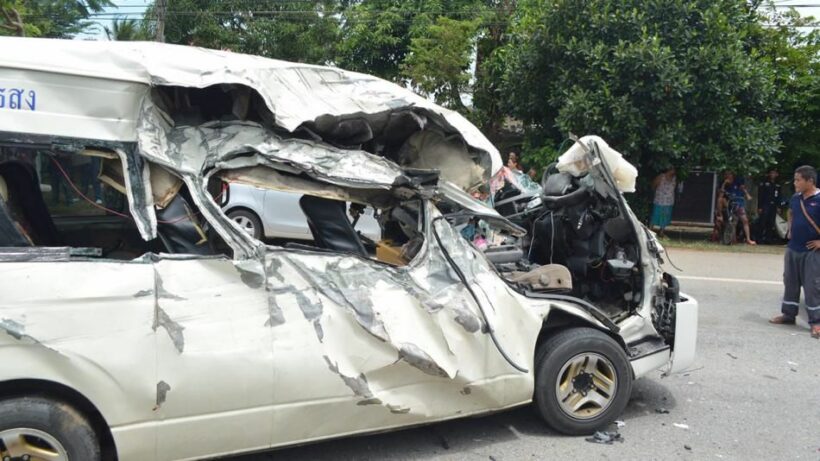 Keep in contact with The Thaiger by following our
Facebook page
.
Kind-hearted coffin seller turns a blind eye to repeated theft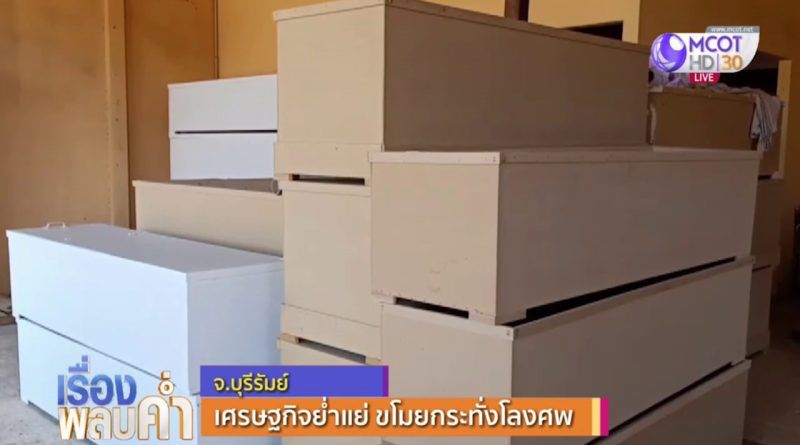 PHOTO: MCOT
"A coffin maker, who supplies Jamnong, says the store is left open at night, often with no staff in attendance."
The kind-hearted owner of a coffin shop in Buriram, north-east Thailand, has admitted he regularly has to deal with coffins being stolen from his premises, but can't bring himself to file police reports against the perpetrators, as he feels they must be dealing with financial hardship while grieving.
Thai Residents reports that the 50 year old store owner, named as Jamnong, says the theft of his coffins is a regular occurrence, but that it's usually only the cheaper options, priced at 600 – 800 baht, that are taken. Up until now, he's turned a blind eye to it out of sympathy.
However, the latest theft involved a significantly more expensive coffin, which was priced at 4,500 baht and Jamnong wonders if this one was stolen for its resale value as opposed to being needed by a grieving family.
Despite this, he still wasn't able to bring himself to file a police report, saying if the coffin is truly needed, he's happy to give it away. He also points out that he doesn't mind if people come to him directly and ask for a free coffin or a discount, if they're unable to pay the full price.
Jamnong says he would like the coffin thieves to think about the repercussions of their actions, as each theft costs him money. He has been unable to make any profit as a result of the thefts and says he now has no choice but to install CCTV at his shop.
He says he's prepared to report the next theft to police and to press charges, particularly if he suspects a coffin is being stolen to be resold, as opposed to being genuinely needed by someone who can't afford to pay for it.
A coffin maker, who supplies Jamnong, says the store is left open at night, often with no staff in attendance. The general understanding is that customers taking a coffin will call the phone number displayed at the front of the store to arrange payment at a later stage, but lately this agreement is being ignored as people abuse the store owner's trust.
SOURCE: Thai Residents
Keep in contact with The Thaiger by following our
Facebook page
.
Couple realise they'd won the lottery when driving back to hometown in the north-east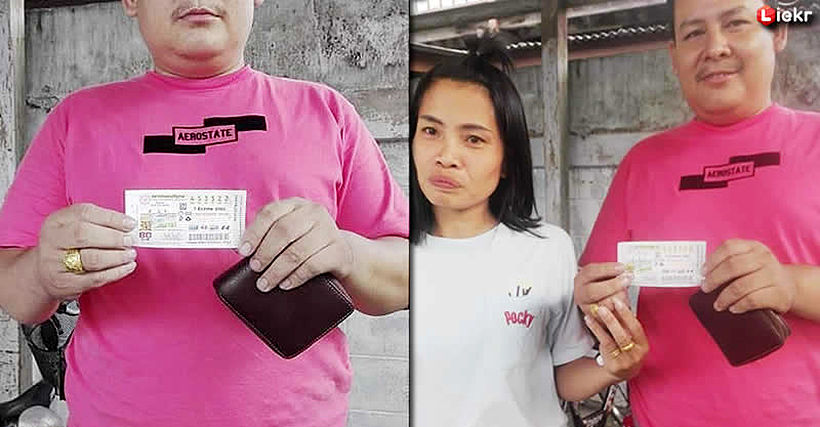 PHOTO: Sanook
A husband and wife were driving back to Yasothon Province in the north-east from Bangkok when they checked Sunday's draw of the twice-monthly Thai Government lottery. They'd won the first prize! 6 million baht.
The couple work as vendors at the Sampeng Market in ChinaTown, Bangkok. The winning numbers were 453522.
23 years old Methinee and her 34 year old husband Praiwan turns up to show the media today their winning tickets and two broad smiles. The say they've been working together everyday selling at the Sampeng market in ChinaTown. The market is famous, or infamous, for selling cheap bulk items from China. They were on the way to visit Methinee's family in Yasothon when they checked and realised they'd won the big prize. Methinee explained she has 6 brothers and sisters who still live and work in their hometown.
She says met her husband and fell in love before moving in together and had 1 child. They have just finished building a house and the car that they'd leased still had a few months of payment left. But they thought they had created a good start for their small family. Now all that has changed.
They say they selected their lucky numbers from their car number plates or "whatever feels right". The one winning ticket delivered them a total of 6 million baht.
Praiwan told the media he wants his wife to keep and control the money received from the prize. They say they will pay off all the debts and then bank the rest for their child.
SOURCE: Thai Residents
Keep in contact with The Thaiger by following our
Facebook page
.
Government donates tents to Korat traders in wake of devastating market fire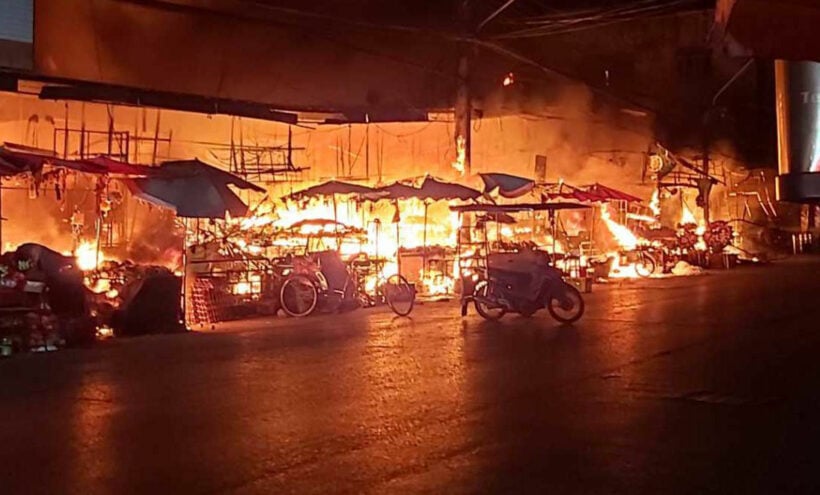 PHOTO: Prasit Tangprasert
Following a fire on Sunday night that ripped through the Mae Kim Heng market in Nakorn Ratchasima (Korat), north-eastern Thailand, the provincial government has provided tents for over 100 affected vendors. The Nation reports that the blaze started in a flower shop near the front of the market, where a large volume of foam blocks, used in floral displays, were being stored.
The fire went on to destroy two units of a commercial building adjacent to the market, leading to 50 million baht in damages. Half of the market was also destroyed, with its steel-structure roof collapsing.
The owner of the flower shop, Somporn Palatwong, says she had flowers in stock ready for Father's Day on Thursday, and estimates that she has incurred damages amounting to approximately 500,000 baht.
It's understood that in addition to the tents provided by local officials, market traders are also eligible for a new temporary area in which to conduct business, while government engineers examine the structure of the marketplace and officials work to establish what caused the fire.
They expect to have an official report ready next week.
SOURCE: The Nation
Keep in contact with The Thaiger by following our
Facebook page
.