Senators, MPs, voice support for Thailand's lèse majesté law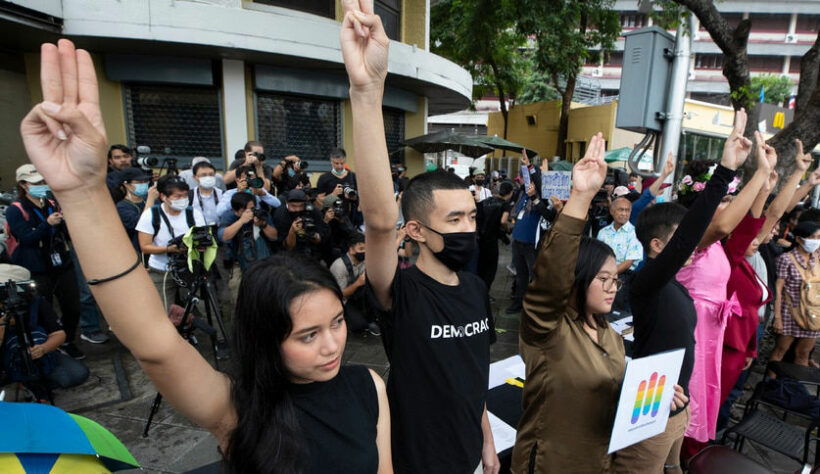 Politicians have come out in support of the Kingdom's lèse majesté law, amid calls from pro-democracy activists to have it abolished. The law, officially Section 112 of the Criminal Code, prohibits criticising, defaming, or insulting the Thai Monarchy. At least 12 political activists have recently been charged with lèse majesté offences for their role in various anti-government rallies.
On Thursday, Somyot Prueksakasemsuk from the 24 June Democracy Restoration group, submitted a petition to the Office of the United Nations High Commissioner for Human Rights, calling on it to intervene to prevent the law being used against pro-democracy activists. Protesters calling for an end to the law gathered outside the UN building on Ratchadamnoen Nok Avenue and at the Ministry of Social Development and Human Security.
Foreign Ministry spokesman Tanee Sangrat says that, while the OHCHR will accept petitions from all groups, it already monitors human rights matters in Thailand, including the use of Section 112.
Meanwhile, Senator Chadej Insawang says committee members for the protection of the royal institution will meet on December 18, in response to the calls for Section 112 to be abolished. He points out that all countries have similar legal provisions and claims protesters are trying to pile pressure on the Thai government.
Jurin Laksanawisit, the leader of the Democrat Party, says he and his party members oppose the idea of changing the country to a republic or a communist state. He says the party will only support a constitutional monarchy and that every country has laws in place to protect their leaders.
Meanwhile, Pareena Kraikupt, from the ruling Palang Pracharath Party, also submitted a letter to the UN, in an attempt to explain Thailand's lèse majesté law. She was backed by a number of supporters in yellow, who held signs reading slogans that included, ""Stop threatening the life of the King" and, "Save 112."
The Bangkok Post reports that after Thai actor O Anuchit backed the use of the lèse majesté law, the hashtag #banoanuchit began trending on social media yesterday, appearing on Twitter at least 30,000 times.
SOURCE: Bangkok Post
Keep in contact with The Thaiger by following our Facebook page.
Never miss out on future posts by following The Thaiger.
US Ambassador to Thailand quits after Biden inaugurated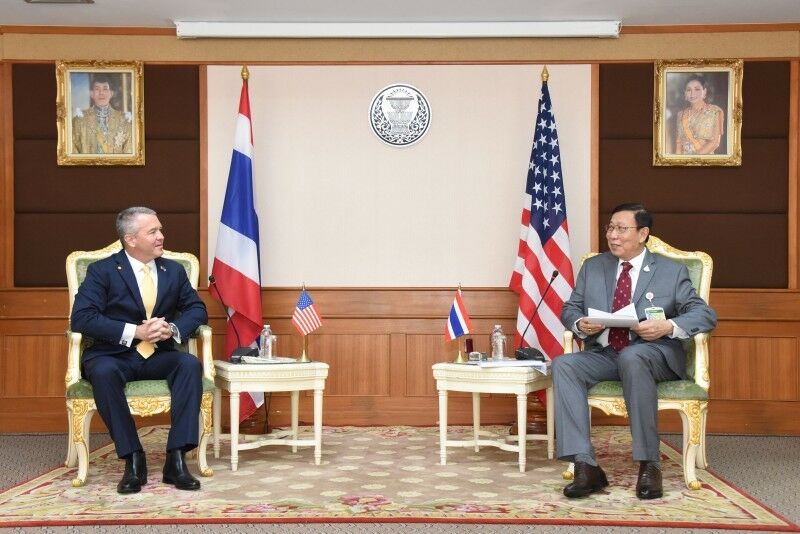 The US Ambassador to Thailand seems to have quit after only serving less than 1 year in office and moments after President Biden's inauguration. Michael George DeSombre, who was appointed by President Trump in early 2020, made the announcement of his departure on the embassy's official social media platform yesterday. A day before, he met with PM Prayut to "thank the Royal Thai Government" as is customary with departing ambassadors. DeSombre succeeded career diplomat Glyn T. Davies.
"It has been a privilege serving as the United States Ambassador to the Kingdom of Thailand. I am exceedingly proud of all we have done to strengthen the US-Thai relationship. I am signing off now from this account and leaving it in the good hands of our Embassy staff."
Now, as the US Embassy official website names Chargé d'Affaires Michael Heath as its diplomatic mission leader, it is not known when a new ambassador will be chosen by the Biden administration.
Just last year in October, DeSombre wrote, on the same day that President Trump tested positive for the virus, that he was less than supportive of a full-blown shutdown.
"The evidence over the last six months shows that the costs of a really extreme shutdown are generally worse than the benefits and it is better to keep the economy running."
According to Wikipedia, DeSombre co-founded Republicans Overseas for Americans abroad in 2013 in which the organisation focuses on tax reform. Upon his appointment as Ambassador, DeSombre stated that his office would primarily encourage the economic partnership between the two countries, with a focus on American investments and Thailand's infrastructure projects and supply chains.
He has also said that US firms were interested in increasing investments in Thailand, including in areas under the 1966 Amity treaty. Thailand and the US established relations in 1818 and later formalised the ties in 1833.
SOURCE: Khaosod English
Keep in contact with The Thaiger by following our Facebook page.
Never miss out on future posts by following The Thaiger.
PM vows action against 'not factual' information on vaccine plan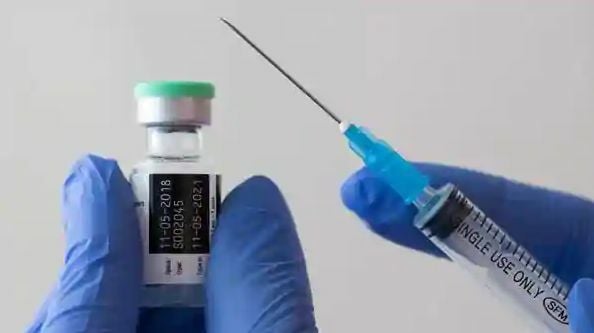 PM Prayut Chan-o-cha will order legal action against anyone who "distorts information" about the government's Covid-19 vaccination plan after the banned opposition politician Thanathorn Juangroongruangkit had raised the topic of "Royal Vaccine: Who Benefits and Who Doesn't?" on his Facebook Live feed on Monday.
On the Facebook Live, Thanathorn criticised the government's vaccine procurement and production, commenting that the government is too slow in securing sufficient inoculations.
"Thailand pinned its hopes only on AstraZeneca which allowed local pharmaceutical manufacturer, Siam Bioscience, to produce its vaccine. The government had not held talks with other countries until Jan 3 when it announced it will buy 2 million doses of vaccines from Sinovac which is a very small quantity… enough for only 1.5% of the population."
Siam Bioscience is a royally-sponsored company that has partnered AstraZeneca to produce the vaccines for Thailand and other countries in the region.
According to Dr Nakorn Premsiri, director of the National Vaccine Institute, Siam Bioscience invited the British-Swedish pharmaceutical group AstraZeneca to visit its plant to see whether it met the criteria required to produce the vaccine at a minimum of 200 million doses per year. The government approved 600 million baht to improve the plant's facilities to produce the Covid-19 vaccine according to the requirements of AstraZeneca.
Responding to Thanathorn's comment, the PM says he will order prosecution for anything "that is distorted and not factual" that gets published, whether in media or on social media and that he has to protect the government's credibility from those who are "irresponsible" with their remarks.
SOURCE:Bangkok Post
Keep in contact with The Thaiger by following our Facebook page.
Never miss out on future posts by following The Thaiger.
Companies pull out from Trump brand after storming of Capitol incident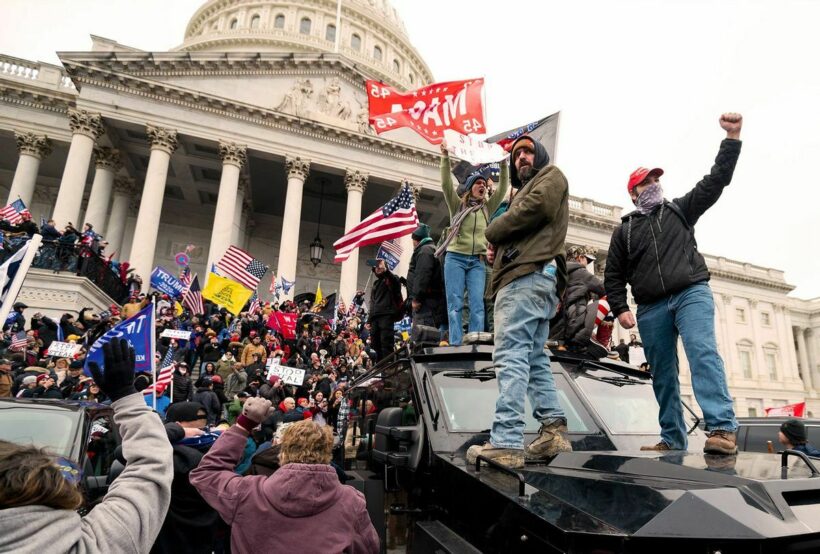 Corporate America is adding its weight in response to the insurgency at the Capitol building on January 6, and are pulling out from any association with the Trump brand after the storming of the capitol incidentwhich economists say will have a profound medium and long-term effect on his business interests. Recently, Signature Bank closed Trump's personal accounts and the PGA of America stopped plans to hold its 2022 championship at Mr. Trump's New Jersey golf course.
Such a parting of ways signals the business community's weariness in being associated with a political figure that has attracted worldwide attention and is indicative of what may happen to the Trump brand. The president's role in the incident, confirmed by his impeachment by the House this week, has gained criticism from the Business Roundtable to the AFL-CIO labour federation.
Michael D'Antonio, the author of a Trump biography, says the capitol incident has been a game-changer for the support of extreme politics.
"Trump's name is really an albatross. He is the most disgraced president in history. This is a person who's synonymous with a mob attacking the US Capitol. I just think this went a step too far."
Other experts like Tim Calkins, a marketing professor at Northwestern University's Kellogg School of Management, say Trump's brand will inevitably suffer long-term.
"Before his term, Trump stood for wealth, success and over-the-top luxury. Now the brand has associations with anti-government views, racism and extremism. This makes the brand fairly toxic."
Deutsche Bank, to which Trump reportedly owes around $400 million, is also planning to stop engaging in business with him. But the president dismissed any business challenges in an October 15 televised event by saying that the $400 million he owed was "a tiny percentage of my net worth."
It appears true that some of Trump's properties have benefitted from his presidency as taxpayer revenue has continuously flowed into his golf courses and clubs where he stays with his family, the secret service and the White House staff.
In fact, CREW estimates that Trump's properties took in over $100 million from more than 500 visits by the president, according to a report in September 2020. But even that business transaction has received widespread criticism as many say Trump should not have mixed politics with his personal businesses.
D'Antonio predicts that Trump may sell current assets to pay off his Deutsche Bank debt, which means there could be fewer to none Trump hotels, golf courses or towers in the next 10 years.
SOURCE: Bangkok Post
Keep in contact with The Thaiger by following our Facebook page.
Never miss out on future posts by following The Thaiger.