Old Thai habits die hard: Businesses are trying but shoppers remain stubborn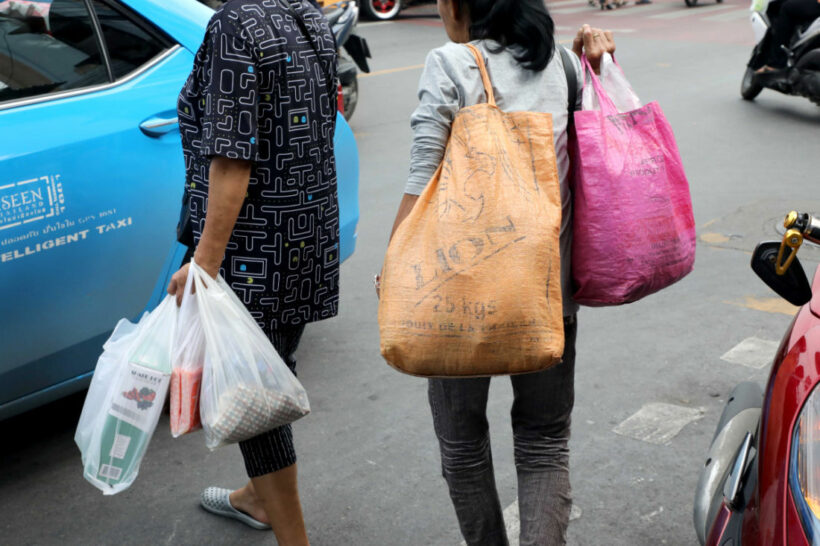 GRAPHICS: The Nation
Thailand is now abuzz over the issue of plastic pollution. This topic is now being widely discussed among Thai netizens, who have been suggesting many measures, including controlling the use of plastic bags at supermarkets and convenience stores.
But so much of daily Thai life still revolves around single-use plastics it is taking radical changes in behaviour and habits to make the substantial changes necessary.
The Nation took to the streets to see if there was any correlation between the big savings some of the larger companies are claiming and the 'real life' demands of shoppers and plastic bags.
The owner of 7-Eleven convenience stores, CP All, were asked about their measures and results. They claim they have enforced a strong policy to reduce the use of plastic over 10 years. Its campaign, "reduce plastic bags every day, you can do it", has saved the company the cost of 646 million plastic bags, and this money saved is being donated to hospitals for medical equipment. As of August 29, CP All said it has donated 126 million baht.
But even this campaign (honestly, I haven't noticed any move towards limiting plastic bags at 7-Eleven stores), is just a tiny tip of the iceberg.
A test at a 7-Eleven opposite Central Plaza Bangna for an hour from 10am showed that 27 customers still demanded plastic bags, while 23 people who bought either cigarettes, bottled water or coffee rejected plastic bags. Only three people were seen bringing their own bags.
Over at Amazon Café, they say the number of clients who bring their own cup for coffee has risen from around 1.8 million in January 15 to 2.2 million by August 15. In about seven months, Amazon coffee shops were reportedly able to reduce the use of 16.7 million plastic cups, averaging at 2.2 million cups per month.
We doubt those claims. The Nation report that when they monitored the Amazon Café near Interlink Tower in Bangkok during lunch break for an hour, not a single person had brought their own cup to the coffeeshop. This is even though staff insisted that 20 to 30 regular clients brought their own cup for a 5 baht discount.
The Thaiger are also regular customers of Amazon Cafes and have NEVER seen anyone coming in with their own mug. (The Thaiger usually drinks their coffee in-store in a china cup.)
Tesco Lotus began campaigning for customers to "say no to plastic" since 2015 and even introduced a variety of incentives such as reward points. As of August this year, Tesco had implemented a policy of not giving out plastic bags for purchases of one or two items at all its 1,800 hypermarkets.
Again, a 'useful' campaign which is as much about good PR for Tesco as it is about any realistic limiting of plastic bag use.
The Nation did more on-the-ground testing. On August 31, The Nation decided to count the number of customers at Tesco Lotus and 7-Eleven who rejected plastic bags. The test at Tesco Lotus (Seacon Square) ran for an hour from 12.45pm, and we found that 453 shoppers still asked for plastic bags, while only 29 either rejected a plastic bag or used their own cloth bag.
After learning about The Nation's tests, Tesco Lotus announced on September 2 that all express checkout lanes at 200 of its hypermarts will become "green lanes" and will not give out plastic bags. It said its goal is to close the loop on packaging, not to just limit single-use plastic bags.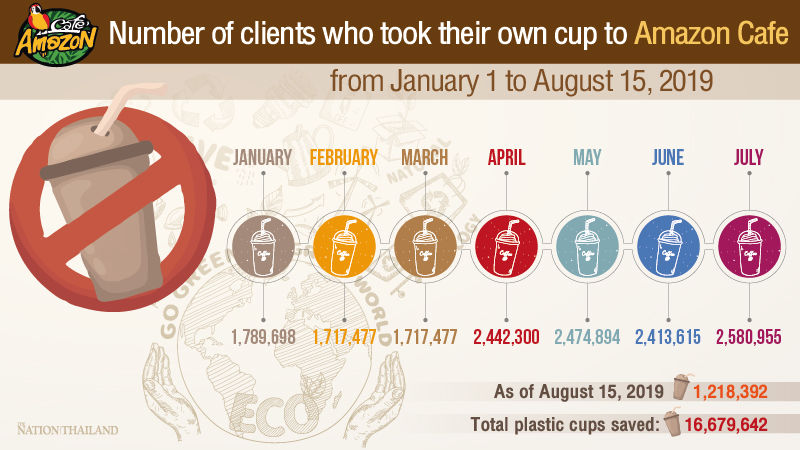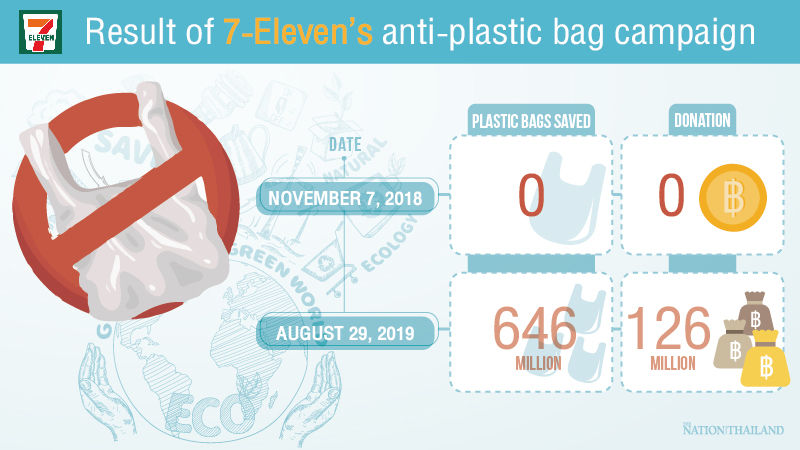 For their part, the government recently announced that by the end of 2019, Thailand will stop producing three types of plastic – microbeads, cap seals and oxo-degradable plastic. It also aims to stop single-use plastics by 2022.
Though the joint effort by the Natural Resources and Environment Ministry and the supermarket network has reduced more than 2 billion plastic bags or 5,755 tonnes of plastic valued at 400 million baht since July 21, 2018 to August 31, 2019, experts doubt if this is enough to make a useful dent in the piles of plastic floating around streets and in the oceans around Thailand.
Anusorn Tamajai, dean of Economics Faculty at Rangsit University, said that the government must come up with both short and long-term measures to tackle the pollution problem, and suggested the introduction of pollution tax.
Another suggestion is to impose the "polluter pays" principle, in which the producer of the pollution must cover the cost of damaging people's health or the environment.
SOURCE: The Nation
Keep in contact with The Thaiger by following our Facebook page.
Never miss out on future posts by following The Thaiger.
Bangkok's air quality is 'unhealthy' today | VIDEO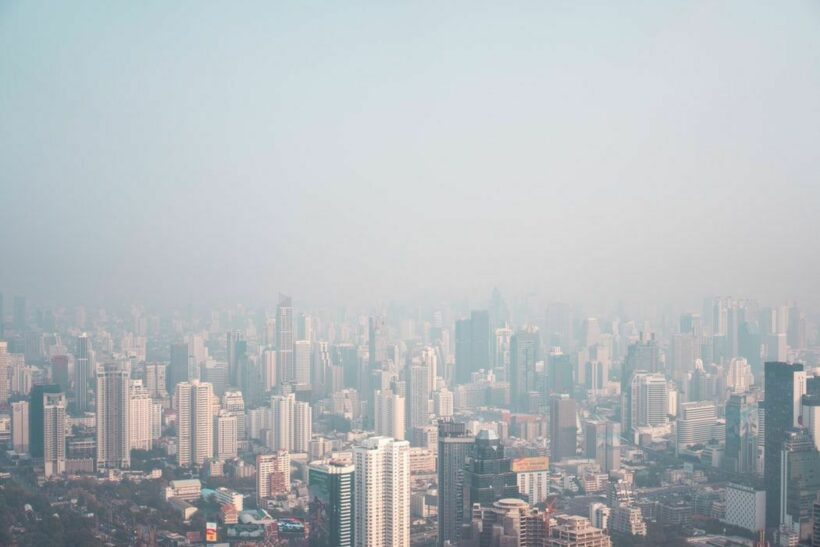 Air quality around Bangkok this morning is awful. Partly due to the lack of wind to blow the smog out of the area. To the south of Bangkok, Samut Prakan and Samut Sakhon, the air quality is even worse with visibility on the ground cut to less than a kilometre. You would be well advised to reduce you activities outside on a day of high air pollution in the capital. The rating by airvisual.com is 'unhealthy'.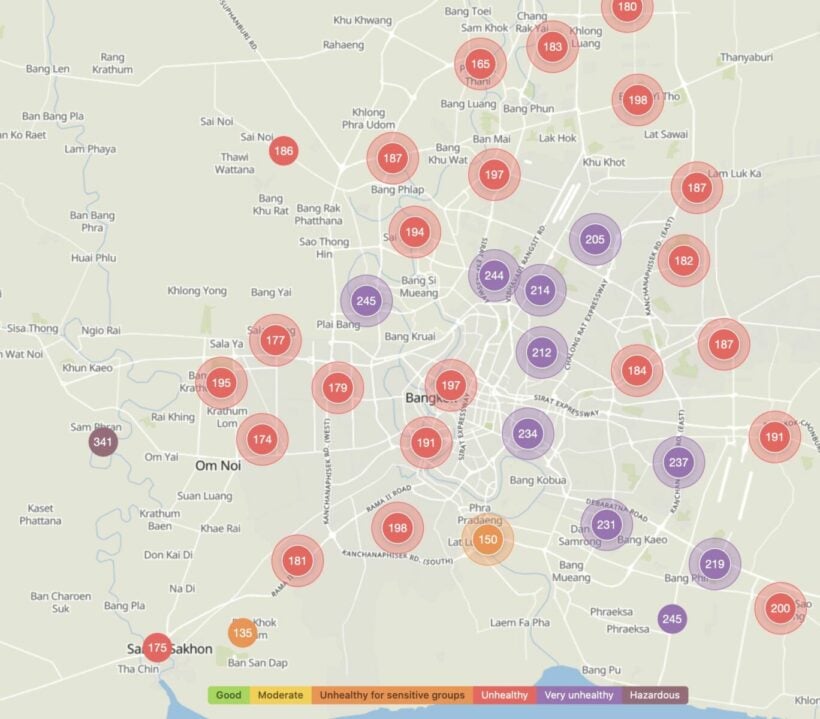 Readings around the inner city vary between 190 – 220. Areas to the east, including around Suvarnabhumi Airport, are higher.
A lot of the smog and smoke is flowing down from the north and north east where plantation fires rage, mostly unenforced, this time of the year, from December to May. Farmers have been told, repeatedly, to avoid buying off the waste after harvests of corn, rice and sugar cane but officials have been disinclined to enforce the laws. Many of the farmers have long-term contracts with some of Thailand's leading agri-business conglomerates.
Bangkok and the central region can expect many more months, especially as the temperatures rise throughout February, March and April and the winds remain low as the north-easterly monsoon weakens.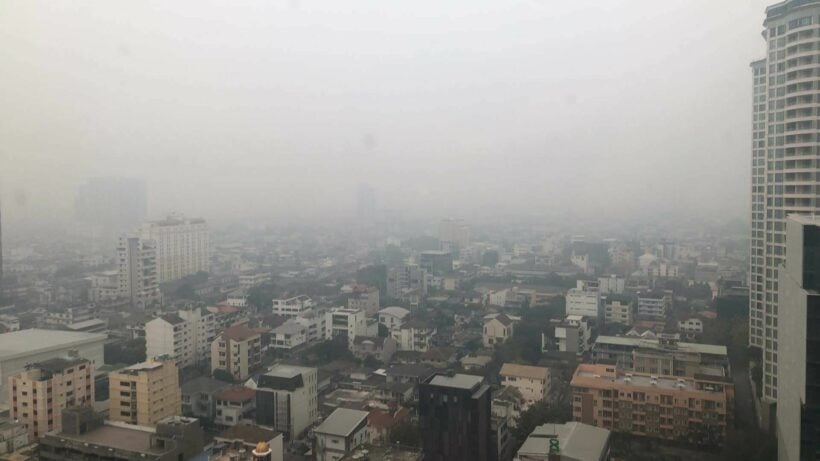 PHOTO: View across the Bangkok skyline from Sathorn this morning.
Keep in contact with The Thaiger by following our Facebook page.
Never miss out on future posts by following The Thaiger.
40 arrested in a suspected gambling house in Nonthaburi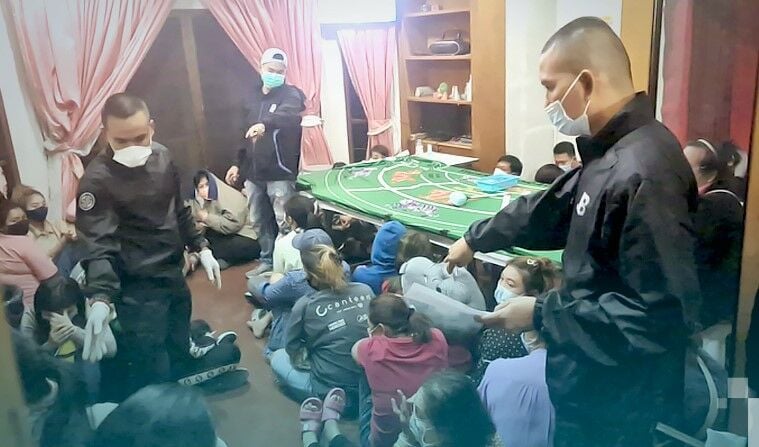 Last night, police raided a house in Nonthaburi and arrested 40 people for allegedly gambling.
According to the deputy chief of the Central Investigation Bureau, 33 are Thais and 7 are migrant workers of the casino. The officials also confiscated decks of cards of the Dragon-Tiger game, plastic chips and some cash as evidence.
During the raid, the migrant workers allegedly revealed that the gambling operations at the home had only been going on for 2 days and that the owner planned to move it to other locations.
Police have been cracking down on gambling after the Covid-19 outbreak at a Rayong gambling den in line with the PM's order made last week to shut down the illegal venues and tracking down "influential figures."
SOURCE: National Thailand
Keep in contact with The Thaiger by following our Facebook page.
Never miss out on future posts by following The Thaiger.
Former finance minister proposes legalisation of gambling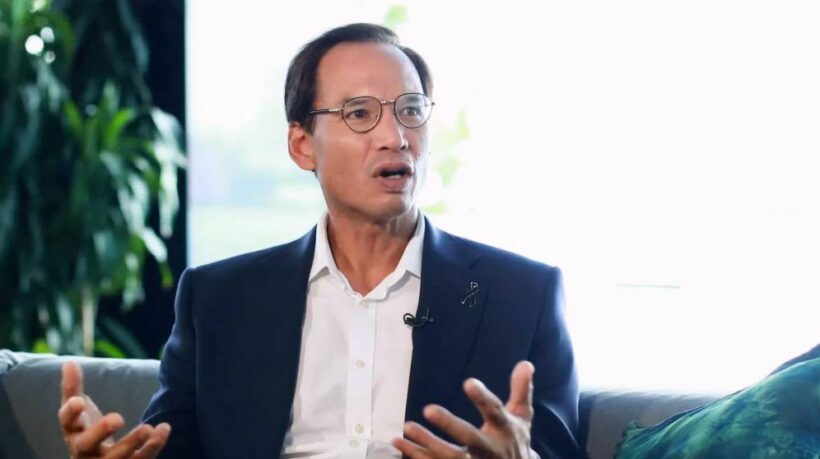 With Covid-19 cases linked to some illegal gambling dens, causing a headache for health officials trying to track down elusive gamblers to contain the virus, the former Finance Minister floated the idea to legalise gambling.
The former Finance Minister and current leader of the Kla Party, Korn Chaitkavanich, claims legalising gambling will help contain the spread of Covid-19. He also hinted that it will gain more tax revenue. If it's legalised, gamblers will spend their money in legal casinos that pay taxes, drawing in more money the government can use for public improvements, he says.
The Royal Thai Police spokesperson insists police are pursuing legal action against owners of the illegal gambling dens. Interior Minister Anuphong Paojinda has also told provincial governors to suppress illegal gambling dens and take responsibility if more gambling dens are found.
SOURCE: Bangkok Post
Keep in contact with The Thaiger by following our Facebook page.
Never miss out on future posts by following The Thaiger.