Old Thai habits die hard: Businesses are trying but shoppers remain stubborn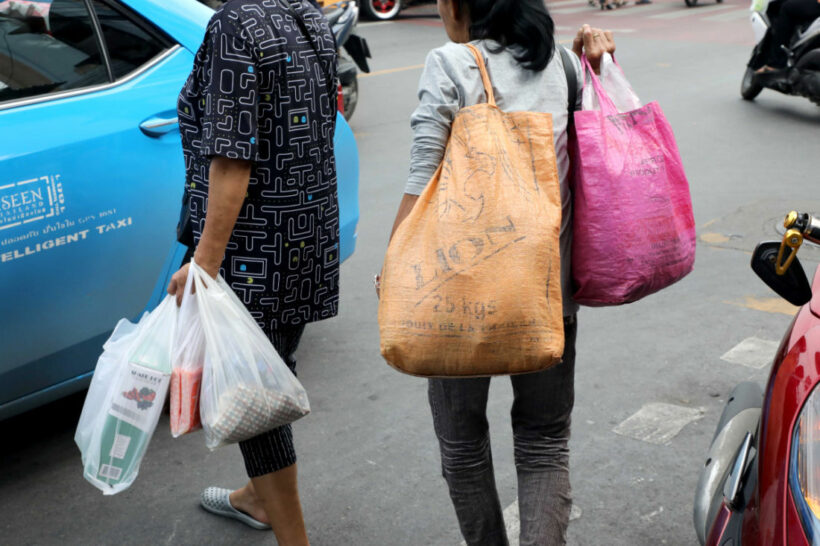 GRAPHICS: The Nation
Thailand is now abuzz over the issue of plastic pollution. This topic is now being widely discussed among Thai netizens, who have been suggesting many measures, including controlling the use of plastic bags at supermarkets and convenience stores.
But so much of daily Thai life still revolves around single-use plastics it is taking radical changes in behaviour and habits to make the substantial changes necessary.
The Nation took to the streets to see if there was any correlation between the big savings some of the larger companies are claiming and the 'real life' demands of shoppers and plastic bags.
The owner of 7-Eleven convenience stores, CP All, were asked about their measures and results. They claim they have enforced a strong policy to reduce the use of plastic over 10 years. Its campaign, "reduce plastic bags every day, you can do it", has saved the company the cost of 646 million plastic bags, and this money saved is being donated to hospitals for medical equipment. As of August 29, CP All said it has donated 126 million baht.
But even this campaign (honestly, I haven't noticed any move towards limiting plastic bags at 7-Eleven stores), is just a tiny tip of the iceberg.
A test at a 7-Eleven opposite Central Plaza Bangna for an hour from 10am showed that 27 customers still demanded plastic bags, while 23 people who bought either cigarettes, bottled water or coffee rejected plastic bags. Only three people were seen bringing their own bags.
Over at Amazon Café, they say the number of clients who bring their own cup for coffee has risen from around 1.8 million in January 15 to 2.2 million by August 15. In about seven months, Amazon coffee shops were reportedly able to reduce the use of 16.7 million plastic cups, averaging at 2.2 million cups per month.
We doubt those claims. The Nation report that when they monitored the Amazon Café near Interlink Tower in Bangkok during lunch break for an hour, not a single person had brought their own cup to the coffeeshop. This is even though staff insisted that 20 to 30 regular clients brought their own cup for a 5 baht discount.
The Thaiger are also regular customers of Amazon Cafes and have NEVER seen anyone coming in with their own mug. (The Thaiger usually drinks their coffee in-store in a china cup.)
Tesco Lotus began campaigning for customers to "say no to plastic" since 2015 and even introduced a variety of incentives such as reward points. As of August this year, Tesco had implemented a policy of not giving out plastic bags for purchases of one or two items at all its 1,800 hypermarkets.
Again, a 'useful' campaign which is as much about good PR for Tesco as it is about any realistic limiting of plastic bag use.
The Nation did more on-the-ground testing. On August 31, The Nation decided to count the number of customers at Tesco Lotus and 7-Eleven who rejected plastic bags. The test at Tesco Lotus (Seacon Square) ran for an hour from 12.45pm, and we found that 453 shoppers still asked for plastic bags, while only 29 either rejected a plastic bag or used their own cloth bag.
After learning about The Nation's tests, Tesco Lotus announced on September 2 that all express checkout lanes at 200 of its hypermarts will become "green lanes" and will not give out plastic bags. It said its goal is to close the loop on packaging, not to just limit single-use plastic bags.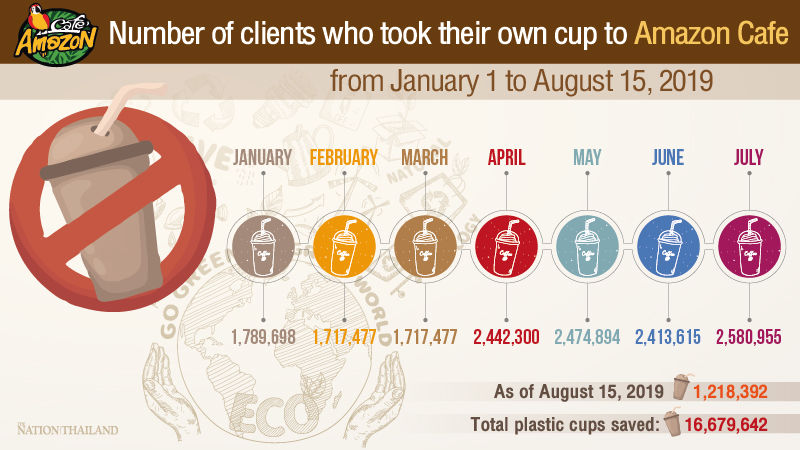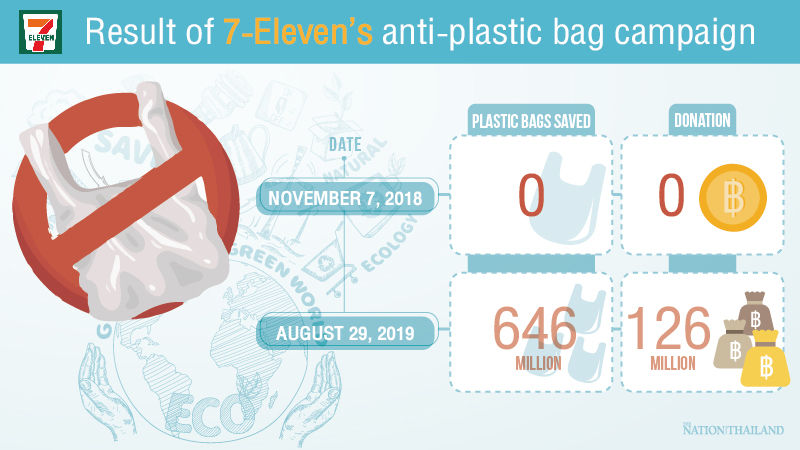 For their part, the government recently announced that by the end of 2019, Thailand will stop producing three types of plastic – microbeads, cap seals and oxo-degradable plastic. It also aims to stop single-use plastics by 2022.
Though the joint effort by the Natural Resources and Environment Ministry and the supermarket network has reduced more than 2 billion plastic bags or 5,755 tonnes of plastic valued at 400 million baht since July 21, 2018 to August 31, 2019, experts doubt if this is enough to make a useful dent in the piles of plastic floating around streets and in the oceans around Thailand.
Anusorn Tamajai, dean of Economics Faculty at Rangsit University, said that the government must come up with both short and long-term measures to tackle the pollution problem, and suggested the introduction of pollution tax.
Another suggestion is to impose the "polluter pays" principle, in which the producer of the pollution must cover the cost of damaging people's health or the environment.
SOURCE: The Nation
Keep in contact with The Thaiger by following our
Facebook page
.
Summer storm warning for 55 of Thailand's 76 provinces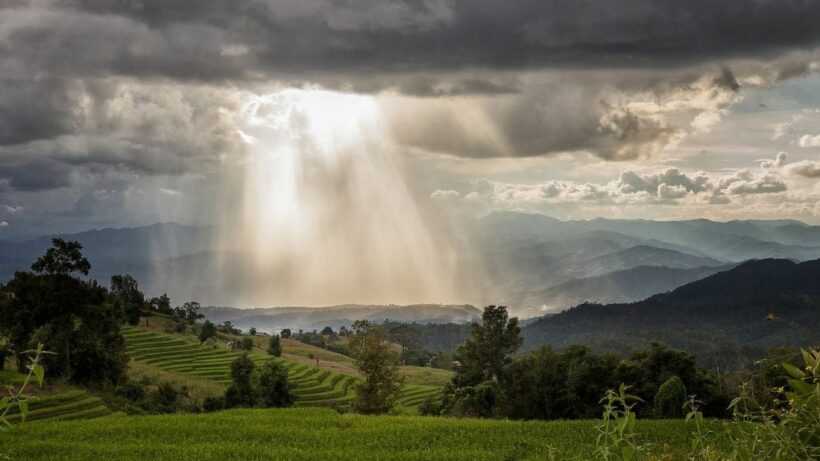 Today Thailand's Meteorological Department warned people in 55 northern, north-eastern, central and eastern provinces to prepare for possible "strong winds and hail from summer storms", that are expected through until Sunday. This time of the year is also know as the bridging season between the annual dry and wet seasons. Weather can be unsettled in parts of thailand during this time.
According to the forecast, the storms are due to the convergence of southerly and south-easterly winds, driven by the cold front over Vietnam, Laos and the South China Sea, and the increasingly warm weather over northern Thailand.
Summer storms, some severe, could affect the following provinces from today…
Nan
Phrae
Uttradit
Tak
Kamphaeng Phet
Sukhothai
Phitsanuloke
Phichit
Phetchabun
Loei
Nong Bua Lamphu
Nong KhaiBung Karn
Udon Thani
Sakhon Nakhon
Nakhon Phanom
Chaiyaphum
Khon Kaen
Kalasin
Muk Dahan
Maha Sarakham Roi-et
Yasothon Amnat Charoen
Nakhon Ratchasima
Buri Ram
Surin
Si Sa Ket
Ubon Ratchathani
Nakhon Sawan
Lop Buri
Saraburi
Ayutthaya
Bangkok
Nakhon Nayok
Prachin Buri
Sa Kaew
Chachoengsao
Chon Buri
Rayong
Chanthaburi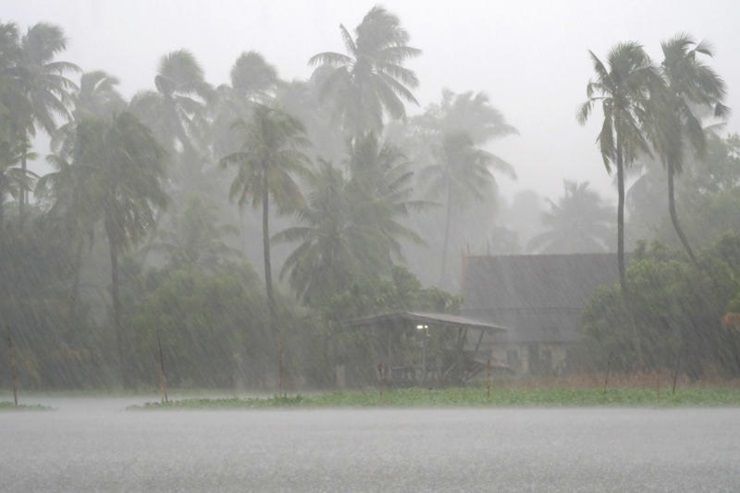 On Saturday and Sunday, the storms are forecast in:
Chiang Mai
Lamphun
Lampang
Phayao
Phrae
Uttradit
Sukhothai
Tak
Kamphaeng Phet
Phitsanuloke
Phichit
Phetchabun
Roi-et
Loei
Nong Bua Lamphu
Nong Khai
Bung Karn
Udon Thani
Sakhon Nakhon
Nakhon Phanom
Muk Dahan
Chaiyaphum
Kalasin
Khon Kaen
Maha Sarakham
Roi-et
Yasothon
Amnat Charoen
Nakhon Ratchasima
Buri Ram
Surin
Si Sa Ket
Ubon Ratchathani
Uthai Thani
Nakhon Sawan
Lop Buri
Chainat
Ang Thong
Sing Buri
Saraburi
Ayutthaya
Bangkok
Nakhon Nayok
Prachin Buri
Sa Kaeo
Chachoengsao
Chon Buri
Rayong
Chanthaburi
Trat
The weather department says people should beware of severe weather and keep off unsecured buildings and wilderness areas. Farmers should beware of crop damage. Ships at sea should proceed with caution and watch the forecast in their area..
SOURCE: Thai PBS World
Keep in contact with The Thaiger by following our
Facebook page
.
Bangkok Airways cancels all domestic flights from April 7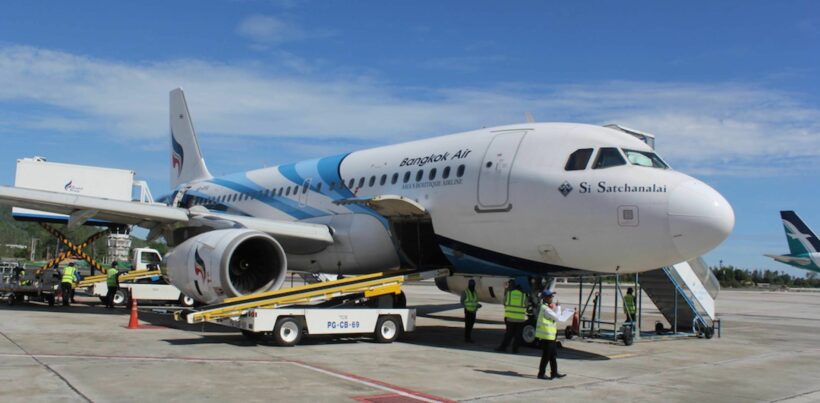 Bangkok Airways has announced today that they will cancel all it domestic flights from April 7 – 30. The company's vice president, Tresarum Sitakalin says the flights that are being cancelled are…
Bangkok – Chiang Mai
Bangkok – Phuket
Bangkok – Trat
Bangkok – Sukhothai
Bangkok – Samui
Samui – Phuket
"The company had previously decreased flight frequencies on these routes and also using some of their smaller ATR aircraft instead of their Airbus 320 aircraft."
"From April 7 onwards until April 30, we will cancel all flights."
Requesting for a refund can be done at www.bangkokair.com/refund or contact their ticketing offices at +662 270 6699 or Bangkok Airways Call Centre on 1771 . For passengers who purchased their tickets through travel agencies, please contact their travel agency directly.
SOURCE: The Nation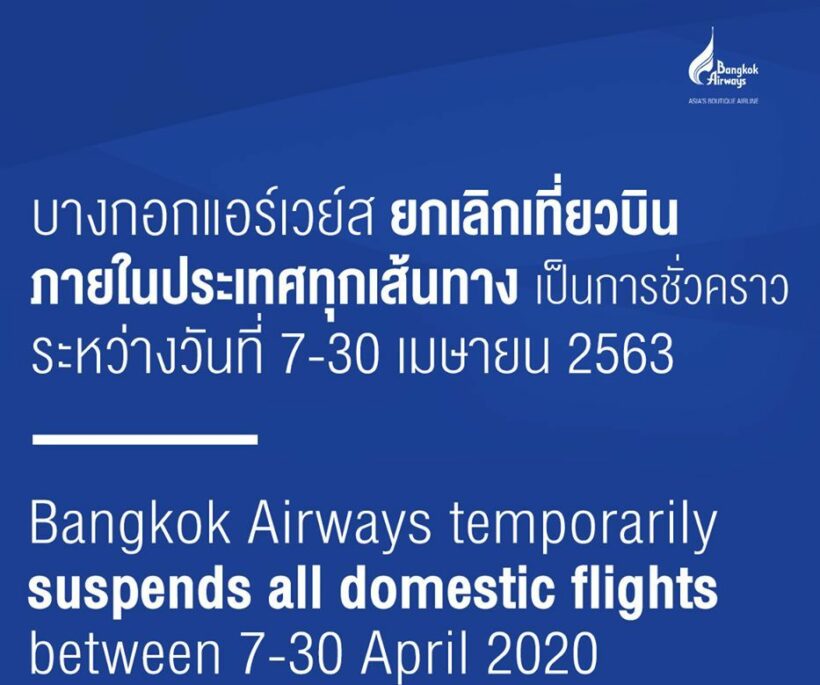 Keep in contact with The Thaiger by following our
Facebook page
.
Urgent repatriation notice for Swiss and German citizens as immigration rules tighten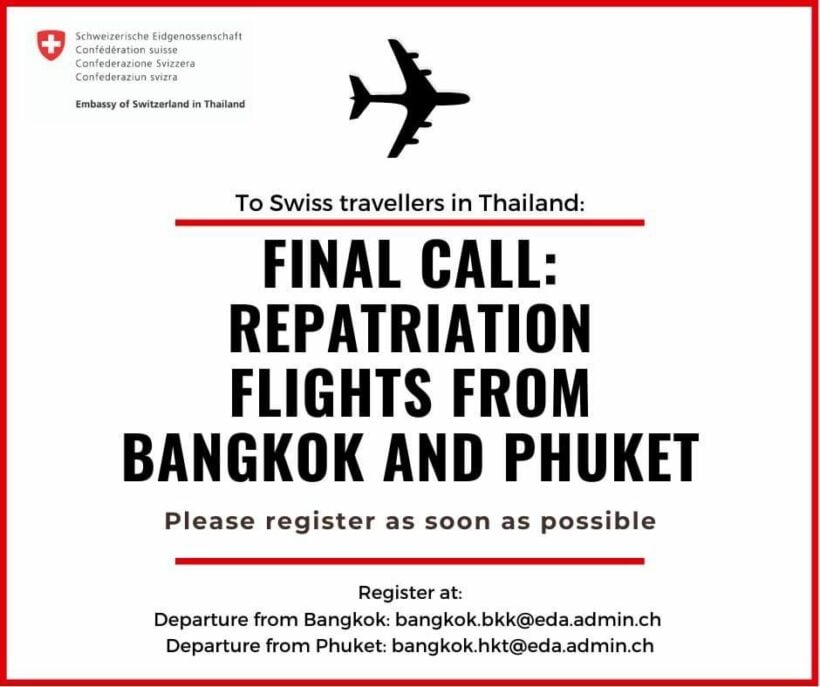 An urgent repatriation notice has been issued for Swiss and citizens in Thailand. According to Richard Barrow's Twitter feed, flights are being urgently chartered to evacuate citizens of both nations: A notice posted on the Embassy of Switzerlad's website reads…
For Swiss travellers in Thailand: Swiss charter flights from Thailand to Switzerland/update…
Bangkok – Zurich
– Good news: seats are still available for a 2nd charter on Sunday April 5 (at 13:05). To register, please send the requested information below for all concerned passengers to: bangkok.bkk@eda.admin.ch -> Deadline: Thursday April 2, 20:00
Phuket – Zurich
– The charter flight is now confirmed for Thursday, April 2, at 23:35. People who have registered will receive a confirmation soon.
– Good news: a few seats are still available. To register, please send the requested information below for all concerned passengers to bangkok.hkt@eda.admin.ch ->
Requested information to be sent…
1. Point of departure: Bangkok or Phuket
2. Family name, first name(s)
3. Date of birth
4. Passport number/Residence permit in Switzerland
5. Validity date of the passport or residence permit in Switzerland
6. Phone number where you can be reached at any time
• Please note that no health certificate is required to board on these flights. However, people with Covid-19 related symptoms are not allowed to travel. More information on these flights is available on our website (www.eda.admin.ch/bangkok)
A similar notise was posted for German nationals…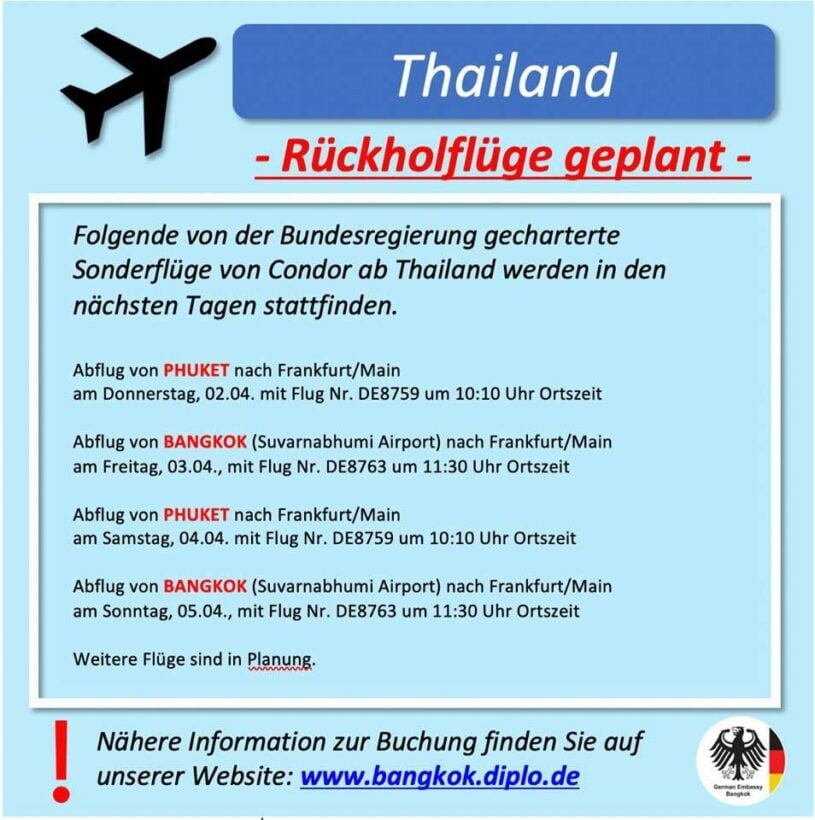 Due to the Covid-19 coronavirus crisis, travel restrictions and requirements in Thailand are sometimes difficult to navigate. One netizen told The Thaiger this morning that Immigration officials in Hua Hin were demanding the following for an extension of stay…
Application form (TM.7)

Fee 1,900 baht

2 photographs (passport photo)

Copy of applicant's passport (Data page, Visa page, Stamp page, TM6 card)

Letter of confirmation and request for a temporary stay from the embassy and consulate in Thailand

Proof of address: In case stay at Hotel – Letter of confirmation of stay from hotel – Hotel booking – Photograph of foreigner at hotel 2-3 pictures. In case rent a house/condominium – Rental agreement – Copy of Lessor's ID card and copy of Lessor's house book – Copy of house book from where you rent – Photograph of foreigner at house/condominium 2-3 pictures

In case of foreigner own the property – Copy of a house book – Copy of Title deed – Photograph of foreigner at the property 2-3 pictures

Map from house to immigration

Note: Foreigner must prepare all documents for 2 copies
SOURCES: Twitter | Embassy of Switzerland
Keep in contact with The Thaiger by following our
Facebook page
.