Old Thai habits die hard: Businesses are trying but shoppers remain stubborn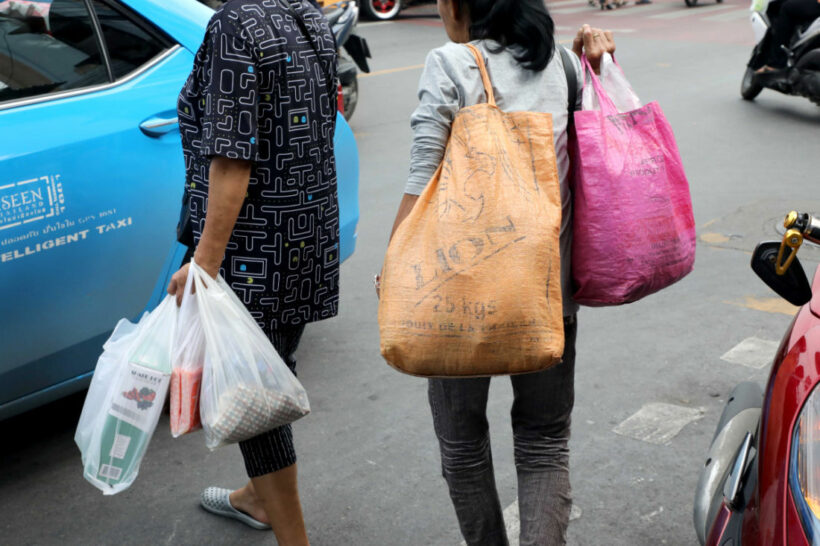 GRAPHICS: The Nation
Thailand is now abuzz over the issue of plastic pollution. This topic is now being widely discussed among Thai netizens, who have been suggesting many measures, including controlling the use of plastic bags at supermarkets and convenience stores.
But so much of daily Thai life still revolves around single-use plastics it is taking radical changes in behaviour and habits to make the substantial changes necessary.
The Nation took to the streets to see if there was any correlation between the big savings some of the larger companies are claiming and the 'real life' demands of shoppers and plastic bags.
The owner of 7-Eleven convenience stores, CP All, were asked about their measures and results. They claim they have enforced a strong policy to reduce the use of plastic over 10 years. Its campaign, "reduce plastic bags every day, you can do it", has saved the company the cost of 646 million plastic bags, and this money saved is being donated to hospitals for medical equipment. As of August 29, CP All said it has donated 126 million baht.
But even this campaign (honestly, I haven't noticed any move towards limiting plastic bags at 7-Eleven stores), is just a tiny tip of the iceberg.
A test at a 7-Eleven opposite Central Plaza Bangna for an hour from 10am showed that 27 customers still demanded plastic bags, while 23 people who bought either cigarettes, bottled water or coffee rejected plastic bags. Only three people were seen bringing their own bags.
Over at Amazon Café, they say the number of clients who bring their own cup for coffee has risen from around 1.8 million in January 15 to 2.2 million by August 15. In about seven months, Amazon coffee shops were reportedly able to reduce the use of 16.7 million plastic cups, averaging at 2.2 million cups per month.
We doubt those claims. The Nation report that when they monitored the Amazon Café near Interlink Tower in Bangkok during lunch break for an hour, not a single person had brought their own cup to the coffeeshop. This is even though staff insisted that 20 to 30 regular clients brought their own cup for a 5 baht discount.
The Thaiger are also regular customers of Amazon Cafes and have NEVER seen anyone coming in with their own mug. (The Thaiger usually drinks their coffee in-store in a china cup.)
Tesco Lotus began campaigning for customers to "say no to plastic" since 2015 and even introduced a variety of incentives such as reward points. As of August this year, Tesco had implemented a policy of not giving out plastic bags for purchases of one or two items at all its 1,800 hypermarkets.
Again, a 'useful' campaign which is as much about good PR for Tesco as it is about any realistic limiting of plastic bag use.
The Nation did more on-the-ground testing. On August 31, The Nation decided to count the number of customers at Tesco Lotus and 7-Eleven who rejected plastic bags. The test at Tesco Lotus (Seacon Square) ran for an hour from 12.45pm, and we found that 453 shoppers still asked for plastic bags, while only 29 either rejected a plastic bag or used their own cloth bag.
After learning about The Nation's tests, Tesco Lotus announced on September 2 that all express checkout lanes at 200 of its hypermarts will become "green lanes" and will not give out plastic bags. It said its goal is to close the loop on packaging, not to just limit single-use plastic bags.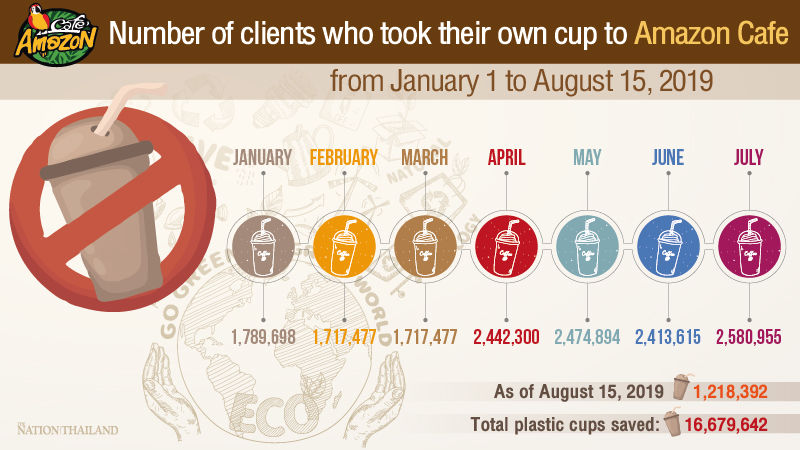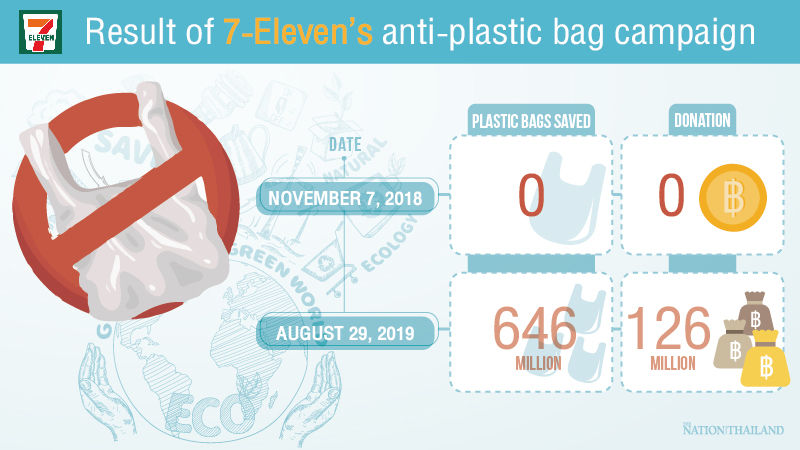 For their part, the government recently announced that by the end of 2019, Thailand will stop producing three types of plastic – microbeads, cap seals and oxo-degradable plastic. It also aims to stop single-use plastics by 2022.
Though the joint effort by the Natural Resources and Environment Ministry and the supermarket network has reduced more than 2 billion plastic bags or 5,755 tonnes of plastic valued at 400 million baht since July 21, 2018 to August 31, 2019, experts doubt if this is enough to make a useful dent in the piles of plastic floating around streets and in the oceans around Thailand.
Anusorn Tamajai, dean of Economics Faculty at Rangsit University, said that the government must come up with both short and long-term measures to tackle the pollution problem, and suggested the introduction of pollution tax.
Another suggestion is to impose the "polluter pays" principle, in which the producer of the pollution must cover the cost of damaging people's health or the environment.
SOURCE: The Nation
Keep in contact with The Thaiger by following our
Facebook page
.
More arrest warrants issued over Bangkok's August bomb attacks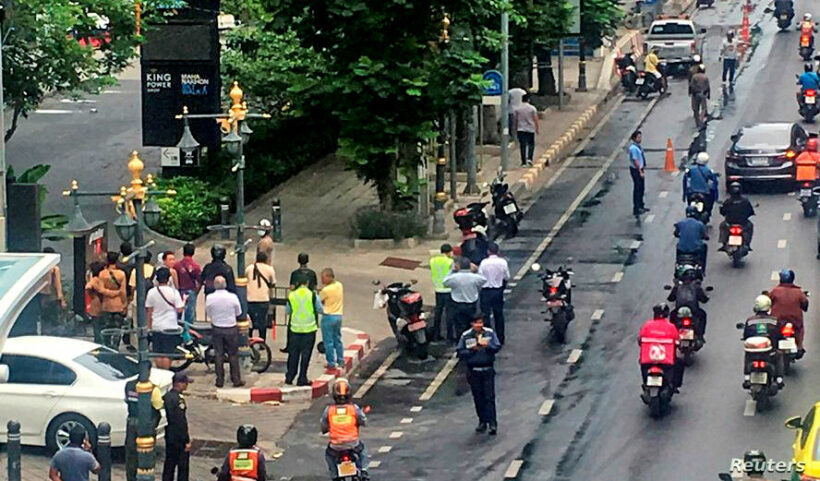 PHOTO: Voice of America
The Criminal Court issued arrest warrants for five more suspects yesterday over their alleged involvement in the simultaneous bomb and arson attacks in Bangkok back on August 2.
Police presented evidence against them to the court yesterday to obtain warrants for their arrest. They are accused of being members of an unlawful syndicate and collaborating to carry out, or tell others to carry out, terror attacks, attempting to and having launched bomb attacks to harm others and damage others' properties.
Earlier, police investigators have obtained arrest warrants against 13 other suspects. The Nation lists the current list of suspects awaiting arrest…
1 ) Ammari Maming
2 ) Assamee Abuwae
3 ) Ussaman Pohlor
4 ) Mayaki Malasing
5 ) Sattha Ahwae
6 ) Ussaman Jehteh
7 ) Sukree Duraman
8 ) Hakeem Punyung
9 ) Hasae Baeloh
10 ) Nassaru Maprasit
11 ) Ussaman Lateh
12 ) Hasan Ahwae
13 ) Mayusoh Hayisamah.
Police investigators have arrested three suspects, namely Lu-ai Saengae, Wildun Maha, and Muhammadilhum Sa-i. Lu-ai and Wildun were arrested on board a bus in Chumphon early on August 2 after the bombs they allegedly planted in front of the Royal Thai Police headquarters were detected on August 1 and were safely disabled.
SOURCE: The Nation
Keep in contact with The Thaiger by following our
Facebook page
.
14% of condos around Bangkok are empty – good time to buy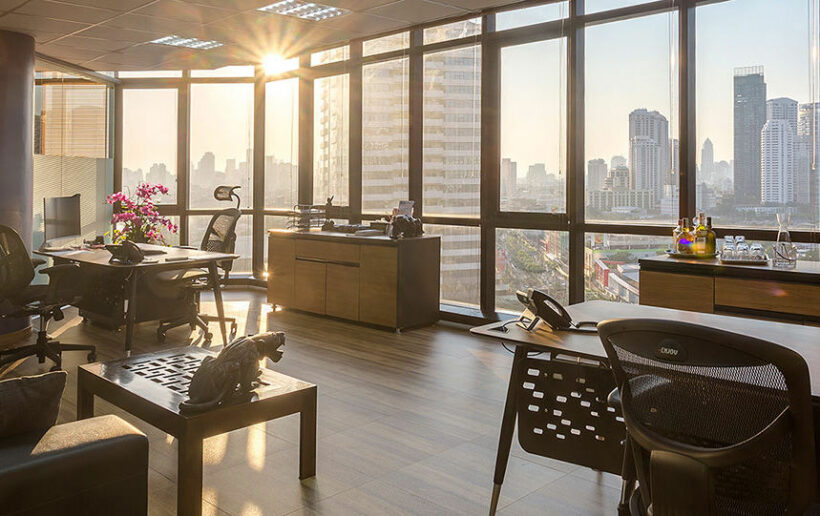 Looking for a condo around Bangkok? Now might the right time to take the plunge with the head of the Appraisal and Estate Agents Foundation saying some areas have between 8-14% vacancy rates, some areas of Bangkok up to 17.5%.
Dr Sophon Pornchokchai made the remarks at a news conference yesterday.
"Adding developer price wars, plus inducements to purchase, this represents a buyers' market."
He says the figures relate to condos, single houses, townhouses and other dwellings where less than 15 units of electricity were being used, deeming them to be classified as 'unoccupied'.
Around Bangkok there are 525,889 such vacant properties.
The top three areas for vacancies were Nonthaburi (north west of the central area) with 335,421 available properties with 45,848 unoccupied or 14%. This percentage was also true of Bang Na (south east of Bangkok) with 231,192 properties, 31,289 unoccupied. Bang Yai – to the far north west of the capital – has 221,492 with 28,016 unoccupied or 13%.
Locations with the lowest unoccupied dwellings are Bang Plee (south east) with 8% unoccupied, Min Buri (north) 9% and Lat Krabang (south east) 9%.
Dr Sophon says that when it comes to condos in Bangkok and the surrounding areas, between 13.5% and 17.5% are unoccupied.
"This glut has prompted a selling war with discounts and deals."
FazWaz's CEO Brennan Campbell says that we're in part of the buying cycle right now that is definitely in the buyer's favour.
"Long-term, the Bangkok market continues to show its strength, but there is definitely an enormous range of property to choose from, in almost every location, right now. The current dip in demand is just part of the cycle."
SOURCE: Daily News
Keep in contact with The Thaiger by following our
Facebook page
.
Robber steals Thailand Post van, then robs gold shop in Bangkok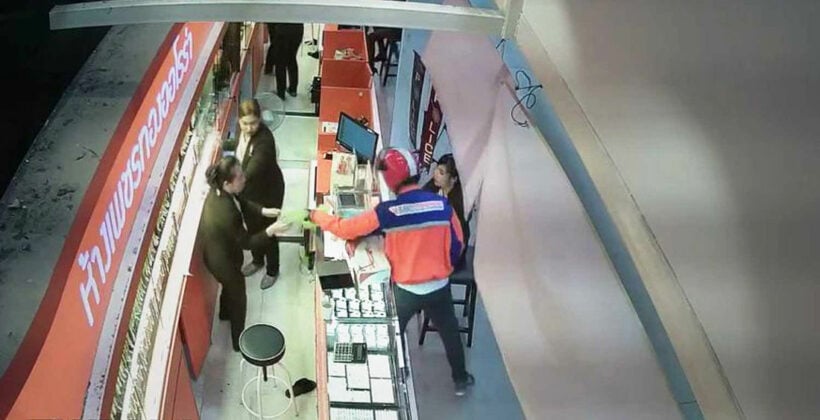 A man dressed up in a Thailand Post uniform has got away with gold necklaces valued around 70,000 baht. He robbed the gold shop in Bang Phli, Samut Prakan and then fled in a Thailand Post van. Samut Prakan includes the southern and south-eastern suburbs of greater Bangkok.
It was revealed later that Thailand Post had reported the van stolen the night before and that the robber wasn't an employee, despite using the uniform as a costume.
The incident happened this morning at the Aurora Gold and Jewellery shop about 10am. The shop is part of the Thai Watsadu store on Theparat Road.
09.41 น.คนร้ายจี้ชิงทรัพย์สร้อยคอทองคำ ร้านทองออโรร่า ภายในร้านไทยวัสดุ ถ.บางนา-ตราด จ.สมุทรปราการ คนร้ายชาย 1 ราย ใช้รถยนต์ทะเบียน 1 ฒน 150 กทม. ก่อเหตุ เส้นทางหลบหนีเข้าเขตนครบาล พื้นที่ สภ.บางแก้ว Cr.ผู้สื่อข่าวอาชญากรรม #ร่วมด้วยช่วยกัน pic.twitter.com/gMu1tmlLYb

— ร่วมด้วยช่วยกัน (@Ruamduay) September 19, 2019
A gold shop employee told police that the man placed what looked like a Thailand Post parcel on the shop's front counter shouting that it contained a bomb. He was carrying a gun and threatened staff telling them to put gold necklaces in his bag. Police report that the white Toyota escape van with Thailand Post logos belonged to a nearby Post branch in Bang Phli. The van was stolen from the post office last night.
Police are searching for the man.
SOURCE: Bangkok Post
Keep in contact with The Thaiger by following our
Facebook page
.