Marijuana valued at over 6 million baht seized in Mukdahan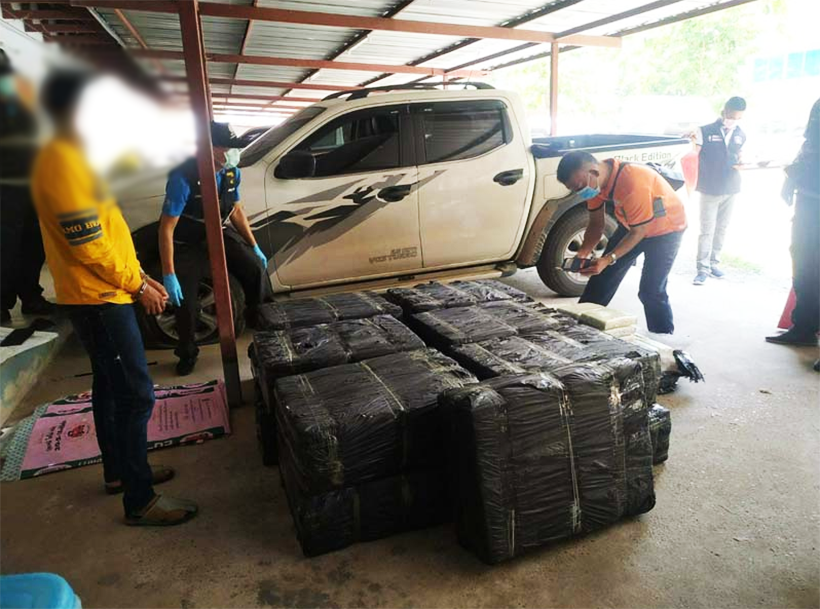 Yesterday police in the northeastern province of Mukdaham announced the seizure of 616 kilograms of marijuana, valued at more than 6 million baht.
Authorities say 5 suspects are in custody, identified as 46 year old Boonchu Sittithong, 20 year old Wilawan Lapphu, 22 year old Kittiphong Uttaprom, 34 year old Keng Sae Song and Somboon Chindalert, aged 43.
Police got a tip that 3 cars were going to smuggle marijuana across the province, and laid an ambush. At about 5am today, officers noticed the 3 suspect cars coming into Mukdaham, passing the Nong Ian security junction. Reportedly a black Isuzu pickup truck with Chon Buri registration was followed by a white Nissan registered in Bangkok and a black Isuzu pickup truck, also from Chonburi.
The ambush team waited at a petrol station opposite the security junction and were given the green light to make the arrests, but 2 of the cars spotted them and fled in different directions.
Police pursued the suspects' cars and arrested Boonchu, the driver of the black pickup truck. They inspected the vehicle and found 14 sacks of marijuana, divided into 44 bags each, weighing 616 kilograms.
Under interrogation Boonchu admitted the marijuana destined for Bang Na District in Bangkok, for which he would receive 50,000 baht on delivery. Officers brought Boonchu along with the marijuana back to their station.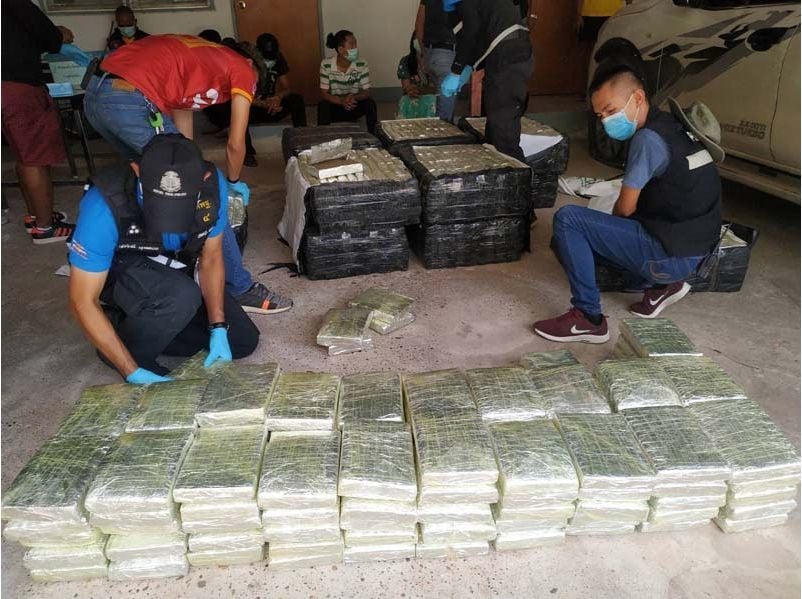 The other officers intercepted the second black Isuzu pickup truck,driven by Kittiphong with Wilawan as the front passenger and Somboon sitting in the back. The car and the passengers were searched, but nothing illegal was found.
Under questioning, Kittiphong admitted that he was a guide, and they were going to drive to Bangkok.
All 5 suspects were detained at the Khamcha-i police station and charged with illegally possessing and selling a Category 5 drug (marijuana). Kittipong tested positive for consumption of methamphetamine. All suspects are in custody pending legal proceedings.
Keep in contact with The Thaiger by following our Facebook page.
Never miss out on future posts by following The Thaiger.
40 arrested in a suspected gambling house in Nonthaburi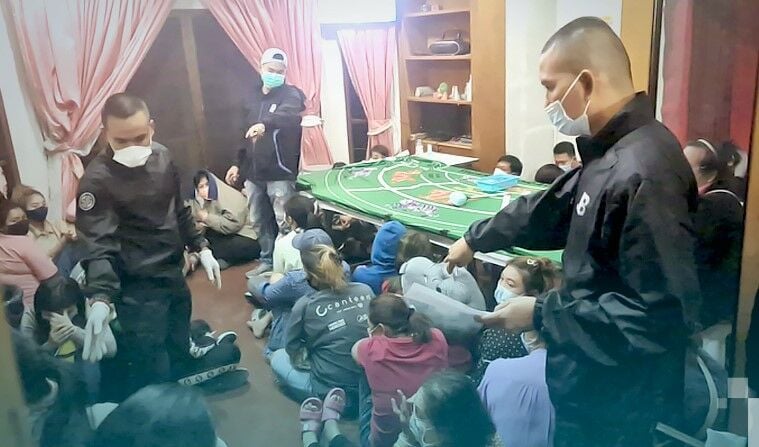 Last night, police raided a house in Nonthaburi and arrested 40 people for allegedly gambling.
According to the deputy chief of the Central Investigation Bureau, 33 are Thais and 7 are migrant workers of the casino. The officials also confiscated decks of cards of the Dragon-Tiger game, plastic chips and some cash as evidence.
During the raid, the migrant workers allegedly revealed that the gambling operations at the home had only been going on for 2 days and that the owner planned to move it to other locations.
Police have been cracking down on gambling after the Covid-19 outbreak at a Rayong gambling den in line with the PM's order made last week to shut down the illegal venues and tracking down "influential figures."
SOURCE: National Thailand
Keep in contact with The Thaiger by following our Facebook page.
Never miss out on future posts by following The Thaiger.
Former finance minister proposes legalisation of gambling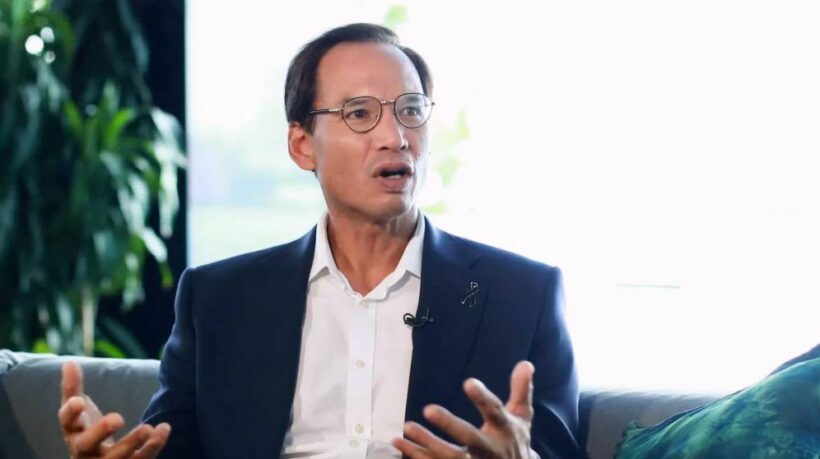 With Covid-19 cases linked to some illegal gambling dens, causing a headache for health officials trying to track down elusive gamblers to contain the virus, the former Finance Minister floated the idea to legalise gambling.
The former Finance Minister and current leader of the Kla Party, Korn Chaitkavanich, claims legalising gambling will help contain the spread of Covid-19. He also hinted that it will gain more tax revenue. If it's legalised, gamblers will spend their money in legal casinos that pay taxes, drawing in more money the government can use for public improvements, he says.
The Royal Thai Police spokesperson insists police are pursuing legal action against owners of the illegal gambling dens. Interior Minister Anuphong Paojinda has also told provincial governors to suppress illegal gambling dens and take responsibility if more gambling dens are found.
SOURCE: Bangkok Post
Keep in contact with The Thaiger by following our Facebook page.
Never miss out on future posts by following The Thaiger.
Bangkok enveloped in bad smog Friday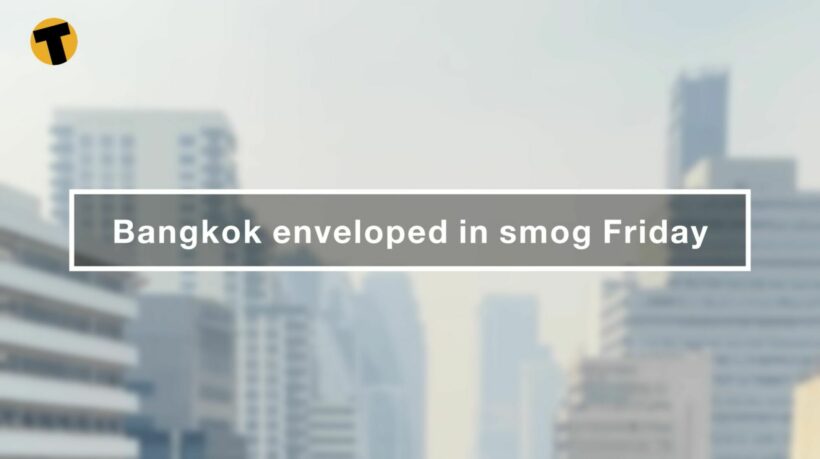 Get out the anti-pollution masks and turn on the air purifier, air pollution in Bangkok is at unhealthy levels. 64 locations in Bangkok were reported with high levels of the air pollutant PM2.5, according to the Pollution Control Department.
As a cold weather front in China weakens, air circulation is also slowing down, causing dust to accumulate and drop to a lower altitude, according to the director-general of the Pollution Control Department. A north east monsoonal airflow blows a lot of the smoke from burn-offs and agricultural activity in Thailand's north, south and south westerly.
Bangkok is just in the flow of the winds from up north. Drivers are advised not to keep the vehicle's engines running while parked. Farmers are also asked not to burn farm wastes in open fields.
Everyone should reduce outdoor activities, he says. 64 areas in Bangkok recorded the dust particles reaching unhealthy levels. The highest PM 2.5 levels were reported in Amphoe Muang of Samut Sakhon and were classified as "very unhealthy."
Keep in contact with The Thaiger by following our Facebook page.
Never miss out on future posts by following The Thaiger.