Thai MotoGP will go ahead after coronavirus check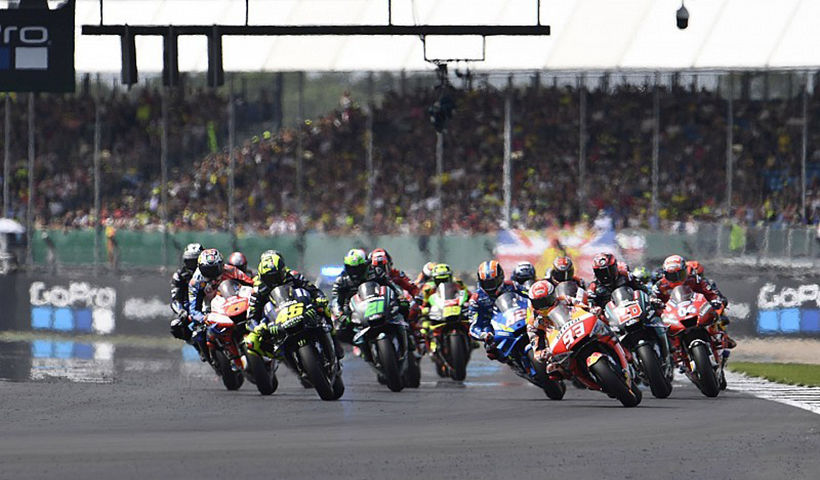 Race organisers yesterday announced that The Thailand MotoGP race in March will go ahead as planned, saying the government has decided theere is "no major risk" from the COVID-19 coronavirus.
A statement from organisers of the race in Buri Ram on March 22 said: "With the outbreak of coronavirus affecting a number of locations and events worldwide, the decision required official consideration as the situation in Thailand was monitored."
The statement added that Thailand's infected patients are under care and strict preventive measures are in place, "resulting in the highest rate of fully recovered patients worldwide."
Globally, more than 2,200 people have died from the virus, all but 11 of them in China, where a number of sports tournaments and events have been cancelled or postponed.
They include the Chinese Formula Grand Prix, scheduled for Shanghai on April 19, which was axed, while the World Athletics Indoor Championships in Nanjing have been pushed back to 2021.
SOURCE: Bangkok Post
Keep in contact with The Thaiger by following our
Facebook page
.
World body bans Thai weightlifters from Tokyo Olympics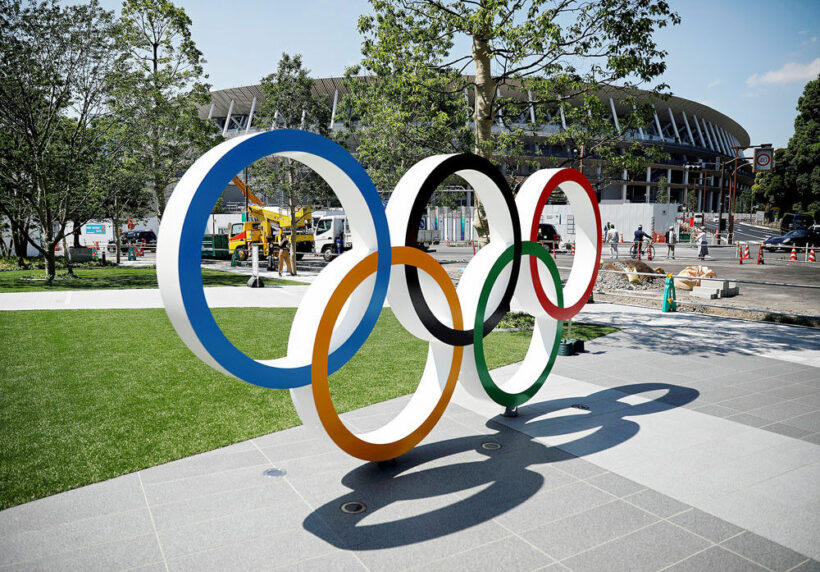 Thai and Malaysian weightlifters will be barred from the Tokyo Olympic Games, whenever they're held, over their high numbers of doping cases. The sport's governing body, the International Weightlifting Federation (IWF) said in a statement that the two countries' lifters can't compete at the Tokyo Games, regardless of the change of date.
Previously there had been some hope in Thailand that its lifters might get a chance to compete in a rescheduled Olympics if the local federation could clean up its act.
The 2020 Olympics have been postponed for a year due to the Covid-19 coronavirus outbreak, and are currently scheduled to be held from July 23 to Aug 8, 2021.
The Thai and Malaysian federations can appeal the ruling to the Court of Arbitration for Sport (CAS) within 21 days.
The IWF also imposed a 6.6 million baht fine on the Thailand Amateur Weightlifting Federation (TAWA), which has already voluntarily banned itself from all weightlifting, including the Tokyo Games, because of its recent doping record.
8 Thai lifters, including 2 reigning Olympic champions, tested positive for banned substances at last year's World Championships. They were caught when the IWF carried out extra tests in Germany, on samples taken last November from "target athletes" and using "the most sophisticated techniques available" at the World Championships in Turkmenistan.
Thailand was also involved in a doping scandal in 2011 when 7 teenage girls were banned after testing positive, 2 of whom are among the 6 new cases.
The IWF suspended TAWA's membership status for three years, saying the sanction would be reviewed on or after March 2022 if "Tawa can demonstrate it has met pre-defined criteria".
The Malaysian Weightlifting Federation has been suspended for a year. The the IWF says sanction will be reviewed and may be lifted as early as Oct 1.
SOURCE: Bangkok Post
Keep in contact with The Thaiger by following our
Facebook page
.
Natcha from Phuket crowned Miss Hooters Thailand 2020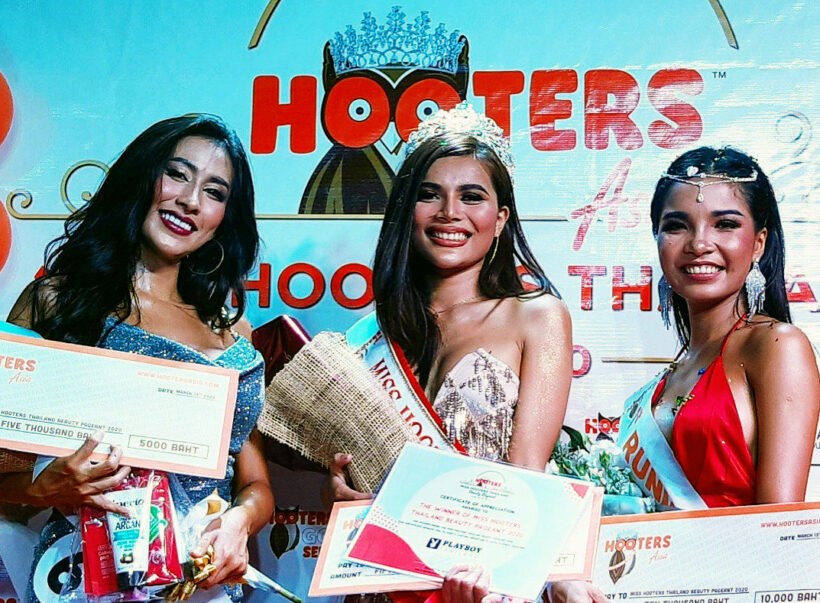 Meanwhile, somewhere in Phuket…
Beauty Pageant was recently held at Hooters Pattaya, for the fifth year running. This is event is one of Hooters biggest events that attracts audiences from across the world. Khun Ekasit Ngampichet, President of Pattaya Business and Tourism Association, came to give an opening speech and wished Hooters Asia for every success in helping together to promote Pattaya's tourism industry.
Winners from the heats held around Thailand competed for the title of "Miss Hooters Thailand 2020" at the Grand Final. A title where the winner will represent Hooters Thailand in the "Miss Hooters International Pageant 2020". Winner of that pageant gets to globally represent the franchise as a brand ambassador.
The winner, Natcha Nunoochan – earlier a month prior to the Grand Finale won the heat of Miss Hooters Phuket also went on to win the title of Miss Hooters Thailand 2020.
Natcha will represent the Kingdom in the 24th Annual Hooters International Pageant at Lake Tahoe in the US this coming June.
"Winning this is an honour. I'm so grateful and I wish to thank everyone for the support," said Natcha, who is a Hooters Girl at Hooters Phuket.
"The girls are like my family and we work hard everyday to serve our guests with the best experience of coming to Hooters. I am very proud to represent Hooters Thailand in the Annual International Pageant at Lake Tahoe this year. I will take that task on with pride and honour to represent my beautiful country.
"Being a Hooters Girl is more than just being a waitress," said Gary Murray, CEO of Destination Eats, which franchises Hooters Asia.
"They are fun, beautiful and smart, they are hardworking and good entertainers"
The final contestants were evaluated based on responses to interview questions, their personality and overall contribution to the iconic Hooters brand, including beauty and dance coordination in three separate rounds. The rounds represented Hooters uniform, evening gowns and swim wear.
The heats and the Grand Final supported The Destination Kids Foundation. All money raised from voting sales was donated to the charity who supports orphanage children with education, medical support and guidance for a brighter future.
(The event was held before the closure of all entertainment venues in Phuket)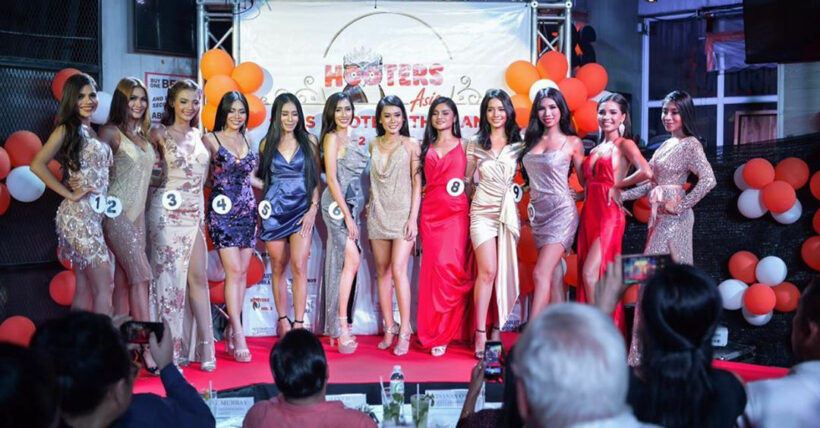 Keep in contact with The Thaiger by following our
Facebook page
.
7 swim to Koh Samui to raise marine ecosystem awareness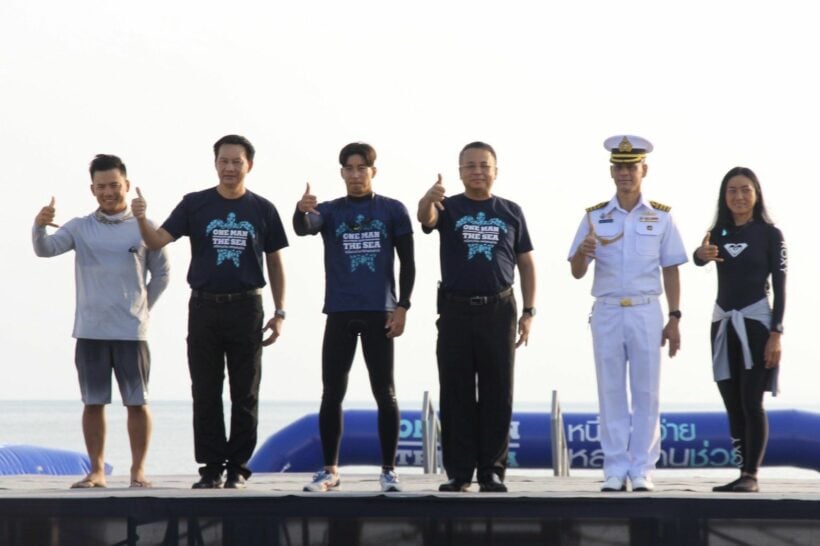 7 swimmers, including actor and singer Phakhin Khamwilaisak, also know as "Tono", have begun an 82 kilometre ocean swim for over 18 days to increase public awareness of the environment and the need to reserve Thailand's marine ecosystem. They are also raising money to buy equipment for hospitals treating rare marine animals. The campaign hopes to raise the profile of the marine ecosystem and the need to stop dumping garbage into the sea.
Director general Sophon Thongdee of 'Marine and Coastal Resources Department' together with Surat Thani's governor Witchawut Jinto launched the campaign "One Man & the Sea'' at a pier in Don Sak district of Surat Thani province this morning.
The 7 swimmers will stroke their way from the pier to Koh Samui, stopping at 12 small islands, for a distance of 82 kilometres over 18 days, predicting to complete the marathon on April 5.
The 7-member team, who are accompanied by a coach, swam to Koh Likan, a distance of 1.6 kilometres, this morning. It took them about 30 minutes. Today they are heading to Koh Nok Phao, another 6.4 kilometres, and staying overnight on the island, having completed a total of 8 kilometres for the day.
33 year old Tono says he was excited to see pink dolphins swimming near Don Sak pier.
"Almost 100 celebrities had earlier shown interest in taking part, in the mass swimming campaign was cancelled due to the spread of the coronavirus."
On the first day of the campaign, donations quickly reached 1.3 million baht.
Keep updated on the official campaign Facebook page, "Kebruk". Donations can be made via internet banking or by SMS.
SOURCE: Bangkok Post
ถ่ายทอดสดการว่ายน้ำในช่วงที่สองระยะทาง 2 กิโลเมตรของโครงการ One Man And The Seaหนึ่งคนว่ายหลายคนช่วยสดจากเกาะริกัน จ.สุราษฏร์ธานี.ช่องทางบริจาคธนาคารไทยพาณิชย์ สาขาเพชรบุรีตัดใหม่ชื่อบัญชี: มูลนิธิบูรณะชนบทแห่งประเทศไทยฯ เพื่อโครงการเทใจ (TRRM FOR TAEJAI)เลขบัญชี 043-272833-9…บริจาคผ่านทาง SMS ครั้งละ 25 บาท พิมพ์ T แล้วส่งมาที่ 4545909 (ทุกเครือข่าย)…ติดตามการถ่ายทอดสดตลอดกิจกรรมได้ทาง เฟซบุ๊กแฟนเพจ "เก็บรักษ์" รวมถึงข้อมูลของโครงการได้ทางอินสตาแกรม "เก็บรักษ์"…#OneManAndTheSea#หนึ่งคนว่ายหลายคนช่วย#โลกเปลี่ยนได้เริ่มที่เรา

Posted by เก็บรักษ์ on Thursday, March 19, 2020
Keep in contact with The Thaiger by following our
Facebook page
.