Pattaya rounding up the homeless ahead of this weekend's Pattaya Colorful event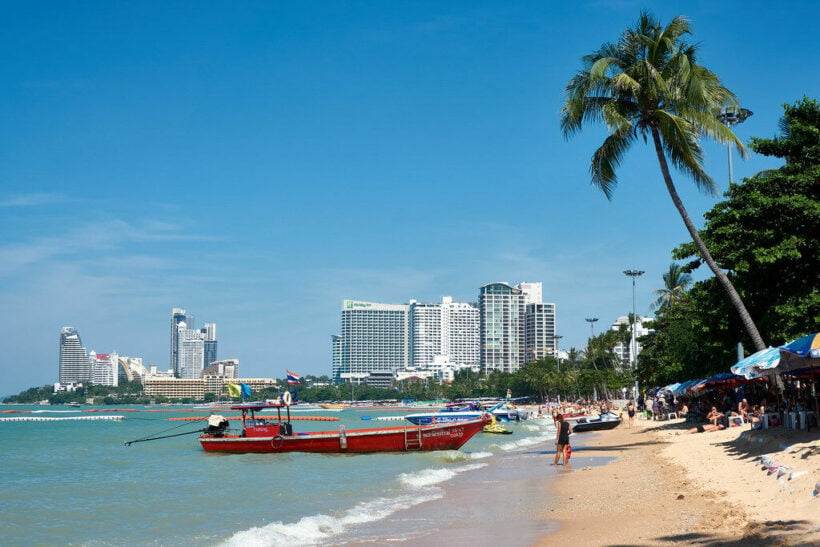 Pattaya is rounding up homeless people ahead of its Pattaya Colorful event this weekend after locals complained. Officers from the Chonburi Social Development and Human Security Division, along with the Anti-Trafficking in Persons Division inspected and interviewed homeless people and beggars on Pattaya Walking Street, Pattaya Second Road, Pattaya Beach and Soi Buakhow last night.
Officials say most of the beggars are foreign migrants with many overstaying their visas or not having legal permission to stay in Thailand. The roundup comes after multiple complaints from business operators, local tourists and residents on Pattaya Walking Street and Beach Road. They launched formal complaints to Pattaya City authorities saying they have seen a dramatic increase in beggars, with many having small children.
15 homeless people were detained and transferred to Pattaya City Hall, while those with alleged mental health problems were taken to the Banglamung Hospital for treatment. Officials reiterated that they were treating the homeless with respect by offering many of them a place to stay at the local homeless shelter and giving them medical and mental health aide.
The 'PATTAYA COLORFUL Festival 2021' is a 2 day event that starts today and lasts through tomorrow on Pattaya Beach. The Pattaya Cultural Council and Pattaya City are sponsoring the event that is being held in front of Central Festival.
Mana Yaprakam, the president of the Pattaya Cultural Council told The Pattaya News, "The event is aimed to encourage people to conserve the beautiful Thai culture and environment."
"This will also support a good tourism image and generate more income to local businesses and local communities after the Covid-19 pandemic relief in the 'New Normal' tourism style."
"People are invited to join in the event which is totally free admission, however will need to wear masks and take Covid-19 precautions."
The event is featuring local art, cuisines, music and other types of entertainment for those who wish to partake.
SOURCE: The Pattaya News
Keep in contact with Thaiger by following our Facebook page.
Never miss out on future posts by following Thaiger.
Giant monitor lizard visits Thai 7 Eleven store, video goes viral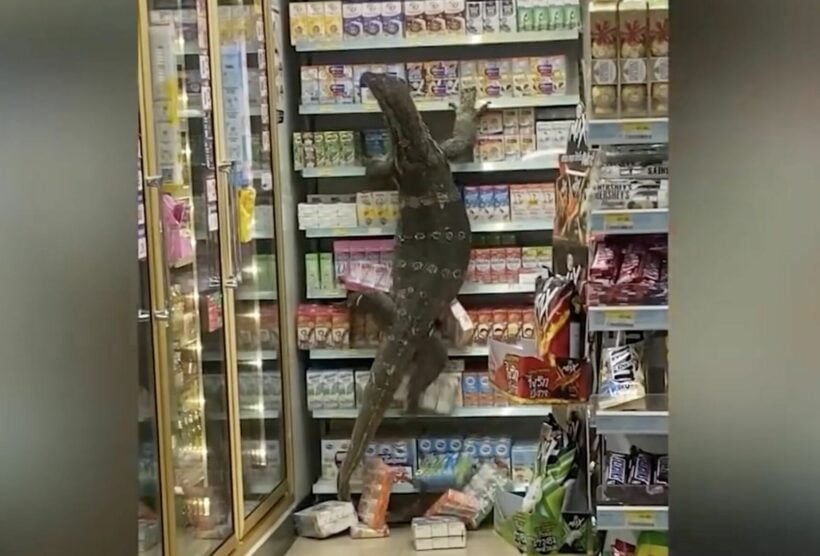 A giant, nearly 2 metre long, monitor lizard decided to visit a 7 Eleven store looking for food, with customers and staff wondering what he (or she) was going to do next. The lizard climbed up a fully stacked shelf of dairy products, with apparently no cares in the world, as he clumsily knocked off cartons of milk and other packages. At the top, he appeared to stop for a rest. After all, that was a big climb for a 2 metre monitor lizard.
Witnesses say he came from a nearby canal on the outskirts of Bangkok, in which it's speculated he probably struggled to find food outside due to months of dry weather that has led to lakes and canals drying up. Police were called and with them, they brought reptile handlers to catch the lizard and escort him outside. The video of the incident has gone viral worldwide, and can be watched HERE.
Noting from Culture Trip, monitor lizards will generally run away from people. They do not prey on humans but will defend themselves if threatened. They can make an intimidating hissing noise and often lash with their tail to protect themselves. Their claws and teeth can also inflict nasty injuries, which are prone to infection."
If you see a monitor lizard in the dairy section of your nearest 7 Eleven, best give it some space and leave the beasty's removal for some experienced hands.
SOURCE: YouTube/The Guardian
Keep in contact with Thaiger by following our Facebook page.
Never miss out on future posts by following Thaiger.
Weekend party event in Phuket reports positive Covid attendee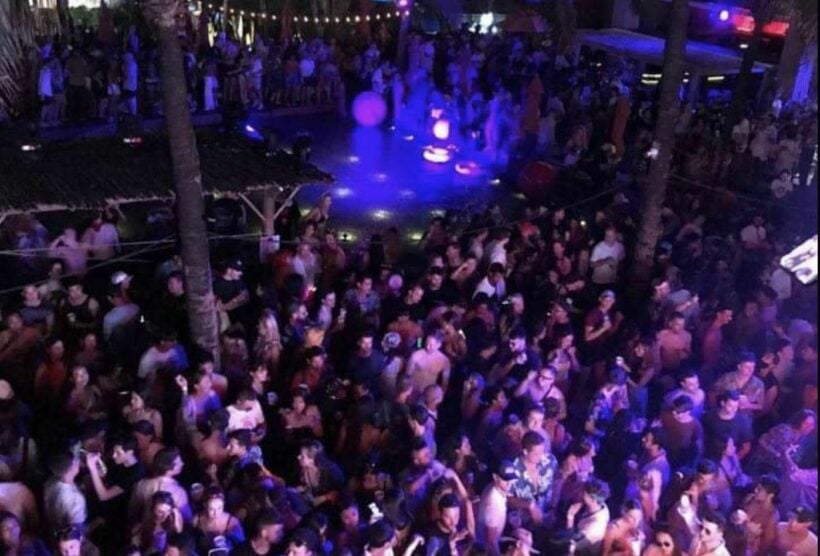 A band member from Bangkok who attended three 'Kolour' party events in Phuket over the weekend has tested positive for Covid-19. The main Kolour Beachside Main Event was held at Cafe Del Mar, along Kamala's foreshore. Other pre and post event parties were also held at Shelter and Illuzion, both in Bangla Road, Phuket.
The promoters Kolour Beachside have a published Covid-19 policy on their website.

The promoters sent out this letter today…
Thank you for joining us last weekend in Phuket at Kolour Beachside Pre-Party at Shelter April 2nd, Kolour Beachside Main Event at Cafe Del Mar Phuket April 3rd and Kolour Beachside After Party at Shelter and Illuzion April 3rd.
We have received enquiries from our guests ever since the news announced about a new wave that occurred in the Bangkok nightlife area.
We have been notified directly from one attendee that they tested positive for Covid 19 on April6th. The guest visited all 3 Kolour events in the past weekend. The guest also informed us that they attended one of the Bangkok clubs that has reports of a cluster before they arrived at our events and suspect this is the origin.
In light of this, we suggest all guests monitor their condition and, if in doubt, always put safety first by considering self-quarantine.
We are working with the appropriate authorities and will provide updates on a regular basis.
Please be aware of false rumours circulating around this situation and that we will only share verified information from sources on our channels.
Please follow to stay updated.
If you have any concerns or if you have any information that might be important around this, please email us directly at safety@wearekolour.com
Best, Kolour team
Laguna Phuket have postponed the Revive 555 Festival events following today's revelations. It appears that the band member contracted the coronavirus as part of the current cluster of infections recorded around Bangkok's nightlife in the past few days. Some photos shared with The Thaiger of the Cafe Del Mar event show very little mask wearing at the Kolour Beachside Party.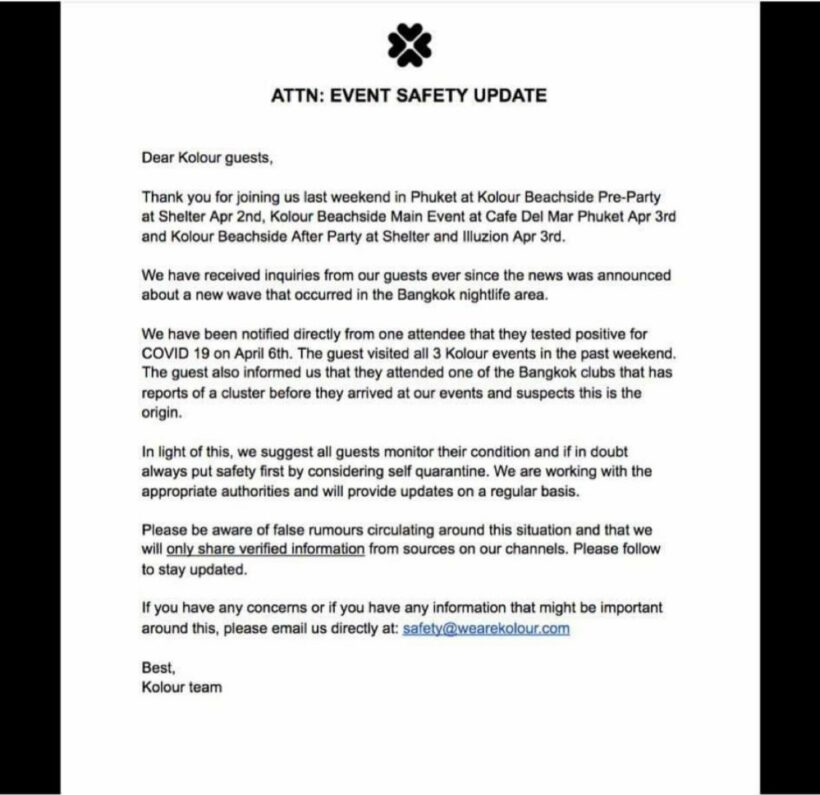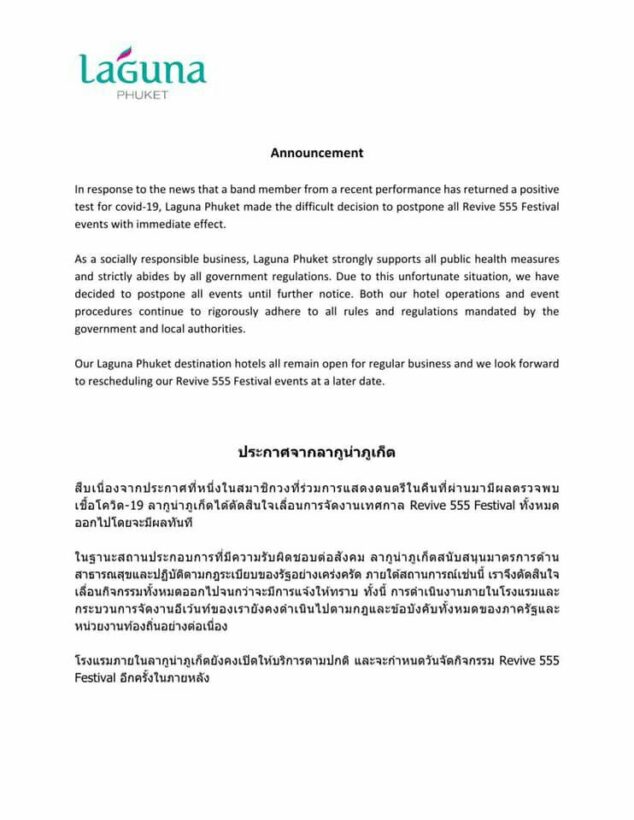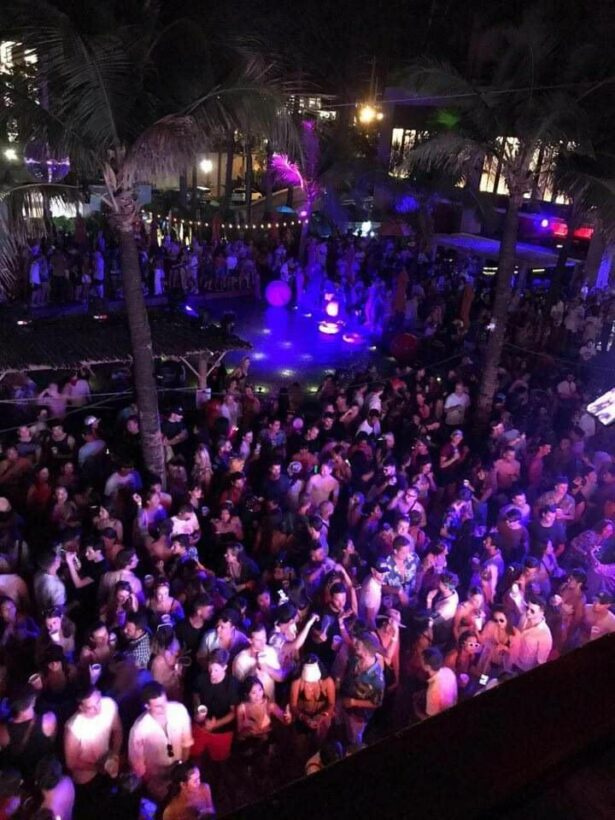 Keep in contact with Thaiger by following our Facebook page.
Never miss out on future posts by following Thaiger.
Chakri Memorial Day – why is it a public holiday in Thailand?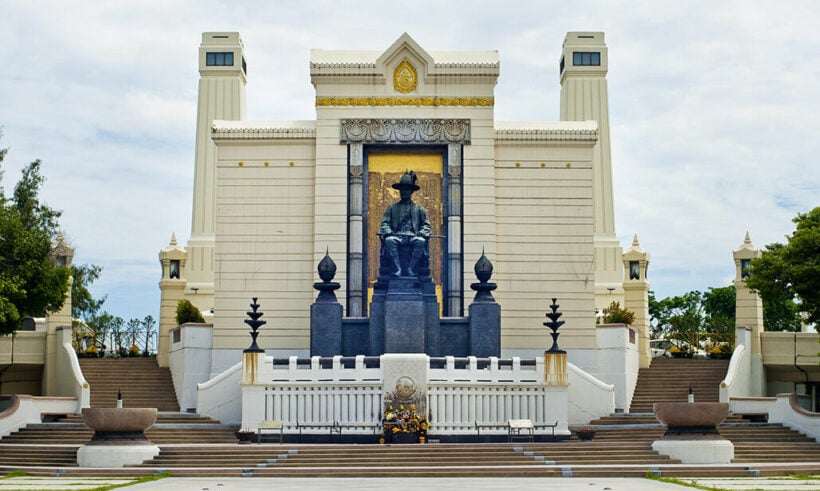 April 6 is a prominent holiday for Thais as they commemorate Chakri Memorial Day which remembers King Rama 1, the Founder of the Chakri Dynasty, which continues to this date. The current King Maha Vajiralongkorn is Rama X, the tenth Thai King of the Chakri Dynasty.
Officially known as 'King Buddha YodfaChulaloke the Great Day and Chakri Dynasty Memorial Day', Chakri Memorial Day commemorates the establishment of the Chakri Dynasty by Rama I in 1782. In 1919, King Rama VI granted permission to set the date as a public holiday for all Thais to commemorate the coronation of King Rama I and the work of all Kings and Royal Family in the Chakri Dynasty.
Rama I was the founder of the Rattanakosin Kingdom and the first monarch of the reigning Chakri dynasty of Siam. His full title in Thai is Phra Bat SomdetPhraParamorurachaMahachakkriborommanatPhraPhutthayotfaChulalok (in Thai: พระบาทสมเด็จพระปรโมรุราชามหาจักรีบรมนารถ พระพุทธยอดฟ้าจุฬาโลก).
He ascended the throne in 1782, after defeating a rebellion which had deposed King Taksin of Thonburi, the former capital of Siam. He was also celebrated as the founder of Rattanakosin (now Bangkok) as the new capital of the reunited kingdom. Rattanakosin island, on the banks of the Chao Phraya River, is still the home of the Grand Palace and many prominent historic buildings in the capital.
Chakri Memorial Day not only commemorates the coronation of Rama I but is also a day for the people of Thailand to recognise the contributions of all ten kings in the dynasty.
The current and tenth King is HM King Vajiralongkorn PhraVajiraklaochaoyuhua, who succeeded his father, King Bhumibol Adulyadej, who died in October 2016. Mis Majesty, accompanied by other members of the royal family, will presides over religious ceremonies held at the royal chapel.
Government offices, schools and banks are closed. Most other businesses are open as usual on this day although it is a public holiday. The commemoration is always held on April 6, just a week before the annual Songkran (Thai New Year) holiday.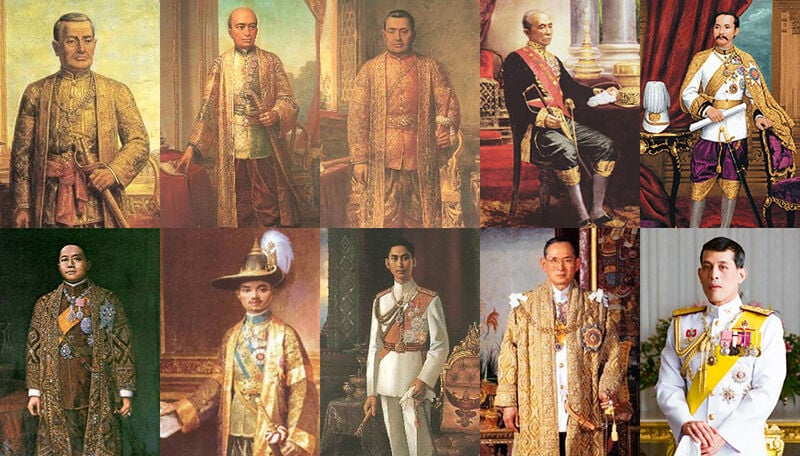 PHOTO: The 10 Kings of Thailand's Chakri Dynasty
Keep in contact with Thaiger by following our Facebook page.
Never miss out on future posts by following Thaiger.