Top 10 rules to avoid an elephant squishing your car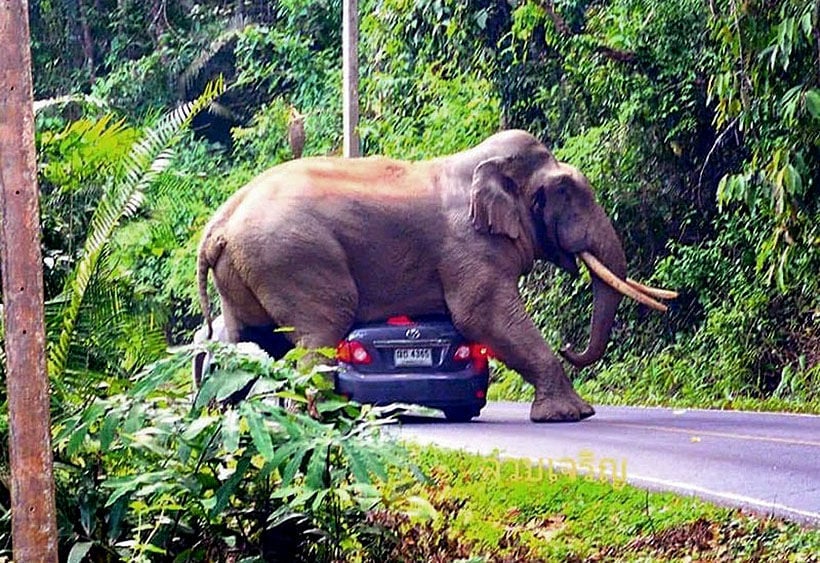 PHOTO: Khaosod English
After the video of a bull elephant sitting on a car whilst it was trying to drive through Khao Yai National Park in Nakhon Ratchasima went viral, officials have come up with 10 rules to follow when confronted by a wild elephant who has an unnatural attraction to your car.
The 35 year old tusked elephant, Duea, was standing beside a car parked on the main road through the park in Pak Chong district on Tuesday. The elephant then started leaning on the car before straddling the rear of the vehicle and lowering its weight. The panicked driver drove away after the car was already damaged.
Park director Kanchit Sarinpawan says that Duea usually likes to come to greet tourists anyway, but he never hurt anyone or any vehicles.
"There were many factors that contributed to this, as we can see in the clip. We can see the drivers were able to drive out, but they may have been too panicked."
The elephant dented the roof and broke the rear and side windows. The driver and passenger were shaken but not injured.
The following are the 10 rules tourists driving through the park should follow when encountering a wild elephant…
Stay at least 30 metres away in your car and slowly back up to keep your distance if the elephant approaches.
No flash photography.
Do not honk the car's horn or make other loud noises.
Do not turn off the engine and be ready to drive away at any time.
Do not get out of the vehicle to take photos.
Turn off your headlights if encountering elephants at night. Do not flash headlights or other lights at them.
If surrounded by elephants circling your car, move towards a spot in the circle with no elephants.
If the car in front of you backs up, please back up as well, as it might be an emergency situation.
Do not get out of the car and approach the elephant.
An elephant's best senses are hearing, smell, and vision. If you turn off your engine, the elephant will approach and use these senses to investigate, by looking at, smelling, and listening to your car.
SOURCE: Khaosod English
Keep in contact with The Thaiger by following our
Facebook page
.
Government applies for UNESCO status for Korat Geopark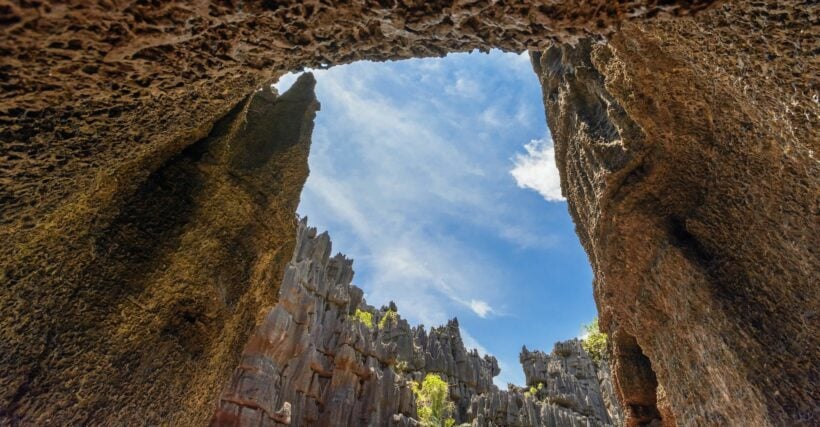 PHOTO: Satun Geopark already has a UNESCO Geopark – Greenpeace.com
Government deputy spokesperson Ratchada Thanadirek says the government is seeking UNESCO status for the Korat Geopark in Nakhon Ratchasima, north-east Thailand. The move follows a recommendation from the Natural Resources and Environment Ministry.
A geopark is an area with a rich geological and cultural heritage and a UNESCO Geopark is required to demonstrate best practice in conservation management, education, and research into sustainable development.
UNESCO Global Geoparks are single, unified geographical areas where sites and landscapes of international geological significance are managed with a holistic concept of protection, education and sustainable development. Their bottom-up approach of combining conservation with sustainable development while involving local communities is becoming increasingly popular.
The Nation reports that there are 147 UNESCO Global Geoparks, spread over 41 countries, four of which are in southeast Asia, including in Thailand, Malaysia, Indonesia and Vietnam.
Ratchada explained that Thailand's first UNESCO Global Geopark is in Satun, southern Thailand.
"Satun Geopark was given Unesco Global Geopark status on May 1, 2018. Korat Geopark covers 3,167 square kilometres of Nakhon Ratchasima's five districts – Muang, Chaloem Phra Kiat, Kham Thale So, Sung Noen, and Sikhiu. This geopark is considered a proper place for requesting UNESCO status since there are 35 sites of natural resources, geology and cultural heritage."
The Nation adds that if the Korat Geopark is granted UNESCO status it would be a big boost for the country, recognising Thailand's natural resources, attracting more visitors, and ultimately creating more employment and revenue for the region.
SOURCE: The Nation
Keep in contact with The Thaiger by following our
Facebook page
.
10+ Blacktip reef sharks flock to Maya Bay for breeding season – VIDEO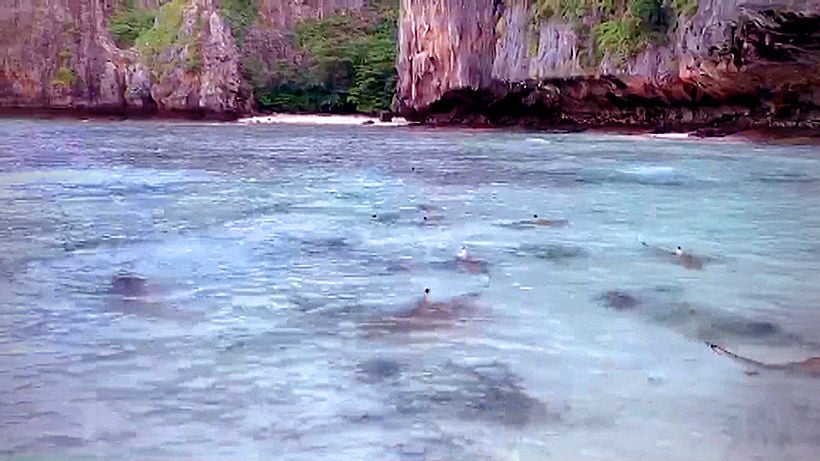 PHOTO: The Nation
Worapoj Lomlim, chief of Noppara Tara-Koh Phi Phi National Park in Krabi, says that more than 10 Blacktip reef sharks had been spotted hunting near Koh Phi Phi Ley's famous Maya Bay, some of them more than 2 metres in length. The sightings were made yesterday at the closed beach.
He noted that the presence of the marine creatures has been brought about by the closure of Maya Bay to allow the ecosystem to recover. The highly popular Bay was attracting up to 6,000 tourists a day at its peak with boats parking close to the beach and throwing their anchors overboard. The beach, the surrounding corals and the local marine life were suffering from the popularity of tourism in the Bay.
Maya Bay was closed to tourist on June 1, 2018. The Bay first became famous as part of the setting for the 2000 film 'The Beach' starring Leonardo Di Caprio. Read more about the closure HERE.
Worapoj Lomlim says that as the mating season for this species of shark is usually between the months of November to March, the Blacktip reef sharks are being monitored by researchers from Department of National Parks, Wildlife and Plant Conservation and Kasetsart University.
Ne noted that the birth of a shark in Maya Bay will increase the importance of preserving the island and limiting any tourism in the future.
SOURCE: The Nation
Facebook page
.
More than 30 dolphins spotted off Phang Nga coast – VIDEO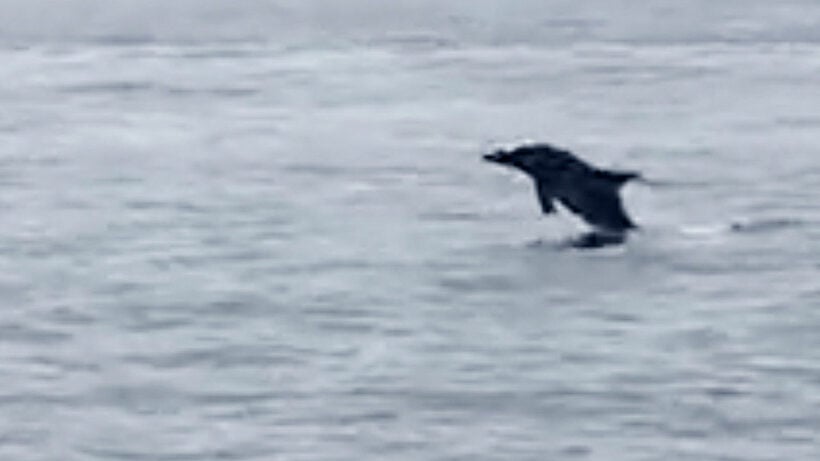 More than 30 dolphins were spotted around Phang Nga yesterday.
Yesterday morning (November 17), Dive Master Nattapong Ninsawit from Sea Bees Diving Khao Lak revealed that he and his customers spotted a number of dolphins on the way back from their diving trip to Similan Islands.
The group were travelling back, and while the boat was passing Similan Islands and Surin Islands, off Phang Nga coast, in an area known as Rua Jom Boonsoong diving spot, there were more than 30 dolphins jumping above the water surface and swimming around the boat for about 10 minutes before heading off.
The dive master said that the tourists on the boat were excited and impressed with the beauty and "pure nature" of Phang Nga which allows rare animals to live peacefully, and "this will make them come back to visit the province again which will generate revenue to the community".
Rua Jom Boonsoong was a 'platform' that was used during the mining era that was sunk after the mining has stopped in the region. It has become a big coral reef at 18-20 metres under the surface and has become a nursing area for several marine species as well as a popular place for dolphins, whales and whale sharks to come for hunting and food.
SOURCE: thairath.com
Keep in contact with The Thaiger by following our
Facebook page
.