Thailand's 'economic condition index' expected to decline in Q3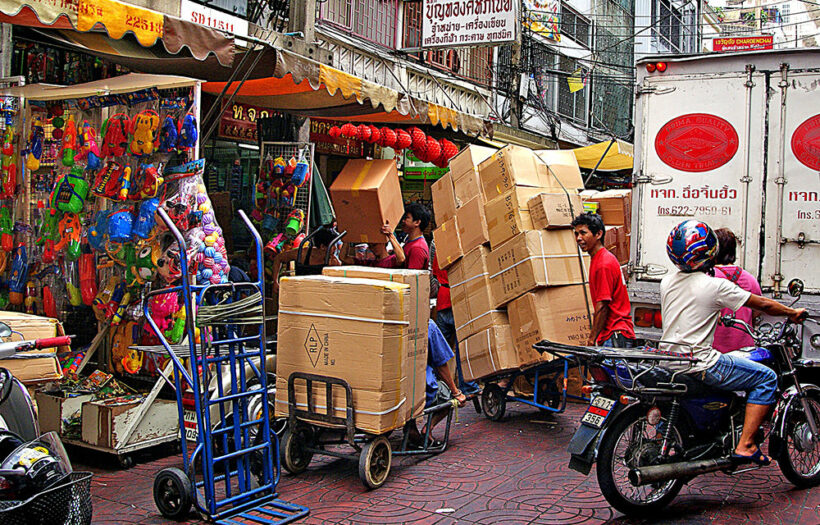 PHOTO: Culture Trip
Thailand's household economic condition index is likely to drop further due to the ongoing global economic slowdown. Another drop would make it the third this year, measured in quarters. The slowdown is impacting the domestic economy and employment, according to the Kasikorn Thai research centre.
Thai PBS reports that the latest ECI report indicates that a survey of economic conditions in October showed signs of increased layoffs, compared to the last survey in July, particularly in the manufacturing and services sector.
"The ECI for the last quarter of this year remains fragile and susceptible to further decline, despite the Government's efforts to implement stimulus packages."
Meanwhile, about 60% of retail business operators (life-style products and consumer products) in Bangkok and surrounding provinces report poor sales this year, compared to last year's performance, and 65% were not sure if or when their businesses will recover, according to the Kasikorn Thai research centre report.
"Uncertainty in the retail sector reflects its concern over future economic conditions and the purchasing power of consumers."
Amidst stagnant consumer purchasing power and continuing pressure on retail businesses, the Kasikorn Thai research centre predicted retail business next year might grow between 2.7%-3%, compared to this year's 3.1%.
SOURCE: Thai PBS World
Keep in contact with The Thaiger by following our
Facebook page
.
Walking street-led economic recovery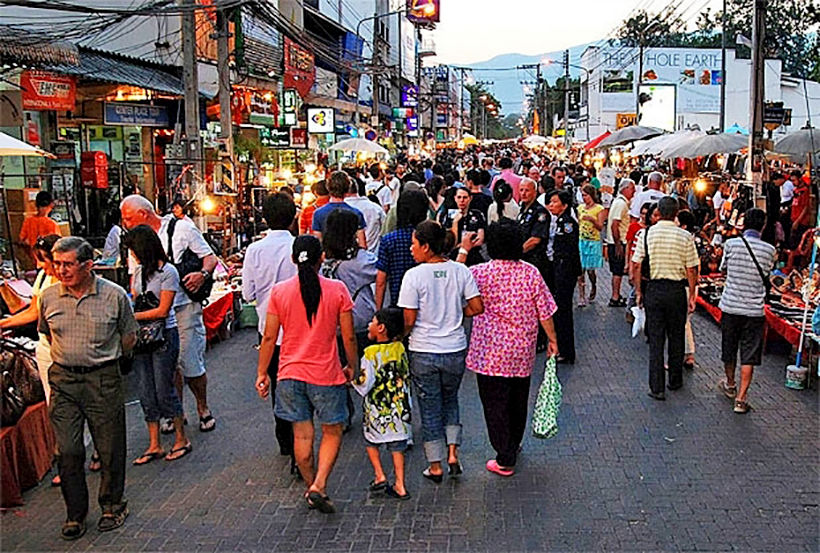 And it starts today at two locations in Bangkok.
In its latest campaign to encourage more spending and boost tourism Bangkok's government is launching a series of walking streets today before the Thai government spreads the walking street 'boost' to other provinces. Silom and Yaowarat roads are becoming pedestrian walkways today and other provinces have temporary walking street events starting on December 22.
Activities, such as concerts, will be held on Bangkok's Silom and Yaowaraj roads, with additional cultural activities, such as Khon mask dance performances and Talung shadow play planned for Khao San Road.
The government spokesperson Narumon Pinyosinwat says that after today's event, Yaowarat Road in Chinatown will be closed for pedestrians every Friday, Saturday and Sunday from 7pm to midnight.
Silom Road is car-free today and then on the third Sunday of each month from noon to 10pm. It will be closed from Sala Daeng intersection to Nararom junction, and closed to all vehicles from noon to 10pm. Khao San Road, Bangkok's back-packer central, will be open to pedestrians every Monday from 5pm to midnight.
The plan from the BMA, TAT and national government, is to use the walking streets to provide a new attraction and allow vendors to sell their local wares.
The next walking street in Bangkok will be in Khlong Bang Luang in Phasi Charoen district, on the opposite side of the Chao Phraya River, with an emphasis on showcasing the area's cultural richness and temples. Six events are planned during weekends, starting from January 18. To facilitate travel to the area, shuttle boat services will be increased.
Kadeechine in Khlong San and Thon Buri districts are also earmarked for cultural and street food festivals, to be held every three months, tentatively starting in January.
PHOTO: Bangkok Post
Keep in contact with The Thaiger by following our
Facebook page
.
The fourth Chim Shop Chai stimulus rolls out for New Year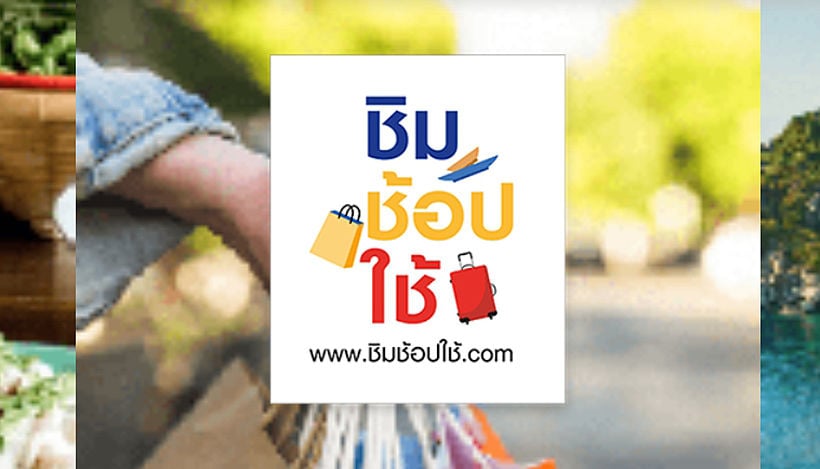 PHOTO: Thai PBS World
The state-run Krung Thai Bank is rolling out another economic stimulus program for New Year. It will include an 800,000 baht Toyota sedan and gold necklaces for subscribers to the latest Chip Shop Chai (Eat-Spend-Shop) scheme who Thais spend through their g-wallet accounts.
Lawan Saengsanit, the Fiscal Policy Office director and spokesman for the Finance Ministry, says the gifts, valued at 12 million baht, include a Toyota Altis, three Toyota Hilux pickup trucks, sixteen motorcycles, eighty gold necklaces of 15g each, over 549 gold necklaces of 7.5g each and thirty two 55-inch TV sets.
For every 1,000 baht of accumulated spending subscribers can win the prizes through six lucky draws, to be held at the Finance Ministry and the Krung Thai Bank.
But the spokesperson is urging subscribers to spend through their e-wallet accounts so that they are eligible to enter the draw for the prizes, adding that they can also benefit from refunds amounting to 20% of their spending.
During the first three Chim Shop Chai initiatives, from September 27-December 10, a total of 11.78 million Thais subscribed and their total spending amounted to 21.5 billion baht, including 9.9 billion baht spent through e-wallet accounts by about 320,000 subscribers.
SOURCE: Thai PBS World
Keep in contact with The Thaiger by following our
Facebook page
.
Forecasts are in negative territory for south east and wider Asia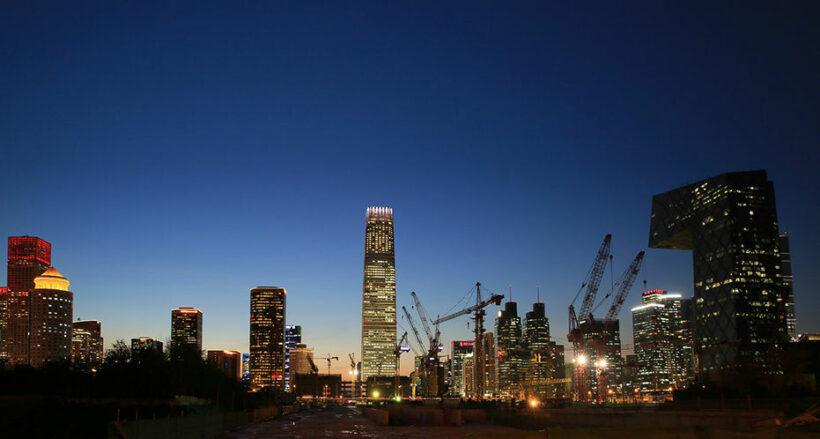 PHOTO: asiahouse.org
The Asian Development Bank has trimmed its forecasts for economic growth in developing Asia this year and next as growth in the People's Republic of China and India are weighed down by both external and domestic factors.
Closer to home, south east Asia's growth projections have also been revised down slightly to 4.4% for 2019. Economic woes of Thailand and Singapore, two of the region's largest economies, have prompted downward adjustments to their growth forecasts, for the rest of this year and next.
In a supplement to its Asian Development Outlook 2019 Update released three months ago, the ADB now expects GDP in the region to expand 5.2% in both 2019 and 2020, just a tad down from the September forecast of 5.4% growth this year and 5.5% next year.
Thailand's economy expanded by only 2.5% in the first nine months of 2019 as growth moderated for private consumption and for public consumption and investment. Weaker trade also dragged on growth, with export declines in both agriculture and manufacturing. Imports also went backwards in line with weaker domestic demand.
Growth forecasts for East Asia are downgraded to 5.4% in 2019 and 5.2% in 2020 as the People's Republic of China and the Republic of Korea endure continuing trade tensions and slowing domestic investment. The same in Hong Kong where political unrest is an added factor.
Growth projections for South Asia are lowered to 5.1% in 2019 and 6.1% in 2020. Growth in India is expected to slow to 5.1% in 2019. Also, consumption in India affected by slow job growth and rural distress aggravated by poor harvest. Policy support will help growth recover to 6.5% in 2020.
On the up side, growth could accelerate around the region if the US and the PRC can sort out an agreement on trade, the report says.
Hong Kong is already in technical recession and is predicted to see severe downward pressures persist possibly into 2020. The economy is now expected to contract 1.2% this year and grow only 0.3% next year.
In south east Asia, many countries are seeing continued export declines and weaker investment, and growth forecasts have been downgraded for Singapore and Thailand. GDP growth is expected to slow in the Pacific with activity in Fiji, the subregion's second largest economy after Papua New Guinea, expected to be more subdued than previously anticipated.
Keep in contact with The Thaiger by following our
Facebook page
.