Price of gold rises but investment not without risks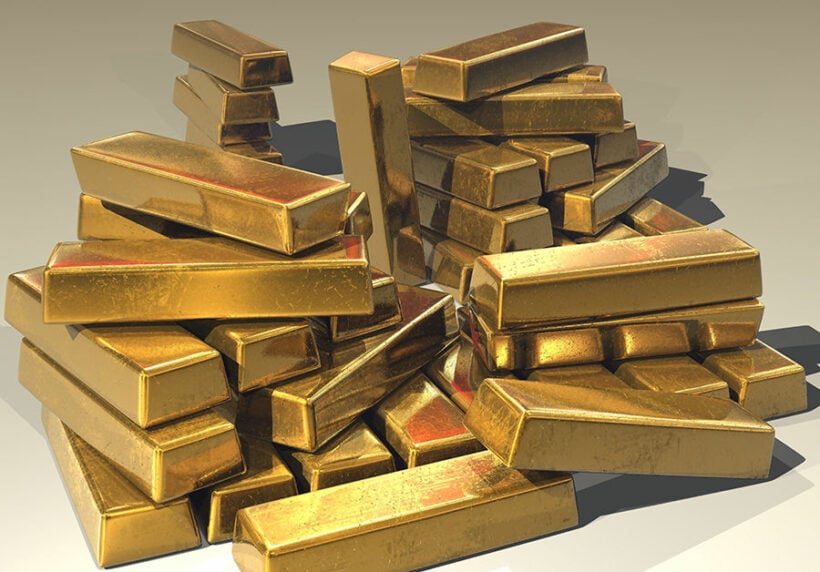 A leading investment research firm says the price of gold is on the rise, with predictions bullion could reach US$2,000 an ounce. Chayanee Juengmanon from Morningstar Research Thailand says one exchange-traded fund favoured by most domestic gold mutual funds, recorded net inflows of over $20 billion within the last year, a 30% increase in the value of its assets.
gold shops on Bangkok's Yaowarat Road are seeing long queues, with most customers coming to sell their gold, according to Hua Seng Heng Chief Executive, Tanarat Pasawongse.
"Thais have become more skilled in gold investment. Some of them have the patience to hold their gold for a profit once the price rises."
With uncertainty surrounding the global economy, the Bangkok Post reports today that in the Thai market, the price of bullion with a purity of 96.5% is nearing 30,000 baht per 1 baht weight gold. Return on investment in gold sits at around 30% year to date. Gold continues to be viewed as a safe haven for investment in unpredictable times, however, its price is subject to factors such as the ongoing pandemic and political tensions around the world. Should there be any unforeseen changes or events, the price could drop.
Chayanee points out that the price of gold has dropped before in the short-term, coupled with a drop in interest rates and a general decline in the stock market as a result of selling pressure. Since March, the price of gold has been rising as a result of the Covid-19 pandemic, with investors switching to what they see as a safer option, but Chayanee says gold has typically generated lower returns after 36 months than stocks on the S&P 500 index (a listing of 500 large companies on US stock exchanges). She believes investing in gold should be done as a risk management strategy, as opposed to core investment, due to pricing instability.
Thunyalak Surapol from the Kasikorn Research Centre says that any economic recovery in the US could take some time, but monetary stimulus should continue, with the dollar falling further and bullion continuing to rally. Trade in gold online futures has risen to nearly 32,000 daily contracts this year, nearly double the 2019 figure of over 16,000.
Two of Thailand's largest gold importers and exporters, MTS Gold and Hua Seng Heng, see ongoing growth in their gold savings offerings. Nuttapong Hirunyasiri from MTS Gold says the firm introduced its programme at the beginning of the year, prior to Covid-19 moving from epidemic status to full-blown pandemic. Since then, it has grown significantly, with nearly 10,000 sign-ups over the course of 5 months as it offered gold savings from 150 baht.
SOURCE: Bangkok Post
Keep in contact with The Thaiger by following our
Facebook page
.
Never miss out on future posts by
following The Thaiger
.
Struggling airlines to get reprieve through small loans, extension to fuel tax cut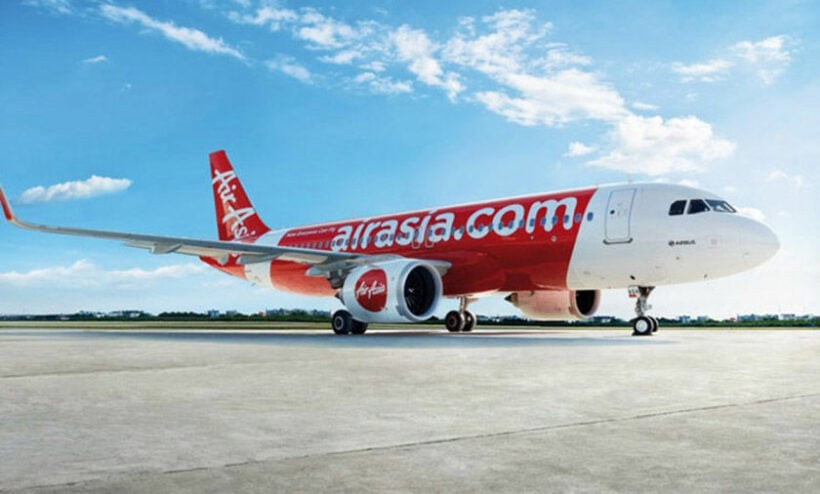 Airlines in Thailand are being offered a financial lifeline, as the Government Savings Bank announces soft loans for carriers left struggling as a result of the current Covid-19 'disruption'. Nation Thailand reports that the GSB is offering the loans over a 60 month period, with an annual interest rate of 2%. Chairman Patchara Anuntasilpa says the proposal will shortly be put to Cabinet for approval.
Airlines have been left financially devastated by the fallout from the ongoing Covid-19 pandemic, with countries closing their borders, passenger numbers plummeting, and carriers forced to slash the number of flights on offer. The services available, including the food services, were also curtailed early on as a preventative measure but that restriction has since been lifted. The effect is being keenly felt by all the airlines in Thailand, with the Kingdom's borders closed to nearly all international traffic since March.
In a further effort to ease the financial crisis faced by Thai airlines, the Excise Department says it will extend the fuel tax cut for low-cost carriers by another 6 months from the end of this month. Patchara, who also serves as director-general of the Excise Department, says the tax may end up being abolished completely. In normal times, taxation on aviation fuel generates around 1 billion baht a year.
Air Asia has also cut some of its ground costs by using airport buses to ferry passengers from a cheaper aircraft parking area, back to the terminals, foregoing the costs of the airport airbridges. Flights from Phuket to Don Mueang, for example, are now a full 'bus' service, sometimes adding an additional 15 minutes at either end for the loading up of the buses and the trip to the planes or the terminal.
It's understood the excise tax collected since October 2019 totals 503 billion baht, down more than 6.5% on last year's figure. Most of the income comes from oil or oil products, cars, alcohol, and cigarettes.
SOURCE: Nation Thailand
Catch up with the latest daily "Thailand News Today" here on The Thaiger.
Keep in contact with The Thaiger by following our
Facebook page
.
Never miss out on future posts by
following The Thaiger
.
First airplane food cafe, now Thai Airways opens fried dough stand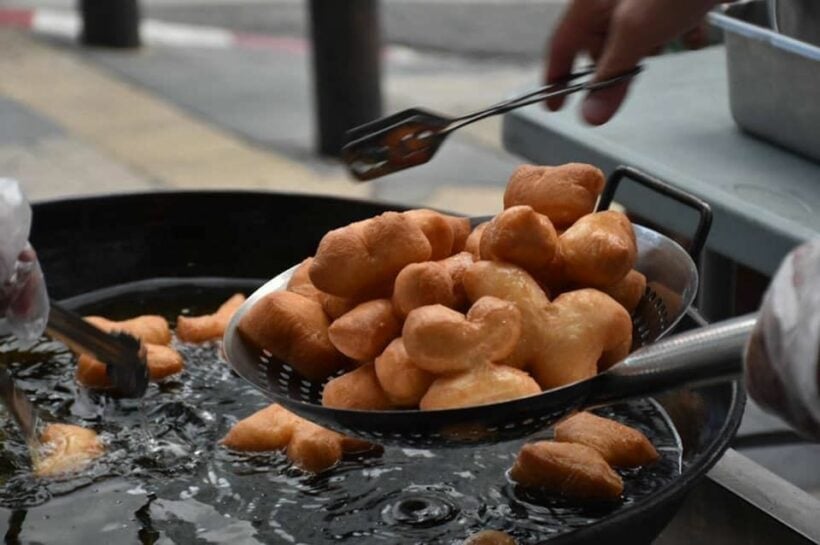 Since not much is happening in the air, Thai Airways is running new business schemes on the ground. For their newest venture, the company opened a deep fried dough street food stand. They say the fried dough with taro custard is an "award winning" recipe.
Thai Airways has already opened a pop-up restaurant serving "in flight" food to customers seated in repurposed airplane seats. They also started offering package deals for a lessons on their flight stimulator, touting that it's the most realistic stimulator in Thailand and is usually used to train pilots.
For their new fried dough stand outside of the company's Bangkok headquarters, the new business venture has already "taken off." Nation Thailand says a long line of people waiting for the 50 baht fried dough early Wednesday morning.
The stand is up from 6:30am to 9:30am in front of their headquarters on Silom Road.
Hopefully they'll make a profit out of the fried dough with taro custard as they currently owe around 245 billion baht (give or take a few billion), according to Reuters. So 245 billion baht, divided by 50 baht, minus the costs of the taro and dough… they will have to sell a LOT.
SOURCE: Nation Thailand
Keep in contact with The Thaiger by following our
Facebook page
.
Never miss out on future posts by
following The Thaiger
.
Foodpanda joins online grocery delivery movement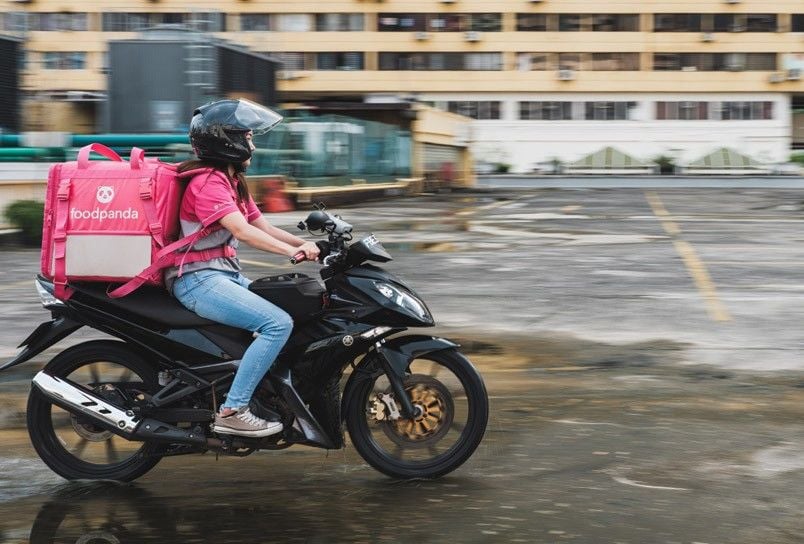 Get your latest dinner or snack, or now a delivery from your supermarket. Foodpanda is the latest player to join the online grocery delivery movement as it is now operating under Pandamart. The German-based delivery app is the latest establishment to shift its focus on capitalising from "quick commerce" which sees items being delivered faster than traditional grocery stores.
However, the game is on as Pandamart enters at a time when Grabmart and HappyFresh already have penetrated the rapid delivery market by their respective Grab and Line Man apps. Thomas Buchan, the director of new verticals at Foodpanda Thailand, says customers expect deliveries faster in this new era.
"We are entering the era of quick commerce [q-commerce] where digital customers expect faster delivery within minutes or hours, unlike the 4.0 e-commerce era when users wait for same-day or next-day delivery."
Pandamart delivers products within 20 minutes as orders are mapped to its nearest product storage facility within 10 km for faster delivery times. Such merchants partnering with the company include Gourmet Market, Lawson 108, Tesco, Beauty Buffet and the retail giant CP Freshmart.
To entice users, it also offers free delivery for orders of 50 baht or more with snacks, alcohol and beverages bringing in the most sales. Currently, Pandamart operates in 12 Asia-Pacific countries and Buchan says that number is expected to grow as shopping habits change.
SOURCE: Bangkok Post
Catch upwith the latest daily "Thailand News Today" here on The Thaiger.
Keep in contact with The Thaiger by following our
Facebook page
.
Never miss out on future posts by
following The Thaiger
.