Thai police dis criticism of their Koh Tao Murder investigation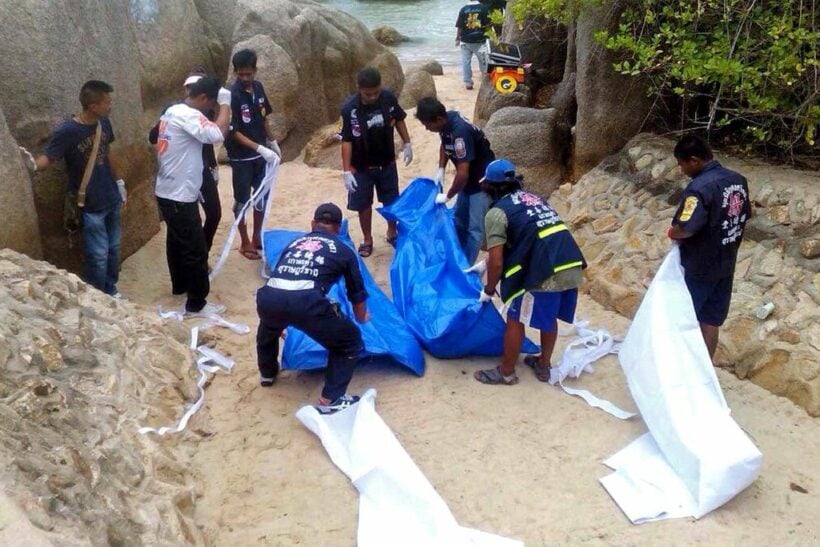 PHOTO: Bangkok Post
Thai police have publicly hit back at foreign media allegations that their forensics investigation into the highly-publicised 2014 murder case on Koh Tao did not meet international standards.
The publicity about their allegedly botched investigation began in 2014 with the brutal murder of two British tourists, David Miller and Hannah Witheridge, on Koh Tao island off Surat Thani. Two Burmese men, Zaw Lin and Win Zaw Tun, were arrested over the crime.
Police spokesman Piya Uthayo referred to an online article posted by Fairfax media featuring statements made by Jane Taupin, an Australian forensics expert. The article, written by Lindsay Murdoch, questioned the standards and processes used to use DNA evidence in the murder case convictions.
Melbourne-based Jane Taupin says documents detailing how Thai investigators matched DNA from Myanmar workers Zaw Lin and Win Zaw Htun to the victims were not provided to a Thai court, in contravention of international DNA analysis and reporting standards.
Taupin visited Thailand in 2016 as a science witness for the defence case. Despite not being invited to join the police investigation, she accused the police's forensic science laboratory of being "untrustworthy".
Ms Taupin, an independent consultant who has examined DNA evidence for police agencies in Australia and the UK and has received several forensic science awards, travelled to Thailand expecting to testify in the case in July but she was not called to the stand.
But Piya says police produced DNA samples of the defendants in court, claiming they matched those collected at the crime scene. Based on this evidence, the court sentenced both young men to death. They remain in prison and are awaiting an answer on their application for a Royal Pardon.
Speculation has continued in the years following the investigation that 'shady' local Koh Tao residents had been involved but never prosecuted and that the two young Burmese men were 'patsies' in the case.
Piya said Royal Thai Police Forensics works under the same international standards as the FBI and performs its forensic work extremely scrupulously. The officers who performed the forensic probe appeared as witnesses, giving detailed explanations and addressing inquiries and objections raised by the defendants' lawyer.
The two Burmese suspects initially confessed to the crime but later retracted the confession, saying they were forced to confess under torture. They maintained this story during the court case.
Last August, the Thai Supreme Court upheld the death sentences for the two Burmese men.
In September this year, the Thai Bar Council reported that the death sentences could be stayed if the Burmese government sent a formal letter of request for a royal pardon.
SOURCE: Chiang Rai Times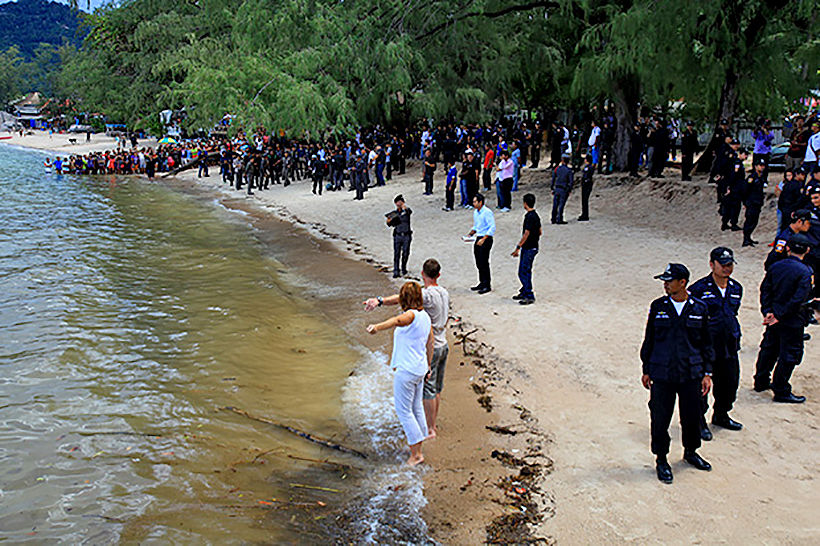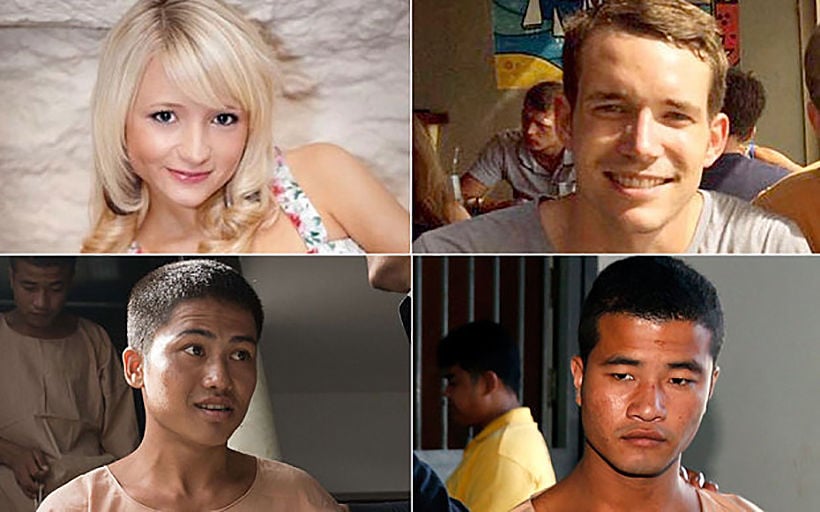 Keep in contact with The Thaiger by following our
Facebook page
.
Prasitthichai speaks to the Thai media, "killings were unintentional"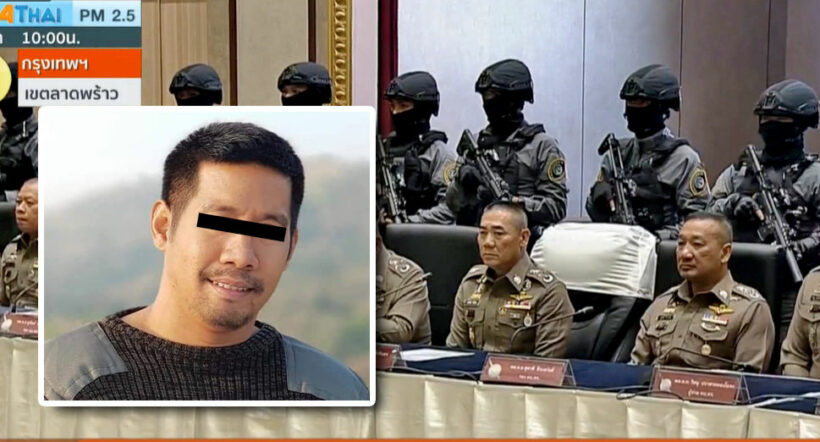 In a bizarre sequence of events, Thai media were able to directly question the suspect, who has allegedly confessed, of the cold-blooded murders of three, whilst injuring four others, on January 9 at a Lop Buri gold shop.
School principal Prasitthichai "Golf" Khaokaew is reported to have told police that he robbed the gold shop because he had financial problems and that the shooting of a female employee and a two year old were unintentional. They both died as a result of their wounds, along with a shopping centre security guard who was shot when the gunman was fleeing the scene of the crime.
Prasitthichai spoke to the media via telephone, at a media presser this morning at the Royal Thai Police headquarters in Bangkok. The media event was hosted by the national police chief, Pol Gen Chakthip Chaijinda. The assembled police chiefs were flanked by members of the special forces Hanuman assault team who arrested the suspect yesterday.
Prasitthichai told the assembled media that had to open fire because he "wanted to cause panic and clear the way as he approached the shop". He says he'd planned the robbery only 3 days earlier.
• He claimed that the shooting of the female employee was accidental claiming his glove got stuck in the pistol trigger when he tried to remove it, and his pistol accidentally discharged two shots.
• He claimed that he didn't see the 2 year old boy when he tried to shoot at a security guard. The wounded guard staggered out of the building and subsequently died on the road.
• He claimed he bought the gun's silencer from a friend on the Internet.
• Prasitthichai offered an apology, especially to the family of the 2 year old boy, "Title".
He told the assembled media that he was going to surrender to police tomorrow (January 24) but ended up being arrested by the Special Forces Hanuman Division whilst driving his car yesterday. Meanwhile police recovered stolen gold ornaments from the man's parents' house last night with the gold stuffed into steel tube rafter inside the roof. Police are also still searching for the silencer.
Thai PBS World have published some excerpts from the bizarre exchange between the reporters and the suspect on speaker-phone.
Q: Why did you have to shoot to kill the victims?
Prasitthichai: I only meant to shoot to frighten people.
Q: Did you plan the robbery in advance?
Prasitthichai: I thought about it for a few days.
Q: Why did you shoot at the gold–shop attendant again?
Prasitthichai: When I was on top of the counter and had my gun trained at the woman by hand-glove got tangled with the trigger. I tried to pull it off and caused the gun to fire twice.
Q: Why did you shoot 2 year old Titan?
Prasitthichai: I did not see him. I shot at the security guard to frighten him. The child could have been hit by the ricochet. I didn't mean to shoot at the child.
Q: Don't you have any sense of remorse? You still lived your normal life after what you had done.
Prasitthichai: I do regret. I saw news about what happened to the child and regret what I have done.
Q: How could you return to your normal life after what happened?
Prasitthichai: I tried to live a normal life and did not think about escaping. But deep down I regret what I did.
Q: If you wanted to frighten people, why didn't you just fire warning shots?
Prasitthichai: I did fire two shots at the gold show-case and didn't expect the bullets to hit the attendant. And then when I saw two customers (who were also shot) I just lost my mind. I want to say I am sorry and ask for pardon.
Q: What do you want to say to the families of the victims?
Prasitthichai: I want to say I am sorry, especially to the family of Titan and those of other victims. I am sorry and I want to ask for their mercy.
Q: Why did you use silencer and where did you get it from?
Prasitthichai: I bought it from someone my junior I know on the internet. I used it because I didn't want to frighten people with loud noises.
Q: Did you think of giving yourself up?
Prasitthichai: I did think about surrendering but didn't consult with anyone. I did everything by myself. My intention was to give myself up after January 24.
Q: Why January 24?
Prasitthichai: I had an assignment with students at my school that I needed to finish first.
Q: Was your first shot intentional or accidental?
Prasitthichai: It was intentional. I wanted to frighten people, to prevent people from getting near. But it ended up hitting Titan
Q: There was rumour that you committed the crime because you wanted to die, a daredevil act.
Prasitthichai: No. I did it because of my personal problems. I have to excuse myself now.
SOURCE: Thai PBS World
Keep in contact with The Thaiger by following our
Facebook page
.
Man survives drive-by shooting and crash, credits his Buddhist amulet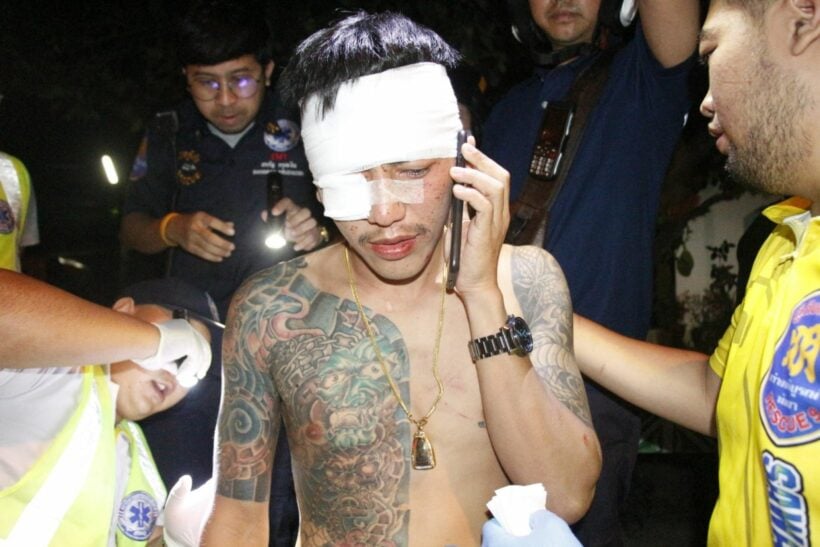 A Pattaya man who was fired upon and crashed into a power pole early yesterday morning is thanking his lucky Buddha and crediting his Buddhist amulet with saving his life. 30 year old Waranyoo Kaewmala's car was shot nine times, yet somehow miraculously escaped unharmed.
Bang Lamung Police were notified of the incident at 2am rushed to the scene to find a damaged car had collided with a power pole. Nine bullet holes were found on the car, with Waranyoo still inside.
Waranyoo is the brother of a famous Thai boxer.
Bullets grazed his head, arm and shoulder, yet none of the bullets made a direct hit. His face was injured from the crash and he was rushed to a hospital, but was in good condition overall.
Waranyoo told police that while he was driving to his home, a pickup truck followed him closely and at high speed.
Police are continuing their investigation. They currently believe that it's a personal conflict and hope to get more information from the victim.
If we were hime'd be buying a few lottery tickets this week, with the number 9 figuring prominently.
SOURCE: The Pattaya News
Keep in contact with The Thaiger by following our
Facebook page
.
3 arrested for selling fake gold in Khon Kaen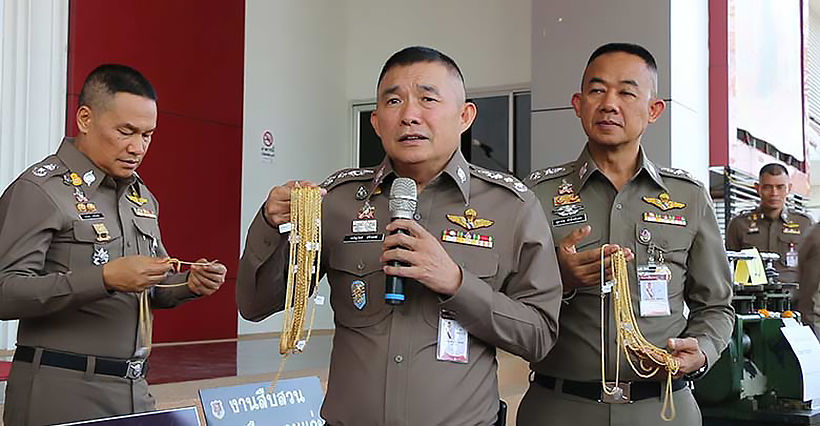 Three men are now in police custody in the north-eastern province of Khon Kaen for selling fake gold to gold shops. 42 year old Suparb from Udon Thani province, 41 year old Pakorn from Bangkok and 30 year old Thanakorn from Surin Province were arrested after police received complaints of fake gold chains being sold to several shops in the area.
Police had been watching the suspects, who hired others to sell their fake gold in order to hide their identities, though the ID used to sell the gold was real and belonged to members of the gang.
Police say Thanakorn is the main provocateur in the gang, although he was not involved in manufacturing the fake gold. He has previously sold fake gold to shops in Khon Kaen, Sisaket and Udon Thani provinces, according to Thai Residents.
The gang would stake out different gold shops, choosing shops that barely check the gold or lack the necessary equipment. The money was split 3 ways, with the gold maker earning 1000 baht per Baht weight (15.16 grams) of gold sold, the second part divided among the 7 members of the gang and the rest invested in real gold to use in their next scam.
Suparb was released from jail in 2016 and Pakorn in 2017 in Phuket, after serving time for similar crimes. After their release, the two joined forces and put the new gang together. Most of their victims were in Khon Kaen but the gang moved their activities around different provinces to avoid detection.
Police say the gang has used the scam 76 times, with damages valued around 7.6 million baht. Suparb and Pakorn claim that they committed the crimes to pay off family debt.
SOURCE: Thai Residents
Keep in contact with The Thaiger by following our
Facebook page
.