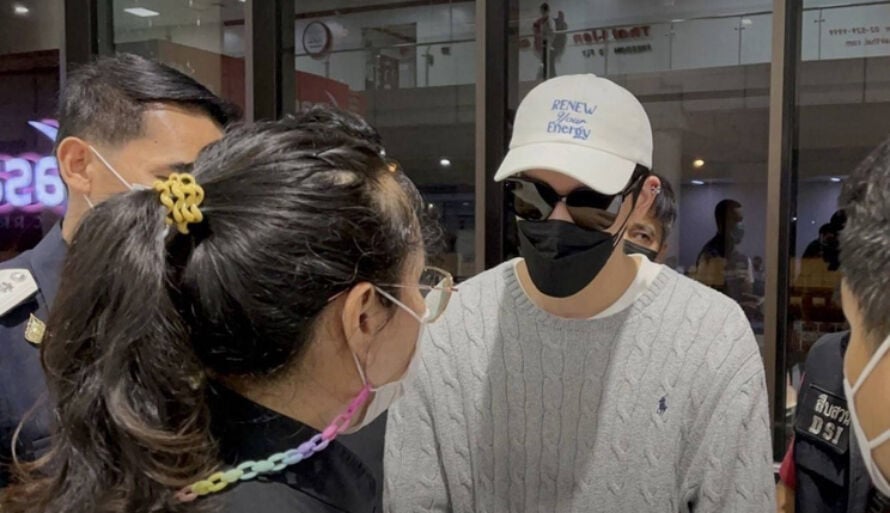 Today, Thailand's Criminal Court denied bail to the alleged Singaporean Forex-3D scammer who was nabbed by police at Phuket Airport as he tried to flee the country on Monday.
He was taken straight to Bangkok Remand Prison.
The accused, 32 year old Daryl Cai Yonghui, is charged with "public fraud" and "inputting false information into a computer system in a way that damages the public."
Daryl allegedly had a role in the huge Forex-3D scam that persuaded people to invest their money in foreign exchange through the website forex-3d.com, claiming that 'investors' will make 60-80% profit.
However, once people invested, they didn't get any profits in return as promised. According to the DSI, a whole gang of Forex-3D scammers – including several celebrities such as famous Thai actress Savika "Pinky" Chaiyadej – scammed victims out of 2.4 billion baht.
Daryl's wife, Italian-Thai model Sarah Casinghini, filed a petition for Daryl to be released on bail offering 500,000 baht in cash on the condition that he wears an Electronic Monitoring ankle bracelet while his alleged crimes are investigated.
However, the court ruled that Daryl was far too much of a flight risk – given that he already attempted to flee Thailand already this week – to be released on bail, and rejected his wife's plea.
If Daryl was released on bail and fled, he would be very difficult to track down, said the court.
The Criminal Court also cited that Daryl allegedly caused more than 1 billion baht in damages, another reason he should not be released on bail.
Initially, Daryl will be detained for 12 days from today until January 29, during which investigating officers will interview 50 people allegedly involved, wait for fingerprint results and investigate the accused's prior criminal history.
In December, Pinky was released on bail for 5 million baht after three months behind bars.