Police receive reports of Ponzi scene affecting 200 on Koh Samui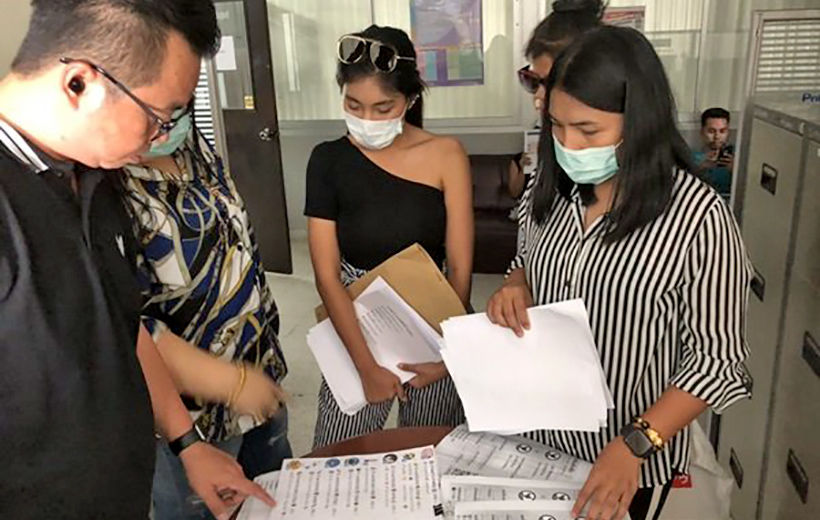 PHOTO: Manager Online
200 Thai wives of foreigners have reportedly lost up to 120 million baht in a Ponze scheme on Koh Samui.
A group of 20 affected victims were represented by 'Praew' who reported to the Bophut Police Station to register a formal complaint. Bophut Police are trying to interview 30 victims each day since the complaint was registered on the weekend.
Local police chief Pol Col Thongchana Hankittikanjana says that Praew told them that the scheme started among friends, initiated by a woman identified only as 'Bew' who owned a gift shop in a department store on Samui.
Manager Online reports that the Thai wives of foreigners living on Koh Samui were among 200 people who had lost 120 million baht in the Ponzi or pyramid share scheme. Other wives of foreigners on the island were invited to invest in an online scheme called "Share Ban Bew Gift Shop" with contributions of 10,000-50,000 baht. Promises were made for 'substantial returns' on their investment.
Some of the investors actually received a 30% return on their initial investments but after a few payments, as often happens in these schemes, 'Bew' disappeared with a reported 120 million baht.
Praew explained that the victims were mostly wives of foreigners, public servants, hotel staff and other department store staff, according to Manager Online.
SOURCE: Manager Online
Thief steals from a Pattaya bar's merit money tree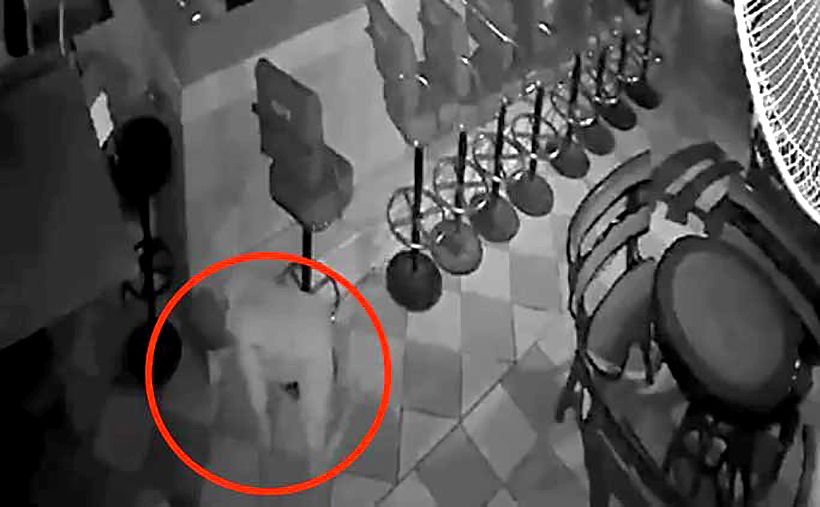 CCTV surveillance footage from the Bart Navy Bar on Pattaya Beach Road reveals a thief crawling in and stealing from the merit making money tree in the bar.
The We Love Pattaya Facebook page describes the thief as a "sinner".
#พัทยาเตือนภัย โจรใจบาป ขโมยเงินทำบุญ เกลิ้ยง !! กล้องวงจรปิดบันทึกภาพ โจรใจบาปแอบคลานเข้ามาในร้านบาร์เบิรด์เนวี่บาร์…

Posted by เรารักพัทยา on Monday, 19 August 2019
The time stamp indicates that the"sinner" was operational around 4.30am yesterday (Monday) morning.
The bar in Soi 7 Pattaya is well situated about 200 metres from the Pattaya police station.
Merit trees are set up in many bars to collect donations for "tham bun" (merit making) which are then donated to local temples and charities.
SOURCE: ThaiVisa
Scrap metal merchant arrested over stolen rail track pins causing train derailment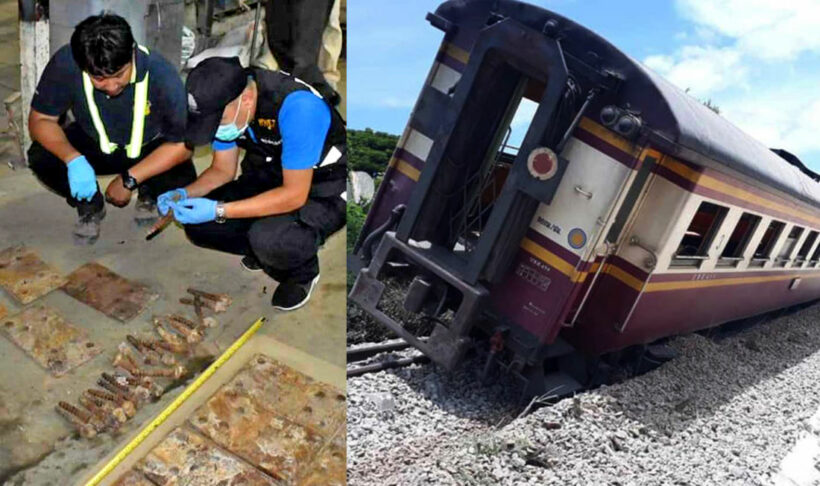 PHOTOS: Twitter@pr.railway 
A scrap metal shop owner has been arrested for stealing rail track 'pins' that were responsible for the derailment of a railway carriages heading south from Bangkok to Chumpon province yesterday. The derailment happened in the Phetchaburi province.
The incident happened yesterday (Monday) just after midday and took the rest of the day and evening to lift the carriage back onto the tracks, and inspect the railways lines and missing pins (that hold the railway tracks onto the timber sleepers).
Read the story HERE.
The State Railway of Thailand reports that train #255 from Thonburi to Lang Suan station in Chumphon province became derailed at 12.04pm after departing the Huay Sai Tai station in Cha-am.
They confirmed that six carriages had jumped off the rails. They believed that the theft of steel nails used to fix the tracks to the sleepers had been stolen. Railway teams and cranes went to the scene to lift the carriages back on the tracks and assess the damage.
The acting State Railway governor says inspectors found 168 rail fastening screws and 40 track base plates were missing, along with 340 wooden sleepers damaged over a distance of 350 metres.
Police and railway officials raided the Rungcharoen scrap metal shop in Cha-am district last night. They found 25 rail base plates and 66 rail track pins on the premises.
The owner, Supachai Padsri, was arrested for theft and receiving stolen items. He is denying the charges claiming that a person had deposited the items at his shop a few days ago.
British man repays street vendor's kindness by scamming him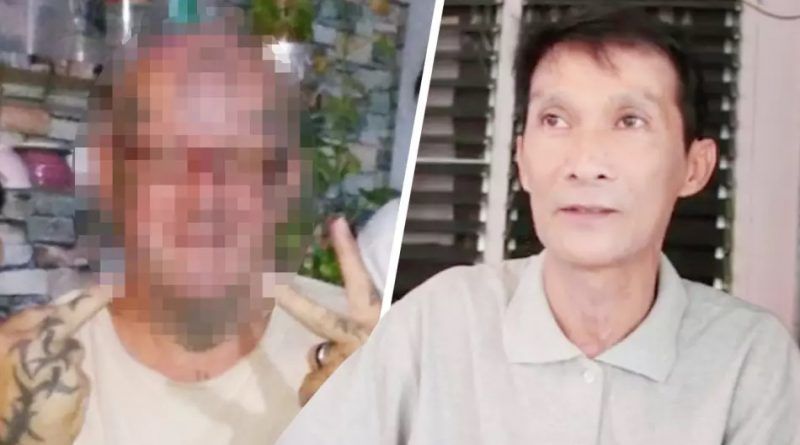 PHOTO: Thai Residents and Sanook
Surichat, a 50 year old BBQ food vendor in Khon Kaen province, north-eastern Thailand, became the victim of a shameless petty con-artist when he tried to help the man out of financial difficulty. The man introduced himself as 'Stuart' and claimed to be from England. He told Surichat he had a wife and child in Bangkok but was living in a Khon Kaen hostel since his wife kicked him out.
Stuart became a regular visitor to Surichat's shop, stopping every day for drinks and some food. Surichat would call a motorbike taxi for him and when Stuart claimed to have lost his wallet one day, the driver didn't charge him.
The following day, Stuart told Surichat he was going to Bangkok to meet a friend who was bringing a credit card from Stuart's mother in England. But on the day he was meant to travel, he claimed his friend had been in a fight with an Australian man and was in police custody. Stuart claimed he would be unable to get his mother's credit card and had nowhere to stay.
Surichat, feeling sorry for the man, gave him 1,000 baht. Stuart returned the money two days later, but the following day sent an email asking to borrow some more. In total, over the next couple of days, Surichat gave him 4,000 baht, after which Stuart left for Bangkok, claiming to be getting some money.
When he didn't return, Surichat texted him, asking for his whereabouts and saying people were worried about him. Stuart's reaction was to text him back, calling him stupid, and then proceeding to text inappropriate images to Surichat's wife.
Surichat later found out that he was not Stuart's first victim, with another man having lost 10,000 baht to the conman. He plans to file a police report.
SOURCE: Thai Residents