Evidence mounts against "bleach mum"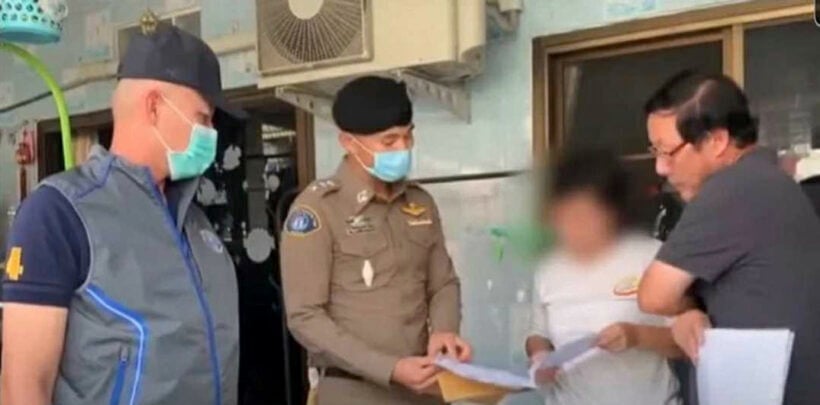 Officers of the Crime Suppression Division say text messages on the popular Line application show that a woman accused of forcing her two year old "son" to swallow bleach isn't the boy's biological mother. This evidence, together with DNA test results expected next week, may lead to human trafficking charges being pressed against the woman as well.
A Line chat history between 29 year old Nittha Wongwan and the biological mother of a 4 year old girl adopted by Nittha (before she fell ill and died with similar symptoms to the boy's) disproves her claim, according to police.
The boy was rescued and placed in a shelter for children in Pathum Thani, just north of Bangkok, after he was treated at Thammasat University Hospital, where doctors alerted police to the suspected child abuse. Authorities say Nittha, who was arrested last week, revealed in the chat that she is not the boy's biological mother. Nittha has admitted to online fraud but denied a charge of attempted murder.
Nittha stands accused of deliberately making the boy ill to swindle donations from sympathetic viewers of her online videos. A check of her financial history found more than 20 million baht in several bank accounts, contradicting her claim of financial difficulties and an impoverished lifestyle. Investigators are tracking where the money came from and how it was spent.
'Munchausen syndrome by proxy' is a mental health problem in which a caregiver makes up or causes an illness or injury in a person under his or her care, such as a child, an elderly adult, or a person who has a disability. Because vulnerable people are the victims, MSBP is a form of child or elder abuse – Wikipedia.
Police are also checking whether she obtained life insurance policies for the children, which could be treated as a motive. They have already questioned the real mother of the 4 year old girl.
In 2018 Nittha was sentenced to 3 years in prison in a fraud case involving online product sales.
Police are now searching for evidence to prove how the chemical found by doctors actually got into the boy's body, and a similar probe is being conducted into the case of the dead girl.
SOURCE: Bangkok Post
Keep in contact with The Thaiger by following our
Facebook page
.
Bangkok's Ying Charoen wet market reopens after fire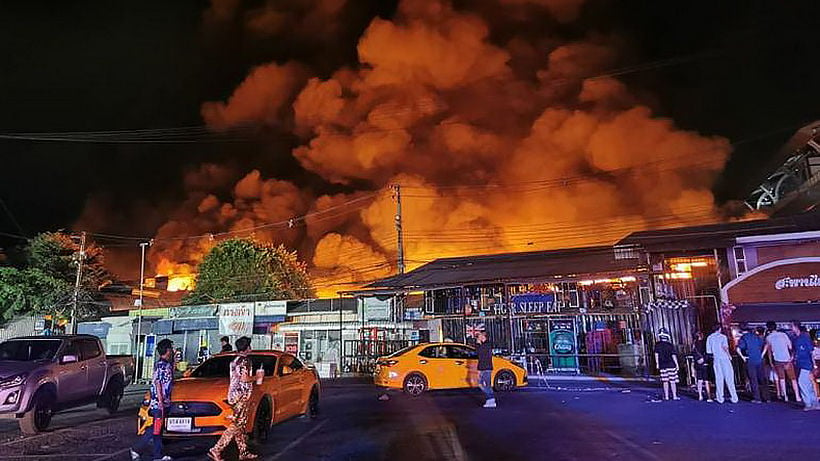 Most of the Ying Charoen market in Bangkok's Bang Khen district reopened after fire destroyed about 160 stalls. Earlier estimates put the number at around 50 stalls. No injuries were reported. The blaze in the 30 rai compound reportedly began at a bakery at about 3am and quickly spread to nearby stalls. It took firefighters about 2 hours to control the flames.
Officials say about 200 vendors have been affected. They are being allowed to sell their goods in the market's car park for the time being. About 10% of the market structure was damaged and remains cordoned off, as 70% of stalls reopened. There were about 1,500 stalls trading at the 65 year old market, the area's oldest.
One of the structures damaged was a gold shop, whose owner estimated damages would exceed 1 million baht.
SOURCE: Bangkok Post
Keep in contact with The Thaiger by following our
Facebook page
.
Thai nightlife grapples with "new normal"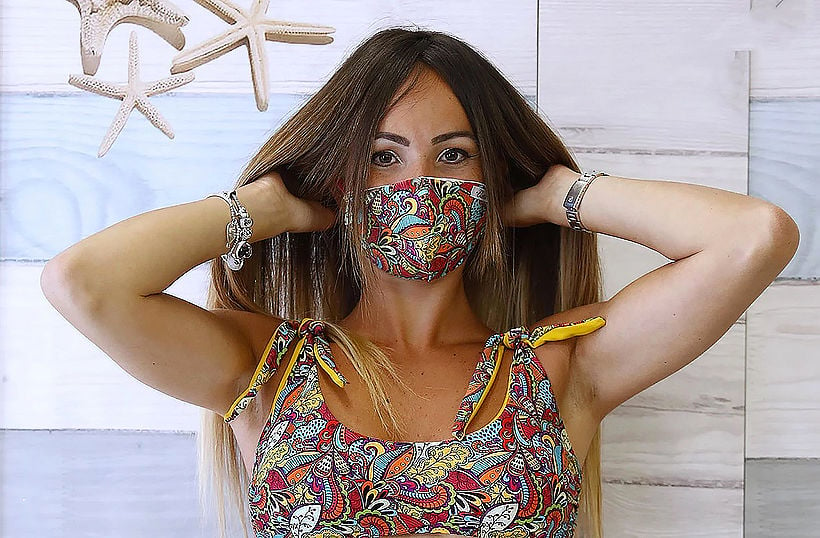 Thailand's nightlife scene is grappling with a 'new normal' as changes upon its recent reopening see facemasks joining the normal bikini wear in red-light districts across the Kingdom.
After being forced to close for more than 3 months in order to stop the spread of Covid-19,bars, karaoke venues and massage parlours are in the latest category of businesses allowed to reopen under new conditions, now that Thailand has gone more than a month without any community transmission of the virus.
The reopening means a return to work for hundreds of thousands of people in the nightlife industry who have struggled to survive. "Bee," a 27 year old dancer, who goes by her stage name at the XXX Lounge in the Patpong district, said:
"I lost all my income. I'm glad that I can come back to work in a job that I'm good at. I'm ok with the mask because it's one of the precautions."
All customers must have their temperature taken before entering, and must give a name and telephone number or register with the Thai Chana app. Inside, everybody must sit at least one metre apart, and 2 metres from the stage. But one British expatriate questioned the need:
"You can take a BTS train in the morning with 200 people on a packed train but then you come into a bar and still have to sit 2 metres apart."
The government has staggered the reopening of public places over several weeks with schools, colleges and universities officially resuming yesterday.
Despite a low death toll (58 out of 3,173 infections- a relatively low number even within the region), Thailand's economy is expected to sink further than any other in Southeast Asia, with the number of foreign tourists expected to drop 80% or more this year.
At the Dream Boy club in Bangkok's Patpong Soi 1, bare-chested men with face shields tried to entice the few passersby off the street, but many businesses remain shut and those who have opened are only seeing a few customers.
"There are bars all over Bangkok that have been open for 10 to 15 years and now they are closed and they are not coming back."
SOURCE: Bangkok Post
Keep in contact with The Thaiger by following our
Facebook page
.
Old Bangkok market damaged by large fire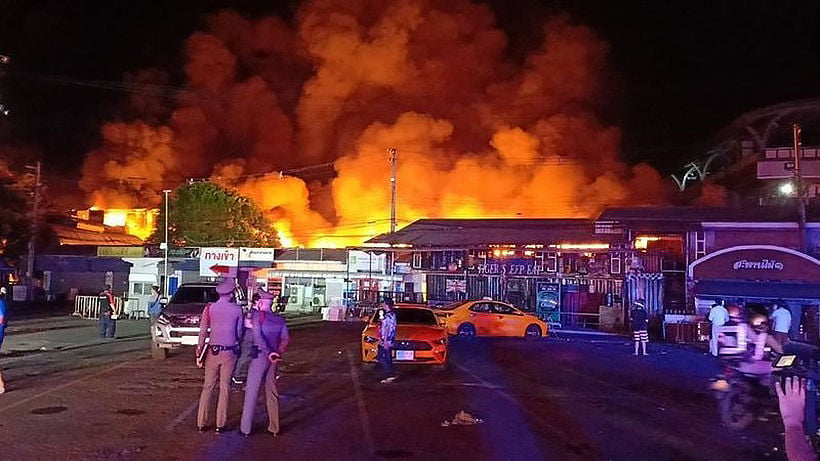 An old Bangkok market was reportedly damaged by a large fire early this morning, taking over 20 fire trucks and at least two hours to put out the blaze.
Ying Charoen Market, in Bangkok's northern Bang Khen district, saw vendors fleeing the flames and taking their merchandise with them after firefighters were called to the scene at 3 am. The fire, which took down the areas' oldest market, reportedly left no injuries due to the market being closed at the time. Investigators this morning are still trying to determine the cause of the fire.
A 33 year old market employee, said the fire destroyed about 50 stalls in a part of the market selling miscellaneous goods. The market, which is made of wood, has about 1,500 stalls in total. He said it was the first fire at the market in its 65 years of being open.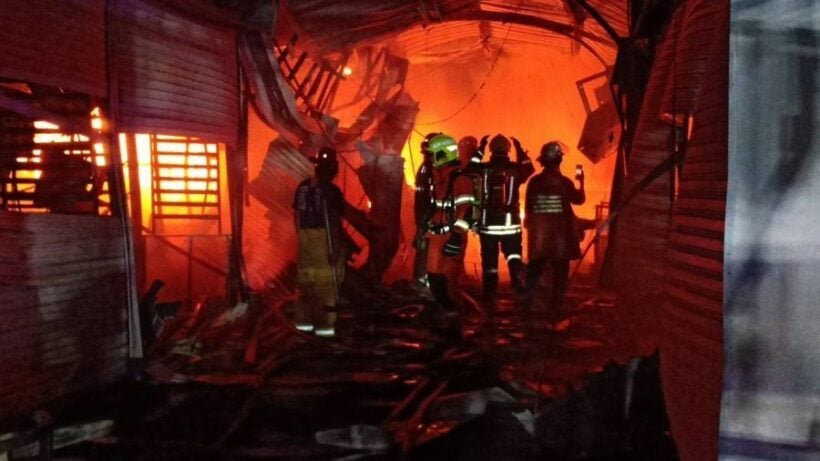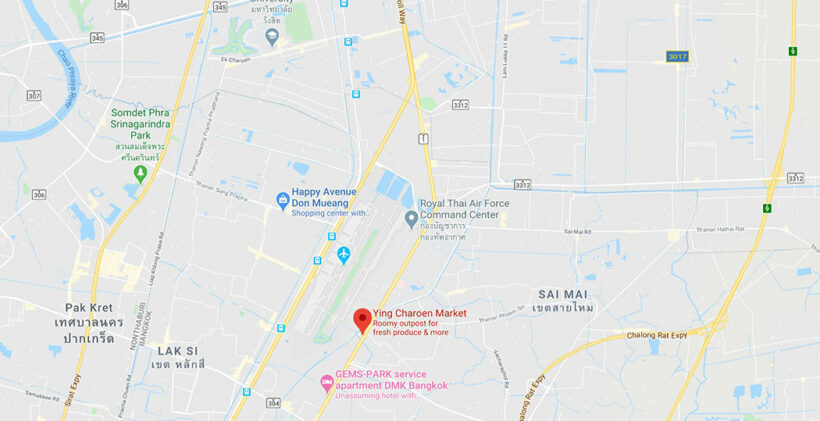 SOURCE: Coconuts Bangkok | Nation Thailand
Keep in contact with The Thaiger by following our
Facebook page
.