Eighteen Burmese illegal migrants found in a Songkhla camp, Thailand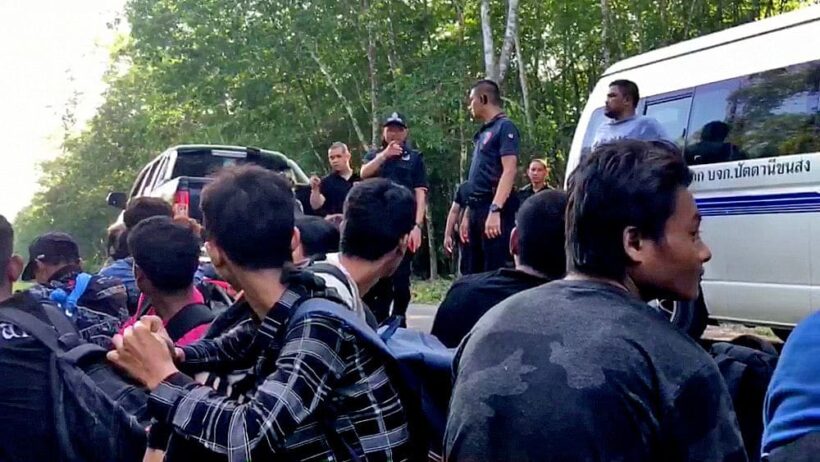 PHOTOS: The Nation
Eighteen Burmese illegal migrants have been found at a makeshift camp in forest near Songkhla's Sadao district waiting waiting to be transported to Malaysia.
The 16 men and two women, kept in the woods for four days and told to live on young banana stalks and creek water, were found in a forest area two kilometres away from the main road.
Police later arrested a Burmese woman Nang Wae who was their 'caretaker' at a rented room in Khlong Ngae. The woman told police she didn't send them food because the Malaysian 'brokers' had not transferred money to her. With no money, she had to leave her countrymen in the forest until a vehicle was sent to transport them to Malaysia.
A team of anti-human trafficking officials, police and soldiers found the migrants in the forest yesterday morning (Friday).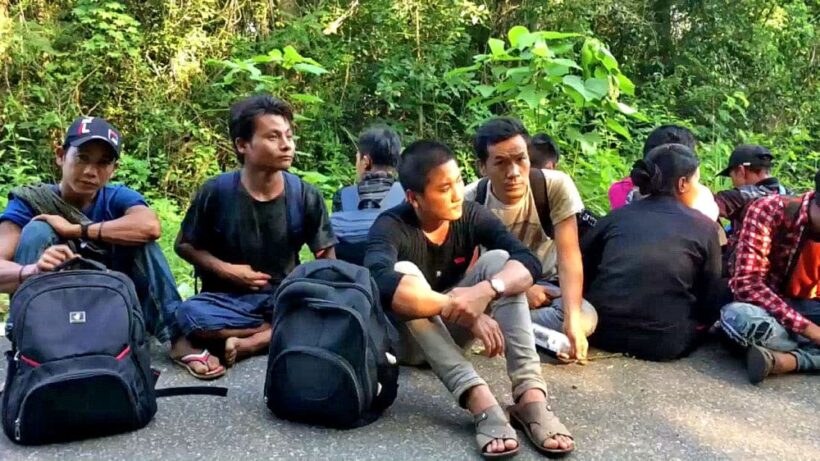 Keep in contact with The Thaiger by following our
Facebook page
.
30,000 baht reward offered after prisoner walks away from Bangkok prison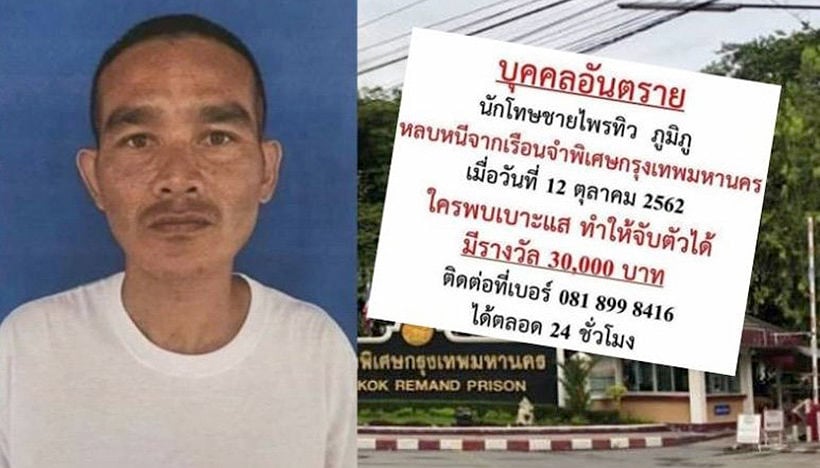 Police in Bangkok are offering a reward of 30,000 baht for information that leads to the capture of an escaped convict. The Daily News reports that Pol Col Chanaworasin Suphaphanarak, the chief of Prachacheun police in northern Bangkok, confirmed the reward yesterday.
Phraiphiw Phumiphu, a convicted thief, escaped Bangkok Remand prison on Saturday. It's understood he had been working outside the prison gates when he ran off.
Press reports say the escaped prisoner is "unstable", while the poster issued to publicise the reward for his capture describes him as "dangerous."
It's understood Phraiphiw previously served a jail sentence for theft but had re-offended.
SOURCE: Daily News | ThaiVisa
Keep in contact with The Thaiger by following our
Facebook page
.
Thai DJ arrested for murder of mistress – "gun went off accidentally"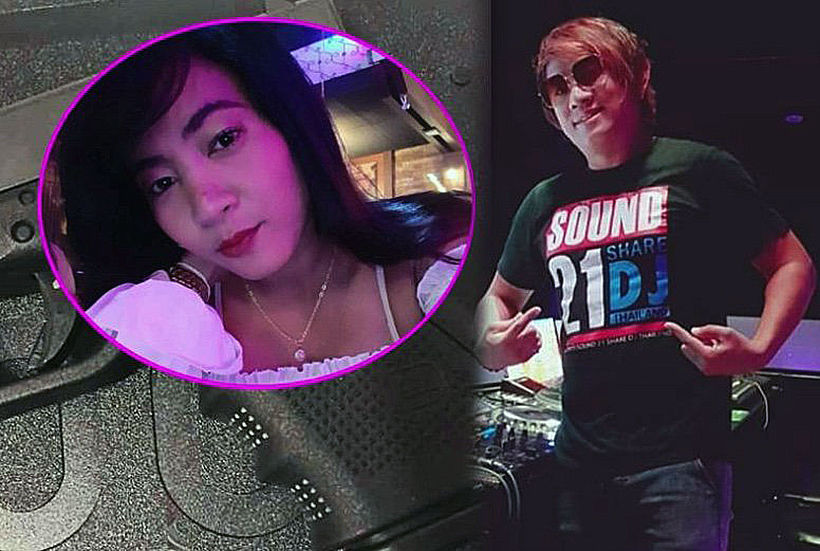 MONTAGE: Daily News
A 29 year old karaoke worker, Suree Huangsila, was shot deat on Saturday night in Sattahip, south of Pattaya. She was found shot in the mouth by a 9mm gun. A well-known DJ at a nightclub in Sattahip is now in custody over the shooting of his alleged mistress.
Suree was found naked and dead in a rented room in the Sattahip sub-district. Police say her face was covered with a pillow when she was shot. She had worked at a karaoke lounge at the Thong Thip market.
Her boyfriend Dusit Phiakhammeuang, a DJ at a club in the town who lived 100 metres away from the victim, grabbed his possessions and fled after the shooting. But he surrendered on Sunday after driving to a hotel in Nakhon Ratchasima and was taken back to Sattahip to assist in the inquiry.
Police say they have witnesses who heard an argument between the couple about the woman seeing other men. 39 year old Dusit has a wife and child, or children.
Dust has reportedly told police that he only threatened his mistress after being told that she was leaving him because he already had a family. He claims he pointed the gun at her and it fired accidentally.
Police say they intend to charge him with murder.
SOURCE: Daily News | ThaiVisa
Keep in contact with The Thaiger by following our
Facebook page
.
A cocktail of beer and insulin blamed for ATM robbery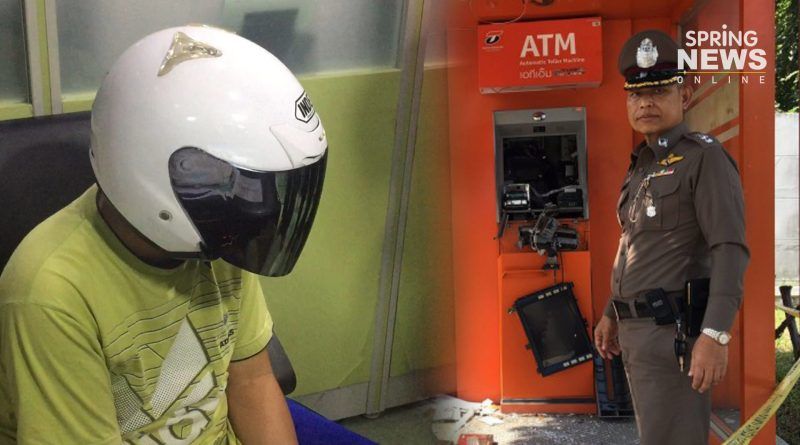 PHOTO: Sanook.com
"After the combination of beer and insulin, Prakit grabbed a metal pole and drove his motorbike to the ATMs."
A diabetic man is blaming his insulin injections after going on an ATM robbery spree. The man had three attempts to break into ATMs in one night, all unsuccessful. The incidents happened in the early hours of October 9. He was was arrested the next day on October 10.
The Sam Dam Police in Bangkok arrested 36 year old Prakit after a short investigation.
He had used a white Yamaha motorbike with no license plates as his "getaway of choice".
Police received information about a man attempting to break into ATMs in the area. He used a metal pole to try and pry the ATMs open, but turns out it wasn't quite as easy as he thought. His efforts contributed approximately zero baht.
The first ATM belonged to Kasikorn Bank, the second to Thanachart Bank, and the last ATM also belonged to Kasikorn Bank. The first 2 ATMs were located near the Bangbon Police Station while the last ATM was located around the Samdam Police Station (possible unwise selections of location).
Police reviewed the CCTV footage and tracked Prakit's route home. They then arrested him and found the motorbike used as the vehicle in the robbery captured by the security footage.
Prakit admitted to attempting to break into the ATMs. He said he'd been drinking 6 to 7 bottles of beer just after having an insulin shot for his diabetes. He told police it made him go crazy "losing all sense of right and wrong".
His sugar level was over 400 so he needed to take the shot right away when he was drinking. After the cocktail of beer and insulin, Prakit grabbed a metal pole and headed to the ATMs.
He insists that he went crazy and lost all sense of right and wrong saying he wore his pants inside out to commit the crime.
Prakit is currently awaiting prosecution.
SOURCE: Sanook.com | Thai Residents
Keep in contact with The Thaiger by following our
Facebook page
.