Egyptian tourist stabbed in the neck at a roti street store in Phuket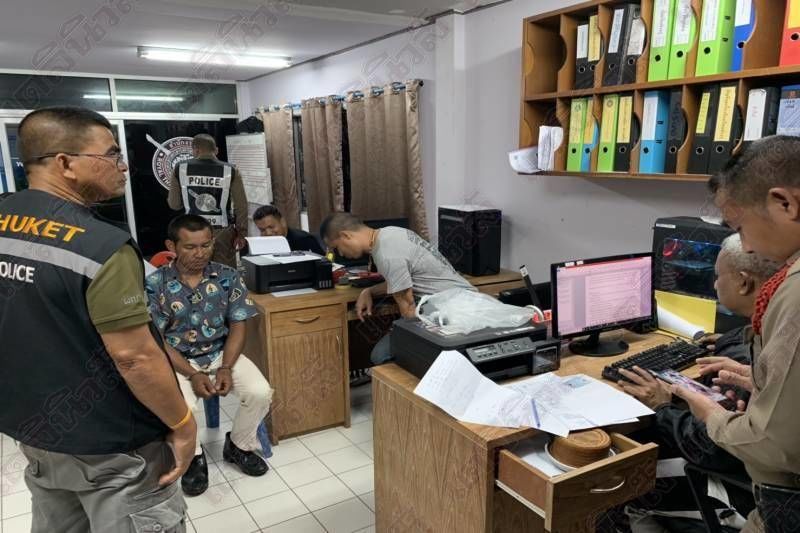 PHOTO: Daily News
A roti roadside vendor has been arrested after attacking a tourist by stabbing a man in the neck outside a Family Mart store.
30 year old Mahmoud Abbas is now recovering in hospital following surgery. He was admitted with a 7 centimetre gash on his neck.
According to reports in Daily News, the roti seller stabbed the man in the neck with an Itch kitchen knife after allegedly saying something about the man's wife in English. It hasn't been reported what was said by Mr Abbas.
Chalong police rushed to Soi Ta-iad, near Soi 12, last night to find 32 year old food vendor, Surachai Raksap, waiting at the scene with the weapon.
Mr Abbas, an Egyptian tourist, was rushed to Vachira Phuket Hospital (earlier reported as Bangkok Phuket Hospital) after receiving first aid at the scene. He was in a group of three that approached the roti store late last night.
Surachai was led away by police and is facing charges of attempted murder.
Soi Ta-iad is a popular street in Phuket for Muay Thai gyms, health shops, cafes and fitness businesses.
SOURCE: Daily News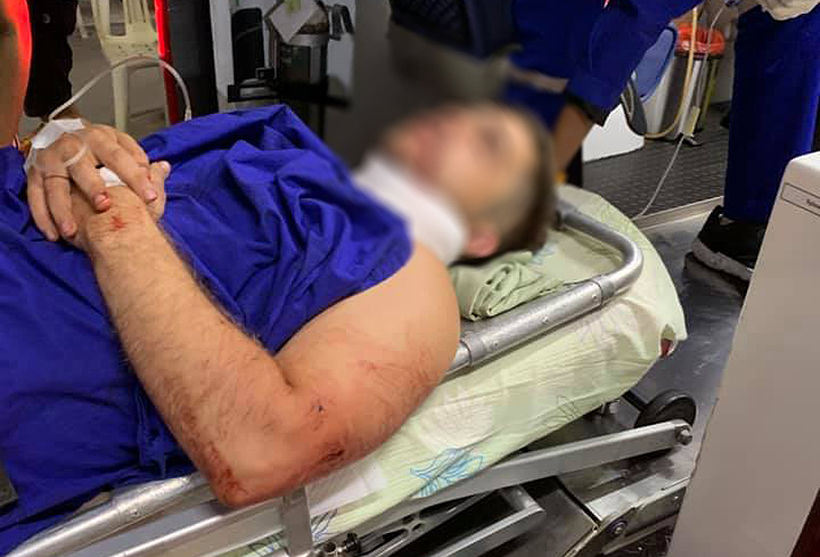 Mr Abbas arrives at hospital – Facebook
British man repays street vendor's kindness by scamming him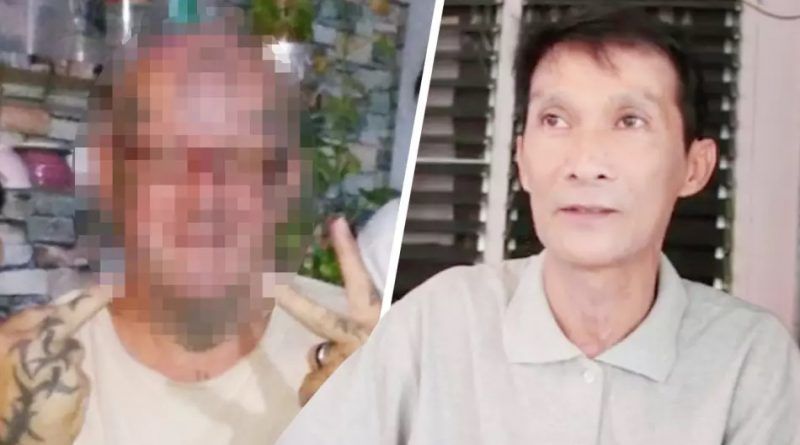 PHOTO: Thai Residents and Sanook
Surichat, a 50 year old BBQ food vendor in Khon Kaen province, north-eastern Thailand, became the victim of a shameless petty con-artist when he tried to help the man out of financial difficulty. The man introduced himself as 'Stuart' and claimed to be from England. He told Surichat he had a wife and child in Bangkok but was living in a Khon Kaen hostel since his wife kicked him out.
Stuart became a regular visitor to Surichat's shop, stopping every day for drinks and some food. Surichat would call a motorbike taxi for him and when Stuart claimed to have lost his wallet one day, the driver didn't charge him.
The following day, Stuart told Surichat he was going to Bangkok to meet a friend who was bringing a credit card from Stuart's mother in England. But on the day he was meant to travel, he claimed his friend had been in a fight with an Australian man and was in police custody. Stuart claimed he would be unable to get his mother's credit card and had nowhere to stay.
Surichat, feeling sorry for the man, gave him 1,000 baht. Stuart returned the money two days later, but the following day sent an email asking to borrow some more. In total, over the next couple of days, Surichat gave him 4,000 baht, after which Stuart left for Bangkok, claiming to be getting some money.
When he didn't return, Surichat texted him, asking for his whereabouts and saying people were worried about him. Stuart's reaction was to text him back, calling him stupid, and then proceeding to text inappropriate images to Surichat's wife.
Surichat later found out that he was not Stuart's first victim, with another man having lost 10,000 baht to the conman. He plans to file a police report.
SOURCE: Thai Residents
UPDATE: 9 Chinese arrested over 5 billion baht fraud case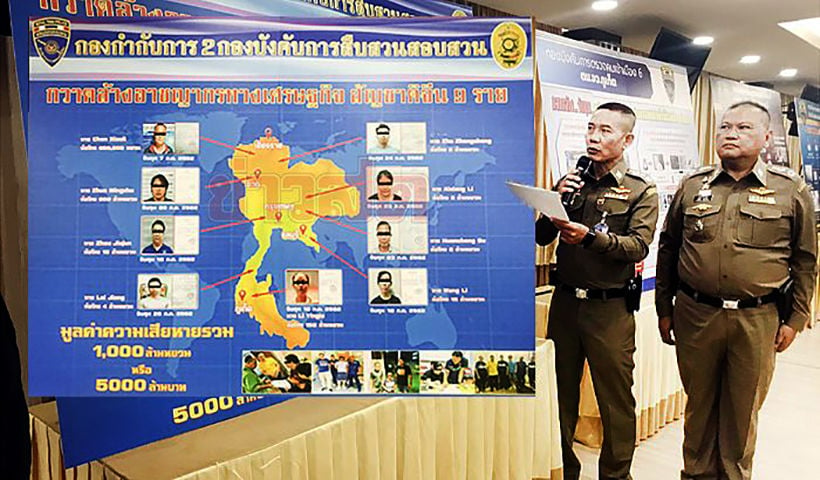 On Saturday The Thaiger reported that nine Chinese nationals had been taken into custody after travelling to Thailand in order to avoid prosecution for crimes in China. They were wanted by Chinese authorities for alleged crimes in China. Read that report HERE.

We now have some further details…

Out of the 9, 5 were male and 4 were female. They were involved in a case that, according to Chinese counterparts, had affected the Chinese economy by forging contracts. After receiving the information from Chinese police, a Thai investigation team started to search for the 9 Chinese individuals who had sought refuge in Thailand.

The nine had opened an online selling business that they used to cheat victims in China. The suspects worked together in creating fake businesses and accounts that cheated online transactions systems to their advantage in defrauding customers. Their actions allegedly defrauded the Bank of China resulting in damages valued over 5 billion baht.

The 9 suspects will be prosecuted including having their visas revoked before being deported back to China. All 9 suspects will be blacklisted to prevent them from visiting Thailand again.
Australian bailed bikie boss refused entry into Thailand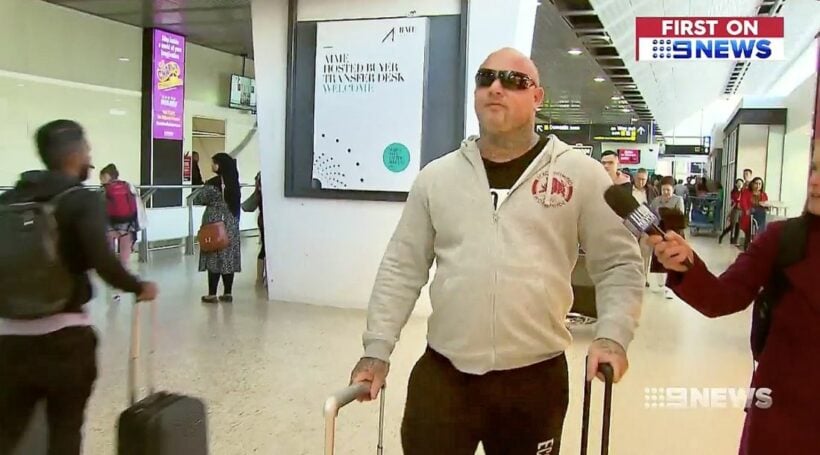 SCREENGRAB: 9news.com.au
The leader of an Australian outlaw motorcycle gang, Mick Murray, was turned around at the border in Thailand, despite his bail conditions allowing him to leave Australia for travel. The Comanchero bikie gang president, facing more than 100 fraud charges, had his bail conditions varied by the Melbourne Magistrates Court last Wednesday so he could travel to Thailand and Dubai.
Murray flew to Thailand on Thursday night, where he had planned to spend five nights, before a 10 day holiday in Dubai.
But he arrived back at Melbourne Airport on a Thai Airways flight about noon on Saturday after Thai authorities turned him around at Suvarnabhumi Airport in Bangkok.
Among other charges, he is accused of having associates falsify a loan application to a car-leasing company on his behalf and allegedly owes the Australian Taxation Office $1 million.
Although police failed to have the changes to his bail halted, Mick will have to stay put in Australia for the time being, arriving back at Melbourne's Tullamarine Airport on Saturday.
A spokeswoman for the Victoria Police says that the man had been refused entry into Thailand.
"This is a matter for the Thai authorities."
SOURCES: 9news.com.au | theage.com.au