Chinese man found murdered, stuffed in suitcase and dumped in river in northern Thailand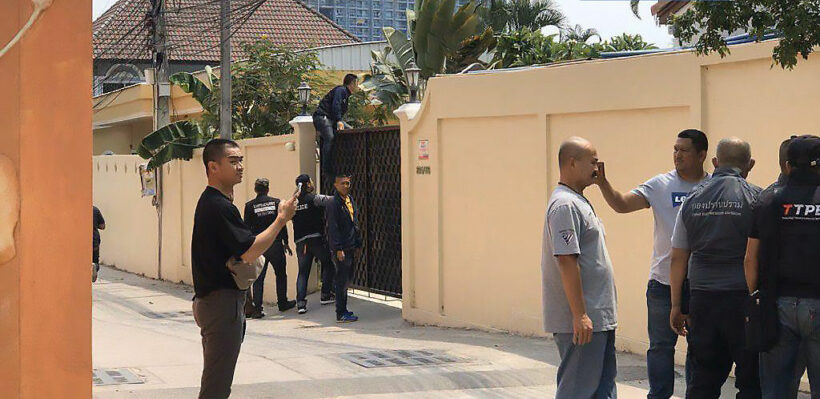 The Thaiger recently reported the case of a thirty year old Chinese man who had visited Pattaya, found dead and stuffed in a suitcase with his arms and legs bound. The suitcase was found in the Ping river in northern Thailand's Kamphaeng Phet Province. Our original article on this story can be found HERE:
Additional details have arisen regarding the case: Police say the victim, Jun Wang, 30, arrived in Thailand on February 12 with fifteen other Chinese Nationals. They were not a tour group and their movements and activities were not typical for tourists. The group rented three villas during their two day stay. The remainder of the group left Thailand on February 14.
A video of the story from The Pattaya News can be seen HERE:
Chon Buri police and Immigration officials, with the assistance of several other relevant agencies, yesterday investigated several guest houses where the group stayed. Their current belief is that the man was murdered in Pattaya.
After the murder, a local minibus was rented which drove several members of the group to the northern Kamphaeng Phet province with a suitcase, which was dropped in the Ping river.
Police say the investigation is ongoing and arrest warrants are being drawn up. No motive has been given at this time.
SOURCE: The Pattaya News
Keep in contact with The Thaiger by following our
Facebook page
.
Phuket rooftop party busted, drugs seized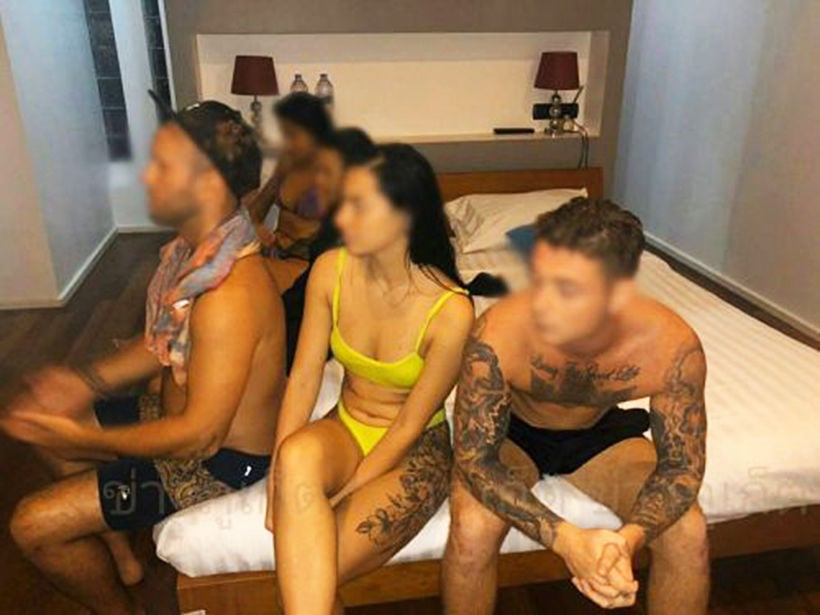 Police arrested 9 foreigners and 5 Thai women for partying in Patong in violation of orders against gathering in crowds, to control the spread of coronavirus disease. They were arrested on the rooftop of a rental house on Sirirat Road in tambon Patong of Kathu district last night after police received a complaint about a loud party. Those arrested included Australians, British, Americans, Ukrainians and Thais.
The arrested foreigners comprised 6 men and 3 women includes…
1 Australian male Al-Mouzafar Mohamad age 22.
3 British men Britons Oliver Hoskins aged 23, Alan Jones age 22, and Stuart McDonough age 29.
1 American male Russell Robertson age 32.
3 Ukrainian women Zakharov Andrii age 27, Petriv Tetiana age 22, Chala Anasiia age 22.
1 Ukrainian male Semko Iana age 31.
The five Thai women…
Nida Usen age 31 from Satun province.
Boonchanok Roongruang age 36 from Trang.
Supika Kitdee age 28 from Chon Buri.
Narumon Thuadaoage 23 from Nakhon Si Thammarat.
Wararin Jaidee ahe 33 from Satun.
Police officers discovered around 4 grams of cannabis and 0.94 gram of cocaine in their possession, and also seized several bottles of liquor and loudspeakers. They were initially charged with violating both the emergency decree and the Phuket governor's order banning crowd gatherings in Patong.
SOURCE: Phuket News
Keep in contact with The Thaiger by following our
Facebook page
.
Woman convicted for 2005 stabbings, allegedly kills 5 year old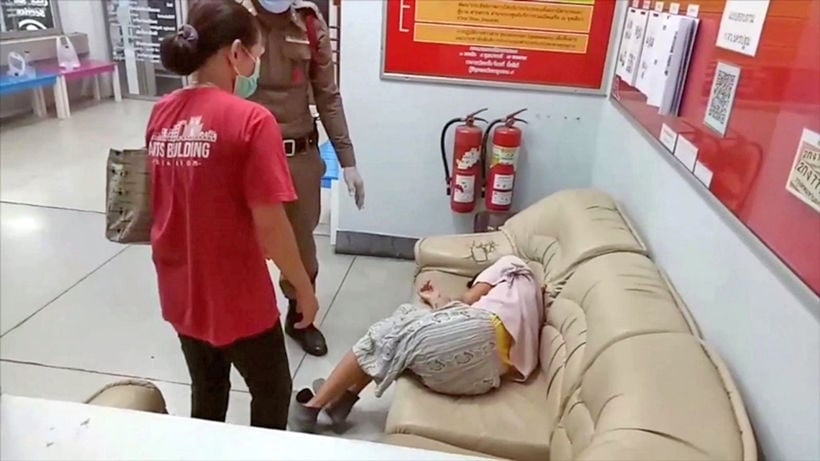 A mental patient who served prison time for the 2005 stabbings of 4 girls in Bangkok has turned herself in to police after allegedly stabbing a 5 year old girl to death.
50 year old Ms. Jitrlada Tantiwanitchasuk gave herself up to police in Nakhon Pathom province otside Bangkok yesterday. The 5 year old victim was pronounced dead on arrival at Nakhon Chaisri Hospital (NOTE: reports differ on the ages of the suspect and the victim)
Salee Uanmin, the girl's 49 year old grandmother, runs a food stall at a house which she rents from Jitrlada's mother.
A heartbroken Salee told police she was filling an order for six boxes of food from Jitrlada. She had put steamed rice into the boxes when she saw her 5 year old granddaughter, Tiprada Homsuwan, had fallen from her bed, and noticed her chest was bleeding.
Little Tiprada was rushed to hospital, but was pronounced dead. Shortly afterward Jitrlada surrendered herself at the local police station. Her family came to the station and told officers that she had just left a mental institution a week ago. Jitlada reportedly appeared to be in a trance and did not respond while being interrogated.
Her family said that she had been treated for mental illness for 20 years and was previously imprisoned for eight years after stabbing four Saint Joseph Convent School students .
In 2005, Jitrlada stabbed the 4 schoolgirls at Saint Joseph's Convent in Bangkok, and allegedly killed a four year old girl on March 29 the same year. She was found guilty of attempted murder and sentenced to eight years in prison. Upon release she was sent to Galaya Rajanagarindra Institute for mental treatment, and later discharged.
SOURCES: Chiang Rai Times | The Nation
Keep in contact with The Thaiger by following our
Facebook page
.
Former US gangster arrested after Chon Buri 7-11 robbery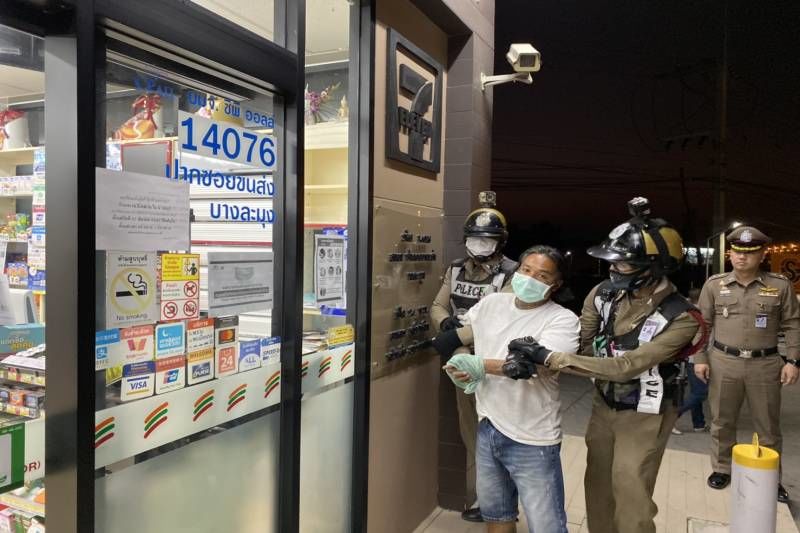 A man with a rather colourful past is now in police custody in the Bang Lamung district of Chon Buri province. The suspect, a former US gangster, who speaks five languages, allegedly robbed a 7-eleven shop of 5000 baht using a BB gun last week.
37 year old "Roger" Phayungsak Wasuwat, was taken by police to the convenience store branch near the Bang Lamung bus station for a reenactment yesterday. The actual crime took place in the wee hours of Thursday morning.
Police say his arrest at a rented house followed three days of intensive investigation. The suspect has been charged with armed robbery, weapons offences and using a vehicle to flee.
"Roger" admitted to the crime and offered up an apology and a wai. He says he bought the BB gun online. He lost his job because of the Covid-19 coronavirus crisis and had no money for food and for his Post Traumatic Stress Disorder medication.
He told police that he continually needs to take the PTSD drugs and see a doctor regularly.
After robbing his local 7-Eleven, he threw the gun and his clothes in a bin and went back to his "normal life" until he was apprehended.
Daily News reports that "Roger" was brought up in California where he was a prominent member of a gang. He could speak five languages and spent 30 years in the US. When he returned to Thailand, he got a job working for a Pattaya tour company, but that shut down due to the Covid-19 outbreak, leaving him broke and unemployed.
SOURCES: thaivisa | Daily News
Keep in contact with The Thaiger by following our
Facebook page
.