Arrest warrants issued over Phuket building collapse which killed seven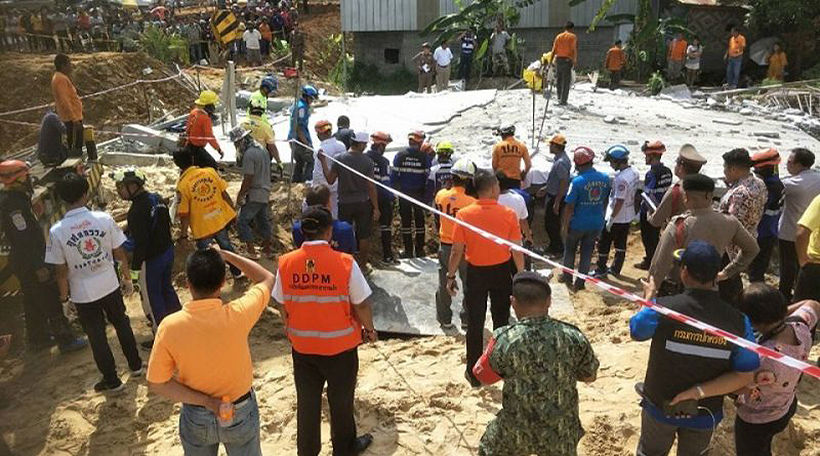 PHOTO: Matichon Online
Thalang District police yesterday issued an arrest warrant for the owner of a construction company responsible for the collapse of a building under construction in Thalang, Phuket, according to online news portal Matichon.
Seven Thai and Burmese workers were killed and another two injured following the collapse of the single story concrete structure at a new petrol station complex on Thepkasattri Road.
Police have have also interrogated construction engineers and charges were filed against them for negligence in the construction project.
Kritsana Pattanachareon, deputy spokesperson for the Royal Thai Police, says that an initial investigation into the collapse of a petrol station being built in Thalang, Phuket on Thepkasattri Road, resulting in seven deaths, indicated that poor construction standards were to blame.
"We were informed by police from the Thalang district station that a concrete slab being used in the conversion of a building in the Sai Si Ngyen complex into a gas station collapsed, killing seven workers – Thai and Burmese – instantly and severely injuring two more."
The bodies of all seven victims were taken Vachira Phuket Hospital in Phuket Town. The search for bodies was called off just after sunset on the night of the collapse after police and emergency responders spent hours combing through the wreckage for survivors.
he four Thais killed were Jirachai Wonghajak, Thaweerat Daetphan, Mrs Pornpimon Waewwong and Krisana Kanbuth, all aged between 21 and 35 years old.
The three Burmese workers killed were Sa Aung Aung, Nay Myo Win and Mrs Kay Thi Khaing.
SOURCE: Matichon Online
Keep in contact with The Thaiger by following our
Facebook page
.
Mother cat and 4 kittens poisoned at Sai Kaew Beach, Phuket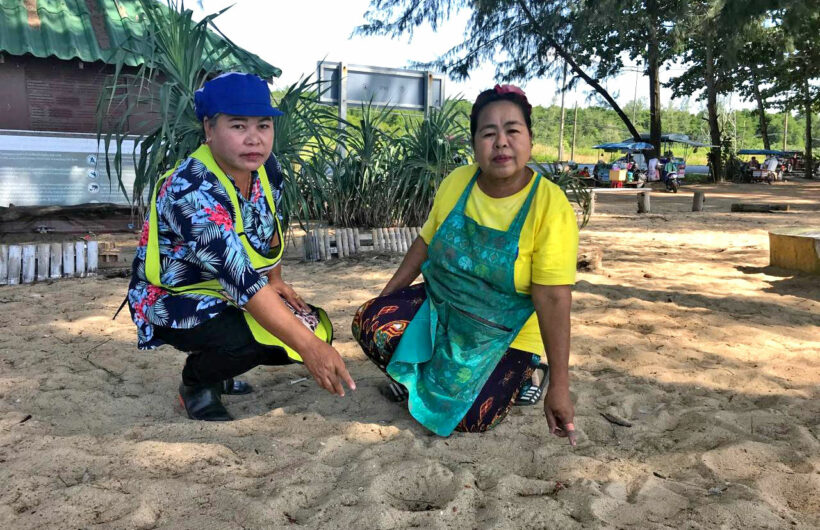 On December 11, a report was made following a post from the Facebook page 'Rain Forest' about 5 cats that were dumped and poisoned at Sai Kaew Beach, at the far north end of Mai Khao Beach in Phuket.
The post shows pictures of a cat and her four kittens that had been poisoned with water and food, probably laced with rat poisoning. Two food vendors at the beach, 58 year old Petch Saejia and 55 year old Kanchana Saenghuad, are the witnesses who found and buried the cats. (The pictures are in the original post although we decided not to display them)
Petch said that the incident happened on December 9, in the morning. She was riding her three-wheel 'saleng' to sell food at the beach as usual. But when she arrived, Kanchana, who had arrived earlier told her that someone dumped the 5 cats at the beach and poisoned them. She saw the dead kittens on the sandy area of the beach while the mother cat, who still had a collar with a bell, was struggling to move to her babies and licked them before she died as well, which Petch said was very tragic.
She also mentioned that the kittens were not weaned and they were still feeding the mother cat.
Petch said that she cried when she saw the incident. She said she felt sad for the cats and very angry toward the person who committed this crime. She believes that the cats had an owner as the mother cat still had a collar, but the owner might have been bored of them so they were dumped and killed.
She mentioned that she noticed a water dish with something that looks like rat bait at the bottom of the dish. The two vendors buried the cats along with leftover cat food.
She said that this action was "very evil" and she wished that the person who did this will suffer the same as these cats.
"If next life exist, I wish these cats will become humans instead of this cruel person."
Meanwhile, Kanchana said that she also cried when seeing the dead kittens. They also went to the temple yesterday (December 11) to make merit for the lost souls and wish them to go to a good place where they won't meet any cruel person like this.
(Translated)
SOURCE: Thairath.co.th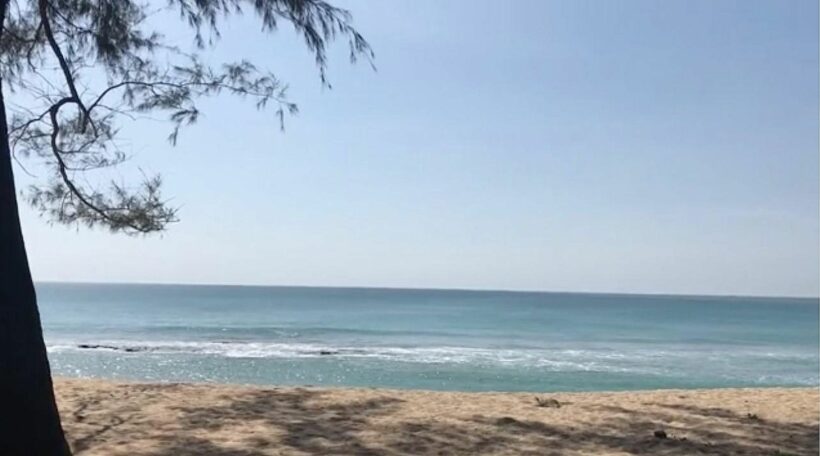 Keep in contact with The Thaiger by following our
Facebook page
.
Teacher arrested for death of twins who stole his limes in Phattalung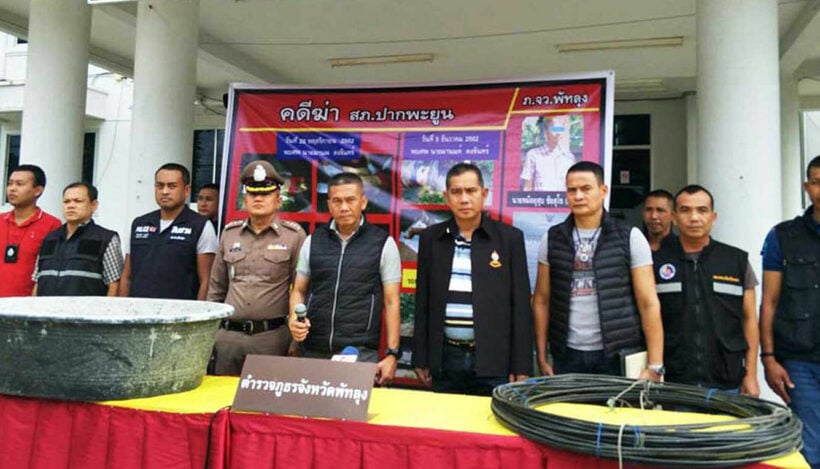 PHOTO: Assawin Pakkawan
A 55 year old teacher has been arrested for the murder of twin brothers who, according to the police report, stole limes (lemons) from his farm in Phatthalung Province, southern Thailand. Police announced the arrest of Madyusup Chaisukkho, an English teacher at a public school in Pak Phayun district, for the deaths of 31 year old Manop Khongchan and his twin brother Manon.
Madyusup has been charged with first degree murder and concealment of evidence. Electrical wiring, a metre-diameter fibreglass tank and a pickup truck were seized in the arrest, according to the provincial police chief. Police say Madyusup has confessed to all charges during interrogation.
He told police that thieves had been stealing limes from his farm almost every night. He said he laid electrified copper wire at ground level as a deterrent, never imagining that it would kill anyone.
In his statement Madyusup said he got scared when he found the two electrocuted bodies and dumped them far from the farm. But the victims were of large build, and investigators didn't believe Madyusup acted alone, or that he was providing police with the whole story. Police speculate up to six people could have been involved.
Madyusup's farm is about a kilometre from his house, according to police.
Local residents found Manop's body and motorbike in a local reservoir on November 28, about 2 kilometres from the farm. A week later, his twin brother Manon's body was found in a drain in the same area, about 600 metres away.
Police launched an investigation after the victims' parents reported them missing, fearing they'd been murdered.
SOURCE: Bangkok Post
Keep in contact with The Thaiger by following our
Facebook page
.
Thai police seize another 743 million in Ponzi scheme assets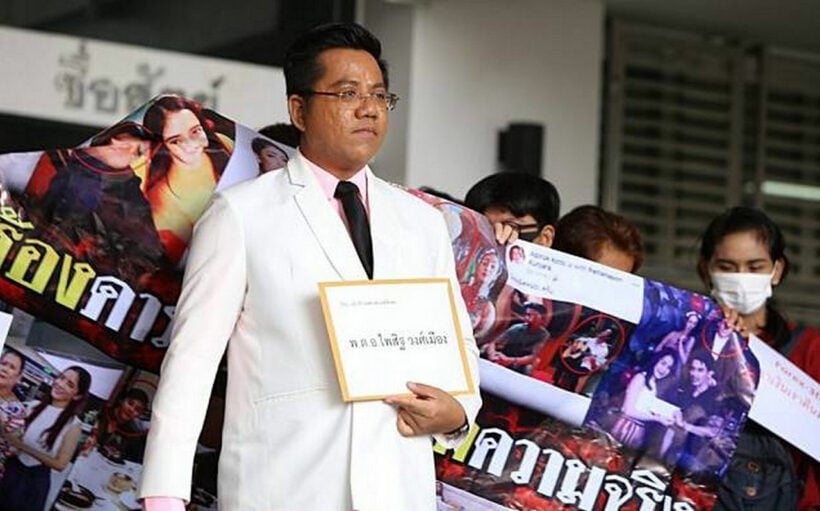 PHOTO: newtv.co.th
"About 3000 victims have reported losses to the DSI, which expects to wrap up its investigation by the end of the year."
Police have seized assets valued around 743 million baht from suspects in the Forex-3D Ponzi scheme. Confiscated were a Maserati SUV, a Porsche Boxster, a Ferrari Spider, three Ford Mustangs and a Toyota Vellfire passenger van, with a combined value of about 743 million baht, according to the Justice Department.
This is the third round of confiscations in the ongoing case.
Read more about how the Forex-3D Ponzi impacted its victims HERE and HERE.
In November the Department of Special Investigations seized 11 Bangkok properties estimated at 600 million baht in value. A second seizure yielded four more properties valued at around 100 million baht.
The Forex-3D scam started as an invitation-only brokerage company, splitting profits at a rate of 60/40 with 60% to the investor. Members (investors) started with a minimum investment of US$2,000 (about 60,000 baht).
The company advertised that investments would be repaid at an extremely high dividend rate within a short period. But it began having problems repaying investors in April and didn't respond to their queries. Victims became so confused and angry that they joined in a cursing ceremony at the company's headquarters, aimed at the directors and those involved.
The assets confiscated so far amount to only half of the losses reported by investors in the scam.
Forex-3D has been exposed as a Ponzi scheme. Thousands of victims invested in what they believed to be foreign exchange trades, with promises of high returns. About 3000 victims have reported losses to the DSI, which expects to wrap up its investigation by the end of the year.
Total losses are estimated at 1.58 billion baht.
SOURCE: Bangkok Post
Keep in contact with The Thaiger by following our
Facebook page
.