32 year old charged with attempted murder after Egyptian tourist stabbed in neck in Phuket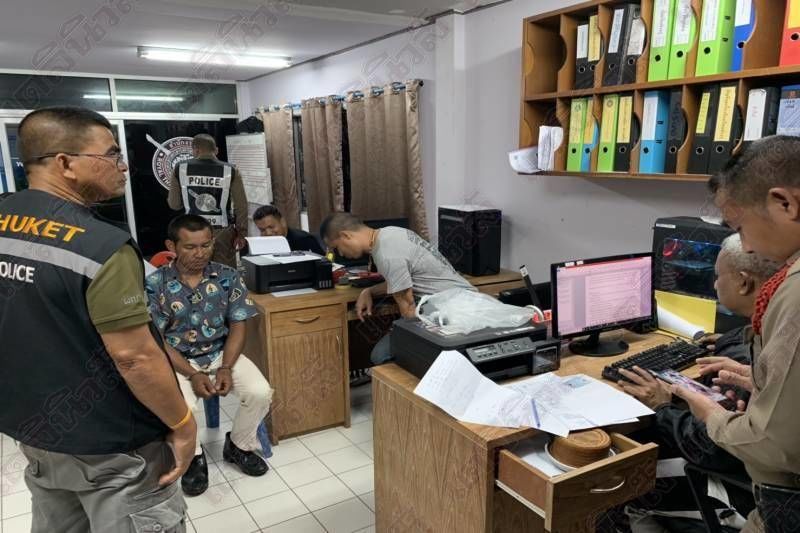 Sanook News is reporting further details after an 30 year old Egyptian, the son of an Ambassador, was struck in the neck by a roti seller who thought that the tourist was swearing at his wife.
32 year old Surachai from Koh Lanta, who was helping his wife sell rotis outside a Family Mart in Chalong's Soi Ta-iad, grabbed a big knife when he heard the words "F*CK YOU" uttered by the tourist. The 'knife' has been reported as a machete, meat cleaver and just 'knife'. Here is the weapon…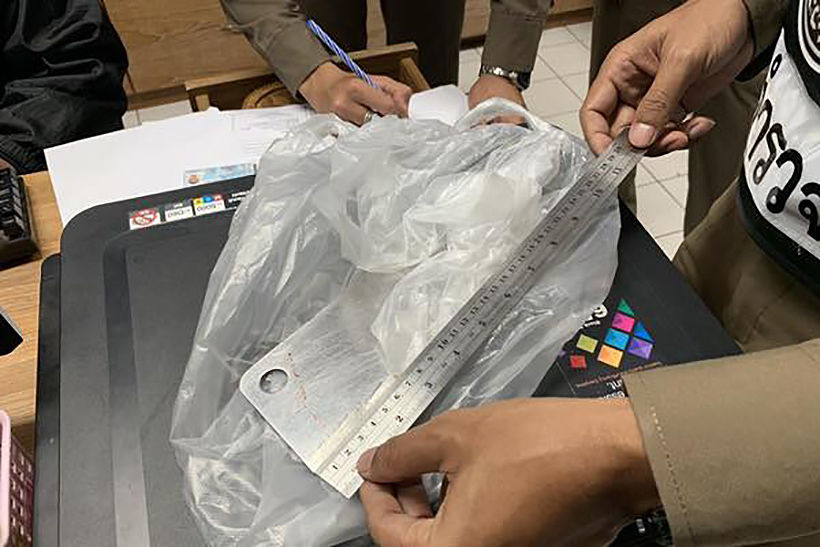 Surachai left the tourist with a 7 centimetre gash on his neck.
Mahmoud Abbas, the son of the Egyptian Ambassador in Uruguay, is now recovering in the Bangkok Phuket Hospital (earlier reported to be at Vachira Hostpial) after the attack late on Friday night.
Chalong police have been investigating and have witnesses who say that the tourists (there were two not three as previously reported) were actually talking about some Thai boxing they had been to see.
The witnesses told police they believe the reported slurs were just idle chatter between the friends and not a slur on the character of Surachai's wife. Surachai has now been charged with attempted murder.
Investigations continue with police talking to the friend of the victim who also appears to have been hurt, according to Sanook.
Chalong's Soi Ta-iad is a popular street for fitness and mauy thai fans.
SOURCE: Sanook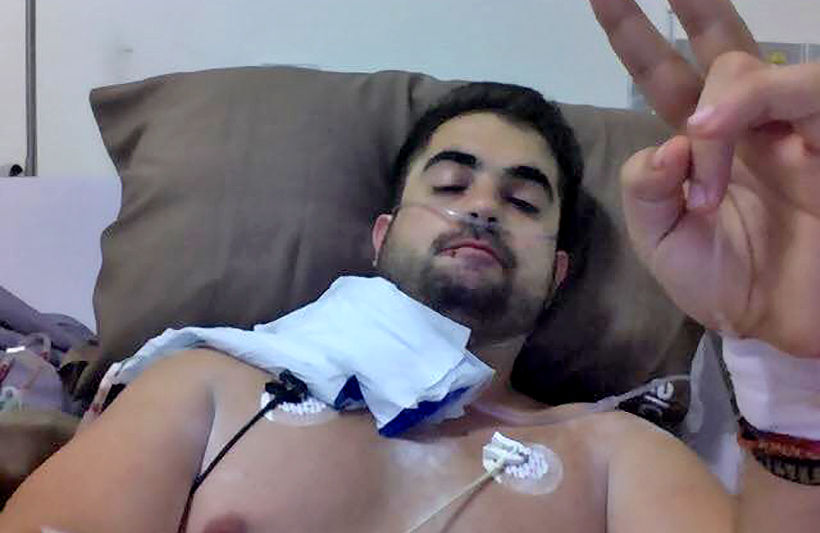 Mahmoud Abbas recovers in hospital – Facebook
Keep in contact with The Thaiger by following our
Facebook page
.
BTS thief and credit card skimmers arrested in Bangkok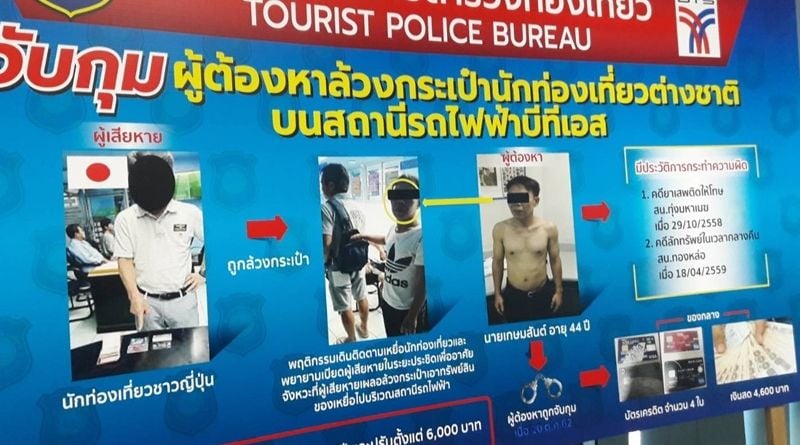 Tourist police in Bangkok have arrested a thief accused of pick-pocketing tourists on the city's BTS Skytrain, along with an Indonesian couple charged with credit card fraud and card skimming.
Kasem Masan Jantaro, a 44 year old food vendor in the Huay Kwang market, says he started pick-pocketing when business became too slow for him to adequately support his family. The Skytrain security team alerted the police after several reports of tourists being pick-pocketed on the trains. Victims described the thief as middle-aged, with pale skin.
Kasem was arrested while trying to flee the scene at the Asok BTS station on Wednesday and was found to have 4,600 baht in cash and four stolen credit cards in his possession. Thai Residents reports that Kasem was previously prosecuted for drugs offences in 2015 and for robbery in 2016.
In a separate arrest, Bangkok police detained 32 year old Alexander Eddilias and 33 year old Estie Rusdiana, an Indonesian couple charged with being in possession of fake credit cards, stolen credit cards, and skimming devices used to steal credit card information.
The arrest comes after several banks notified police of transactions made using fake cards and the couple were tracked to a room in the Pratunam area of Bangkok. Officers also seized a computer, a skimming device, twenty two fake credit cards, two stolen credit cards, and twenty four credit card receipts.
The suspects say they bought the information on the Dark Web. The information was then recorded in the magnetic strip of the fake cards, which were used to make purchases worth approximately 2 million baht.
SOURCE: Thai Residents
Keep in contact with The Thaiger by following our
Facebook page
.
Convicted human traffickers ignore 99% of court orders in Thailand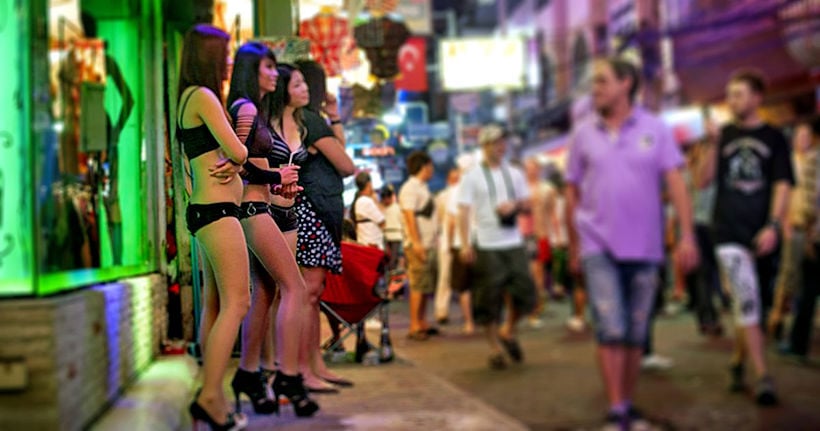 Human traffickers in Thailand have ignored court orders to pay compensation to victims in more than the 99% of convicted cases in recent years. The flouting of the court orders is fuelling fears that many survivors could be victimised again.
Thai courts have ordered traffickers to pay their victims more than $4.3 million for damages caused in about 1,335 cases since 2014, but the compensation was paid in only five cases, excluding cases settled out of court, according to Reuters.
While Thailand has rescued a record-breaking 1,000+ trafficking victims this year along, activists are concerned that the failure to pay compensation leaves them in fresh danger. A spokesman for the Human Rights and Development Foundation says… "It's an important issue that is unfortunately being neglected."
The Human Rights and Development Foundation provides free legal aid to migrant workers and trafficking victims.
The Thai government is considering amending its 1999 anti-money laundering laws to allow offenders' assets to be seized to compensate victims. Seized assets are currently state property but it's unclear when this will be reviewed by the cabinet.
"This money will enable victims to start a new life and prevent them from being re-trafficked. However the government's role in assisting victims in pursuing the claims is still not clear."
Thailand is home to about 610,000 modern 'slaves', according to the Global Slavery Index published by the rights group Walk Free Foundation. This means that about one in 113 of its 69 million people is enslaved – forced or blackmailed into working against their will, often with little or no pay.
Trafficking victims are automatically compensated through a government fund which provides living and rehabilitation expenses and lost wages. But the Human Rights and Development Foundation says these sums are insufficient for victims to rebuild their lives.
While Thai law allows victims to claim compensation from convicted traffickers, offenders have refused to pay in more than 1,000 cases.
The US called on Thailand in June to increase compensation to victims in its annual Trafficking in Persons report. They ranked Thailand as a Tier 2 country, meaning it is making significant efforts to combat the crime.
SOURCE: Reuters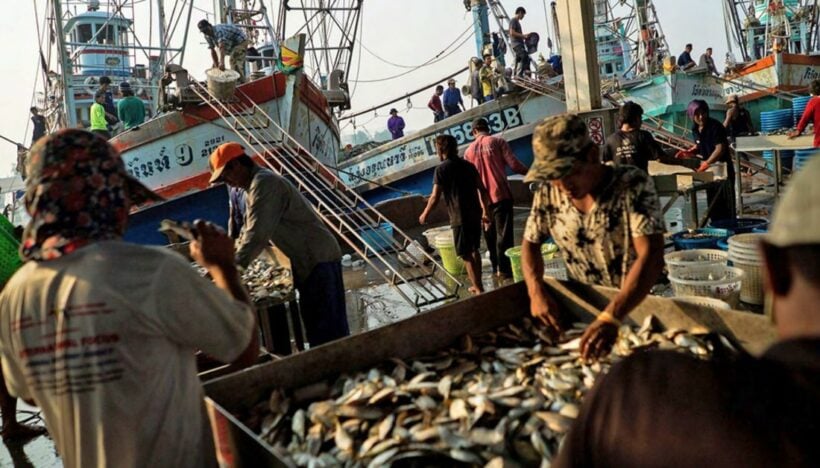 Keep in contact with The Thaiger by following our
Facebook page
.
Now you see him, now you don't… Patong Police hunt foreigner over $30k theft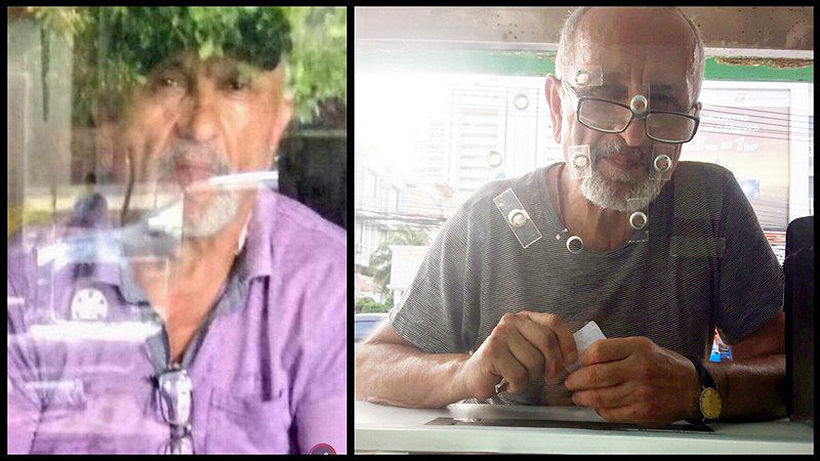 PHOTO: Patong Police
Patong Police have yet to develop any tangible leads tracking down a foreigner who made off with US$30,000 in cash from a currency exchange booth in Kalim, north of Patong in Phuket, last Tuesday.
The man is about 168 centimetres tall with grey hair and around 60 years old, Patong police told The Phuket News.
"We have no clue what nationality he is."
He was last seen at the currency exchange booth wearing a purple polo shirt, blue jeans and black cap. Police have checked hotels in the area, police stations across the island and Phuket Immigration, but have yet to join the dots and come up with firm leads.
"Investigators have checked CCTV in the area and collected what evidence we have but we still do not know the man's name or where he was staying."
The man had visited the booth several times before Tuesday, when he disappeared with the $30,000 in US banknotes, according to police.
"It was always small amounts", he added, noting that the amounts didn't warrant staff at the exchange booth to check the man's passport before making the exchange.
The man arrived at the booth again at about 1pm on Tuesday, saying that he had 900,000 baht cash to exchange.
SOURCE: The Phuket News
Keep in contact with The Thaiger by following our
Facebook page
.