It's mango season: A guide to the best mangoes in Thailand
The origin and the types of Thailand mangoes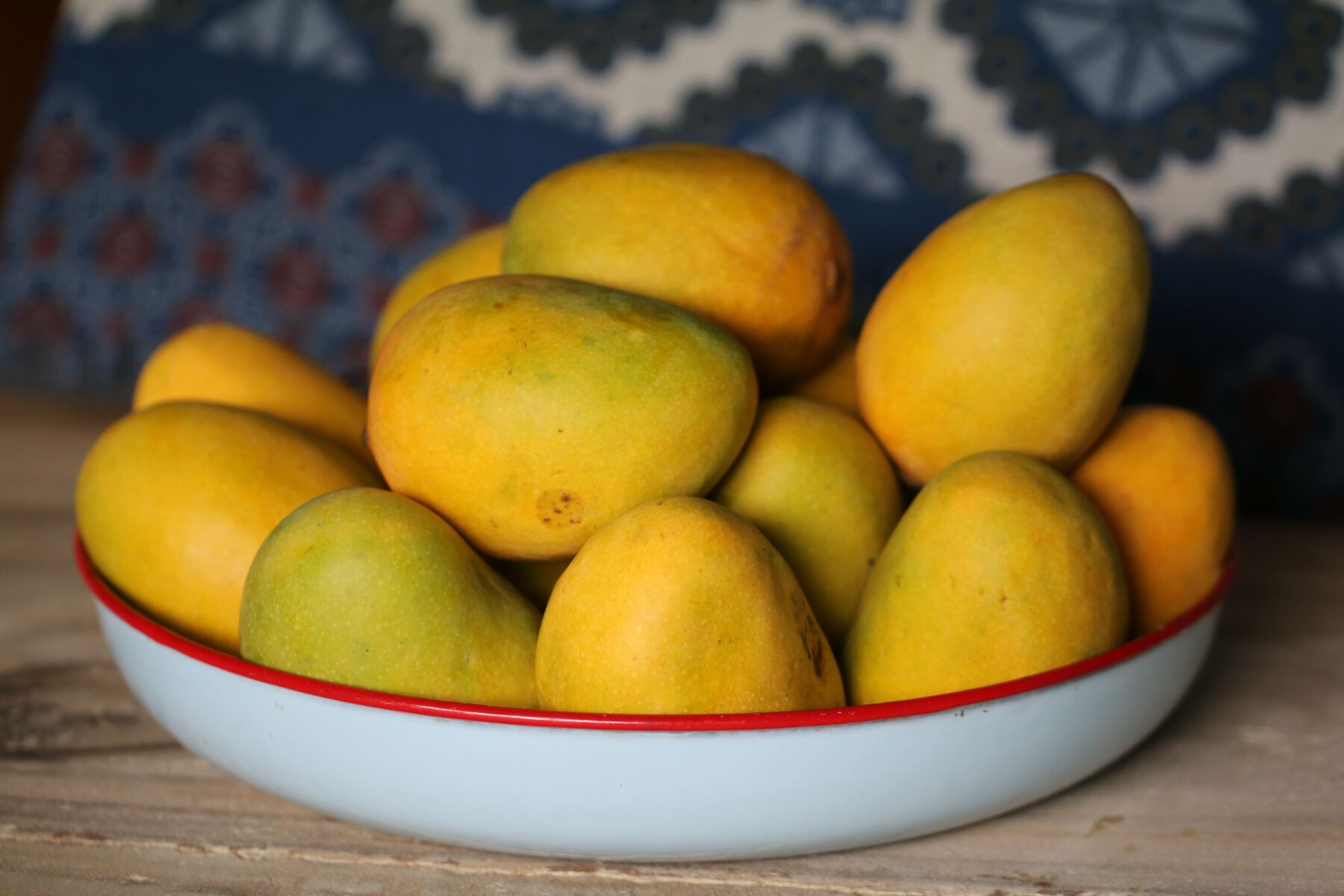 Thai mangoes commonly referred to as Mamuang, are a beloved staple in Thailand. Its versatility in both sweet and savoury dishes has drawn tourists from every corner of the globe. Visitors eagerly explore the streets of Bangkok and Phuket, eager to savour local favourites like mango sticky rice or a refreshing spicy mango salad. The distinct flavour of Thai mangoes sets them apart from others, making them an undeniable crowd-pleaser.
The Origins of Thai Mangoes
The origins of Thai mangoes can be traced back to ancient India and Southeast Asia, where mangoes have been cultivated for thousands of years. The mango (Mangifera indica) belongs to the Anacardiaceae family, and it is believed to have initially spread from India to other parts of Southeast Asia, including present-day Myanmar, Malaysia, Indonesia, and eventually Thailand.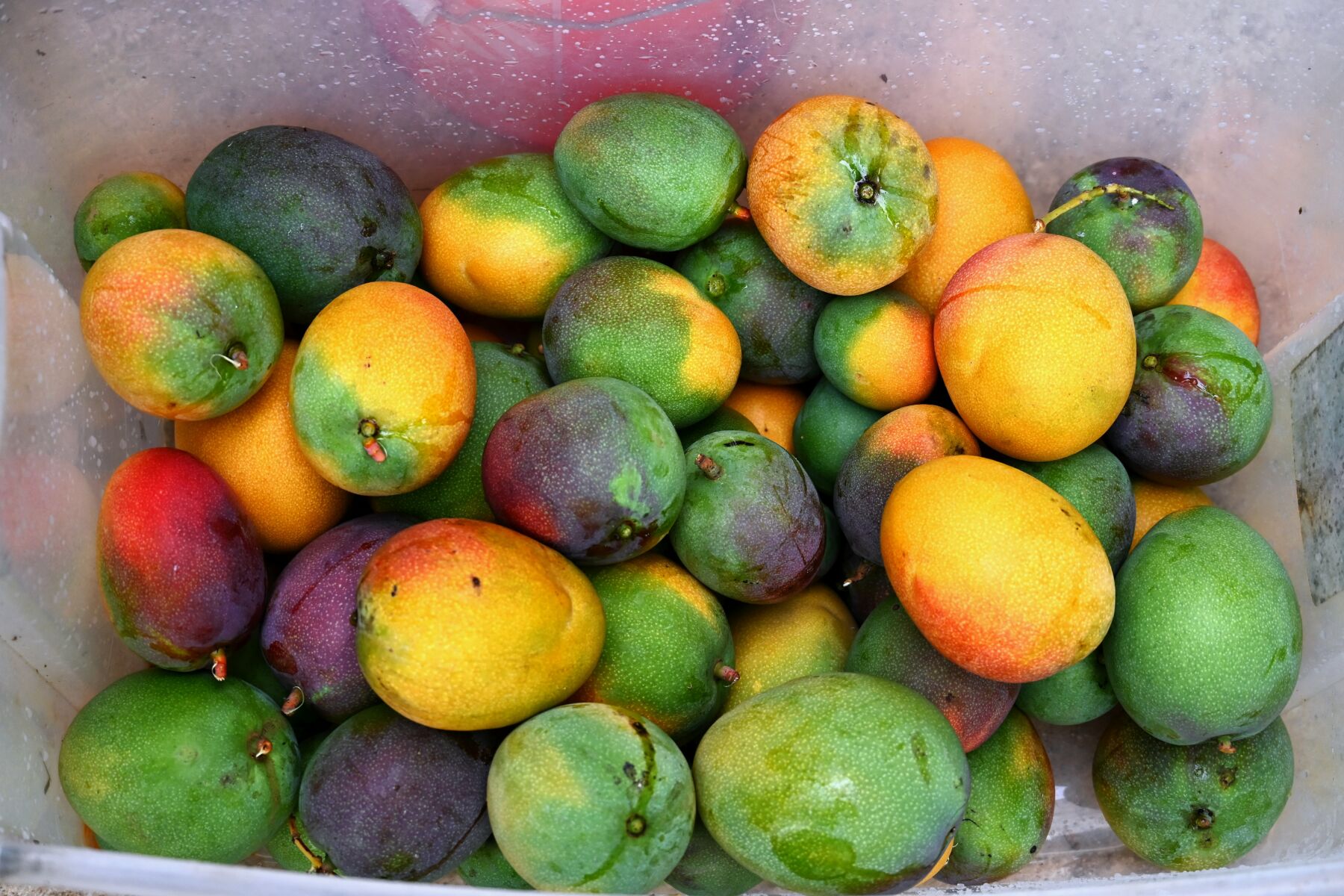 Over time, the mango has become deeply ingrained in Thai culture, cuisine, and daily life, with numerous local cultivars emerging, each with its distinctive taste, texture, and appearance. Today, Thailand is one of the leading producers and exporters of mangoes worldwide, and its unique mango varieties continue to captivate the taste buds of locals and tourists alike.
Mango season in Thailand
In Thailand, mango season occurs from late March to July. Throughout this period, numerous vendors can be found on the streets, offering raw mangoes for sale or incorporating them into various dishes.
Varieties of Thai mangoes
Thailand is known for its wide array of succulent mango varieties, each with unique characteristics that cater to different tastes and culinary applications. Thai mangoes are cherished for their vibrant colours, different flavours, and delightful textures, making them integral to Thai cuisine and culture. Let's delve into some of the most popular types of mangoes found in Thailand.
1. Nam Dok Mai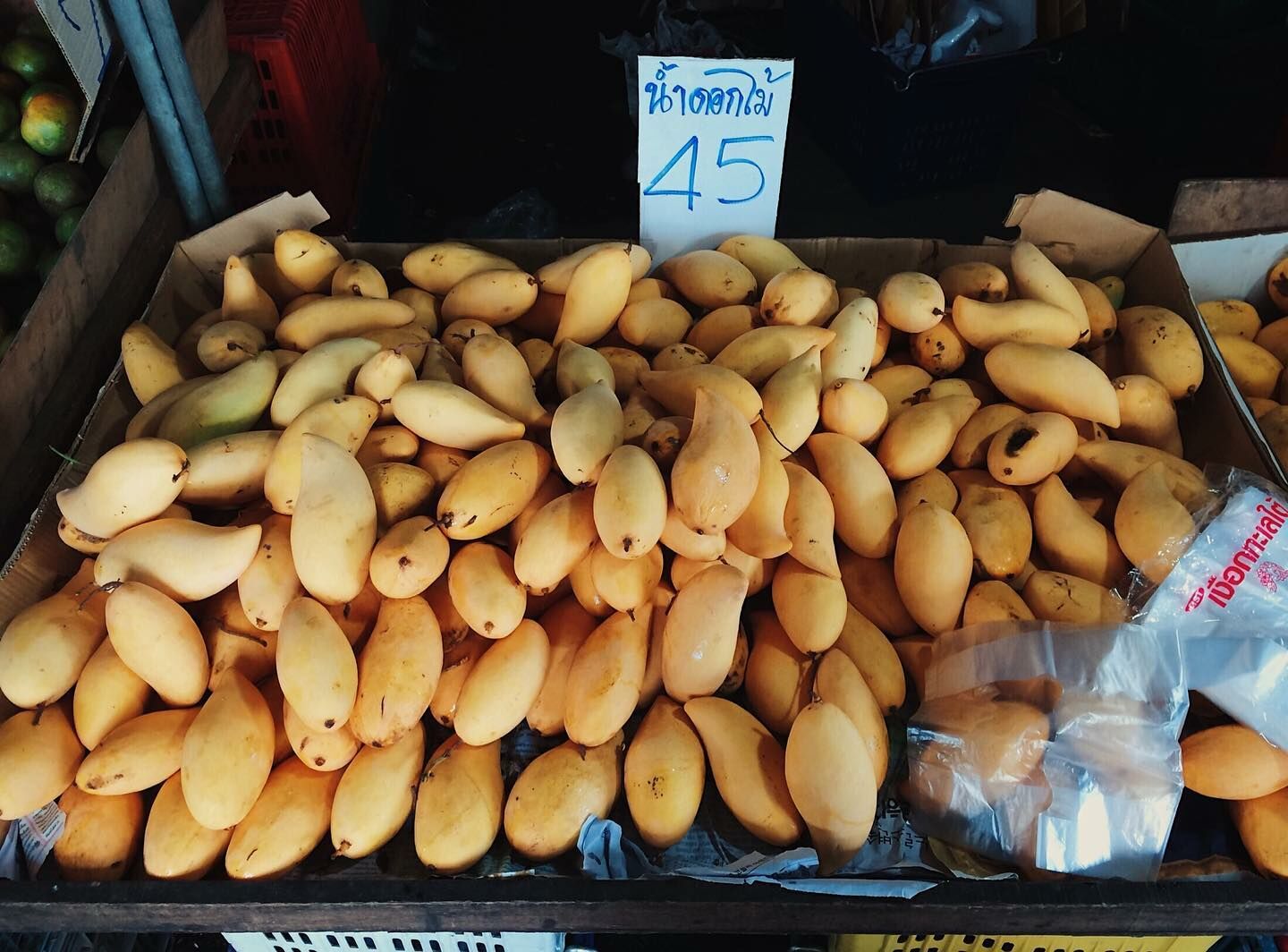 Nam Dok Mai is arguably the most popular Thai mango variety, prized for its sweet, aromatic flavor and smooth, fiberless texture. This golden-yellow mango is often enjoyed ripe, eaten fresh, or used in desserts like the famous mango sticky rice.
2. Keaw Savoey (or Keaw Sawi)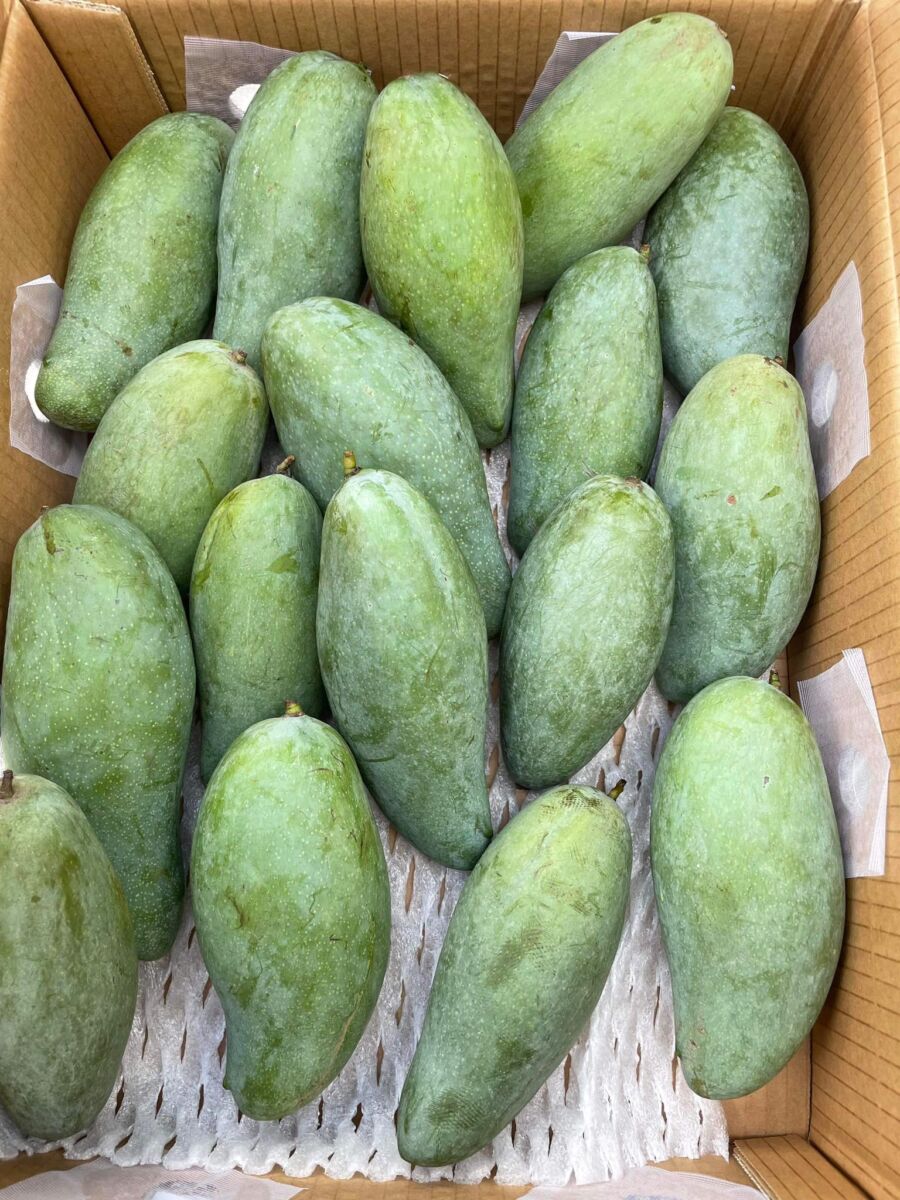 Keaw Savoey mangoes are known for their distinct green skin, even when ripe. These Thai mangoes boast a crunchy texture and a mildly sweet taste, making them perfect for salads or as a snack with a dipping sauce.
3. R2E2 (or Raet)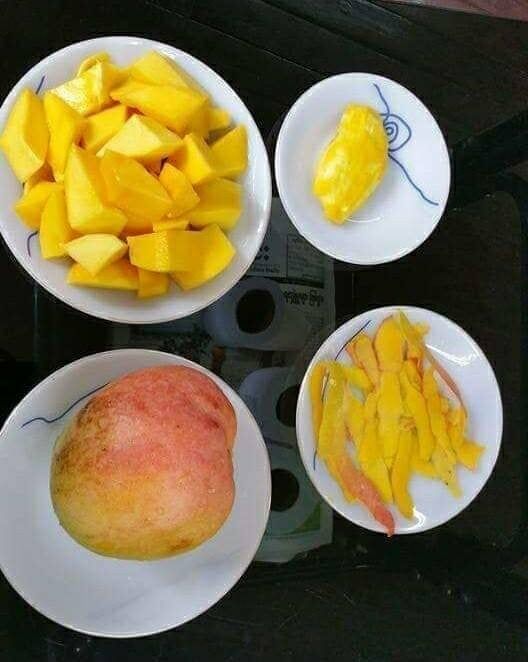 This variety, originally from Australia, has gained popularity in Thailand due to its large size, vibrant orange-red skin, and versatile flavour profile. R2E2 mangoes have a firm, fiberless flesh that is mildly sweet and tart, suitable for both savoury dishes and desserts.
4. Mahachanok (or Rainbow Mango)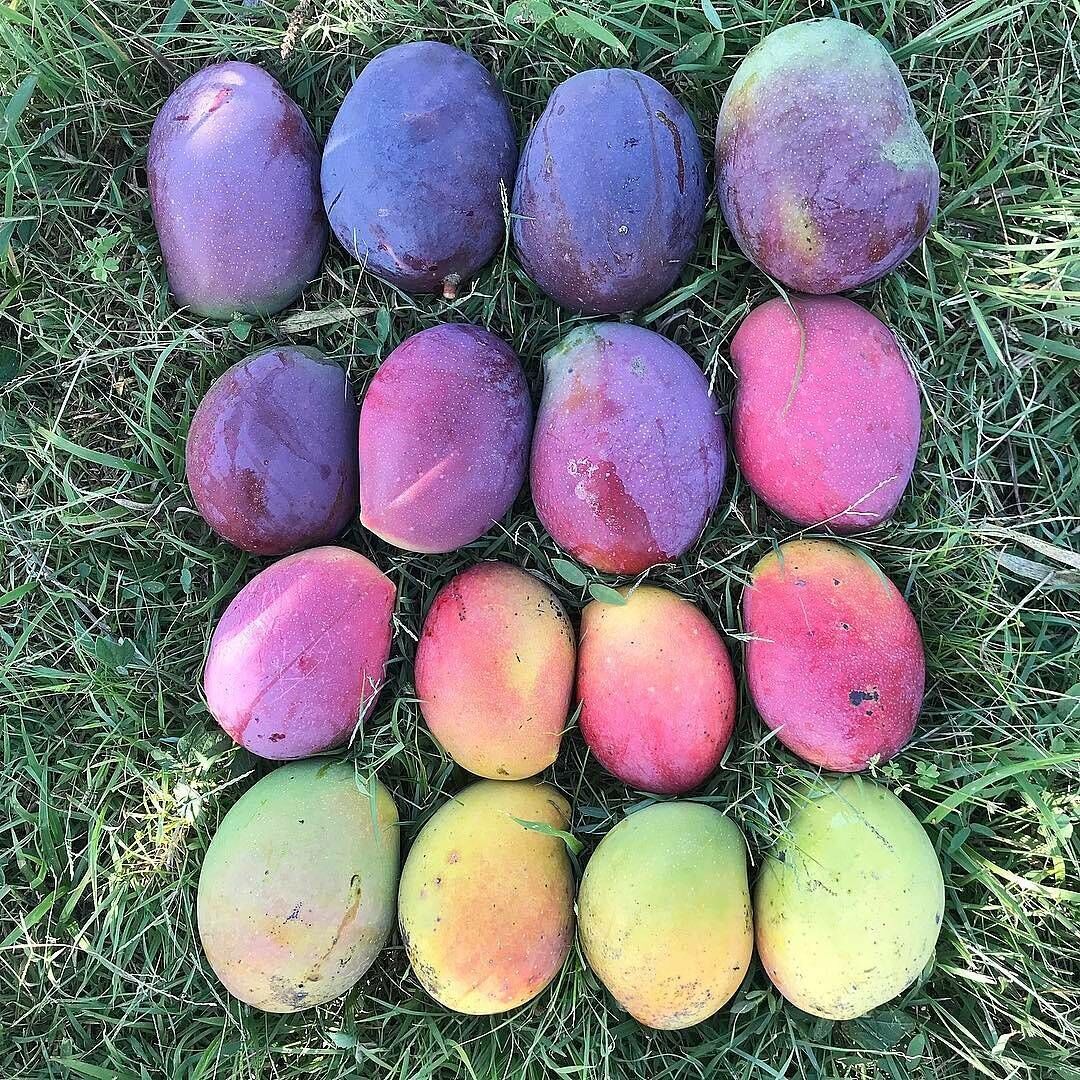 Mahachanok mangoes, also called Rainbow Mangoes, are stunning due to their multicolored skin, which features shades of red, yellow, and green. The fruit has a sweet, fragrant flavor and a slightly firm texture, making it ideal for various culinary applications.
5. Okrong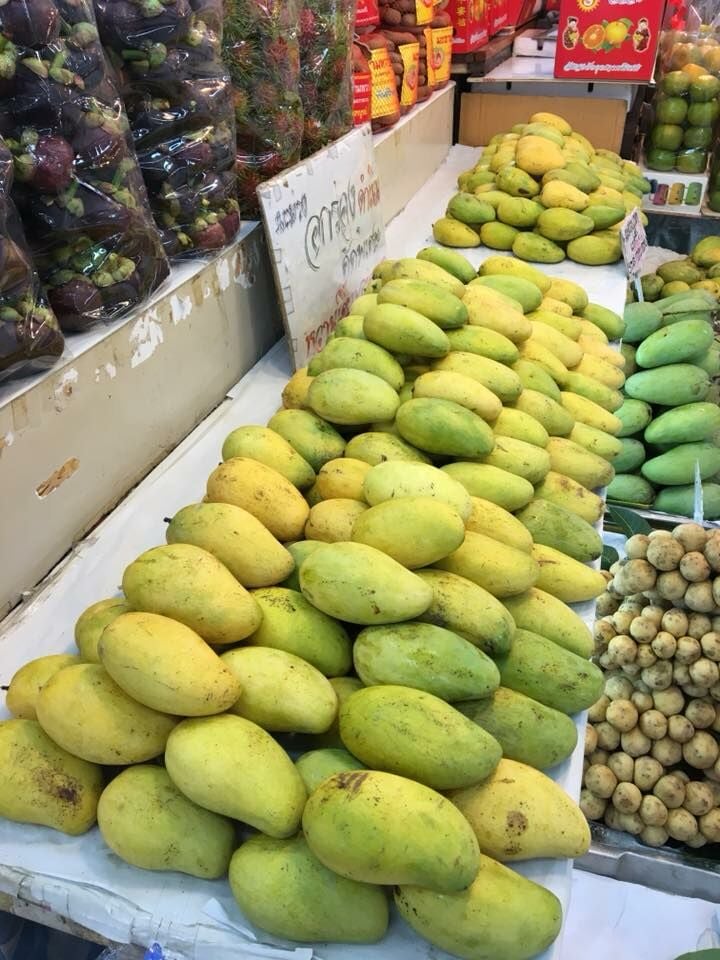 Okrong mangoes are another popular variety in Thailand, characterized by their elongated shape and deep green skin when ripe. These mangoes have a sweet and sour flavour with a slightly fibrous texture that complements various dishes.
Where to find Thai mangoes
During the mangoes season around late March through July, you can find them in various places, ranging from bustling street markets to well-established supermarkets. Some popular spots to find mangoes in Thailand include-
1. Street Markets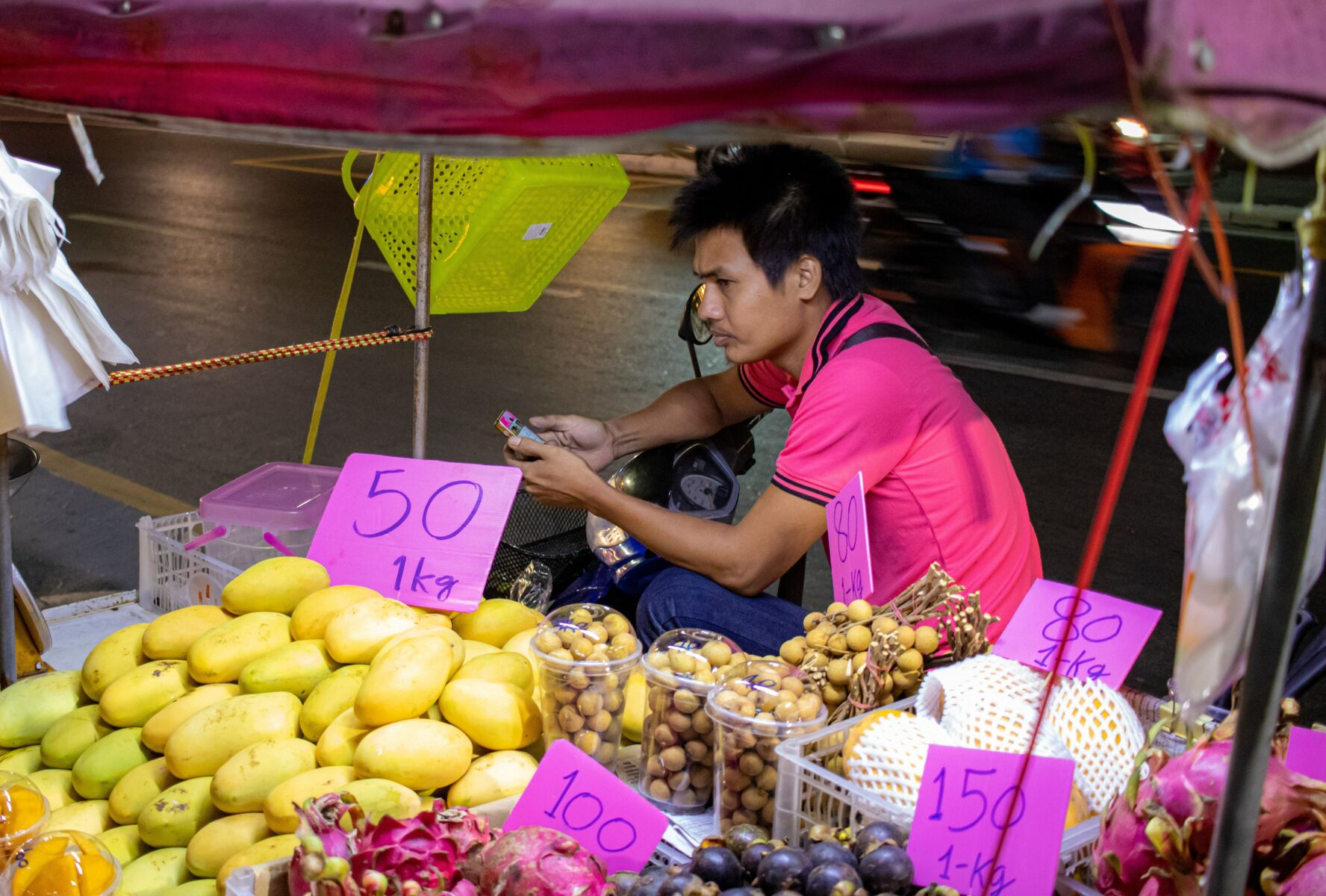 Many vibrant street markets across Thailand offer an array of fresh, locally-grown mangoes at affordable prices. Some famous markets in Bangkok include the Chatuchak Night Market, Or Tor Kor Market, and Khlong Toei Market.
2. Floating Markets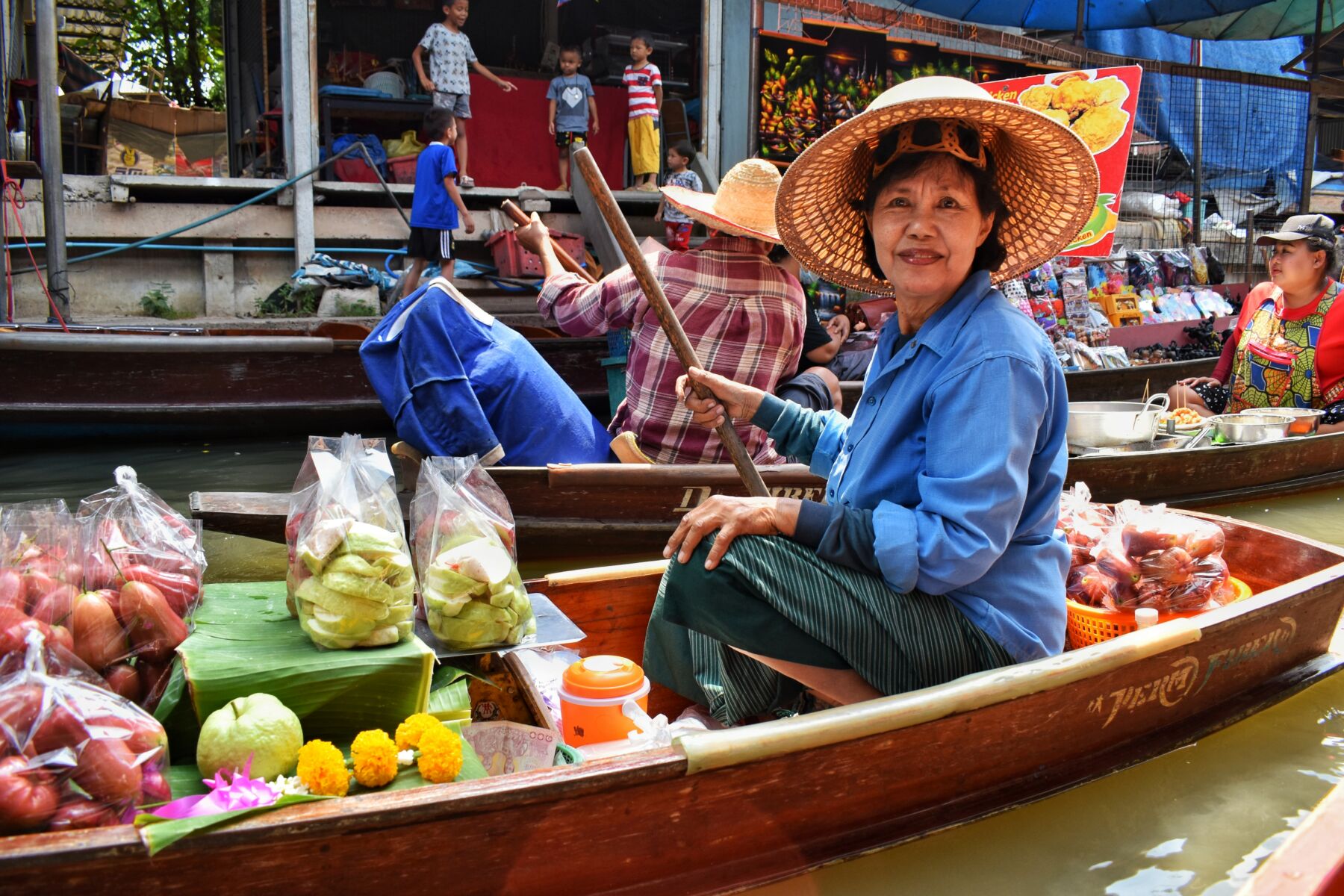 Floating markets are a unique and traditional way to buy fresh produce, including mangoes, in Thailand. The Damnoen Saduak Floating Market and Amphawa Floating Market, both located near Bangkok, are popular destinations to find these delicious fruits.
3. Fruit Stalls and Vendors
Scattered throughout the streets of cities and towns, local fruit stalls and vendors sell fresh mangoes and mango-based dishes such as mango sticky rice, mango salads, and fruit shakes.
4. Supermarkets and Groceries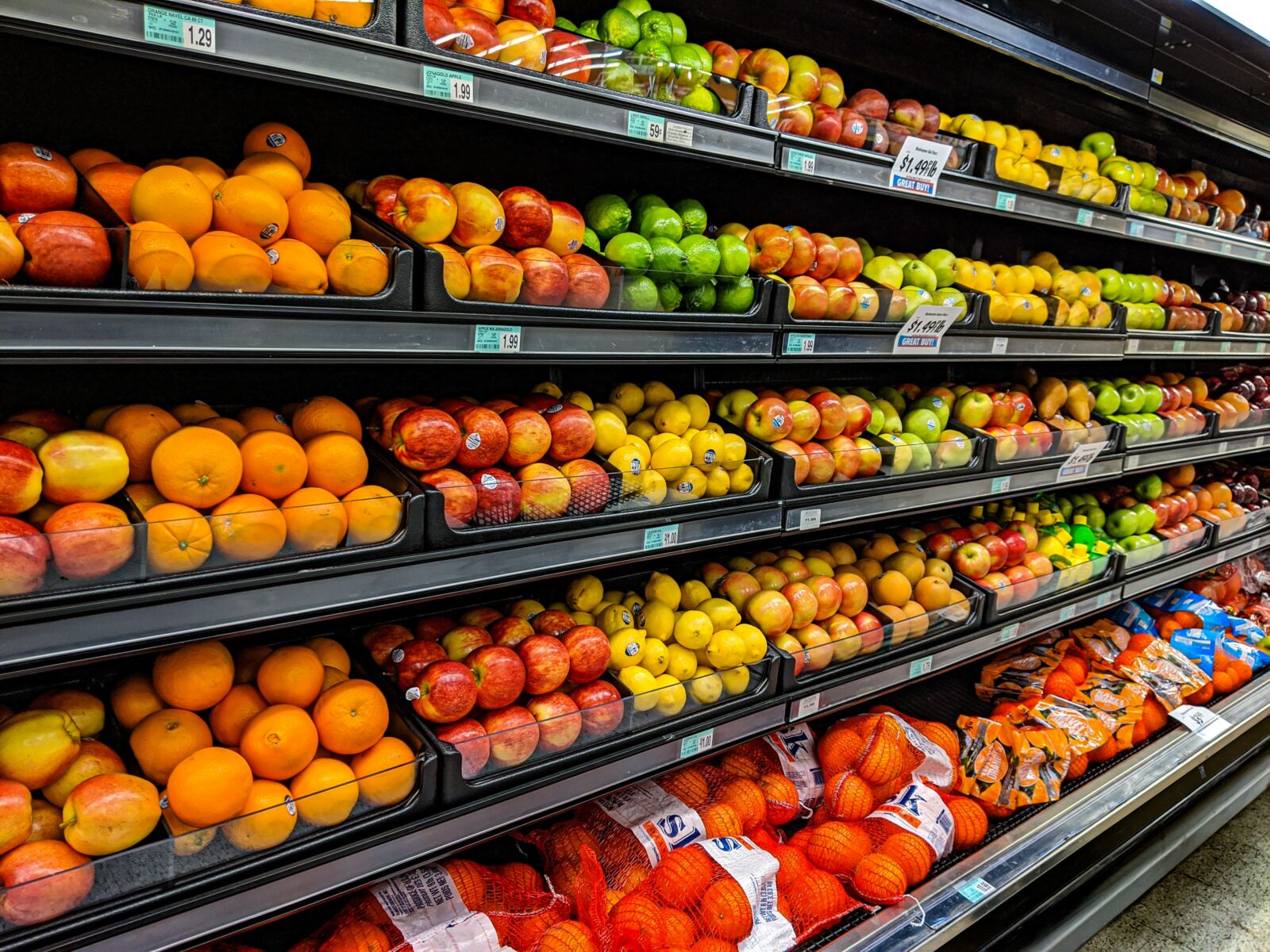 Well-known supermarkets, such as Tesco Lotus, Big C, and Tops Market, also offer a variety of Thai mangoes, often catering to different customer preferences and budgets.
5. Fruit Festivals and fairs
Thailand hosts several annual fruit festivals, and here are some of the festivals and fairs you can go-
Rayong Fruit Festival
This festival is held every year in May and it showcases the Thai local fruits. It is the largest fruit festival and lasts one week. Visitors can enjoy different fruits, the Miss Fruit Orchard contests and other fruit competitions as well.
Chiang Mai Mango Fair
This festival is held annually in Chiang Mai in May, where both locals and foreigners came on together to enjoy mangoes. It celebrates the harvest of fruits and involves a beauty contest as well.
Chachoengsao Mango Festival
Organized in Chachoengsao province which is known to be growing the best mangoes in Thailand. This mango festival is held every April, attracting mango lovers from all around the country. It mainly focuses on the organic varieties of mangoes, in different forms of food, such as mango salad, raw fresh mangoes, mango juice, or mango sticky rice. In addition, it features other agricultural products on sale, as well as performances and competitions.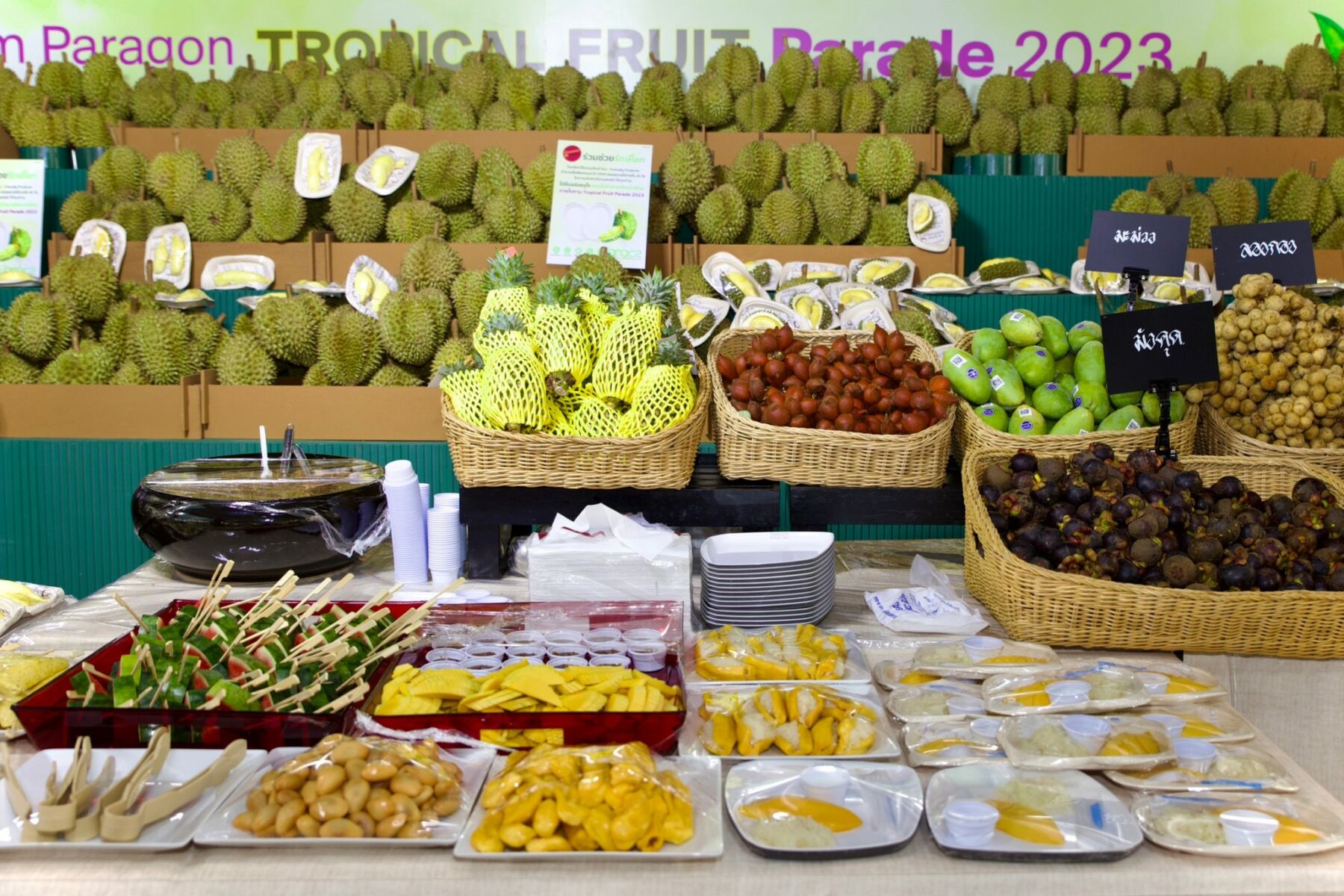 No matter where you travel in Thailand, you are sure to find an abundance of delicious, fresh Thai mangoes to enjoy and savour. If you want to discover more about Thai mangoes and their unique dishes, here is our article about a Thai street food seller coming up with mango Pad Kra Pao.
Best of
Guides
Things To Do

Join the conversation and have your say on Thailand news published on The Thaiger.
Thaiger Talk is our new Thaiger Community where you can join the discussion on everything happening in Thailand right now.
Please note that articles are not posted to the forum instantly and can take up to 20 min before being visible. Click for more information and the Thaiger Talk Guidelines.