Online learning system to support re-opening of schools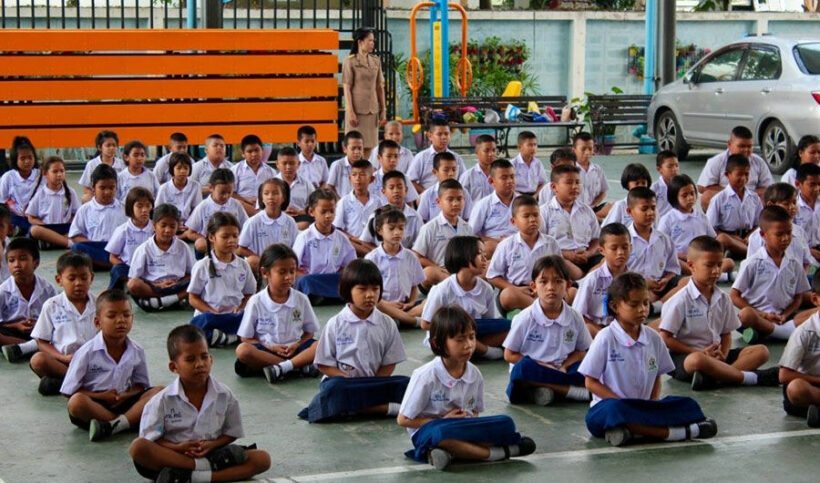 Thailand's Ministry of Education is launching an online learning system designed as a back-up in the event that the re-opening of schools is deemed unsafe. With Thaialnd's schools set to reopen their doors from July 1, a televised and online system is being tested to supplement children's learning.
The new system, set to be tested next Monday, May 18, will enable students to access learning materials and classes through 17 television channels, with additional skills classes planned for school breaks. The Ministry of Education says it is consulting with parents, teachers and students for their input in designing the right materials and an appropriate timetable, with plans to reduce the number of assignments during break periods.
Following an extended period of closure as a result of the Covid-19 outbreak, schools across Thailand are set to re-open from July 1, with the first semester running until November 13. Following a break from November 14 to November 30, the second semester will begin on December 1 and run until April 9, 2021, followed by a break until May 16, 2021. The newly crammed schedule is to make up for lost time for schools and student over the past 2 months.
SOURCE: Pattaya Mail
Keep in contact with The Thaiger by following our
Facebook page
.
Never miss out on future posts by
following The Thaiger
.
Protesters flood Thammasat University for major anti-government rally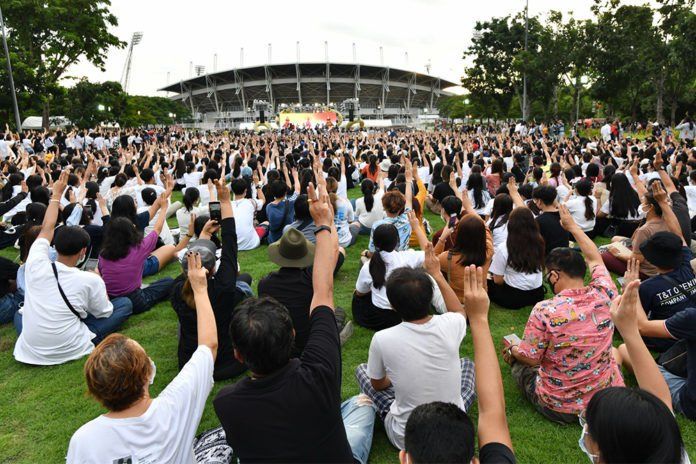 Today, Thammasat University's Tha Prachan campus in Bangkok is seeing thousands of protesters flood its campusin what they say is the biggest rally yet against the Prayut-led Thai government. After unsuccessfully trying to gain permission from university officials, the protesters broke through the gates of the history-laden university and are now gathering for the schedule of anti-government speeches.
Earlier this week protesters were hoping for around 50,000 demonstrators with security officials saying it would more likely to be around 20,000. Today's poor Bangkok weather is likely to make a crowd size more the latter than the former.
Security officials did little to prevent their entrance into the campus and people on site say that there is a clear intention, from all sides, not to inflame any tensions.
The protesters, some who have identified themselves as members of the pro-Thaksin Red Shirt movement, are made up of a majority of students who are being led by student and political activists "Panusaya" and "Panupong". Both have spoken at previous rallies and made it clear about their demands for political reform and changes to the role of the Thai monarch.
Today's protest was well-anticipated as the government has deployed up to 10,000 police and sent warnings to those around the area, including such things as respecting social distancing and following the laws on public assembly. Embassies have also sent out notifications to expats warning them to be aware of their surroundings in downtown Bangkok. Despite such warnings by police, officials say they will try to ensure protesters' safety during the event.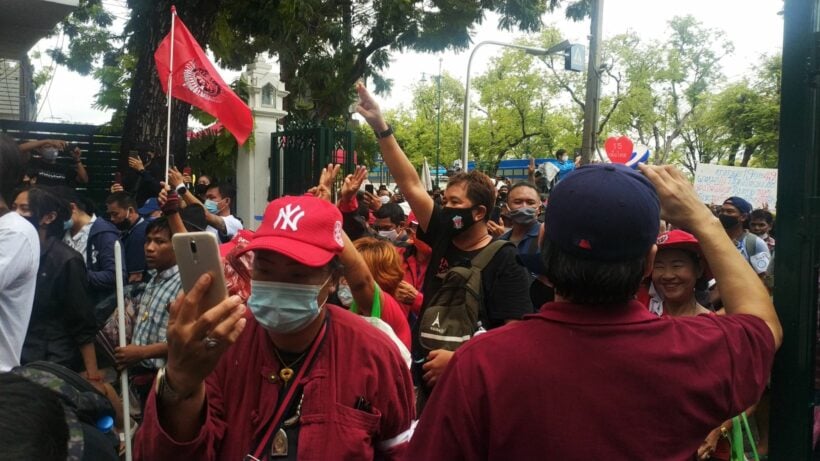 Some protests in the past have become violent – Thammasat University was the scene of a violent clash in the 1970's which followed after the ousting of a political party only to later attempt to bring back one of the party's leaders. Official figures put the death toll of the so-called Thammasat Massacre at 46, with 167 injured and more than 3,000 arrested. However, survivors put the death toll closer to 100. The clash was then used to justify a military coup which overthrew the democratically-elected government.
Protesters started pouring into the area early today with some even shaking the gates in an attempt to open them, while others put up anti-government posters on the walls facing the royal parade grounds of Sanam Luang. The group also prepared for the event by setting up makeshift kitchens to supply the rally-goers with food as the demonstration is expected to go into the evening. At 2 pm today, leaders of the protest say they will push forward with their demands for political reform and changes to the country's revered monarchy with a film producer, Yutthalert Sippapark, offering his works and art to be screened at the site tonight.
SOURCE: Thai PBS World
Keep in contact with The Thaiger by following our
Facebook page
.
Never miss out on future posts by
following The Thaiger
.
Students mock Culture Ministry guidelines on how to talk to elders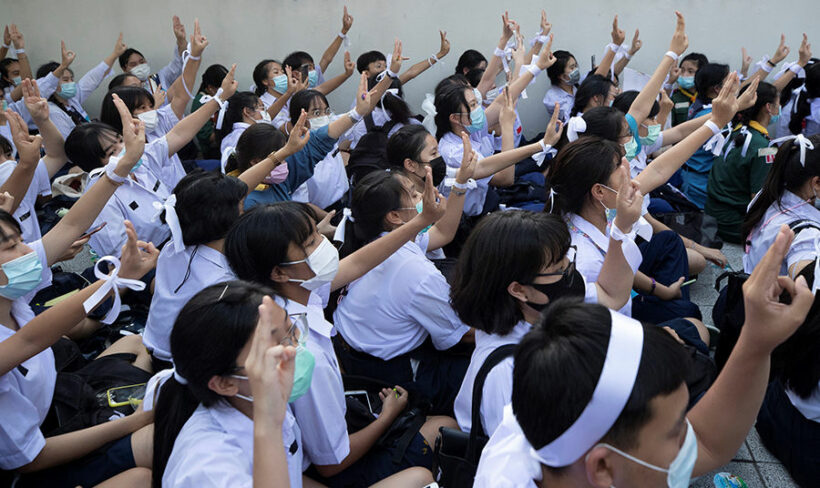 As political differences continue to divide the generations, Thailand's Culture Ministry has weighed in on the matter, issuing guidelines on how the younger generation should interact with their elders.
"Stand straight, hold hands below your waist, bow slightly. Do not stand too close or too far from pooyai. If receiving orders, stand straight, with arms by your side. In other situations, stand politely and do not cause annoyance or get in others' way."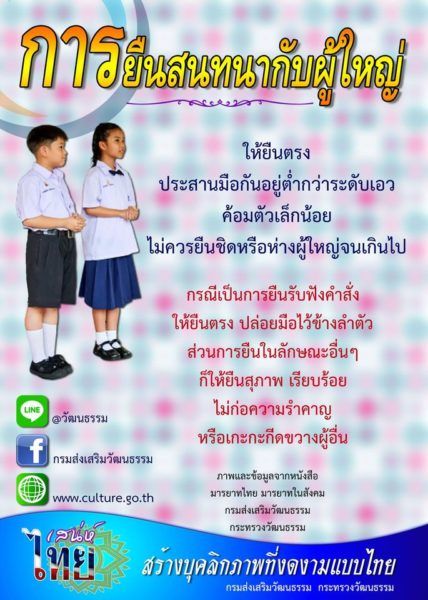 PHOTO: Khaosod English
The Thai word, pooyai, generally means adult, but can also be used to signify those in authority or people who command respect based on their role in society. Unfortunately for the Culture Ministry, its Facebook post has been greeted with derision by the younger generation, with one student criticising its tone-deaf stance, which appears to ignore the current reality.
"The artwork and information really go together. Both are outdated."
Another Facebook user shared a gif that recently went viral and shows an older woman slapping a student, suggesting the Culture Ministry has got its priorities wrong.
"Shouldn't you be teaching pooyai first?"
The harsh reception to the guidelines echoes the response to two propaganda videos posted by the Thai government at the weekend. After receiving 99% "thumbs down" on You Tube, officials were forced to remove the videos.
For several weeks now, school students have held up the 3-fingered salute and used white ribbons in support of anti-government protests taking place around the country since mid-July. Many say they've had to deal with unfair retributionfrom teachers and the police, with at least one student accusing a teacher of physical assault.
SOURCE: Khaosod English
Keep in contact with The Thaiger by following our
Facebook page
.
Never miss out on future posts by
following The Thaiger
.
Don't break the law, Thai education minister warns student protesters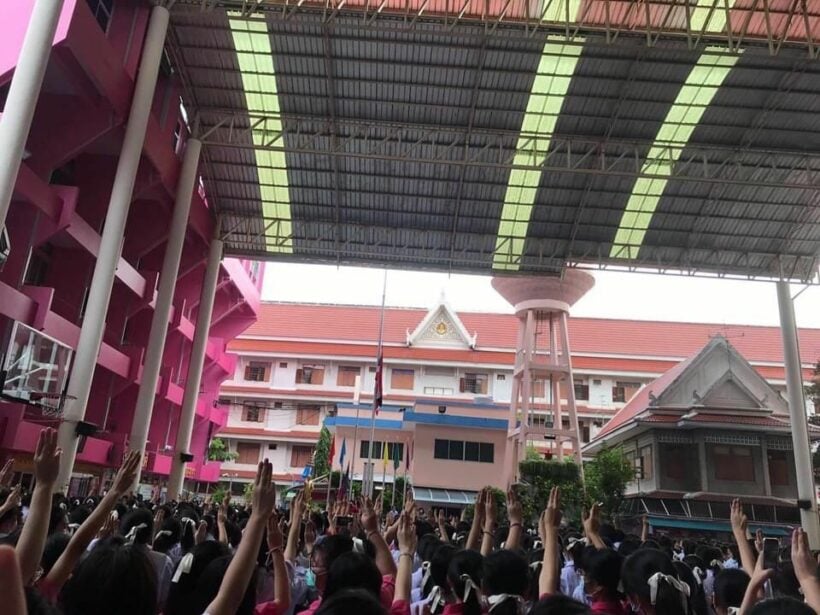 The education minister is warning students to abide by the law when protesting. If they break the law, they can be arrested on campus, he says.
The grim advice comes from someone who has been there, done that. Back in 2014, Education Minister Nataphol Teepsuwan was arrested as a protest leader for the People's Democratic Reform Committee.
Teepsuwan slipped in the warning during a forum on Thailand's new education model he's promoting which is planned to make big changes to the national curriculum. His comments on potential arrests were in response to the recent pro-democracy protests during high school flag ceremonies.
He says students should also refrain from disrespectful gestures. A report from the Thai Enquirer did not say if certain gestures could lead to arrest. The 3 finger salute, which is used in the movie "Hunger Games," has been recognised as an anti-military symbol. Photos from daily high school flag ceremonies show crowds of students using the salute. Some student protesters also wore white bows to school, but say the ribbons were confiscated by police.
SOURCES: Thai Enquirer |Bangkok Post
Keep in contact with The Thaiger by following our
Facebook page
.
Never miss out on future posts by
following The Thaiger
.