World's wealthiest dig deep to fight Covid-19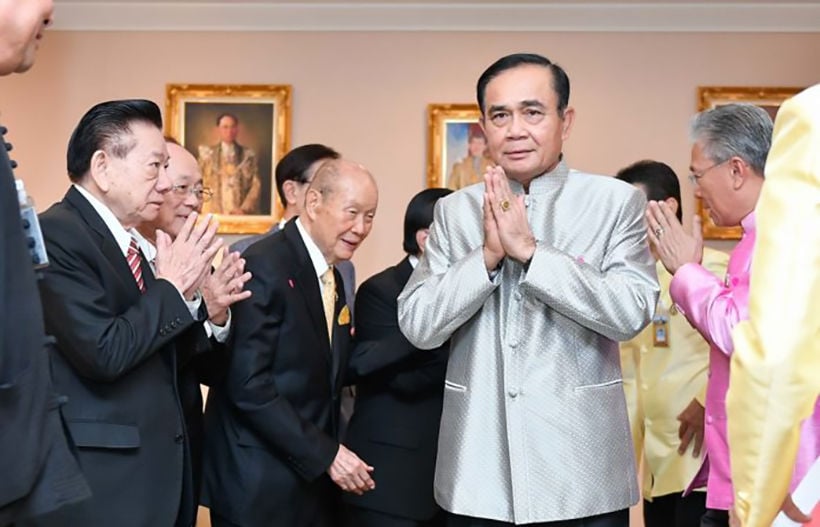 With the Covid-19 pandemic sweeping the globe and fatalities rising, some of the world's richest are digging into their deep pockets to ease the pain for the poorest people and fight back against the deadly disease. Contributions range from supporting their employees financially and donations to the vulnerable, to procuring medical equipment for hospitals and funding vaccine research.
In Thailand, wealthy moguls, encouraged by a letter from PM Prayut Chan-o-cha, have joined fellow citizens in donating to people hardest hit by the closure of businesses to curb the spread of the virus.
Thailand's richest man, CP Group patriarch Dhanin Chearavanont, with a net worth of 456.8 billion baht, has spent 100 million of it to build a factory making 100,000 free surgical masks a day for healthcare workers. Several of his wealthy peers have also donated expensive medical equipment, particularly ventilators and negative pressure isolation rooms.
Billionaires in other countries have followed suit, some looking beyond their countries' borders to fight Covid-19 on an international scale.
Amazon founder Jeff Bezos, the world's richest man, announced this month that he would donate 3.2 billion baht (100 million US dollars) to Feeding America, a national nonprofit network of food banks and soup kitchens. Amazon has also created a 165 billion baht (5 million USD) relief fund for small businesses and contributed 65 million baht (2 million USD) to efforts to help those most affected by the pandemic.
Microsoft cofounder and philanthropist Bill Gates, the world's second richest man, has committed 8.26 billion baht through the foundation named after him and his wife Melinda, with a large portion going toward developing vaccines.
Gates called for "an unprecedented level of international funding and cooperation" to tackle the pandemic.
Alibaba founder Jack Ma, China's richest man, has pledged 455 million baht to develop a Covid-19 vaccine. He has sent large shipments of medical supplies and testing kits to the United States, Italy and several other countries across Africa, Latin America and Asia. Through his foundation, Ma has also donated hundreds of ventilators to the US state of New York for use in its hospitals.
SOURCE: Thai PBS World
Keep in contact with The Thaiger by following our
Facebook page
.
No new Covid-19 cases in 65 provinces for a month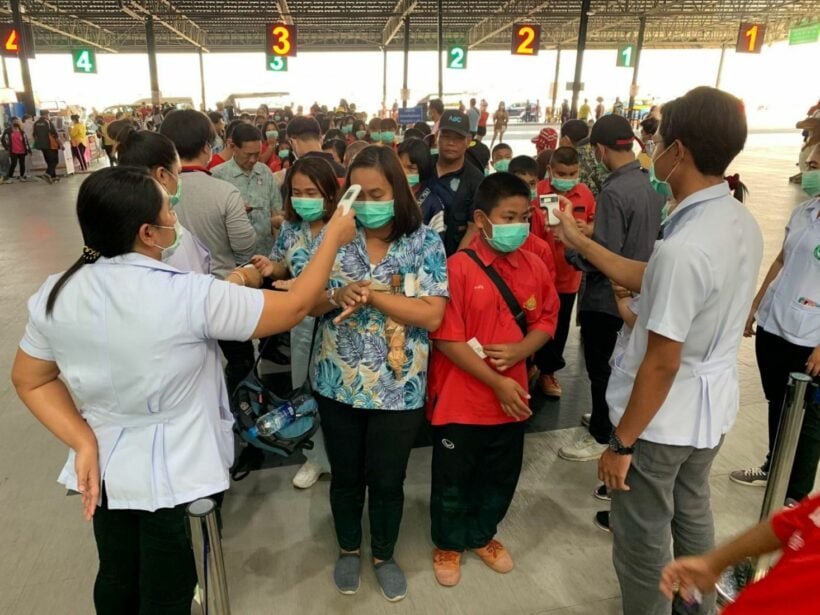 The Covid-19 situation in Thailand is improving: the Ministry of Public Health announced yesterday that 65 of Thailand's 76 provinces have reported no new cases for a full month. But it says the situation is "still not stable enough", and the government continues to screen people returning from abroad and is proactively testing suspected cases.
The deputy director-general of the Department of Disease Control says that the number of cases in Thailand is relatively low and is divided into 2 main groups: Thai nationals returning from abroad and people who had close contact with previous cases. Returnees are placed in mandatory 14 day quarantine to see if they develop symptoms.
But academics have pointed out that there may still be some people infected with the virus without showing symptoms in areas around the country. They have not been tested and could potentially infect others. Therefore, they say, the Ministry of Public Health needs to stay proactive in maintaining a wide ranging testing program. (Thailand has not had a "wide ranging testing program". Thailand has tested 5,380 people per 1 million population. In comparison, Singapore has tested 57,250 people per 1 million population.)
The Thai ministry's caution shows an extreme risk-aversion when compared to many other countries that are now opening up despite much higher rates of transmission, but with certain precautions and restrictions in place.
An analysis of the numbers of infections in different parts of Thailand shows 10 provinces have had no cases at all. However, 42 provinces have a fatality rate of 0.1 to 1%, 18 provinces have a rate of 1.1 to 5%, 2 provinces have 5.1 to 10% and 5 provinces have a death rate higher than 10%.
In the past month, 65 provinces reported no new cases. Although the figures are low, it's is possible that some people are asymptomatic, particularly in greater Bangkok, Chiang Mai, Phuket, Chonburi and the 4 southern border provinces.
SOURCE: The Pattaya News
Keep in contact with The Thaiger by following our
Facebook page
.
PM assures MPs that government knows how to handle trillion baht loan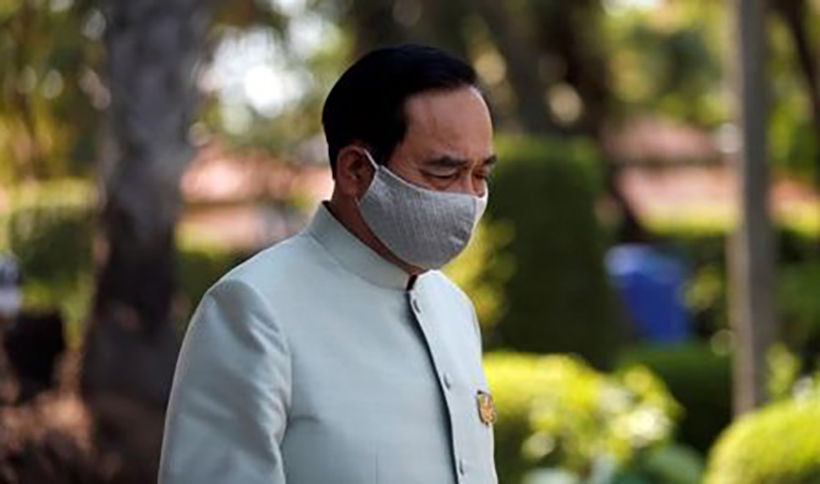 "Don't worry, we got this…"
Following the Finance Ministry's securing of a trillion baht loan, PM Prayut Chan-o-cha spoke up to address concerns over how the funds will be administered. Answering questions raised by opposition parties, the PM said the government has clear rules in place on how the funds will be distributed, with the priority being small and medium sized businesses that have been severely impacted by the Covid-19 crisis.
He was speaking as Parliament debated the 3 decrees enacted in the wake of the pandemic, the first of which was to allow for the borrowing of a trillion baht. The PM promises full transparency in how the funds are used, saying the loan has been taken out to prevent small businesses from going bust, which would lead to a further significant rise in unemployment.
A second decree is in place to enable small businesses and start-ups to take advantage of soft loans to survive the huge toll the virus has taken on the economy. Thai PBS World reports the Finance Minister as saying such businesses will receive help with their applications if they are unaccustomed to securing credit from banks.
While the first decree enabled the government to secure a trillion baht loan, the Bank of Thailand says neither the soft loan decree nor an additional bond stabilisation decree will mean more debt for the country. Rather the central bank's existing funds will be used to help the bond market and to give businesses the lifeline they need in the current exceptional circumstances.
SOURCE: Thai PBS World
Keep in contact with The Thaiger by following our
Facebook page
.
Ministry of Foreign Affairs announces re-entry procedures for foreigners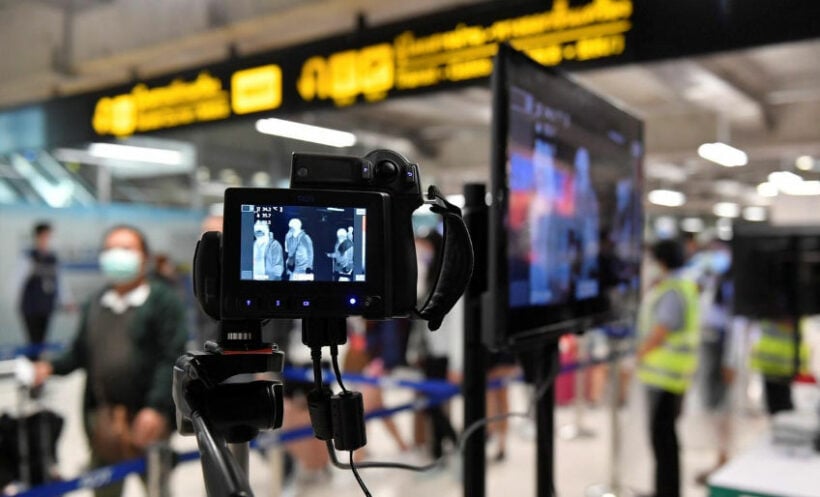 Yesterday the Ministry of Foreign Affairs sent out a letter to all Foreign Chambers of Commerce in Thailand explaining the details and procedures for non-Thai nationals to re-enter the country. This procedure is not for only for people who legally work in Thailand. Those who don't have a work permit yet, but your new employer can get permission from the Ministry of Labour, you can apply to enter Thailand.
Those who urgently need to enter the Kingdom may submit an application for entry. The Ministry of Foreign Affairs says it has consulted the board of Investment and the Ministry of Labour and they will consider all requests for entry on a case-by-case basis, taking into account the level of importance and urgency.
Here are the procedures for non-Thais wishing to submit an application for entry:
Contact the Royal Thai Embassy or the Royal Thai Consulate-General our country of departure.
Apply for a 'Certificate of Entry into the Kingdom of Thailand (note that 10 working days before departure)Documents required

Copy of work permit
Copy of letter of permission (issued by Thai government)
Valid Health insurance (covering all expenditures of medical treatment, including Covid-19 worth at least 100,000 US dollars)

If the application is approved the Thai Embassy will be instructed to issue the "Certificate of Entry."

At the port of departure the following documents will be required before you can be allowed reentry.

a certificate of entry
A complete and signed 'Declaration form '
a "fit to fly" certificate (issued no more than 72 hours before flight)
Proof of health insurance covering all expenditures.

Upon entry into the Kingdom, all arrivals nationals will be subjected to a mandatory 14 day state quarantine.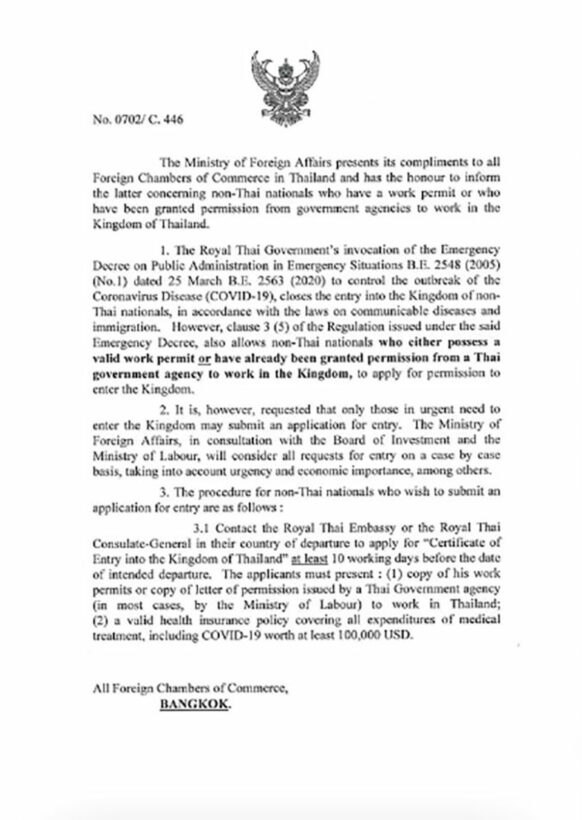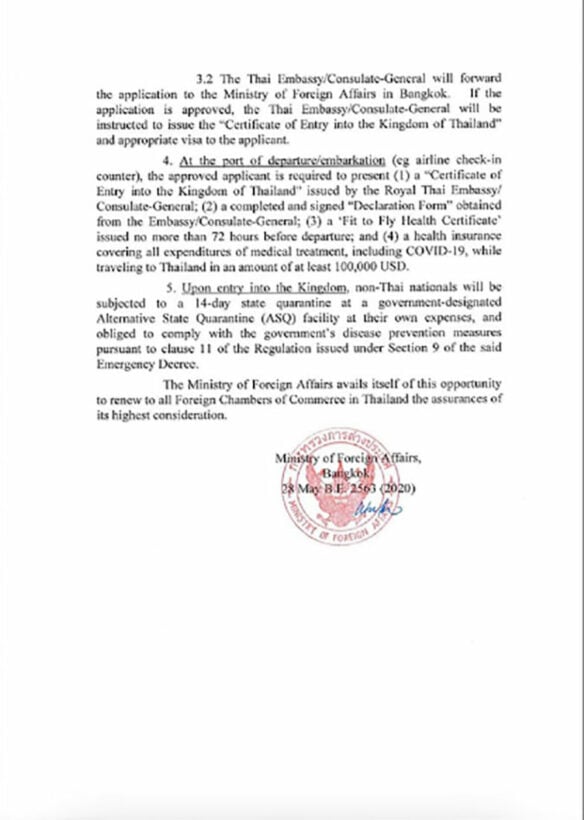 Keep in contact with The Thaiger by following our
Facebook page
.