Health Minister hits back at accusations of vaccine "failure"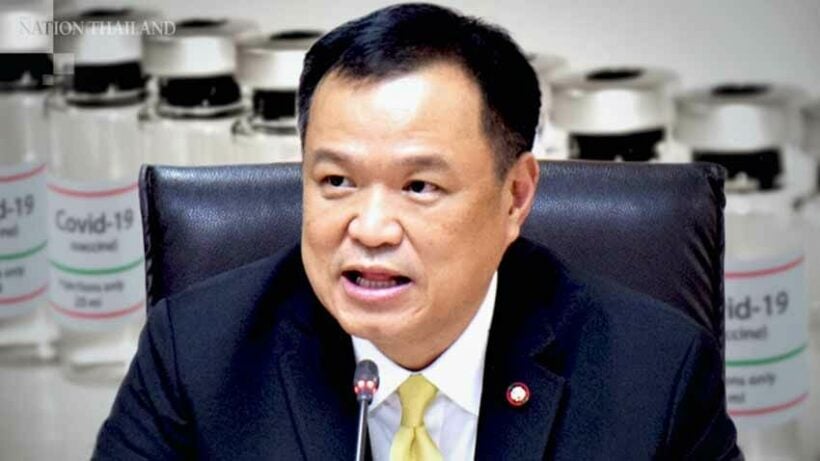 Thailand's Public Health Minister has refuted accusations that the government has failed to procure Covid-19 vaccines in a timely manner, demanding that the media stop confusing the public. A somewhat vexed Anutin Charnvirakul says Thailand cannot be compared with other countries as the Kingdom now has a deal to produce the AstraZeneca vaccine locally. This will make it easier to obtain and distribute the vaccines without having to wait on supplies from overseas.
"Thailand had devised a carefully planned vaccination programme. But when a second wave occurred, it was necessary to adjust the plan. While the second outbreak was the result of violations of laws – illegal entry and gambling — some are trying to point the finger of blame at public health officials. I don't want anyone to compare the Thai public health system with other countries because Thailand ranked high on the list of countries that are successful in containing the Covid-19 outbreak."
In January, Thailand was ranked 4th of 98 countries for its handling of the Covid-19 pandemic, according to Australian think-tank, The Lowy Institute. However, the government has been criticised by some for not signing up to the Covax agreement in the early days of the pandemic. Covax is an alliance of organisations, that includes the Coalition for Epidemic Preparedness Innovations and the World Health Organisation, which aims to guarantee the fair distribution of vaccines worldwide. The alliance supplies poor countries with free or low-cost vaccines, but Thailand is classified as "self-financing".
The Bangkok Post reports that countries that joined the Covax agreement are now starting their vaccine rollouts. Thailand decided not to join the programme, choosing instead to strike deals with manufacturers directly. Anutin says the first doses of Covid-19 vaccines should arrive this month and will be given to priority individuals.
He has also confirmed that the private sector and local administrations are not authorised to purchase vaccines. Several business groups and representatives on the southern island of Phuket had proposed funding the vaccination of 70% of the island's population, with the aim of achieving herd immunity and being able to open to international tourists from October 1.
Meanwhile, PM Prayut Chan-o-cha says the Kingdom will take delivery of 200,000 vaccine doses this month, with a further 800,000 arriving next month, and 1 million in April. Health officials say Thailand will have vaccinated 50% of its population by the end of the year.
SOURCE: Bangkok Post
Keep in contact with The Thaiger by following our Facebook page.
Never miss out on future posts by following The Thaiger.
Second batch of China's Sinovac Covid-19 vaccine to arrive in Thailand on March 25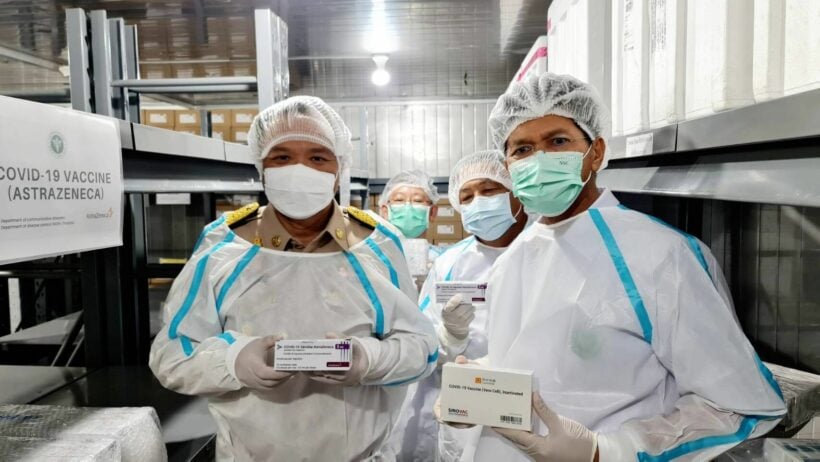 A second order of China's Sinovac Covid-19 vaccines are expected to arrive on March 25, Public Health Minister Anutin Charnvirakul announced today. 800,000 doses are set to be sent to Thailand later this month.
Along with informing the Thai government on the expected arrival date for the vaccines, Chinese officials also asked that the Thai government consider vaccinating Chinese nationals who are living in Thailand and establishing of a China Immunisation Centre for Overseas Chinese. Nation Thailand reports "Thailand will continue to seek support for the vaccine from China as a friend."
There's also talk of a travel bubble between the 2 countries for those who are vaccinated against the coronavirus.
The first batch of 200,000 doses arrived last month along with another shipment of the AstraZeneca vaccine. Altogether, the Thai government ordered 2 million doses of China's Sinovac vaccine.
SOURCE: Nation Thailand
Keep in contact with The Thaiger by following our Facebook page.
Never miss out on future posts by following The Thaiger.
Travellers undergoing yacht quarantine to wear wristbands to track location and monitor health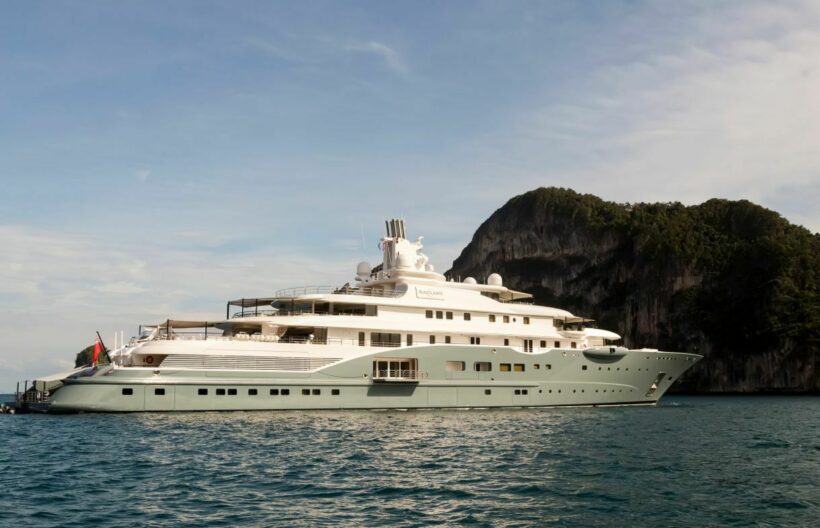 Foreign tourists travelling to Thailand by yacht and undergoing the mandatory quarantine period onboard the vessel will be asked to wear a smart wristband to monitor their health and track their location. The Digital Economy Promotion Agency teamed up with Advanced Info Service, known as AIS, and Phuket tourism operators to launch the so-called "Digital Yacht Quarantine" programme.
Apparently, tourist disappearances aren't that uncommon and the digital tracking wristbands will help make sure tourists are safe. Here's what the Bangkok Post wrote:
The use of the wristband also ensures the safety of tourists as about two tourists disappear from Phuket each month while travelling and it costs 4-5 million baht to search for each person.
Along with tracking location, the smart wristbands also monitor pulse, blood pressure and body temperature. If there is an emergency, an alert will be sent to authorities.
The yacht quarantine is expected to bring in 1.8 billion baht in tourism revenue, according to the Bangkok Post. About 100 yachts set to dock in Thailand with around 300 to 500 tourists are expected to undergo the onboard quarantine.
Since restrictions were imposed last year on international travel, tourism officials have been brainstorming ways to bring in foreign travellers safely, without risking the spread of the coronavirus, to help revive tourism dependent areas. Last year, Phuket lost 320 billion baht in revenue and the number of tourists on the island dropped from 40,000 to 50,000 visitors per day to just hundreds, according to the Post.
The agency's president and chief executive Nuttapon Nimmanphatcharin says the island province is a "magnet" tourist attraction.
"Tourism is a key sector where technology can be used to address the problem and boost travel."
SOURCE: Bangkok Post
Keep in contact with The Thaiger by following our Facebook page.
Never miss out on future posts by following The Thaiger.
Thailand to issue vaccine certificate to everyone who gets 2 doses of Covid jab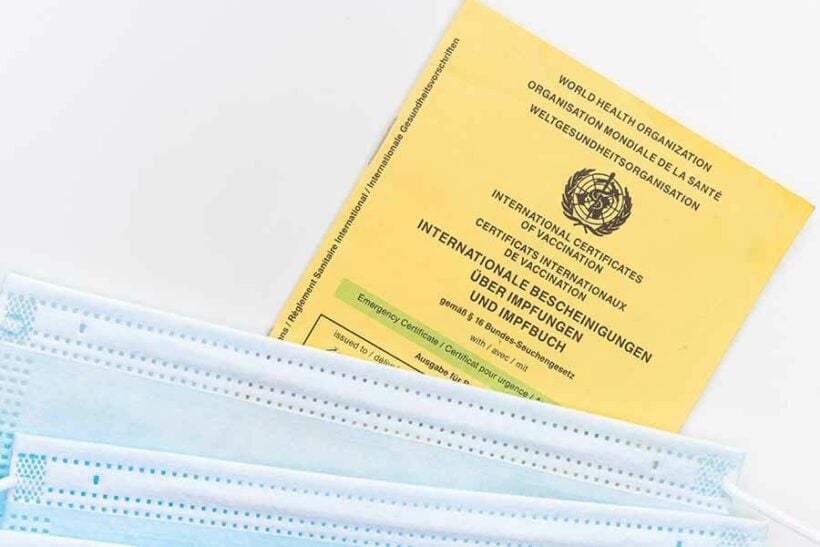 Thailand's Public Health Minister says everyone who receives both doses of a Covid-19 vaccine will be issued with a vaccine certificate. The vaccine certificate will be similar to the vaccination books already in circulation for some time and used to prove inoculation against yellow fever. According to a Coconuts report, both the paper and online version of the certificate will cost 50 baht and will be available from hospitals administering the vaccines.
While there is currently no standard vaccine passport, with most countries waiting for World Health Organisation guidance on the matter, it's hoped Thailand's vaccine certificate could help citizens with international travel plans. Anutin says recipients can use them for international travel and the certificates will have a validity of 1 year.
The government is also considering a reduction in mandatory quarantine for vaccinated foreigners entering the Kingdom. A proposal going before the government's Covid-19 task force on Monday includes cutting quarantine to 7 days for vaccinated visitors or reducing it to 10 days for unvaccinated arrivals who have tested negative 72 hours prior to travel. It's understood the 7 day quarantine would apply to travellers who have been vaccinated for at least 2 weeks, but no longer than 3 months.
The proposals come as vaccine rollouts continue around the world, although Anutin points out that travellers from South Africa will not be eligible for reduced quarantine, due to the highly-contagious variant detected there, which health officials fear may be more resistant to vaccines.
Meanwhile, the Health Minister has even hinted at quarantine being cancelled completely if Thailand manages to inoculate 70% of people with underlying conditions and those working in the health and tourism sectors by October. Vaccine registration is set to kick-off in May, with the full national rollout beginning in June, when additional doses of the AstraZeneca vaccine are expected to arrive.
SOURCE: Coconuts
Keep in contact with The Thaiger by following our Facebook page.
Never miss out on future posts by following The Thaiger.