Experimental antiviral drug Remdesivir fails first clinical trial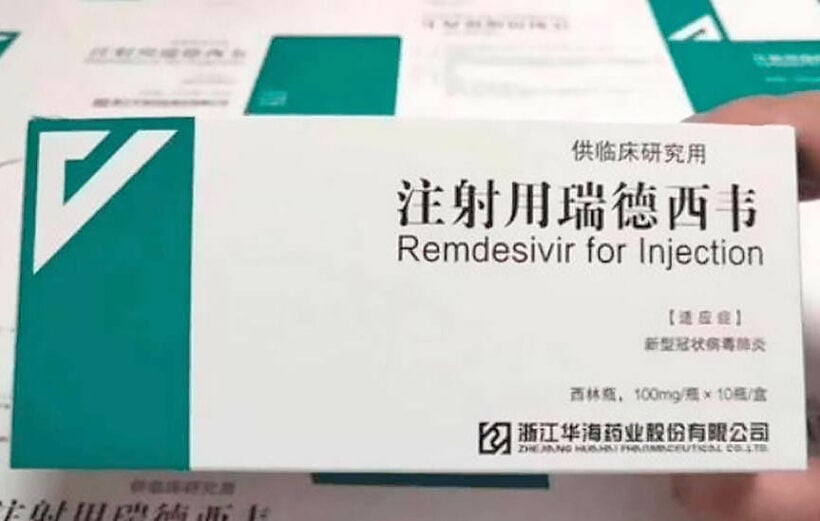 Reports are emerging that the experimental antiviral drug Remdesivir, developed by the American pharmaceutical company Gilead Sciences, has failed in its first randomised clinical trial to treat Covid-19, according to draft documents accidentally published by the World Health Organization and seen by the Financial Times. Gilead disputed how the now deleted post characterised the findings, saying the data showed a "potential benefit."
Gilead originally developed Remdesivir as a treatment for the Ebola virus, where it showed promise at stopping the virus from replicating in clinical trials, but it was never approved.
Numerous media report that researchers in China carried out a study on 237 patients, giving the drug to 158 and comparing their progress with a control group of 79.
According to a summary Remdesivir was "not associated with a difference in time to clinical improvement" compared to the control group. Use of the drug was not associated with patients getting better faster, and 13.9% of patients receiving the drug died, versus 12.8% getting standard care.
A spokesman for Gilead told media, "We believe the post included inappropriate characterisations of the study," saying it was terminated early due to low enrollment and was not statistically meaningful.
"As such, the study results are inconclusive, though trends in the data suggest a potential benefit for Remdesivir, particularly among patients treated early in disease."
The clinical trial does not represent the final word on the matter and there are several large-scale trials in advanced stages that should soon provide a clearer picture.
Earlier this month, a study in the New England Journal of Medicine showed positive results for Remdesivir, with 68% of patients improving on the drug. But the study was not an official trial but rather the collation of data from patients who had been given the drug on a "compassionate use" basis, and and was not a double-blind study or compared to any control group. The scientists behind the study and even Gilead warned at the time that it was not conclusive.
Remdesivir, which is normally given intravenously, was among the first drugs proposed as a treatment for the virus and as such still has great hopes riding on it. It belongs to a class of drugs that act on the virus directly as opposed to controlling the abnormal and often lethal autoimmune response it causes. It mimics one of the four building blocks of RNA and DNA and gets absorbed into the virus's genome, which in turn stops it from replicating.
But the drug is highly toxic and many medical experts were already warning against its use in the early days of the outbreak, as severe or critically infected patients died after using it.
Many doctors are warning that all clinical trials conducted influenced by major pharmaceutical entities should be regarded with extreme caution as they for-profit organisations.
SOURCES: Thailand Medical News | Financial Times
Want more from the Thaiger family?
📱 Download our app on Android or iOS for instant updates on your mobile
📧 Subscribe to our daily email newsletter
👍 Like/Follow us on Facebook
🔔 Subscribe to or Join our YouTube channel for daily video updates
Pfizer vaccine OKed for US children 12-15, critics urge better use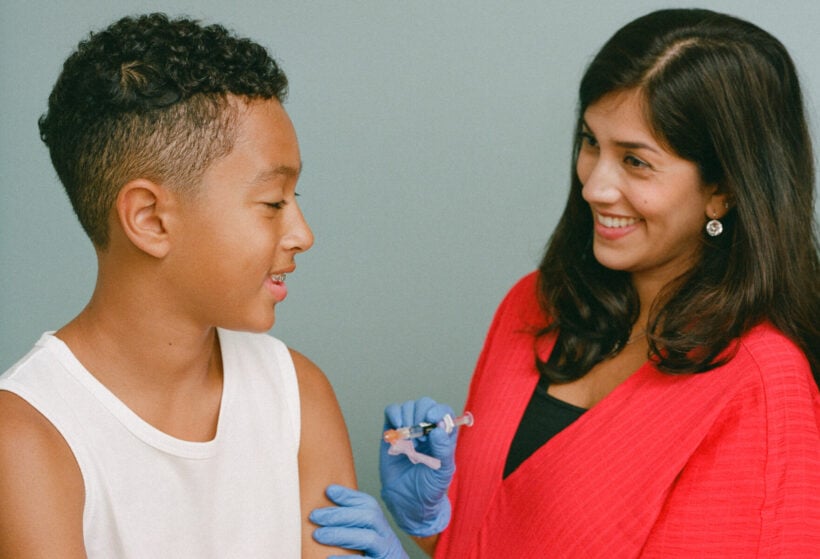 While drug regulators authorised Pfizer vaccine for children aged 12 to 15 in the US, critics are saying that the jabs would be more useful if sent to poor countries. The American Food and Drug Administration cleared the vaccine on Monday, saying that it was safe for children over the age of 12, and the US Centres for Disease Control will now convene an advisory committee to discuss the formal recommendation. But there are many countries where very vulnerable people still have not had access to any vaccine. Children are considered to have a minimal risk for Covid-19.
The head of the World Health Organisation spoke critically against vaccine diplomacy, the red tape and international negotiation that is slowing the distribution and administering of vaccines to other countries in need. The United States is one of many wealthy nations that have been able to quickly spread the vaccine throughout its population, with over 115 million people already fully vaccinated. The American economy is the world's biggest, and thanks to the rapid vaccination, governmental authorities have begun to loosen restrictions related to Covid-19 and begin to revive the ailing economy.
President Joe Biden hailed the vaccine approval for children aged 12 to 15, saying that it was a promising development and will help the country fight against the Coronavirus. But the United States has been coming under increased pressure to aid in getting vaccines to less fortunate countries with greater need. The United States has recently joined the push to convince Covid-19 vaccine manufacturers to release their intellectual property rights in order to allow other nations to produce vaccines locally.
Here in Thailand, Americans have been calling for the United States government to make arrangements for expats and citizens abroad to get vaccinated when they're in countries that do not provide them with vaccines. At the same time, many frustrated Thai people with the means to travel to the US are participating in vaccine tourism, planning American vacations where they can get vaccinated.
The head of the European Medicines Agency believes that the EU will also approve the Pfizer vaccine for children aged 12 to 15, possibly within this month. The move will further help vaccination efforts it hopes to jumpstart European economies. As Covid-19 restrictions are being lifted, the Justice Minister in Spain reminded people the coronavirus is not gone and they need to behave responsibly following the end of a six-month state of emergency there. People had responded by dropping masks and social distancing protocol to celebrate in the streets. Greece has reopened schools for younger children up to middle school and hopes to remain open from May 14th for the tourism season. Ireland also revoked domestic travel bans allowing people to move around the country more freely again.
SOURCE: Thai PBS World
Want more from the Thaiger family?
📱 Download our app on Android or iOS for instant updates on your mobile
📧 Subscribe to our daily email newsletter
👍 Like/Follow us on Facebook
🔔 Subscribe to or Join our YouTube channel for daily video updates
Wednesday Covid UPDATE: 24 deaths and 1,983 new infections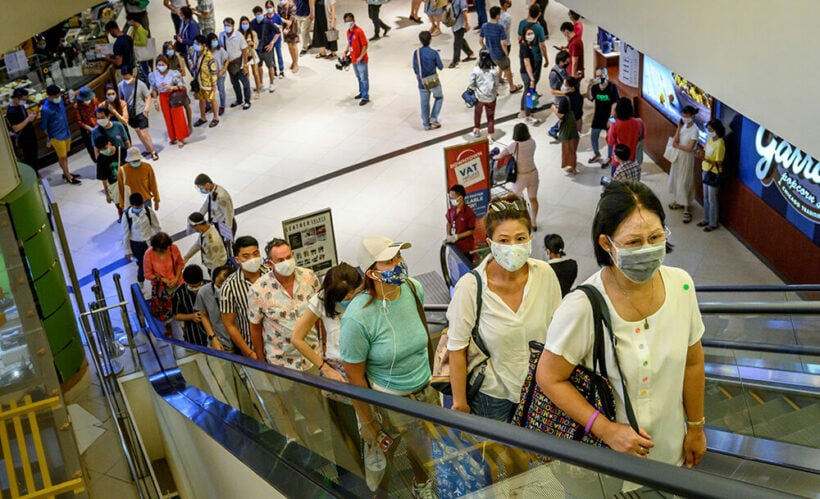 The Thai public health ministry is reporting an additional 34 Covid-related deaths and 1,983 new infections from the past 24 hours of Bangkok and provincial reports. We'll post all the provincial numbers just after lunch when they become available.
• Bangkok health officials are aiming to get around 70% of the Bangkok's residents – about 5 million people – vaccinated within 2 months.
Yesterday PM Prayut Chan-o-cha noted that the number of people registering for vaccinations with the government had fallen below target.
• Krabi's tourism operators are urging the government to push forward with local vaccination plans and commit to regulations for the province's national parks so they can proceed with plans to re-open on October 1.
Ekawit Pinyotamanotai, president of the Krabi Tourism Association, says that "vaccine readiness is the key factor to build the confidence of locals and tourists".
• The Marine Department is imposing strict new social distancing and regular cleaning aboard boats on the capital's main canal routes for passenger ferries. They are also ordering more frequent services to spread out the load on each boat.
Boat operators will now add more trips during the morning rush hour from 7am to 8.30am and in the evening from 4:30pm to 6pm. The service frequency will increase from 5-7 minutes to 2-3 minutes to prevent crowding on both boats and piers – Nation Thailand
Want more from the Thaiger family?
📱 Download our app on Android or iOS for instant updates on your mobile
📧 Subscribe to our daily email newsletter
👍 Like/Follow us on Facebook
🔔 Subscribe to or Join our YouTube channel for daily video updates
PM Prayut pushes vaccine priority for the national agenda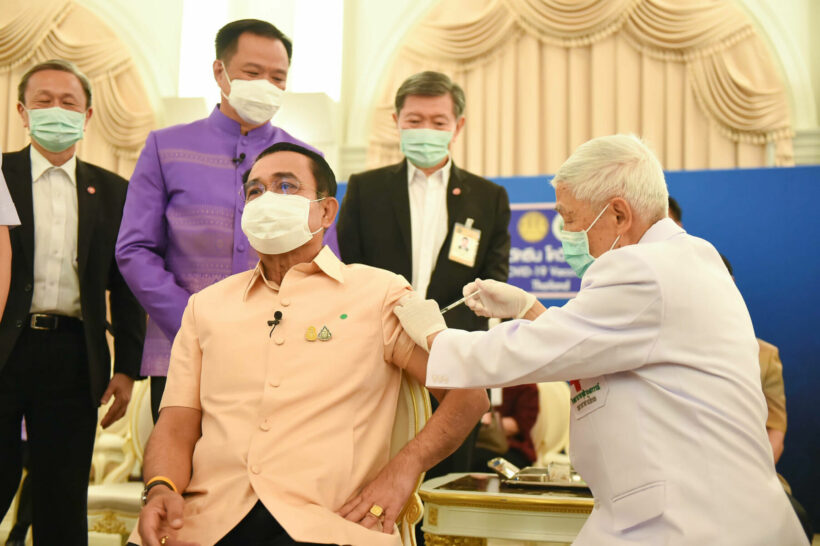 PM Prayut Chan-o-cha asked the Thai cabinet to make the Covid-19 vaccine part of the national agenda in order to make it Thailand's top priority. He urged Thai people through a Facebook post to get vaccinated and not hesitate. The PM reminded people that getting everyone vaccinated to the point of herd immunity is the only way to end the Covid-19 pandemic and the resulting economic crisis. He also reassured people that all vaccines administered in Thailand are tested and approved by the Ministry of Public Health, and are safe.
Thailand is set to receive 100 million vaccines by the end of 2021 and plans are on the agenda to secure another 50 million jabs. The goal is to develop herd immunity to cripple Covid-19's rapid spread by vaccinating 50 million Thai people. Domestic vaccine production is scheduled to manufacture a minimum of 61 million AstraZeneca vaccines with Siam Bioscience authorised to produce the jabs in Thailand. The company has a technological transfer agreement with AstraZeneca and hopes that it can ramp up production to be the hub of AstraZeneca's distribution within Southeast Asia.
PM Prayut stressed the safety of the jabs after a few high-profile negative side effects have spread fear throughout the Thai population, slowing down his vaccine agenda. He asserted that all cabinet ministers had already received Covid-19 jabs and didn't experience any side effects, with the PM himself having been filmed and photographed receiving the AstraZeneca vaccine.
He reassured that side effects are generally minor and safer than Covid-19 itself and that severe or fatal side effects are exceedingly rare. Health systems are in place as part of the vaccine agenda to observe and treat anyone that experiences negative reactions after being vaccinated. Millions of people worldwide have been vaccinated already with very few negative effects. And even the vaccines that are less effective against Covid-19 completely have been proven to be extremely effective in reducing the severity of the virus, thus preventing hospitalisation and saving lives.
SOURCE: Thai PBS World
Want more from the Thaiger family?
📱 Download our app on Android or iOS for instant updates on your mobile
📧 Subscribe to our daily email newsletter
👍 Like/Follow us on Facebook
🔔 Subscribe to or Join our YouTube channel for daily video updates