Coronavirus UPDATE: China stabilises, Asian markets recover slightly, Italy goes into 'lockdown'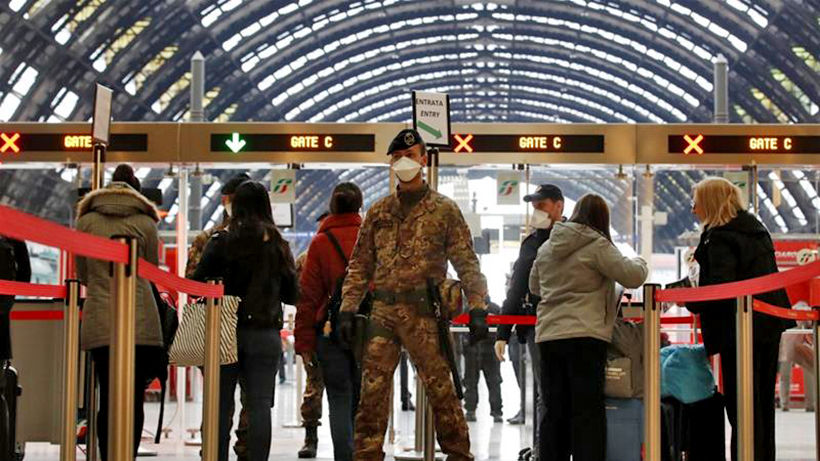 More than 4,000 people have now succumbed to the Covid-19 coronavirus as it continues spreading around the globe. As of 12pm today, 4,027 have died from the virus, there are 114,422 cases confirmed around the world and 64,081 people have fully recovered. Whilst most of the cases and deaths are still in mainland China but the numbers of new cases have dropped dramatically – only 19 in the past 24 hours. Compare this to the middle of January when there were around 2,000 new cases each day.
But the outbreak is reaching a critical phase in other parts of the world – Italy, Germany, France, Spain, Iran, South Korea and the US continue to show concerning growth in recent cases.
• This morning most of the markets around the Asia Pacific have edged higher after novel coronavirus fears and an oil price war sparked a market panic yesterday. Starting downunder, the Australia's benchmark S&P/ASX 200 is up 1.6%. It's now trading nearly 19% below its most recent high, just under the 20% that defines a bear market. China's Shanghai Composite was flat, remaining in negative territory.
South Korea's Kospi Index was up 0.3%, while Hong Kong's Hang Seng Index was 0.6% higher.
Japan's Nikkei 225 has been the region's worst performer today, though was last only down 0.5%. Japanese companies report they are also feeling financial pain. Nissan's vehicle sales in China dropped 80% in February, year on year.
In the US, after initially falling after hours, Dow futures shot up 550 points, or 2.4%. The Dow ended yesterday with its biggest point drop in history, or 7.8%, its worst day since the 2008 financial crisis.
Around the world….
• The Singaporean government is now charging visitors for any coronavirus treatment, the city-state has confirmed three new imported infections, two of which were Indonesians. Indonesia reported its first virus case in early March and officially has only 19 infections compared to 160 in Singapore. Medical experts continue to question how many cases have gone undiagnosed in Indonesia, a country which has also benefitted from a lot of Chinese tourism.
Singapore's new measures, official came into effect on March 7, when authorities said 2 "symptomatic Indonesian travellers" arrived in Singapore.
• Japan reports 26 additional coronavirus cases. Japan's Health Ministry announced an additional 26 cases of the coronavirus. The additional cases bring the country's total to over 1,210 confirmed cases.
• Vietnam confirms one new coronavirus case, bringing the country-wide total to 31. The new case is a 49 year old UK citizen who was on the same Vietnam Airlines' flight with a previously confirmed patient flying from the UK to Vietnam on March 2. He is the eighth British national and the 10th foreign patient confirmed in Vietnam who was on board the same flight. Of the 31 patients in Vietnam, 16 have now been discharged.
• China has only reported 19 new cases in the past 24 hours, a drastic drop from the peak just a month or two ago. Yesterday was also the third straight day where there were no locally transmitted cases outside of Hubei province, the provincial origins of the virus at the end of December last year.
Chinese President Xi Jinping is expected to visit healthcare workers, soldiers, police officers, health officials, volunteers, patients and residents in Wuhan today. It will be Xi's first visit to the city since the coronavirus outbreak began. The visit will likely provide important propaganda value for the Chinese government.
• In South Korea the number of new cases per day continues to drop. The country's health minister says he was "cautiously expecting we have passed the peak".
• Europe is now facing a worsening outbreak. All of Italy's 60 million residents are under a "viral quarantine" protocol meaning restricted movement, school closures, a ban on all public events, and suspended religious services including weddings and funerals. But flights and most public transport are still operating.
The drastic measure of a country-wide lockdown was taken in response to the Italian healthcare system overwhelmed by the flood of patients. Today Italy reports a total of 9,172 cases, overtaking South Korea and becoming the worst outbreak outside of China.
France Spain, Germany, Switzerland, Netherlands, Sweden, Belgium and Norway all have over 200 cases.
• The US now has at least 728 cases and 27 deaths, creating panic as the surge hits many states unprepared for the rise in new cases. Many states are declaring states of emergency, and even congressmen are self-quarantining after coming in contact with an infected patient in the past two weeks.
Schools across the US are beginning to close and moving to online classes. Large employers like Amazon are pushing workers out of their offices in virus-hit areas and asking them to work from home.
Keep in contact with The Thaiger by following our
Facebook page
.
Drug party raided in Chiang Rai for defying public gathering ban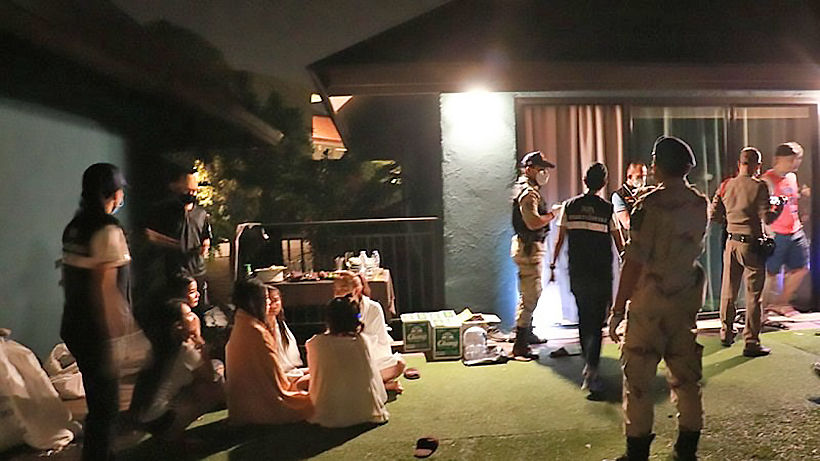 Authorities are cracking down and enforcing the ban on on public gatherings under the the state of emergency declared to fight the Covid-19 coronavirus epidemic last week. 22 people were arrested at a drug party in Chiang Rai yesterday for "gathering in defiance of the Emergency Decree". 10 men and 12 women between the ages of 20 and 30 were nabbed at a hotel in the province's main city district.
(Gamblers also arrested in Phuket, below)
The 22 were attending a pool party where alcohol and drugs such as ecstasy and ketamine were allegedly being sold. Police confiscated 237,000 baht in cash found in a bag, along with illicit drugs for evidence.
An initial investigation showed that a 24 year old man from Trat province in Thailand's east, on the Cambodian border, had been holding parties at the hotel since last Thursday. It's believed he started holding the parties because most public venues are unavailable during the virus scare.
Chiang Rai's governor says police raided the hotel in tambon Tha Sut after a tip-off.
Apart from drug charges, the detainees will also be punished for defying the Emergency Decree, which bans gatherings. The penalty is two years in prison and/or a fine of up to 40,000 baht. Chiang Rai has 5 confirmed coronavirus cases.
In a related development, 6 gamblers were arrested in Phuket near the island's Muang district yesterday.
The detainees were identified as 51 year old Natthawut, 55 year old Suwit, 40 year old Charoon, 48 year old Praiwan, 28 year old Natthapol and 39 year old Natthapong. No surnames were added to the report. Police say that while some were wearing masks to potentially protect themselves from the coronavirus, they were violating the Emergency Decree by sitting around a table to play the games. Gambling is officially illegal in Thailand, apart from the bi-monthly lottery.
SOURCE: Bangkok Post
Keep in contact with The Thaiger by following our
Facebook page
.
Power to the people – Energy Ministry promises adequate supply of electricity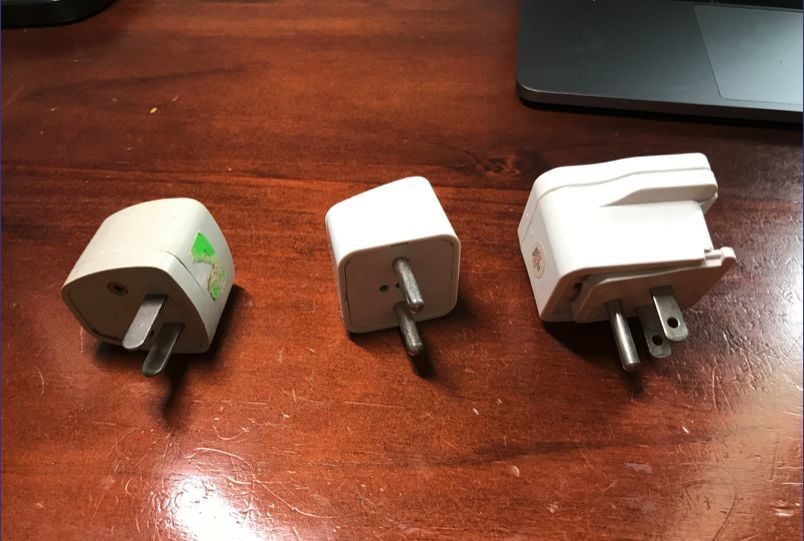 Thailand's Energy Ministry says that there will be adequate electricity supply to fuel the demands of people staying and working from home. Millions are cooped up in their homes, raising the domestic electricity supply usage. But many businesses have closed up, easing up some of the demands on total supply.
Energy Minister Sonthirat Sonthijirawong says there should be enough power for everyone despite the government's recommendation to work from home.
"We have increased generating capacity by over 30%from power plants nationwide."
"I have ordered all related agencies, especially the Electricity Generating Authority of Thailand, to monitor power usage closely and evaluate the situation on a daily basis as people tend to use more electricity during March – April.
Although power consumption will rise among residential users, electricity usage among business and industry has been suppressed with orders to shut down until April 30. Department stores, restaurants, schools, universities, entertainment venues and much of Thailand's manufacturing industry have been shuttered.
"Companies that let their employees work from home will save on power bill too."
The Minister says that in the first three weeks of March, oil consumption in Thailand had gone down by 8% compared to February's total. He estimates that total oil consumption for the year could drop by 20%
"The trend should continue to go down as the government has postponed the Songkran holidays, which usually cause oil consumption to spike in April", (due to people travelling back to their provinces for Thai New Year).
SOURCE: The Nation
Keep in contact with The Thaiger by following our
Facebook page
.
Nearly 20 million try to register, crashing Thai government's payout website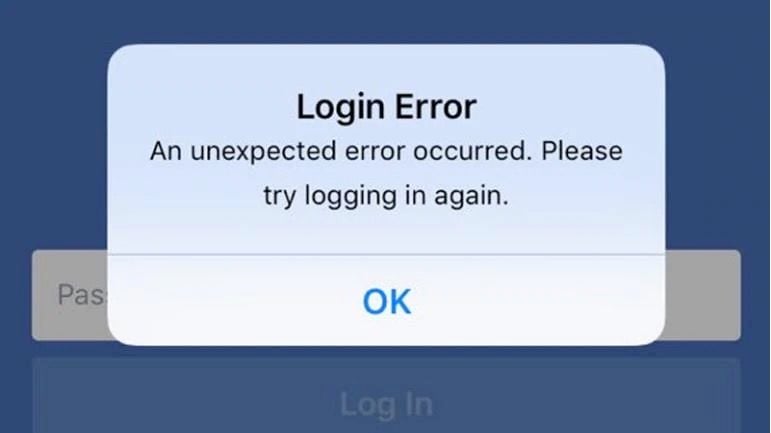 Four major Thai banks closed their branches this weekend, partly in anticipation of a surge of applicants for the governments recently announce 5000 baht handout scheme for "informal" workers affected by the Covid-19 coronavirus pandemic. According to Krungthai Bank, nearly 20 million people tried to log in and register on the government's payout website, which opened last night, significantly higher than the previously expected number of around 3.5 million. The number briefly crashed the website.
The site was created for Thais who are deemed informal workers – those in the entertainment sector, freelance worker and the self-employed, to provide them with 5000 baht a month cash during the current crisis where many nonessential businesses are now closed to help prevent the spread of the virus.
Government officials have stressed there is no time limit on registration and there is "no need to rush", but it's quite clear many people are desperate for cash as the numbers of unemployed informal workers appears to be far beyond previous estimates.
The president Krung Thai Bank revealed that, even before opening the website at 6pm last evening, there were nearly two million people already "queueing" at the website, waiting and refreshing. Shortly after opening, that number reached nearly twenty million people (Thailand's total population is 66 million).
The website crashed, but was brought back online later with improvements. However many social media users complained of not being able to register or errors, many spending hours in their attempts.
SOURCE: The Pattaya News
Keep in contact with The Thaiger by following our
Facebook page
.