8 new Covid-19 case, total now 3,000, no new deaths (Friday)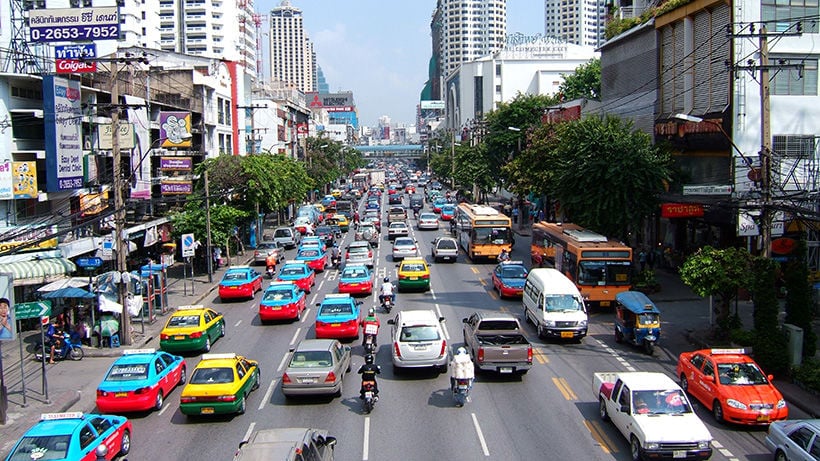 The spokesman of the Covid19 Coronavirus Situation Administration, Dr Taweesilp Visanuyothin, announced 8 new confirmed cases of Covid-19 at this morning's daily press briefing in Bangkok, maintaining the recent trend of single-digit daily increases. The new cases take Thailand's total to 3,000 since the beginning of the outbreak. No new deaths were reported, leaving the tally at 55.
All of the 8 cases announced today were located in the deep South and either imported by, or associated with, people who recently travelled from Malaysia.
5 of the new cases are in the Sadao district, Songkhla, all imported by illegal migrants from Malaysia, women aged 19-30 who were already in state quarantine and had no exposure to the general public.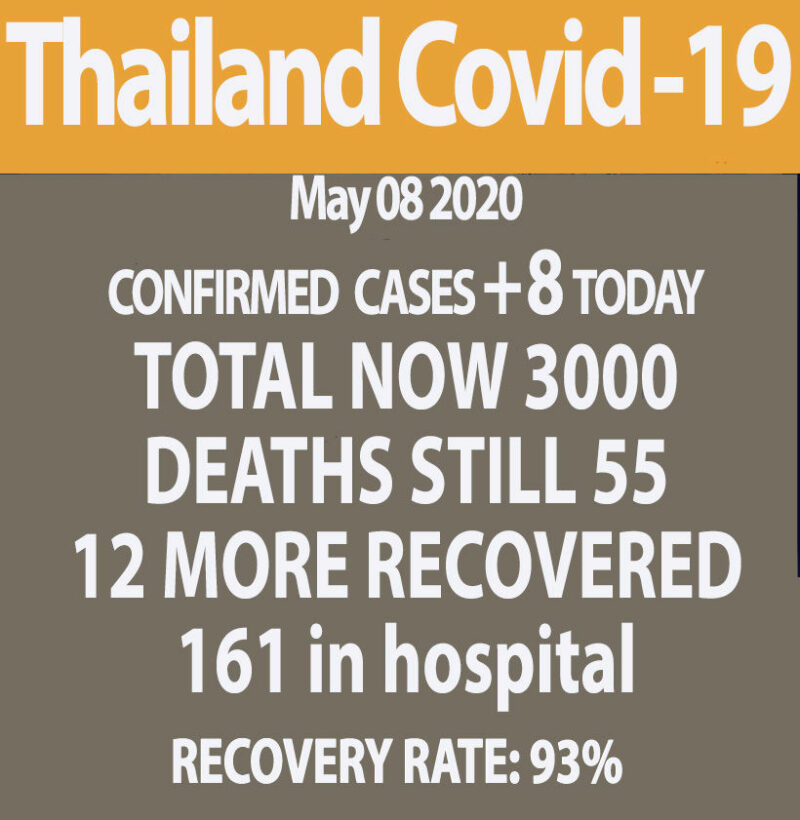 The 3 others, a 45 year old man and two 51 year old men, were detected by proactive testing in Yala province, also at the border with Malaysia, and connected to confirmed patients who had recently visited there.
Only 161 patients remain under treatment for Covid19 in the entire country, with 12 more people being fully recovered and released since yesterday.
Of the 3,000 current cases, 2,784 have fully recovered and been released, making Thailand's recovery rate 93%. Chachoengsao, Nakhon Sawan, Phayao, and Surat Thani have joined the list of provinces without any new cases reported in the last 28 days.
There have been more than 3.84 million confirmed cases globally and around 269,500 deaths
SOURCES: The Pattaya News | Nation Thailand
Keep in contact with The Thaiger by following our
Facebook page
.
Mayor's statement sparks hope Chonburi beaches may reopen soon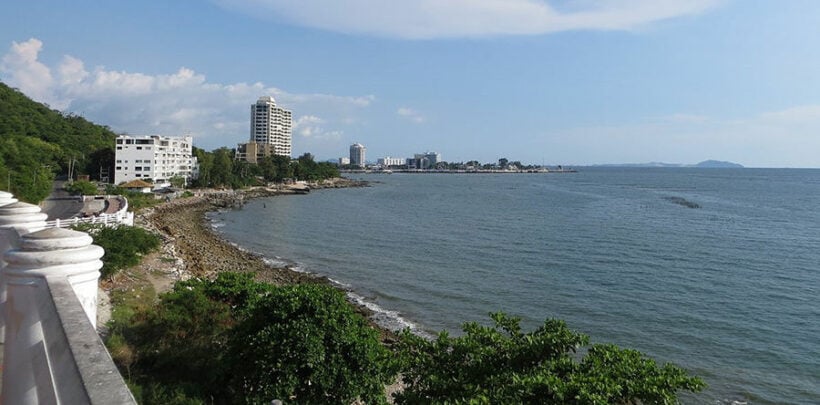 A Facebook post from the mayor of Saen Suk, home to the renowned Bangsaen beach, says beaches "may" reopen from June 1. (Before you ask, there is currently no official information on when Bangsaen, Pattaya or Phuket's beaches may actually reopen.)
Beaches in the eastern province of Chonburi were closed nearly two months ago as authorities enacted strict lockdown measures to control the spread of the Covid-19 virus. Chonburi has now had no new reported cases of the virus for more than 30 days and residents are getting antsy over the ongoing beach closures.
Authorities continue to state that the closures are to prevent unlawful gatherings and the risk of people travelling from nearby provinces, such as Bangkok, thereby causing a second wave of infections. Bangkok has the highest number of Covid-19 cases in the country. Despite this, local expats and Thais are demanding that Chonburi's beaches be reopened, particularly in light of this happening in other resort areas such as Hua Hin.
The Pattaya News reports that Bangsaen beach reopening does not necessarily mean Pattaya's beaches could also reopen as that decision lies with Pattaya's civic officials. Despite Pattaya not having any new reported cases of the virus for over 40 days now, Pattaya City Hall authorities remain concerned about mass gatherings, the consumption of alcohol and the risk that social distancing measures would not be adhered to were they to reopen the city's beaches.
SOURCE: The Pattaya News
Keep in contact with The Thaiger by following our
Facebook page
.
Emergency Decree extended through June amidst accusations of political motivation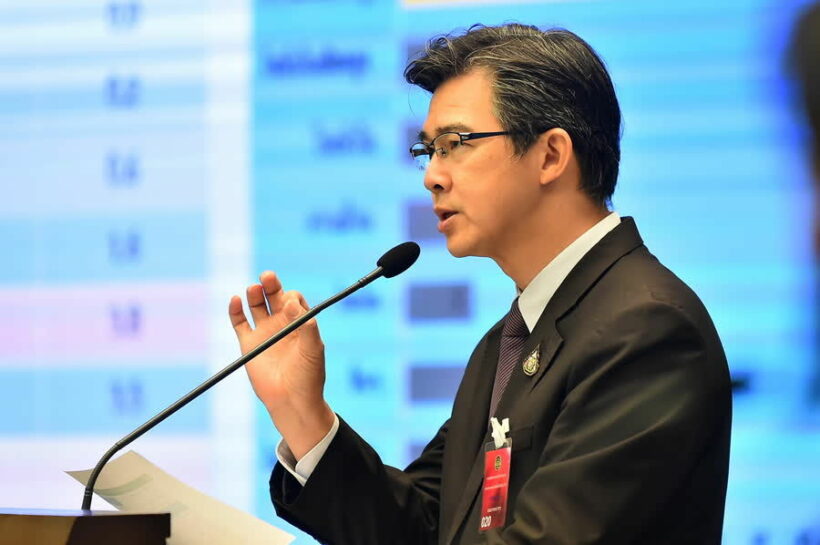 As widely predicted, the Cabinet yesterday extended the Emergency Decree for a third month, to its limit at the end of June. Dr Taweesin Visanuyothin, spokesman for the Centre for Covid-19 Situation Administration, quickly explained that the decree was enforced because it enabled more than 40 laws to be tied together to allow for quick enforcement at the national level. He says this helps the government tackle the crisis more efficiently.
Last week, government spokesperson Narumon Pinyosinwat hinted that the National Security Council wanted to extend the decree "because it would save lives". She also dismissed as "illogical" claims that the state of emergency was being extended so PM Prayut Chan-ocha could tighten his hold on power.
But non-profit organisation iLaw says the government should use a less restrictive, less severe method to impose controls on businesses, travel and public health. For instance, it could enforce the Contagious Disease Control Act to stop people gathering outside their homes, and close high-risk venues, as the act is more flexible than the Emergency Decree.
The panel chaired by the National Security Council's secretary-general is meeting today to discuss the third phase of easing lockdown measures, as well as whether the curfew hours should be cut a second time, from the current 11pm-4am to midnight-4am. The third phase of easing measures is thought to begin June 1.
The meeting's resolution will be proposed to the CCSA on Friday and guidelines for businesses and activities under the third phase will probably be announced Saturday.
Meanwhile, police in Bangkok are denying using the Emergency decree as a political tool after the arrest of 2 activists on Friday, saying they were simply doing their job.
SOURCE: Nation Thailand
Keep in contact with The Thaiger by following our
Facebook page
.
Covid-19 update: 9 new cases, all imported (May 27)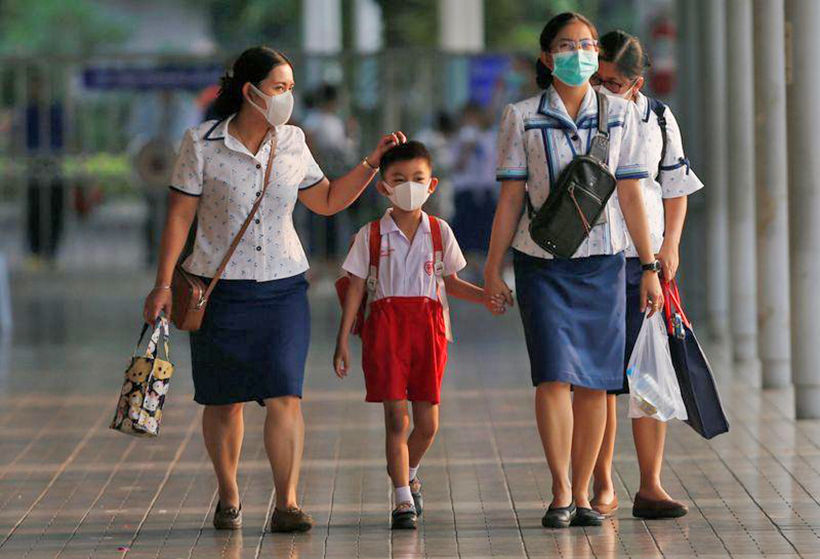 The Centre for Covid-19 Situation Administration announced 9 new cases of Covid-19 at this morning's daily press briefing. All 9 were 'imported' cases by Thai nationals returning from overseas, "bringing attention to the importance of the state quarantine process and border control", according to CCSA spokesman Dr Taweesilp Visanuyothin.
Of the 9 cases, two recently returned from the US. The two males, aged 18 and 27, flew back on May 12 and were found to be infected yesterday, the last day of their state quarantine. Both were asymptomatic. 6 students, aged 23 – 33, returned from Saudi Arabia. They first flew to Malaysia and then transferred to the Padang Besar border checkpoint. Officials of both countries suspect that the checkpoint is now a Covid-19 hotspot and should be closed for sanitation. 4 of the patients had high fever and cough, while two were asymptomatic.
A 34 year old masseur returned from Qatar on Friday with a high fever, coughing and no sense of smell during state quarantine. He tested positive for Covid-19 on Monday.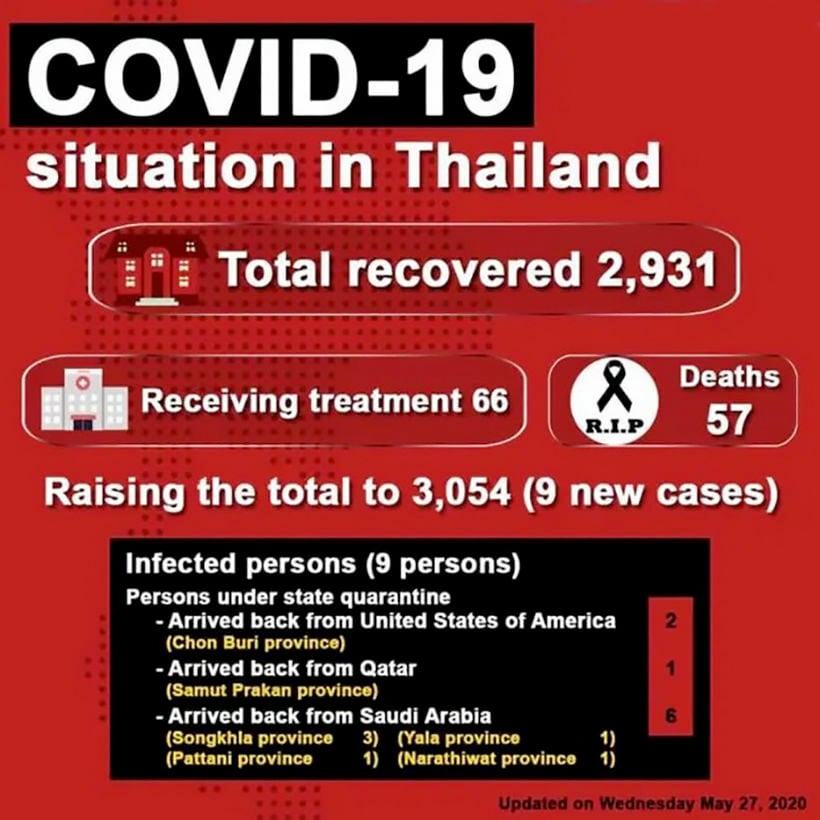 Dr. Taweesin suggested Thai nationals in Malaysia hurry up if they want to return home as the checkpoint is likely to be temporarily closed soon.
All international arrivals are banned until at least the end of June, and borders are closed, with the exception of Thai Nationals returning from abroad. Every Thai national must go through a mandatory state quarantine of 14 days which includes Covid-19 testing.
The fact that all 9 cases are imported makes today the second day in a row without a new locally transmitted case. Thailand has had a total of 3,054 cases of the virus since the start of the outbreak. 2,931 of the cases have fully recovered and been released with 2 new recoveries in the past 24 hours, leaving the recovery rate at 96%.
There are 66 cases remaining in hospital under treatment nationwide, with the majority being imported cases according to CCSA officials.
No new deaths were reported today, leaving the nation toll at 57.
SOURCE: The Pattaya News | Nation Thailand
Keep in contact with The Thaiger by following our
Facebook page
.