13 Bangkok businesses allowed to reopen tomorrow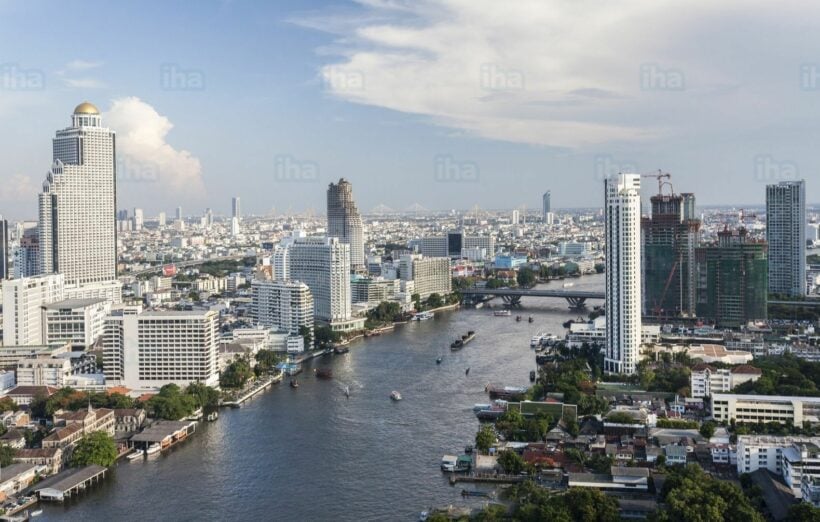 Tomorrow, 13 types of businesses in Bangkok are being allowed to reopen but must have strict disease control measures in place. The Bangkok Metropolitan Administration made the decision which would undoubtedly give many businesses some relief as well as potential customers.
Such businesses with restrictions include:
Banquet venues, which will need authorisation from BMA for events with over 300 participants
Amulet shops and markets
Beauty salons, tattoo and piercing shops
Fitness centers, but personal trainers and communal steam rooms are not allowed
Game Arcades; but all points of contact must be regularly disinfected and facemasks worn at all times.
Internet shops
Senior nursing homes, but with limited activities
Sports venues, except for boxing rings and race tracks, but no audiences allowed
Spas, Thai massage shops, excluding massage parlours
Gymnasia and boxing venues for training only
Bowling alleys and ice skating rinks, but no competitions or audiences allowed
Dancing academies
Martial art schools, but no tournaments or audiences allowed
Playgrounds, night entertainment venues, cock fighting, fish fighting, child care centres, theme parks, snooker clubs, bull fighting venues, massage parlours, tutoring schools and nurseries, however, are still ordered to stay closed.
The announcement comes after Bangkok saw 14 new cases today, joining 128 other cases reported in Thailand by the Centre for Covid-19 Situation Administration.
Meanwhile, plans for Chinese New Year seem to be on the back burner as the upcoming February 12 holiday has yet to see anything concrete to celebrate the new year. Pattaya city has decided to decorate its streets for the holiday, but like many other provinces, Chon Buri remains as a highly controlled zone, which essentially bans domestic and foreign tourists from entering, despite single digit infections being recently reported by authorities.
The lifting of the measures in Bangkok come after PM Prayut urged the public to stay away from social gatherings, specifically pointing out political gatherings, which have rocked the streets of the nation's capital for months.
SOURCE: Thai PBS World
Keep in contact with The Thaiger by following our Facebook page.
Never miss out on future posts by following The Thaiger.
Pro-democracy activist hit with 6 million baht fine for removal of plants at rally site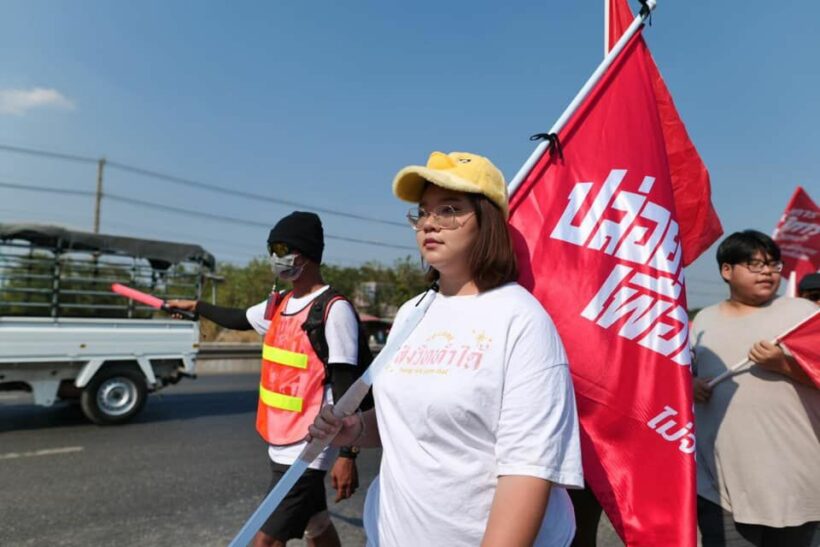 Protest leader Panusaya Sithijirawattanakul, aka "Rung", has been hit with a fine of nearly 6 million baht, after removing plants at Bangkok's Democracy Monument. Panusaya and 5 other activists have been charged with removing plants placed as decoration around the monument, during a political rally on February 13.
She says Samran Rat police station has ordered her to pay 5.9 million baht as a result of the action. She has also been charged with violation of the emergency decree and various disease control measures. In addition, she faces the serious charge of lèse majesté, following her role in a September 19 rally at the public square of Sanam Luang in Bangkok.
The Democracy Monument rally on February 13 was organised by the People's Movement, calling for the release of 4 fellow activists. According to a Bangkok Post report, the plants were removed to make way for the rally. Another prominent pro-democracy activist, Panupong Jadnok, aka "Mike Rayong" accuses officials of deliberately planting the trees to create an obstruction. The rally ended in skirmishes with police at the Supreme Court, near Sanam Luang. Protesters were attempting to reach the Bangkok Pillar Shrine, but had their passage blocked by police.
Meanwhile, over the weekend, the government banned mass gatherings, including political protests, ostensibly due to Covid-19 fears. The law has been published in the Royal Gazette, coming into effect on Saturday. However, activists from the People Go network defied the law over the weekend, gathering in protest at the Democracy Monument and calling for the release of the 4 activists held on lèse majesté charges.
Various groups, including Amnesty International and the UN Human Rights Committee, have criticised the government's use of the country's lèse majesté law, with Amnesty International describing it as an attempt to silence dissent.
SOURCE: Bangkok Post
Keep in contact with The Thaiger by following our Facebook page.
Never miss out on future posts by following The Thaiger.
Thailand's pro-democracy activists ignore emergency decree warnings over weekend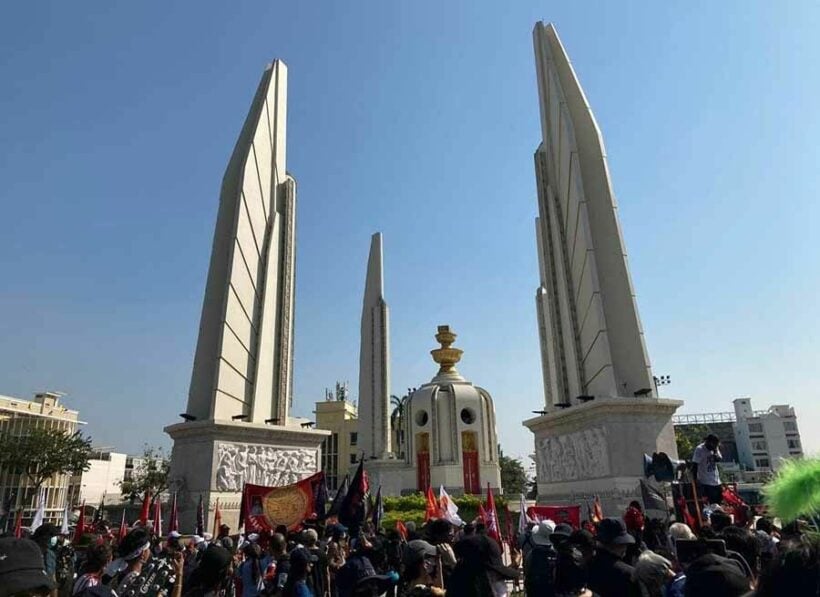 Ignoring a police warning not to violate the emergency decree, pro-democracy activists gathered in their hundreds at Bangkok's Democracy Monument yesterday. Although the anti-government protests have kicked off again after a 2 month hiatus, the numbers are well down on last years crowds, now measuring more in the hundreds than the thousands.
The Bangkok Post reports that members of the People Go network came together to call for 4 fellow activists to be released from Bangkok Remand Prison. The 4… Anon Nampa, Parit Chiwarak (aka. Penguin), Somyos Prueksakasemsuk, and Patiwat Saraiyaem… are being held on charges of violating section 112 of the Criminal Code (more commonly known as lèse majesté – criticising members of the Thai royal family). All 4 have been denied bail.
Officers from Samran Rat and Songkhram police stations issued statements to say the rally was in violation of the emergency decree. On Saturday, the government used the all-encompassing Covid-19 umbrella to issue a ban on political rallies across 6 provinces, including Bangkok.
Activist Jatupat Boonpattararaksa, aka, Pai Dao Din, ignored a police order for the rally to disperse and proceeded with setting up a stage at the Democracy Monument. He also gave assurances that the gathering would remain peaceful.
"We are not fighting the police deployed in front of us. We are fighting against dictatorship."
Activists had walked 250 kilometres, from the north-eastern province of Nakhon Ratchasima (also known as Korat), reaching Bangkok's Kasetsart University on Saturday. Yesterday, they ended their mammoth trek with a walk to the Democracy Monument.
SOURCE: Bangkok Post
Keep in contact with The Thaiger by following our Facebook page.
Never miss out on future posts by following The Thaiger.
Motorists told to avoid certain areas in Bangkok as protests planned for today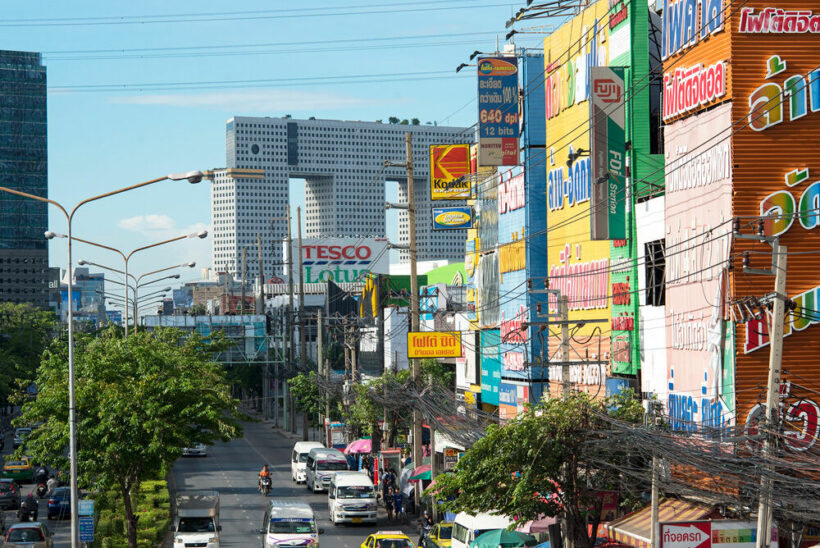 Bangkok motorists are being told to avoid areas where protests are planned to take place today. Kasetsart intersection, Lat Phrao intersection, Rachaprasong shopping district's Central World shopping mall and 11th Infantry Regiment barracks in Bangkhen are the sites where demonstrators are set to infiltrate.
The Metropolitan Police Commissioner says he is most concerned about the Lat Phrao intersection, due to the Redem or Restart Democracy group planning to hold a leaderless protest, which has been prone to violence in the past as demonstrated last Sunday. The group is an offset of the Free Youth movement, which is one of the main groups that have been demonstrating against the military-backed government.
The Redem protesters plan to march from the Lat Phrao intersection to the Criminal Court on Ratchadapisek Road, despite a law announced in the Royal Gazette last night which banned protests, mass gatherings and assemblies. The law stated the reasoning was not political, citing fears over Covid-19 instead.
The newly announced law would give the government a wider range of power in enforcing such public gatherings, with law-breakers being subjected to up to a 40,000 baht fine or up to 2 years in jail. The Redem group is expected to demand the release of core Ratsadon leaders and others being held in jail without bail.
The Ratsadon group reached the outskirts of Bangkok yesterday, after a nearly 250 kilometre-long march from the Thao Suranaree statue in Korat province's Muang district province. But they were met by police who tried to prevent them from marching further into Bangkok, but eventually allowed them to keep marching until they reached the Kasetsart intersection. The group is expected to end the march tomorrow, at Democracy Monument.
Despite the groups' plans to ignore the recent law that bans protests, police have warned that they will face charges if they defy the new order. 32 companies of anti-riot police have been placed on standby in light of the expected protests taking place in Thailand's capital today.
SOURCE: Thai Pbs World
Keep in contact with The Thaiger by following our Facebook page.
Never miss out on future posts by following The Thaiger.