Hà Tĩnh: Đốt than sưởi ấm, hai người nhập viện cấp cứu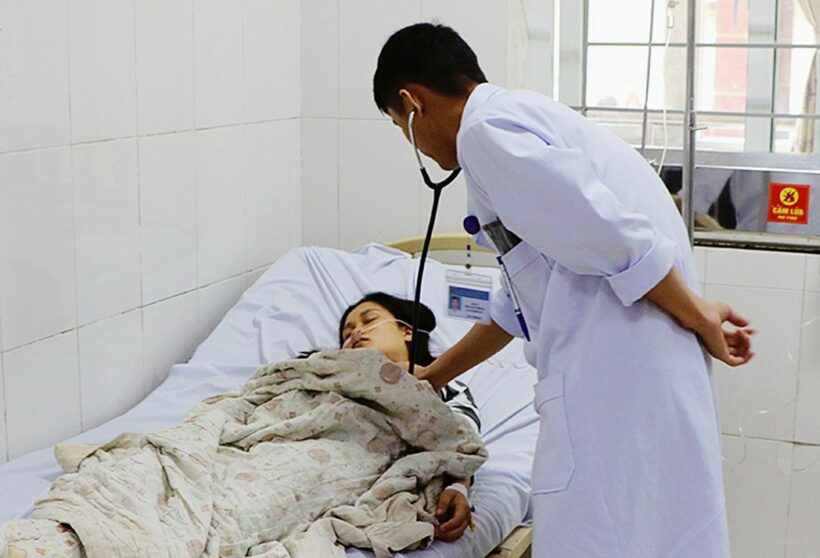 Ảnh: Đ.H/VnExpress
Chị Lê Thị Dung (28 tuổi) và bà Trần Thị Xuân (65 tuổi) được đưa đi cấp cứu trong tình trạng hôn mê, toàn thân tím tái vì hít phải khí than trong phòng kín.
Chị Dung (trú xã Thạch Bằng, huyện Lộc Hà, Hà Tĩnh) sinh con được ba hôm. Tối 3/12, do trời trở lạnh, bà Xuân đã đốt than củi trong lò, đặt ở dưới giường để sưởi ấm cho hai mẹ con chị Dung, sau đó cùng ngủ lại phòng.
Sáng nay 4/12, người nhà gõ cửa phòng chị Dung, song không thấy ai trả lời liền phá cửa vào thì phát hiện chị Dung và bà Xuân nằm bất tỉnh, toàn thân tím tái, cứng đờ. Bé sơ sinh nằm bên cạnh, tỉnh táo. Các nạn nhân lập tức được người nhà đưa tới Bệnh viện Đa khoa Hà Tĩnh cấp cứu.
Bác sĩ làm xét nghiệm lâm sàng, kiểm tra sức khỏe, kết luận chị Dung và bà Xuân bị ngộ độc khí CO trong phòng kín. May mắn, bé sơ sinh không bị ảnh hưởng. Hiện sức khỏe bệnh nhân đã ổn định, đang được theo dõi tích cực.
CO là chất khí không màu, không mùi, có khả năng khuếch tán mạnh, khi bị nhiễm độc thường rất khó nhận biết. Khí này được tạo ra từ các sản phẩm cháy không hoàn toàn của chất có chứa carbon. Ngộ độc khí CO sẽ dẫn tới tử vong hoặc để lại di chứng thần kinh nếu không được phát hiện và điều trị kịp thời. Trẻ nhỏ, phụ nữ mang thai và người cao tuổi có nguy cơ ngộ độc khí này cao hơn các đối tượng khác.
Nguồn: VnExpress

Join the conversation and have your say on Thailand news published on The Thaiger.
Thaiger Talk is our new Thaiger Community where you can join the discussion on everything happening in Thailand right now.
Please note that articles are not posted to the forum instantly and can take up to 20 min before being visible. Click for more information and the Thaiger Talk Guidelines.