Wai Khru – setting a bad example for the future. Thailand's demand for respect from its young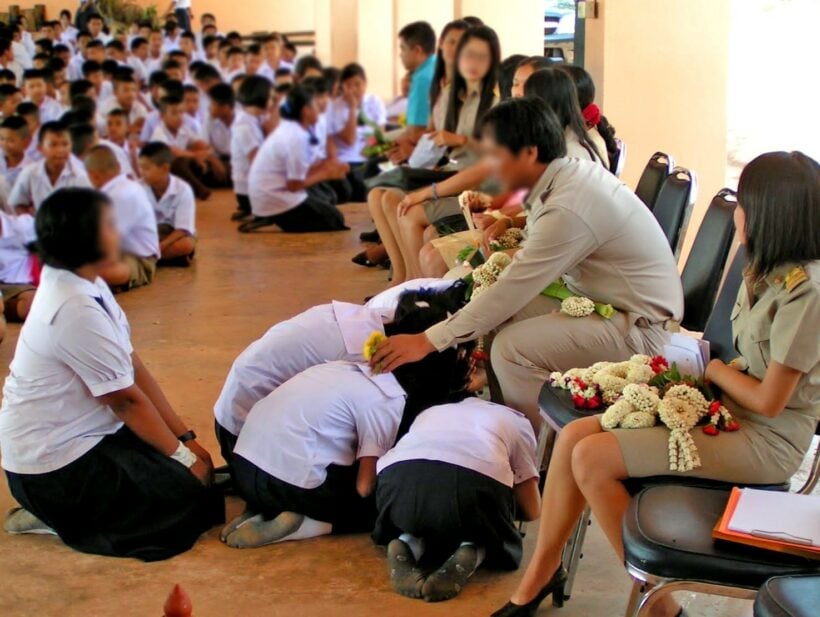 Hazing (US English), initiation ceremonies (British English), bastardisation (Australian English), ragging (South Asia), or deposition, refers to the practice of rituals, challenges, and other activities involving harassment, abuse or humiliation used as a way of initiating a person into a group including a new fraternity, sorority, team or club.
In Thailand, hazing is not only rife, it's seen as a rite of passage for young Thais as part of their cultural inculcation into the subservience they're expected to display elders or people with more money or higher positions than them. What's mistaken for 'respect' is actually a cultural party trick where children and young adults are 'trained' to be deferential from an early age.
In recent years there have a been a few high-profile deaths of army trainees, in the care of their Academy leaders, but allegedly subjected to initiations and bastardisation that is just 'par for the course' for the education of young Thais.
In a response to the recent death of Phakhapong Tanyakan at the Armed Forces Academies Preparatory School on October 17 last year, the Thai Deputy PM and Defence Minister Prawit Wongsuwan claimed that he "was not beaten to death, but just too weak to withstand tough training."
He went further saying "I was once beaten more than I could take and I fainted too. I didn't die. For this, before the school accepts kids for entry, they must give them a proper physical check-up."
When you get you get such official, public, responses from the top you can see how this hazing culture continues to thrive in the, otherwise, Land of Smiles.
We spoke to three foreign teachers in Thailand, all speaking on condition of anonymity, about the culture of hazing in their schools and the benign version of that in primary schools, 'wai khru'.
"Hazing is seen in many different types of social groups, including gangs, sports teams, schools, military units, fraternities and sororities. The initiation rites can range from relatively benign pranks and was khru, to protracted patterns of behavior that rise to the level of abuse or criminal misconduct."
For the families of hazing victims these ceremonies can be catastrophic, as in the tragic case of Phakhapong Tanyakan.
A 19-year-old armed forces cadet, previously subjected to harsh physical discipline, suddenly died a day after returning to school from a break. His parents were told he suffered from a sudden cardiac arrest but became suspicious of possible foul play after a detailed autopsy report never came. – Khaosod English
But he's not the only one. Hazing and cruel or unusual initiations are conducted every day around the Kingdom but with a growing concern about the practices, both from the young students themselves and concerned older Thais, who realise the dangers of 'persuading' youngsters to respect elders needs examination in a modern 21st century Thailand.
We spoke to a respected senior Thai businessperson, again on the condition of anonymity, who said he had seen too much hazing going on during his time at school and then whilst training in the military.
"I was a victim of this type of bullying. I was told to 'be a man' and that all Thai men have to go through this. I think it is degrading and breaks human spirits. It teaches fear of those we are meant to respect. It has to change."
It all starts when young Thais are subjected to the Wai Khru or 'Teacher Wai' where students are expected to prostrate themselves in front of their teachers in a show of respect. But a broad spectrum of foreign teachers not only feel uncomfortable with this faux-deference, some of them go out of their way to be away for that day or, sometimes, even speak out about their concern with this tradition.
"I made the mistake of speaking out about the Wai Khru in our school. I just found it demeaning for the poor students who had to rehearse all week for this totally meaningless show of respect. I didn't feel respected, I felt sick. I ended up being ostracised and had to leave that school."
Whilst many Thais continue to wonder why westerners might find all this kowtowing and prostrating could cause concern, you just need to examine the deaths in the Army preparatory schools as the end result of 'demanding' obedience and deference to elders. In western culture, I have learned, respect is something that is earned, not demanded.
"Hazing is undignified, humiliating and cruel… not my words, but the words of students who are made go through this horrible experience. It's meant to be a sign of showing respect to your seniors but it's nothing more than a shameful indulgence at the expense of the students," said a long-term foreign teacher.
"Making students crawl around on the ground acting like animals in front of their peers, does nothing for either senior or freshie students. I have stopped attending Wai Khru day as I find it terribly uncomfortable for myself and for the students. You can see the look in their eyes as they approach you and are ordered to bow before the teacher. Teachers, like everyone else, should learn how to earn the respect of their students."
A young female foreign teacher first thought that the Wai Khru was 'cute' but has changed her tune over the years.
"Wai khru was the highlight of my first year teaching in Thailand. I was, and still am, extremely humbled and deeply touched by this beautiful tradition intended to recognise a teachers' role in children's life and to give said children the opportunity to express their gratitude to their teachers.
"But throughout the years I have started to look at this event with a more critical eye and I wish it weren't as rehearsed and staged as it unfortunately is. At our school, rehearsals for Wai Kru start a week prior to the event. During this week, children are drilled incessantly until they have mastered the walk, the bow and the wai leading up to the offering of the flowers that they are eager to free their sweaty little palms of."
Wai Khru continues to be practiced in all Thai schools as a long standing tradition and show of respect for teachers.
"Although I understand and commend the wonderful intentions behind such practices, I feel that much like other sorts of drilling that these students endure, this sadly takes away from the true purpose of it all. For want of a picture perfect event, meaning is lost and a demonstration of gratitude is transformed into a dreaded labour," she said.
An investigation into the death of Army cadet Phakhapong Tanyakan, by military investigators, found no wrongdoing by the Preparatory School. The parents have consistently called for a probe into their son's death and are still pursuing legal action.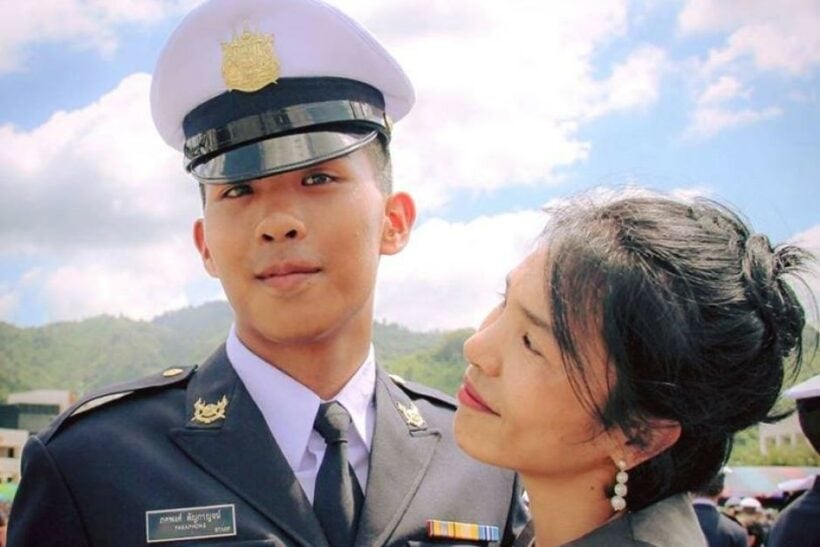 PHOTO: Army cadet Phakhapong Tanyakan, who died at the Armed Forces Academies Preparatory School on October 17 last year.


Have something to say? Scroll down to leave a comment, or visit our Thaiger Thailand Q&A Forum to discuss people, events, to-do and more with the local community.

A perfect storm hits Flight JT 610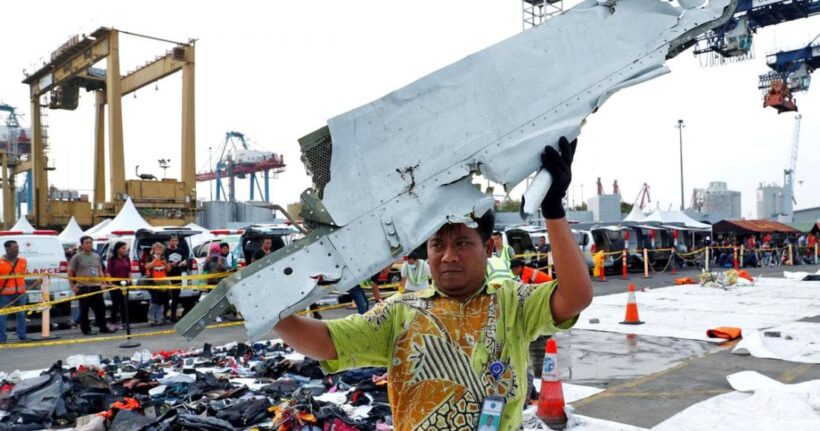 If you get into a car that has had, and officially logged, malfunctions over the past four outings – all critical malfunctions to the correct operation of the car – would you start the key and head out into the traffic?
Probably not.
That appears to be what Captain Suneja, and his co-pilot on Flight JT610, did as the sun rose on Monday, October 29 in the fatal Lion Air crash into the waters off Jakarta.
In the four preceding flights investigators now know there was a persistent problem with systems – either instrumentation or software, or both – that measured the plane's angle-of-attack – the relationship between the angle of the air flying over the wing vs the plane's airspeed. Too high an angle-of-attack and too little airspeed could result in a stall, when the plane's nose would routinely dip down and need urgent attention from the pilot.
Whilst it could be months until we have an exact cause of the events that led to the fatal accident (the investigation will be much easier with the recovery of the cockpit voice recorder), we do know there was some key clues in the flights leading up to the disaster. All point to a preventable crash and the death of 189 people.
The pilot would have read the maintenance logs before preparing for the flight. Why would he take-off knowing that there had been systemic problems with the same plane over the past two days? In the two days before the flight engineers had tried to fix the issue at three different airports. Maintenance staff, the pilot and the airline would have been aware of the problems.
Still, just 13 minutes into the flight, the plane was hurtling, nose-down, engines at full power, into the sea. Hitting the sea at such speed has dislodged the cockpit voice recorder from its usual position, presumed to be be sitting in the muddy bottom awaiting discovery.
There was no distress call, no turn back to the airport. Whatever happened clearly embraced the full attention of the two pilots in mere moments.
Boeing, not mentioning the fatal crash, has issued a global bulletin this week advising pilots to follow its operations manual in such cases.
Bhavye Suneja, the 31 year old Indian pilot, and his 41 year old Indonesian co-pilot, Harvino likely had seconds to decide what to do. They certainly didn't have time to refer to the jet's operations manual. As the nose of the plane plunged downwards the pilots, under stress, had to ascertain the discrepancies of their instrumentation with what they could see and experience outside the windows of the cockpit – all whilst considering the passengers and crew sitting behind them, radioing for help and their own survival.
The Boeing operating manual refers to the pilots needing to switch off the power to the stabilisers in the tail of the aircraft that were pitching the plane into an increasingly problematic dive. The series of switches to turn off these systems, and the routine to disable the plane's stabilisers, was probably not intuitive to the pilots on a new series, highly-automated plane.
Lion Air is also coming under acute scrutiny with a decade of safety-related issues. Boeing and Airbus are struggling to keep up with the demand of aviation growth around the world and the training of new pilots, maintenance, operational staff and air safety regulators appears to be lagging behind.
The smaller, discount airlines are under even greater stress to find competent, trained pilots and usually end up with the pilots with the least hours on their log books. At the same time pilots routinely seek jobs with larger, more prestigious airlines. Captain Suneja had 6,000 hours under his belt before he stepped onto the new Boeing 737 Max 8 jet on Monday, October 29.
"The problem is, the less-desirable airlines are the ones with the least resources that are scraping the bottom of the barrel in terms of human resources," says Martin Craigs, chairman of Aerospace Forum Asia, an industry advocacy group in Hong Kong.
Lion Air started 20 years ago when an Indonesian travel agent established the budget airline to provide low-cost flights through the many islands of Indonesia. Over the 20 years there have been 15 major safety lapses and pilots complaining about being overworked and underpaid. A former investigator for Indonesia's National Transportation Safety Committee claims that Lion Air repeatedly ignored orders to ground planes for safety issues.
Since the crash of flight JT610, Lion Air was involved in at least two other minor safety issues. A plane's wing clipped a pole taxiing on the ground in Jakarta and a flight from Malaysia suffered hydraulic failure after landing.
As the investigation continues to unfold, and details about the incident are revealed, it is clear that a perfect storm of problems were already lined up before the plane dropped its nose and started hurtling towards the sea below.

The 'war on drugs' is a complete failure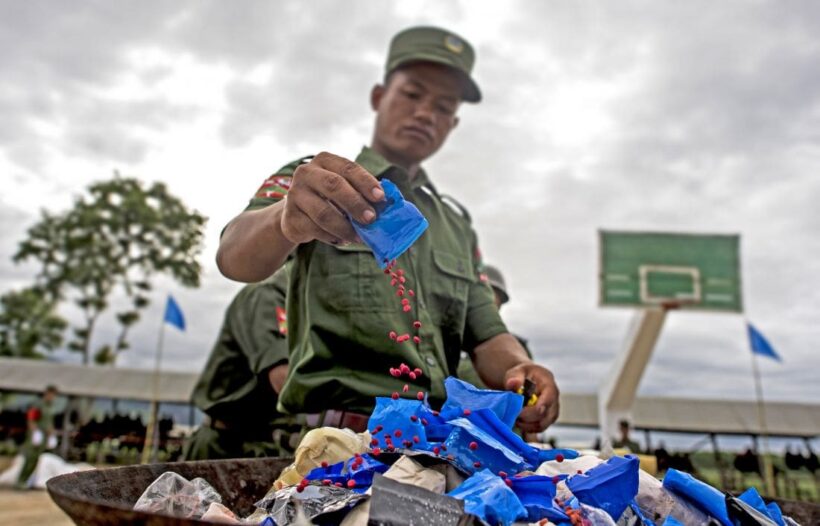 Authorities are losing the war against methamphetamines – pills and crystal meth.
The demand for both crystal meth and 'yaba' is escalating as is the production to meet the increasing demand. The much-publicised 'Wars on Drugs' being waged from time to time in south east asian countries are doing little dent the rising popularity and production of the drugs, whilst thousands lose their lives in extra-judicial killings, legislated by governments.
The cynical political point-scoring from these 'wars' might be boosting the 'tough guy' reputations at regional polls but doing very little to prevent the drugs from getting through, indeed in greater numbers.
Meth, in all its forms, has become the dominant drug of choice across the south east asian region. It's not a drug of the poor and desperate, it reaches into all classes, ages and gender.
Methamphetamine is a synthetic drug. It's made in a lab using chemicals and doesn't require drug makers to cultivate crops, such as poppies, as is the case with heroin. Large swathes of agricultural land are hard to hide. A meth-lab is much smaller and easier to hide. They're also built so they can be dismantled and moved quickly when the 'heat is on'.

The majority of meth production is still happening deep in the jungles of the infamous Golden Triangle, a lawless area which crosses the borders of Thailand, Laos and Myanmar. Drug enforcement experts admit it's easy to conceal drug production in the jungles and move it on at short notice. They're sophisticated organisations, fully teched-up and able to remain one step ahead of enforcement. They are well-armed and able to protect their assets if the need be.
Meanwhile the new Belt and Road initiative – China's reach out from it borders with loans for trade infrastructure – is enabling the movement of these illicit drugs on new roads and railways, cutting through areas that were earlier unpassable. Beijing has already spent up big in Myanmar where it has poured billions to connect China's landlocked Yunnan province to the nearest port cities in Myanmar, Vietnam and Thailand. More trade through these regions, and people movement, is helping mask the movement of the drug shipments.
Regional police trumpet the seizures of huge hauls of pills each week. The numbers are staggering, often counting in the millions, truckloads with sacks of these drugs. Of course the small-time couriers are nabbed and arrested, the police get their 'selfie' and the governments rest easy at night thinking they are winning the war.
They're not. Not even close.
Profits of hundreds of millions of dollars, are being intricately laundered through trans-border officials, shelf companies, international banking and abuse of lax legislation, enabling it all to happen.
The organisations are tech-savvy, are willing to sacrifice a few million tablets and drug mules, and operate out of corporate offices – they're modern business people providing a product to fill a need.
John Coyne, a former head of strategic intelligence with the Australian Federal Police and now works on border security at the Australia Strategic Policy Institute, says the methamphetamine situation is a perfect storm.
"It's pushing Southeast Asia into what could be in time a methamphetamine epidemic," John said in a CNN interview.

Whilst Thai and Laos drug authorities believe they have a broad understanding of the operations in their sections of the Golden Triangle, a large portion of the meth seized, headed for the Asia Pacific region, can be traced to Myanmar's northern Shan State, an area where militias and warlords run the shop, thousands of kilometres away from the prying eyes of central governments.
The regions are run by quasi politico-military organisations that have been shunned by their country's mainstream politics.
Amid the manufacture of meth in the Shan state, there is also an ethnic struggle for land, a good poppy-growing climate and little law enforcement. The UWSA (United Wa State Army), one of the leading ethnic factions in the region, is accused of funding their armed struggle against Myanmar's government with their huge profits from meth production (and earlier heroin and opium in past decades).
The statistics are staggering. It only took five months for seizures in Malaysia and Myanmar this year to surpass the 2017 totals. In Thailand, seizures of drugs (and the almost daily selfies of the proud police and the seized booty) has increased markedly throughout 2018.
While those busts are being interpreted to mean that law enforcement is winning its fight against traffickers, it also a bold declaration of the sheer quantity of meth being moved around the region.
Meth producers have gone into overproduction in the past 12 months, driving down the cost of making the drugs, in turn making it easier for dealers to live with the massive busts. The reality is that the drugs intercepted are a tiny fraction, maybe less than a few percent, of the total quantities of meth being shipped around the region and making its way into the streets we live in.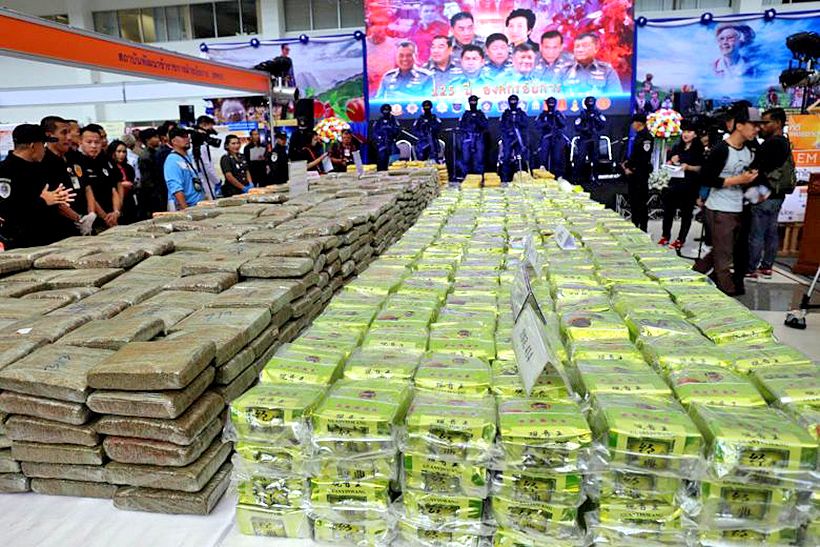 The government gets a 'rap' on the knuckles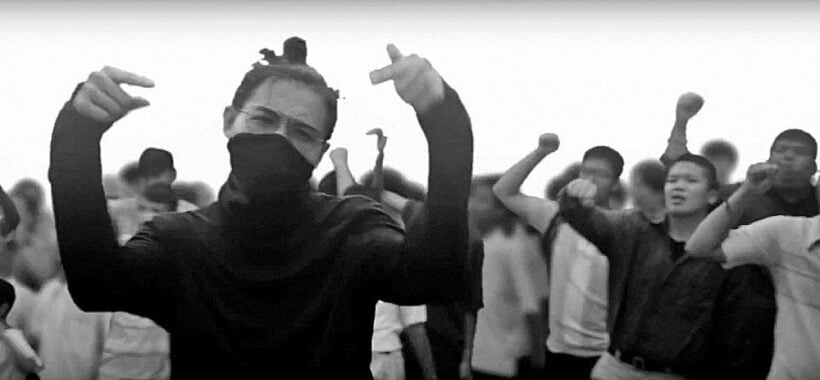 13 million views and still going strong. That's 20% of the population of Thailand.
Any pop group would be astonished, amazed and pleasantly surprised by such popularity of their video clip in such a short time.
But in this case the clip is a subversive rap from 'Rap Against Dictatorship', a five minute rant against military rule in the Kingdom. The YouTube clip includes English subtitles.
"My country preaches morals, but has a crime rate higher than the Eiffel
My country's Parliament is a soldiers' playground
My country points a gun at your throat
Claims to have freedom but gives no right to choose
My country's government is untouchable
The police use laws to threaten people
My country asks you to stay quiet or in jail."
A military spokesperson, Col. Siriwat Deepor said on Friday said, "Investigators are trying to identify those in the clip, because the content is quite defamatory to the country and causing a lot of damage."
He said that the group faces five years in jail and a 100,000 baht fine if convicted under the Computer Crime Act. Worryingly, he also threatened those sharing the clip would face the same punishment (several Thai media have already done so – we're not quite so brave).
But it was only the start of this month when NCPO leader and current PM General Prayut Chan-o-cha fully embraced the social media world.
"Prime Minister Prayut Chan-o-cha, who previously said his real happiness was staying away from social media, is now fully equipped with the famous platforms Facebook, Twitter, Instagram as well as his personal website…" – The Nation
Reactions at the time thought the Thai PM had proven a bit thin-skinned in the past when responding to criticism. The NCPO has responded to criticism over the past four and a half years with threats, 'attitude adjustments', the enforcement of the controversial Computer Crimes Act and charging perceived dissenters.
Plunging head first into the rabbit hole of social media, for any politician, will not be good for their ego. A few decades of social media show that it can be a toxic space for the faint-hearted.
You've either got to be a Donald Trump-type and use social media for all its good and bad, post any sort of rubbish and hope some of it sticks. Then go on the attack against your detractors. That takes time, ego and energy.
Or you just use it to spread the good word, block commentary and not engage your audience.
There's not really much space in the middle with social media.
The Junta's reaction, perhaps even over-reaction, to the rap song on YouTube, which attacks everything they don't like about Thailand's military government, has just added to the click's fame.
The YouTube views have sky-rocketed since the government spokesperson spoke about it on Friday. Rounding up the musicians and charging them under the Computer Crimes Act will surely further add to their fame, the clip's clicks and unwanted outcry from outside Thailand about a 'heavy-handed unelected government', etc, etc.
All this at a time when Prayut and his team are vying for voter love and support in their, yet unannounced, standing for election in next year's poll. This test of their resolve has come at a bad time. If PM Prayut and his ministers are to stand for election they will need support from the widest constituency possible. That will include reaching out to their detractors as well and taking a few punches on the chin as part of the rough-and-tumble of democratic politics.
I pose two possibilities.
Option One
The Government rounds up and charges the team behind the offending rap. After questioning there would likely be some charges laid and a period of months waiting for their day in Court, likely to be a date post February 24, 2019, effectively silencing them in the time leading up to the election.
Option Two
The Prime Minister invites the group to government house, or sends one the country's deputy PMs to Thammasat University, for a closed discussion. In this way, no one is losing face. Following any meeting there would be a 'very Thai' photo opportunity with a polite wai from the performers and a statement from both sides saying that they "appreciated the chance to meet and share their differences." Everyone's a winner.
The public relations outcomes for the Government would be very different.
The government's newly appointed official spokesman, Puttipong Punnakanta, stated on Friday that the government feels sorry that Thailand's young generation wants to harm the country.
"They should've used their musical talent in a way that is more beneficial to their motherland and become good role models to others," he said. "I don't want people to think that doing this is cool or fun. I'm not sure if they did it on their own will or if there's someone else behind this."
Youth sharing their voices and ranting against sitting governments and institutions is nothing new. In this case it's just been words shared, not blood or civil disturbance.
Of course in 2018 their opportunities for doing so are vastly increased, compared to the old media paradigms. They must have either been acutely aware of the timing of their release or perhaps just uploaded the file as a dare.
Either way, the government's reponse to the matter may play an important role in the next few month's electioneering.