Wai Khru – setting a bad example for the future. Thailand's demand for respect from its young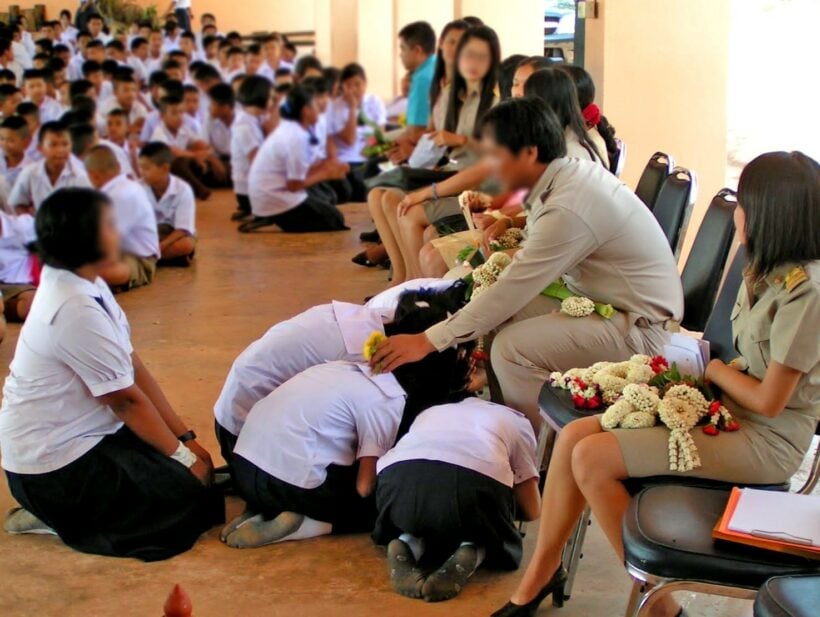 Hazing (US English), initiation ceremonies (British English), bastardisation (Australian English), ragging (South Asia), or deposition, refers to the practice of rituals, challenges, and other activities involving harassment, abuse or humiliation used as a way of initiating a person into a group including a new fraternity, sorority, team or club.
In Thailand, hazing is not only rife, it's seen as a rite of passage for young Thais as part of their cultural inculcation into the subservience they're expected to display elders or people with more money or higher positions than them. What's mistaken for 'respect' is actually a cultural party trick where children and young adults are 'trained' to be deferential from an early age.
In recent years there have a been a few high-profile deaths of army trainees, in the care of their Academy leaders, but allegedly subjected to initiations and bastardisation that is just 'par for the course' for the education of young Thais.
In a response to the recent death of Phakhapong Tanyakan at the Armed Forces Academies Preparatory School on October 17 last year, the Thai Deputy PM and Defence Minister Prawit Wongsuwan claimed that he "was not beaten to death, but just too weak to withstand tough training."
He went further saying "I was once beaten more than I could take and I fainted too. I didn't die. For this, before the school accepts kids for entry, they must give them a proper physical check-up."
When you get you get such official, public, responses from the top you can see how this hazing culture continues to thrive in the, otherwise, Land of Smiles.
We spoke to three foreign teachers in Thailand, all speaking on condition of anonymity, about the culture of hazing in their schools and the benign version of that in primary schools, 'wai khru'.
"Hazing is seen in many different types of social groups, including gangs, sports teams, schools, military units, fraternities and sororities. The initiation rites can range from relatively benign pranks and was khru, to protracted patterns of behavior that rise to the level of abuse or criminal misconduct."
For the families of hazing victims these ceremonies can be catastrophic, as in the tragic case of Phakhapong Tanyakan.
A 19 year old armed forces cadet, previously subjected to harsh physical discipline, suddenly died a day after returning to school from a break. His parents were told he suffered from a sudden cardiac arrest but became suspicious of possible foul play after a detailed autopsy report never came. – Khaosod English
But he's not the only one. Hazing and cruel or unusual initiations are conducted every day around the Kingdom but with a growing concern about the practices, both from the young students themselves and concerned older Thais, who realise the dangers of 'persuading' youngsters to respect elders needs examination in a modern 21st century Thailand.
We spoke to a respected senior Thai businessperson, again on the condition of anonymity, who said he had seen too much hazing going on during his time at school and then whilst training in the military.
"I was a victim of this type of bullying. I was told to 'be a man' and that all Thai men have to go through this. I think it is degrading and breaks human spirits. It teaches fear of those we are meant to respect. It has to change."
It all starts when young Thais are subjected to the Wai Khru or 'Teacher Wai' where students are expected to prostrate themselves in front of their teachers in a show of respect. But a broad spectrum of foreign teachers not only feel uncomfortable with this faux-deference, some of them go out of their way to be away for that day or, sometimes, even speak out about their concern with this tradition.
"I made the mistake of speaking out about the Wai Khru in our school. I just found it demeaning for the poor students who had to rehearse all week for this totally meaningless show of respect. I didn't feel respected, I felt sick. I ended up being ostracised and had to leave that school."
Whilst many Thais continue to wonder why westerners might find all this kowtowing and prostrating could cause concern, you just need to examine the deaths in the Army preparatory schools as the end result of 'demanding' obedience and deference to elders. In western culture, I have learned, respect is something that is earned, not demanded.
"Hazing is undignified, humiliating and cruel… not my words, but the words of students who are made go through this horrible experience. It's meant to be a sign of showing respect to your seniors but it's nothing more than a shameful indulgence at the expense of the students," said a long-term foreign teacher.
"Making students crawl around on the ground acting like animals in front of their peers, does nothing for either senior or freshie students. I have stopped attending Wai Khru day as I find it terribly uncomfortable for myself and for the students. You can see the look in their eyes as they approach you and are ordered to bow before the teacher. Teachers, like everyone else, should learn how to earn the respect of their students."
A young female foreign teacher first thought that the Wai Khru was 'cute' but has changed her tune over the years.
"Wai khru was the highlight of my first year teaching in Thailand. I was, and still am, extremely humbled and deeply touched by this beautiful tradition intended to recognise a teachers' role in children's life and to give said children the opportunity to express their gratitude to their teachers.
"But throughout the years I have started to look at this event with a more critical eye and I wish it weren't as rehearsed and staged as it unfortunately is. At our school, rehearsals for Wai Kru start a week prior to the event. During this week, children are drilled incessantly until they have mastered the walk, the bow and the wai leading up to the offering of the flowers that they are eager to free their sweaty little palms of."
Wai Khru continues to be practiced in all Thai schools as a long standing tradition and show of respect for teachers.
"Although I understand and commend the wonderful intentions behind such practices, I feel that much like other sorts of drilling that these students endure, this sadly takes away from the true purpose of it all. For want of a picture perfect event, meaning is lost and a demonstration of gratitude is transformed into a dreaded labour," she said.
An investigation into the death of Army cadet Phakhapong Tanyakan, by military investigators, found no wrongdoing by the Preparatory School. The parents have consistently called for a probe into their son's death and are still pursuing legal action.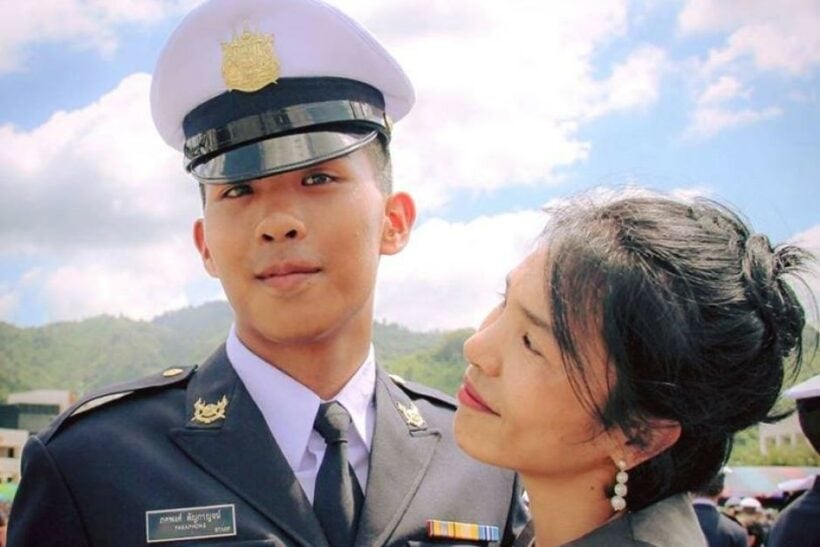 PHOTO: Army cadet Phakhapong Tanyakan, who died at the Armed Forces Academies Preparatory School on October 17 last year.


Have something to say? Scroll down to leave a comment, or visit our Thaiger Thailand Q&A Forum to discuss people, events, to-do and more with the local community.
Thai businesses locked out of potential $237.2 million medical cannabis market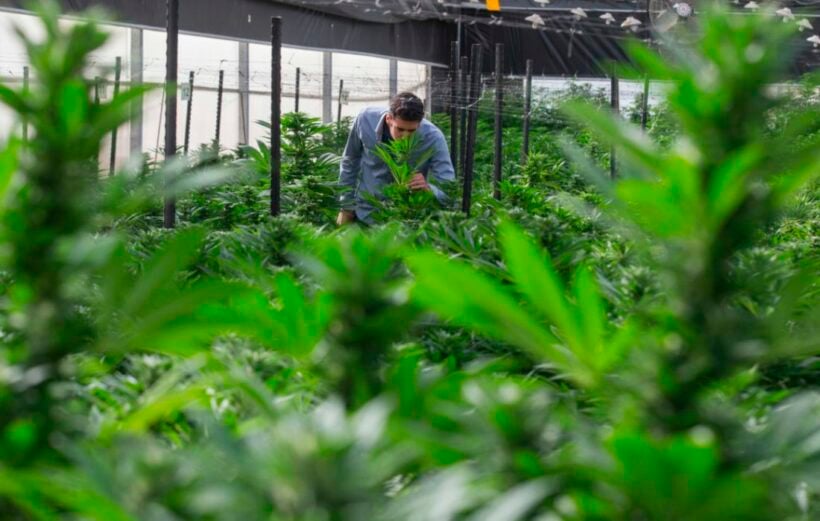 by Daragh Anglim
Thailand is emerging as a frontrunner in the nascent Asian cannabis market. With 175 clinicians now qualified to prescribe cannabis-based medicines in the country, Thailand is at the cusp of a major breakthrough in realising the commercial and societal benefits of medical cannabis.
The Asian Cannabis Report published in May by leading market analysts and advisors Prohibition Partners, forecasts that the Thai cannabis market will be worth US$237.2 million by 2024 should medical access open up. 
In February, the National Legislative Assembly (NLA) took the landmark decision to approve the use of cannabis for research and medical purposes. This cemented Thailand's position at the vanguard of medicinal cannabis in Southeast Asia, as the first country in the region to use cannabis to treat Parkinson's disease, multiple sclerosis, drug-resistant epilepsy and pain and nausea in cancer patients.
The NLA's decision will theoretically allow medical practitioners to prescribe cannabis-based treatments to people living with a range of chronic and debilitating conditions. 
Currently, there are only two officially sanctioned plantations in Thailand which are permitted to grow a strain of cannabis that is low in psychoactive compounds – less than 1% THC – to supply hospitals or government research institutes. All medical cannabis must be grown indoors to prevent illegal trade and ensure quality. 
While the Thai government is still tightly controlling the production and supply of the market, foreign companies such as GW Pharmaceuticals and Otsuka Pharmaceutical are alert to developments and have begun to file patent requests. The Thai Department of Intellectual Property has denied requests from the British and Japanese companies. Commerce Minister Sontirat Sontijirawong recognised that cannabis 'is Thailand's future cash crop' and hard-working domestic businesses will naturally be concerned that if future patents are granted, international parties will get a head-start and dominate the potentially lucrative market. 
In order for Thai businesses to reap the rewards medical cannabis can bring, legislation needs to be clarified. Right now, all eyes will be on regulations due to be published next month. It is believed that these will establish licensing and prescribing criteria for medical practitioners, but it is yet to be seen whether Thai farmers and businesses can expect the same clarity around domestic cultivation.
Whether in Oceania, Europe or North America, the evidence is unquestionable; citizens and governments across the globe are rapidly waking up to the potential of developing medical cannabis markets, and, provided legislation keeps apace, Thailand is well placed to lead the pack in Asia.
Daragh Anglim is Managing Director of Prohibition Partners, leading market analysts and advisors for the emerging cannabis industry. 
• The view expressed do not necessarily reflect the views of The Thaiger or its staff. The article is published to enhance the understanding of the issues related to partial legalisation of medical cannabis in Thailand.
OPINION: The Phoenix shouldn't be auctioned off today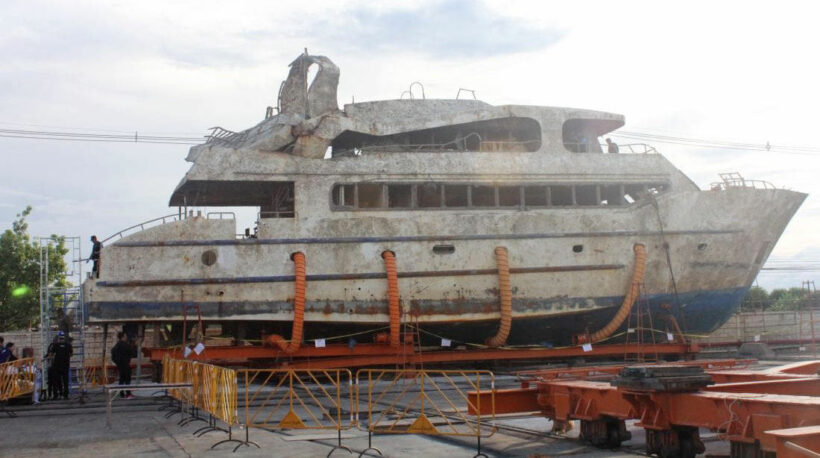 The Phoenix is going up for auction today. The auction is being held by Thailand's AMLO (Anti Money Laundering Office) as the investigation is now complete and the vessel is no longer needed for evidence. Interested bidders have been able to inspect the vessel as it sits at the Rattanachai Shipyard in Phuket.
The Phoenix is the boat that sank last July in a sudden storm that hit the area south of Phuket. The boat capsized and sank. The Captain and crew were some of the first people to get into the life rafts. Many Chinese passengers were stuck downstairs and drowned when the boat sank to the bottom of the Andaman Sea.
But, with a starting price of 900,000 baht, it may sound like a steal if you're wanting a second hand tour boat which, new, would have cost millions of baht to build.
You would hope that the simple business process of today's auction will start with some mention of the 47 souls that succumbed to the poor design, poor duty of care and poor application of marine laws and inspections that caused the boat to sink in the first place.
But we suspect that nothing of that sad tale will even be mentioned. Just 10 months following the incident, today's auction is far too soon. But the boatyard is likely charging ongoing hard-stand fees and that would be the main driver to get rid of the boat.
Let's remember the AMLO are auctioning a boat not fit for purpose. The design of the vessel has already been partially responsible for the death of 47 Chinese tourists whose only mistake was to trust Thai authorities and the boat's operators that Phoenix was seaworthy and safe to take them on a day tour.
Last December, the Thai Immigration Bureau Chief, Lt Gen Surachate Hakparn (at the time), deemed the Phoenix a floating disaster, waiting to happen.
"This boat only has one watertight door. It should have four watertight doors. Glass should be a marine glass grade. In this boat passengers couldn't break the glass to escape. Also, a converted truck engine had been used instead of proper marine-grade engine."
"Cement blocks were used to help balance the boat and keep it upright. Experts analysis has matched the actual vessel with the original plans and design of the boat."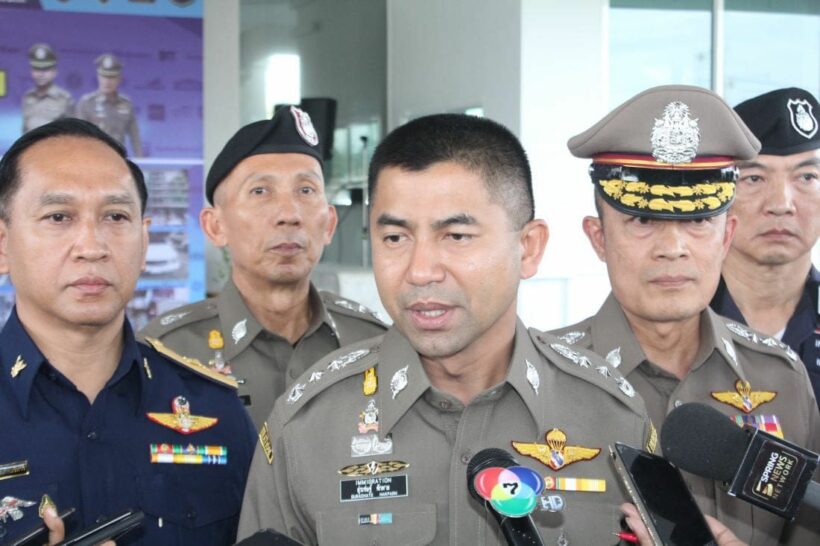 Lt Gen Surachate Hakparn, leading the investigation of the Phoenix sinking
Whatever the buyer of the second hand tour boat thinks they're buying there will have to be fundamental changes to parts of the design and engineering of the vessel to make it capable of carrying paying passengers ever again.
In the original myth, the phoenix was a bird that lived for 500 years before it built its own funeral pyre, burst into flame, and died, consumed in its own fiery inferno. Soon after, the mythical creature rose out of the ashes, in a transformation from death to life. This story of becoming 'born again' predates the story of the well-worn phrase "phoenix rising from the ashes".
And here it is, about to rise again, most likely picked up by another tour boat company in the region, re-sprayed, re-named (usually considered bad luck for a boat) and pressed into service again as a money-making venture.
The new owners will need to disguise the boat's tragic history well as very few Asian customers would ever step foot on a boat with so many unhappy ghosts inhabiting it.
The auction is far too soon and doesn't accompany any recognition of the tragedy or the destructions of lives and families that must never be forgotten.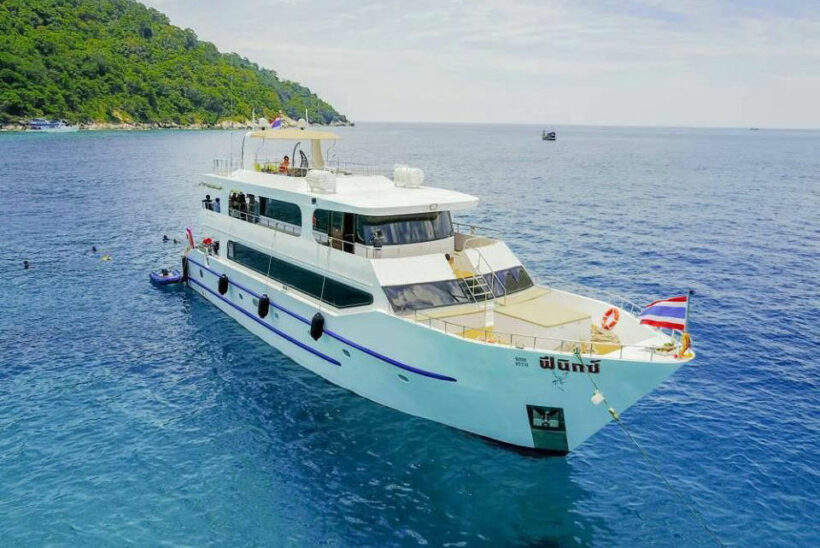 Phoenix in happier days as a Chinese tour boat work-horse
OPINION: A sad, but inevitable, farewell to The Nation daily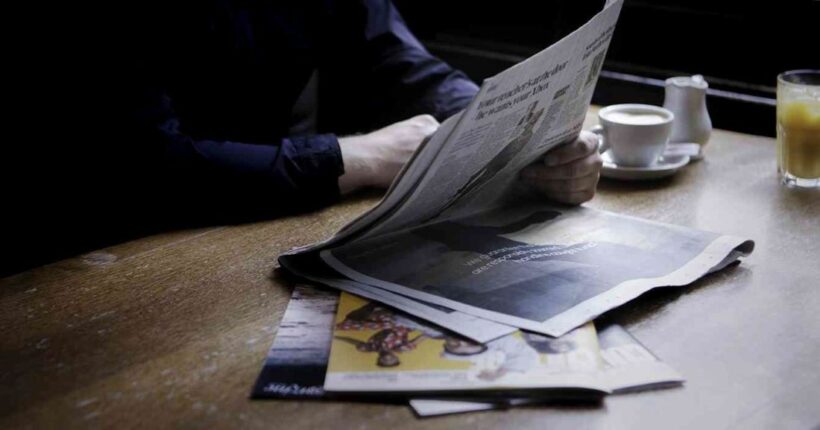 Sad news yesterday when The Nation announced it was going to stop the daily publishing of its newspaper. After 48 years, The Nation Multimedia Group is shutting up shop on its daily newspaper.
It wasn't entirely unexpected and is a decision that every newspaper has either already made, is constantly reviewing or will have to make in the future, probably soon. The Nation Multimedia Group's CEO maintained that there would be no reductions in editorial staff. When these announcements are made there is always promises of a rosy online future and no reductions in staff. In reality there has to be a reduction in staff to make the transition from paper to online fiscally possible.
For The Nation it was somewhat of a perfect storm of problems that precipitated yesterday's announcement to go online-only.
Thailand's expat and english-speaking demographic is changing. The numbers of English-speaking expats is dropping (not a lot) but the numbers of non English-speaking expats is growing. The same is reflected in the tourist mix passing through the Kingdom these days. It's just an evolutionary transition that's also reflected in the nationalities buying property in Thailand.
A hard core of expats, some of The Nation's devout readers, are also finding it increasingly difficult to stay in Thailand. Take a long-term British expat for example, living happily on their UK pension and spending long days by the beach. With the British pound plunging against the Thai baht the real cost of living has gone up, a lot, for many of these long-termers. Then add the steadily rising costs of living in Thailand and new requirements for long-stay visas and the long days at the beach are getting more expensive and more complex.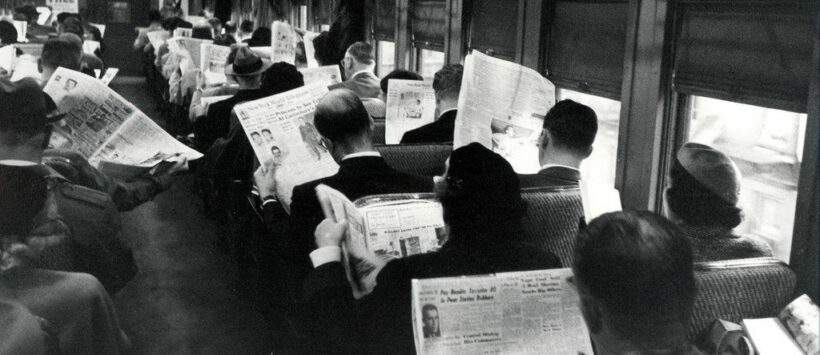 Then
The expat mix is also getting a lot younger. You guessed it, younger people are more inclined to read their news and seek information online.
Finally, the advertising revenue for newspapers is getting very thin on the ground. Newspaper advertising is expensive, non-intuitive and certainly not 'real time' as demanded by both readers and advertisers. Why would any sane business owner place an ad in their newspaper when, for a fraction of the cost, they can directly target THEIR buyers with an online ad. AND it's totally measurable.
Just current economic conditions – a strong baht, falling exports and political uncertainty – are eating into business advertising spend and confidence as well.
There's also a lot more choice for advertisers these days as the revenue creeps away from the old triumvirate of press, radio and TV. At the same time online platform traffic soars in numbers and new platforms and innovations get added every day.

Now
The Nation's daily paper is just another victim of the relentless technological march.
The people (me included) who used to make it a daily habit to trawl through the pages of the dailies are getting older, moving across to the online platforms, or simply dying or leaving Thailand. At the same time a few thousand smartphones will be bought today bringing almost instantaneous news to their screens, along with hundreds of choices of media, opinions, formats and, yes, advertisements.
The sight of people travelling on public transport, or walking around, heads buried in their screens is scary to us 'old-timers'. But the smartphone, and to a lesser extent tablets, laptops and desktops, is where people will increasingly source just about everything they need to know. They will 'choose' what they want to read, not some editor's view of the world or slanted choices of news to publish.
It's a sad day when any venerable banner, like The Nation, has to cease publishing but we, the consumers, have determined their fate, and the fate of the remaining newspapers in Thailand, by making the move online. The publishers are adjusting to the new technology as well and following the new money-trail.
The Nation will publish its last daily newspaper on June 28.
The Thaiger has an editorial partnership with the Nation Multimedia Group.