Cathay Pacific brings the first A350-1000 to Suvarnabhumi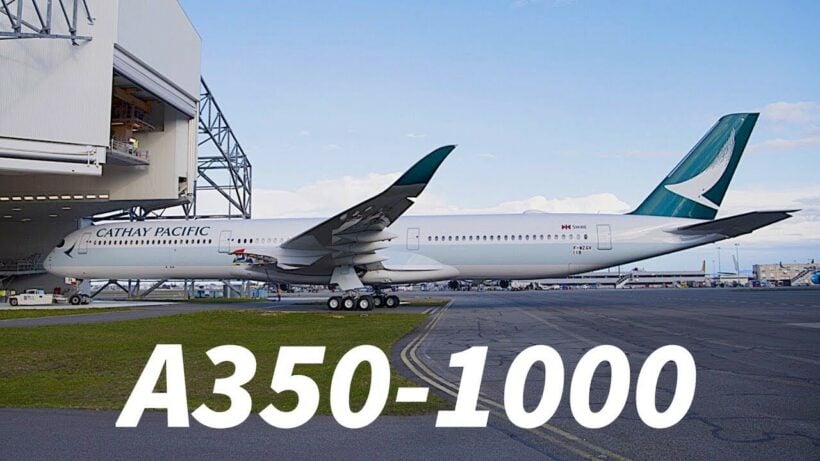 Cathay Pacific is the first airline to land an Airbus A350-1000 in Thailand and was congratulated by Airports of Thailand (AoT) deputy vice president Kanogwan Kasetsin and customer relations director Anussara Mongsup. Cathay Pacific's A350-1000, the largest variant in the A350 family, carries 334 passengers in first, business and economy classes.
Staff of Cathay Pacific, led by Kendrick Ko, country manager for Thailand and Myanmar, and sales and marketing manager Yongyut Lujintanon welcomed the first of its new Airbus A350-1000 aircraft to Suvarnabhumi Airport this week.
The aircraft offers unparalleled comfort. Economy Class seats feature a larger, higher-definition personal television and an advanced inflight entertainment system and LED mood lighting, along with enhanced Wi-Fi connectivity.
Cathay Pacific will begin flying the A350-1000 model to Washington DC on September 15. The aircraft will also serve Madrid, Tel Aviv, Amsterdam, Manchester and Zurich beginning in the winter.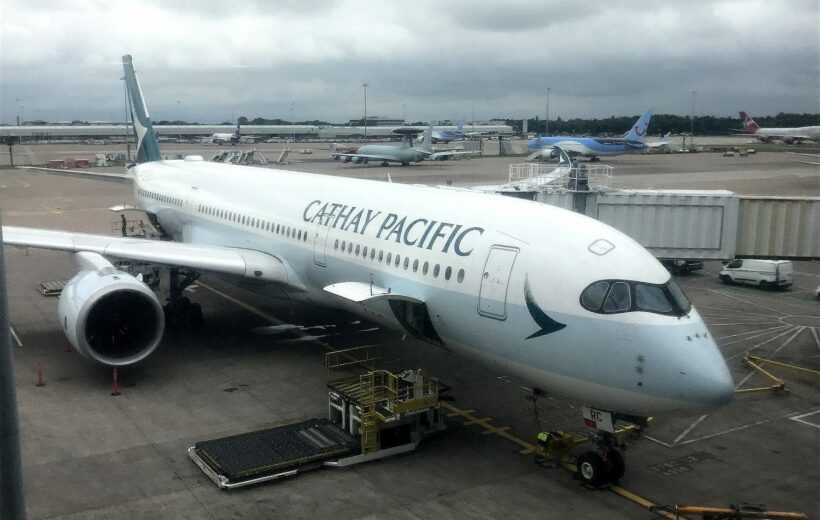 STORY: The Nation

Do you need help with your business? Are you searching for a new job? Or an employer looking to hire? Try Thaiger Jobs today.

Calls to restrict foreign property purchases in Bangkok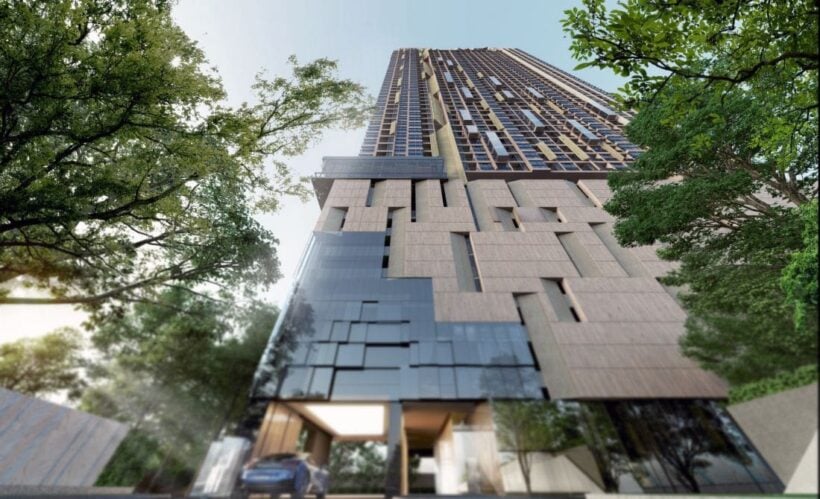 Dr. Sopon Pornchockchai, the President of the Thailand Agency for Real Estate Affairs, is calling for controls to restrict foreign property buyers.
Thailandproperty.news is reporting than he is justifying his comments saying the growth in income of Thais is slower than the property price rises being pushed up by high foreign demand.
"Some measures should be adopted, such as higher stamp duty for foreigners," he said.
The article says that this is the first time an industry figure has spoken out about the need to restrict or reduce the amount of foreign investment in the Bangkok property market. Dr. Sopom says he believes that foreign buyers account for around 20 percent of all Bangkok property purchases.
He noted that Chinese purchases account for about 80 percent of foreign buyers.
Read the original story HERE.
Man rapes teen then forces her to withdraw money from ATM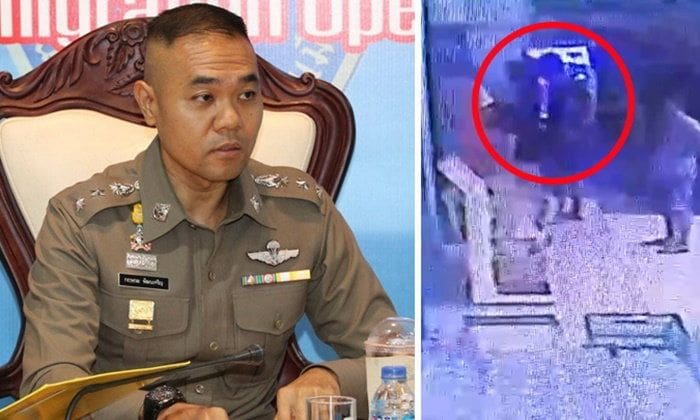 PHOTOS: Sanook.com
The national police spokesman Pol Col Krissana Pattanacharoen says that an arrest warrant has been issued for the man who raped a 19 year old woman then forced her to withdraw money for him at an ATM in Bangkok. The theft at the ATM was captured on CCTV.
Sanook reports that the crime happened in the Mahadthai 2 area of Taling Chan, west of the main city, on October 5.
The wanted man has been named as 28 year old Yosatthada Buathong. National police chief Gen Chakthip Chaijinda has called for a swift resolution to the case which he says has 'shocked Bangkokians'.
Following the succesful gathering of witness statements a warrant for the man's arrest was issued by the Taling Chan court.
SOURCE: Sanook
Two million stray cats and dogs by 2027 – warning from Livestock Department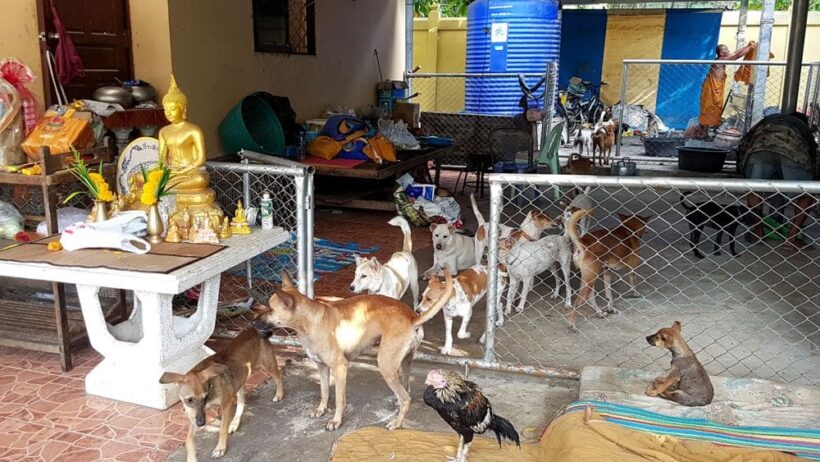 by Kornrawee Panyasuppakun
In the wake of the criticism on social media following the proposal of the new pet and livestock registration laws, the Livestock Development Department has hit back warning that we'll face a crisis soon if we don't take action now.
"Stray dogs and cats must be registered and sterilised, otherwise their population will reach 2 million in 10 years."
The number of stray cats and dogs was estimated at 820,000 last year, and the total will reach 2 million by 2027 and 5 million in 20 years if nothing is done, Livestock Development Department deputy director-general Somchuan Ratanamungklanon said during a panel discussion held by Chulalongkorn University's Faculty of Veterinary Science today (Tuesday).
The forum was held to discuss the hotly disputed pet registration bill, which if passed would make it mandatory to register cats and dogs, in order to encourage responsible ownership.
The draft law has been opposed by many who think the registration fee of 450 baht per animal is too expensive.
The Livestock Development Department promised to reconsider the fee, including waiving fees for a few years after the law is passed.
"We will also consider waiving fees for those who have sterilised their pets," Somchuan said.
He promised that the registration fees would not be a burden, but reiterated the importance of licensing pets and putting strays in shelters instead of letting them roam the streets and reproduce at will.
"Stray dogs often cause danger and can spread diseases like rabies, and their poo is unsanitary and can spread diseases related to parasites," the deputy agency chief added.
According to the Information Centre for Emerging Infectious Diseases at Chulalongkorn University, 40 per cent of stray dogs also carry the rabies virus.
The panellists, including Livestock Development Department officials, top veterinary professors and a senior news editor, agreed that the pet registration law was necessary to curb the population of stray dogs and cats.
Registration and reproduction control are a sustainable way to reduce the number of strays, said Prof Dr Roongroje Thanawongsuwech, dean of Chulalongkorn's Faculty of Veterinary Science.
Not only does sterilisation control their population, it actually makes pet less likely to develop breast and prostate cancers and makes them less aggressive, he explained.
The dean proposed that the government should waive registration fees for a few years, and help reduce the cost for people to get their pets neutered and spayed. He also proposed that vets should get a tax reduction if they help sterilised animals.
People online have been discussing the costly registration fees. Many believe that the fees could make many owners abandon their cats and dogs, and that unwanted puppies and kittens would also be less likely to find a home.
STORY: The Nation