Phuket Books: The Canadian Chekhov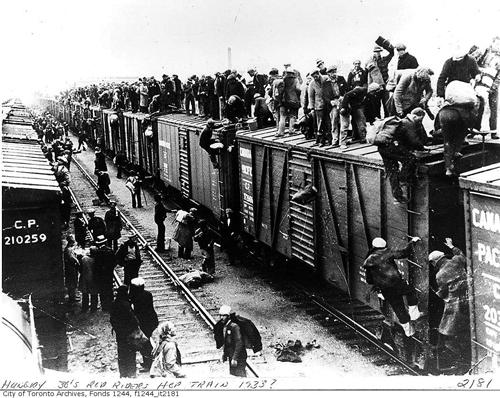 PHUKET: At the age of 82, Alice Munro is the grande dame of Canadian literature. In her 14 books of short stories, she has been compared to Anton Chekhov. If I were Chekhov, I'd take it as a compliment.

Dear Life (Alfred A. Knopf, New York, 2013, 309pp) continues her Chekhovian obsession with time. Her narrative voice is as confident as ever, yanking the reader's attention immediately into the urgency of her tale. Her language is plain, even folksy, and lays out hard simple truths. Pride, a delusional story of small town envy, opens this way:

"Some people get everything wrong. How can I explain? I mean there are those who have everything against them – three strikes, twenty strikes for that matter – and they turn out fine. Make mistakes early on – dirty their pants in grade two, for instance – and then live out their lives in a town like ours where nothing is forgotten… and they manage, they prove themselves hearty and jovial, claiming and meaning that they would not for the world want to live in any place but this.

"With other people it's different. They don't move away but you wish they had. For their own sake, you could say. Whatever hole they started digging when they were young… they keep right on at it, digging away."

As in her very early stories, these 14 new ones take place in rural Ontario during the Great Depression and the war years. Seldom do they stretch into the 1960s. The protagonists are generally young, poor, ambitious, intelligent yet vulnerable women seeking out their place in life.

In Train, the greatest story in this collection, though, the hero is a young man, a veteran returning from the war in 1946, hopping off a train to find refuge in a rundown farm run by a well-educated slightly dotty woman 16 years his senior.

In 1961, he accompanies her on her first return trip to her native Toronto for medical treatment. After an operation for cancer, she suddenly turns lucid, remembering family secrets that prompt him to flee. Four years later, while working as an apartment superintendent, he hears the voice of his first love talking with the building's owner, in search of her runaway daughter, and suddenly we are back in 1940 and the reason for his jumping off the train in the first place. And now he flees on yet another train to a new lumber town. Munro plays these varying chords of time with a master's touch.

Two other stories In Sight of the Lake and Dolly deal with young and old love. In the first, a young girl comes to teach children in a tuberculosis sanitarium in stark timber country in the wintry depths of the Depression. Her awkward courtship by the sanatorium's director ends even more awkwardly: sudden, surprising and painful.

The second story opens this way: "That fall there had been some discussion of death. Our deaths. Franklin being eighty-three years old and myself seventy-one at the time, we had naturally made plans for our funerals (none) and for the burials (immediate) in a plot already purchased. We had decided against cremation, which was popular with our friends. It was just the actual dying that had been left out or up to chance."

This grim serenity is interrupted by Dolly. She comes selling cosmetics door to door and turns out be the great love of Franklin's youth. The ending is a great slight of hand.

Munro identifies the final four stories as frankly autobiographical.

A central figure is Munro's unhappy mother, risen from a poor farm to become a schoolteacher only to sink back into the life of a farmer's wife: "I think people found her pushy and overly grammatical. She said things like "readily" and "indeed so". She sounded as if she had grown up in some strange family who always talked that way. And she hadn't. Out on their farms, my aunts and uncles talked the way everybody else did. And they didn't like my mother very much, either."

Alice Munro hints that these may be her last stories. I can only hope that she's wrong.

'Dear Life stories' by Alice Munro is available in an audible form priced at US$29.12 from Amazon, or in hardcover by order through all good bookshops in Phuket.


— James Eckardt
Keep in contact with The Thaiger by following our
Facebook page
.
Out of 37 countries, Thailand has the worst pension system, says Bloomberg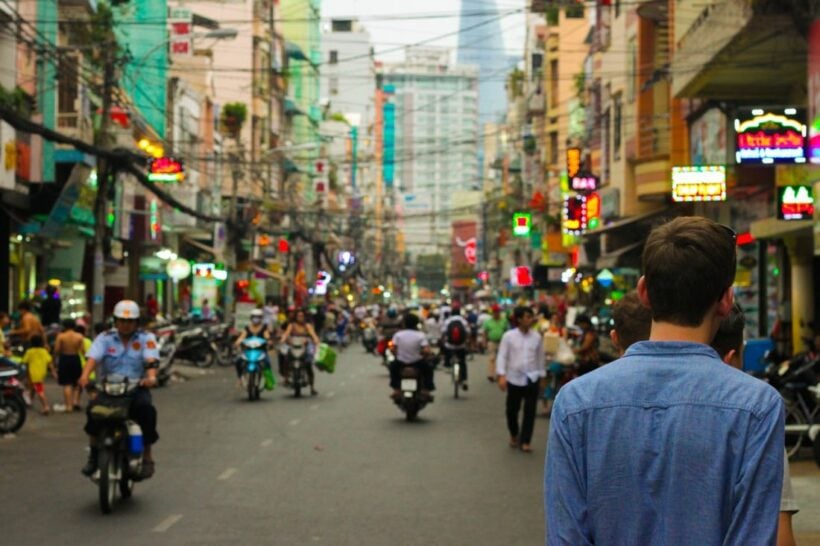 Thai Residents reports that on Sunday, Bloomberg published an article on the world's best pension systems, using information gathered from the 2019 Melbourne Mercer Global Pensions Index.
The survey looked at the pension systems of 37 countries with metrics including employee rights, savings, the number of homeowners, growth of assets, and growth of the economy. The purpose of the analysis was to determine what was needed to improve state pension systems and to gauge the level of confidence citizens had in their state pension system.
The Netherlands and Denmark were found to have the world's best state pensions, with Australia, Finland, Sweden, Norway, Singapore, New Zealand, Canada, and Chile next. Out of all 37 countries, Thailand finished last, with what the report described as an extremely ineffective and ambiguous system.
"Thailand was in the bottom slot and should introduce a minimum level of mandatory retirement savings and increase support for the poorest."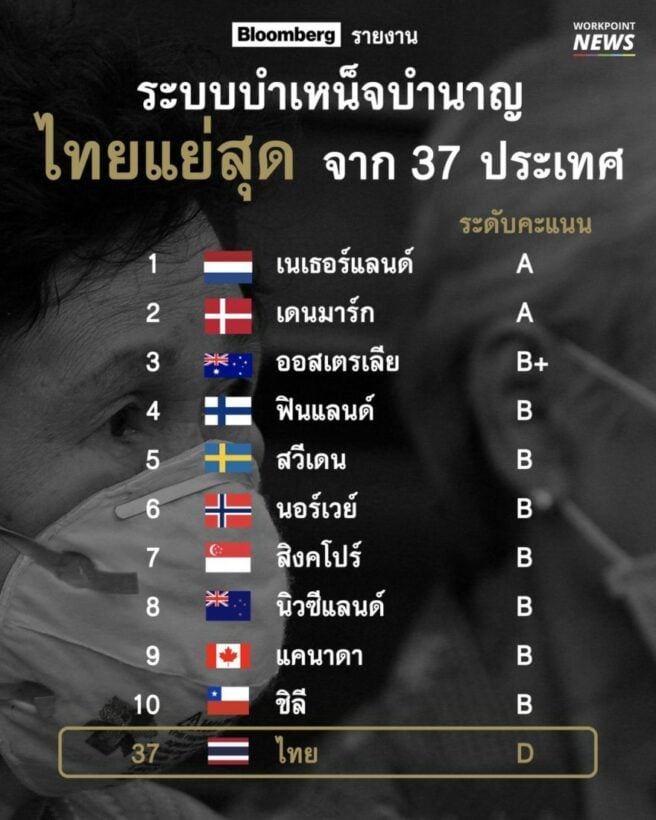 Photo: WorkpointNews
Thai Residents states that only those employed within the government system in Thailand are eligible for a pension based on salary. For most Thai citizens, pension amounts vary from 600 baht to 1,000 baht a month, depending on the recipient's age.
A report carried out by The Securities and Exchange Commission (SEC) advises Thai citizens to have at least 4 million baht saved by the time they retire, but Thai Residents reports that 60% of Thai retirees have less than 1 million baht in savings, with one in three citizens who have reached retirement age are forced to continue working in order to survive.
SOURCE: thairesidents.com
Keep in contact with The Thaiger by following our
Facebook page
.
Tax on salt content being considered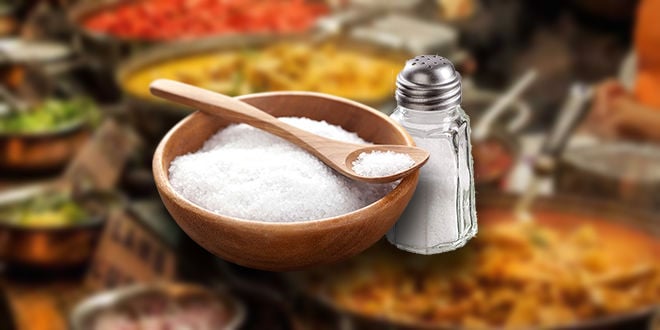 The Excise Department is considering imposing a tax on the salt content of food to encourage food producers to reduce the sodium content of snacks, instant noodles and seasoning cubes.
The director of the Office of Tax Planning said that the department is discussing a limit on the amount of sodium food can contain, in line with the standard set by the World Health Organization (WHO), which is 2,000 milligrams of salt per day.
In reality, Thai people consume an average of 1,000 milligrams per meal, making their daily intake well above WHO guidelines, according to the director.
He said any tax imposed would be at a level which would encourage food producers to reduce the sodium in their processed food without being punitive, adding that the proposal isn't intended to generate more tax revenue, but to help protect the health of consumers. Excessive sodium in the diet can lead to high blood pressure and kidney disease.
Fish sauce, soy sauce and salt would not be taxed.
SOURCE: thaipbsworld.com
Keep in contact with The Thaiger by following our
Facebook page
.
Water shortage warnings in 22 provinces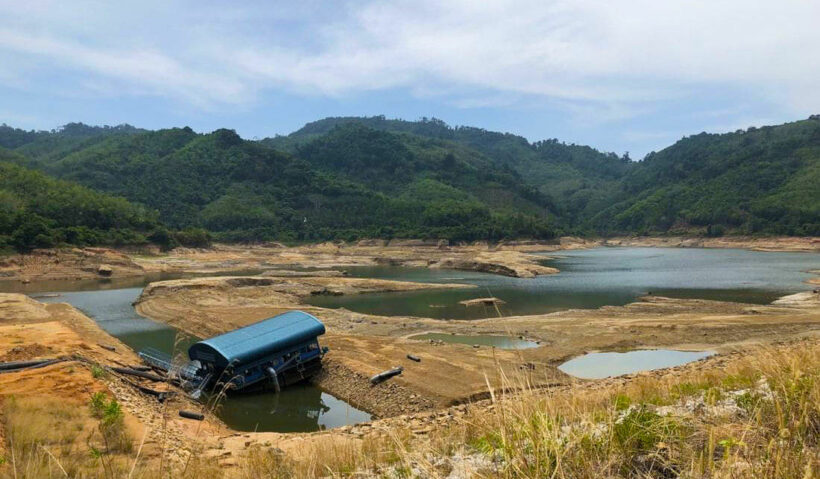 People living in 22 Thai provinces are being warned to prepare for shortages of drinking water during the upcoming dry season, due to start on November 1st.
The warning was issued by the National Water Resources Office, citing low levels in reservoirs, which are the main sources for tap water production waterworks in 22 provinces.
Areas at risk identified by the office are in northern, north-eastern, eastern and southern provinces.
Measures have been adopted by agencies charged with dealing with water shortages. including dredging water channels to allow greater volumes of water to flow into reservoirs, drilling underground wells, enlarging storage ponds and the purchase of water to supply to those in urgent need.
The Royal Irrigation Department has announced that people should use water sparingly.
There are currently about 6 billion cubic metres of usable water in reservoirs in the affected provinces, with 5 billion cubic metres reserved for consumption and ecological preservation, leaving only 1 billion cubic metres for use in agriculture.
This means farmers in the Chao Phraya river basin may not be able to grow a second crop of rice this year.
SOURCE: thaipbsworld.com
Keep in contact with The Thaiger by following our
Facebook page
.