Profile: Mexican Ambassador Jaime Nualart meets with the Gazette team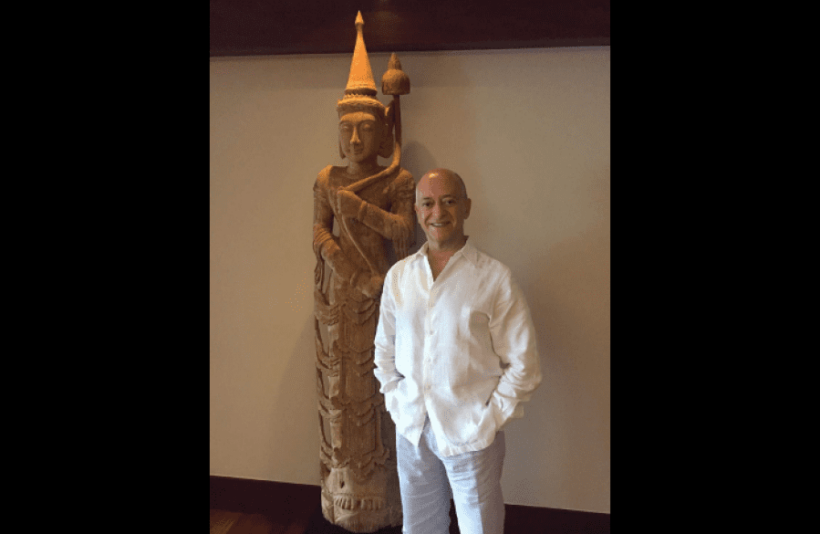 PHUKET: Jaime Nualart is currently the Ambassador of Mexico to Thailand. Born in Mexico City in 1952, Amb Nualart remembers his childhood with fondness.
"I went to a good school and was among the top three students in my class. I had good friends, but I was also very shy. That is perhaps the reason my mother decided to enroll me and my three siblings in art school."
An avid puppeteer, the ambassador learned this skill at art school.
"I entered my puppets in theater performances at school, as I was too shy to perform in front of an audience myself. I had a close friend in class with me (who is now one of the most recognized Mexican authors) who was also very shy," Amb Nualart says.
"We were both encouraged to overcome our shyness and stage fright by one of the professors in the school, who groomed us and helped us become more confident."
Amb Nualart then went on to study journalism at university and worked in television, cinema, radio and education. He later joined the National Institute of Fine Arts in Mexico, where he was in charge of public relations and dissemination of programs. He has also worked with the Mexico City Philharmonic Orchestra and handled promotion, public relations and international tours all over South America, North America, Europe and Asia.
"I started travelling a lot, which gave me the chance to learn about other cultures and countries. That's what led me to join the Ministry of External Affairs in 1982," says Amb Nualart.
"The same year I went to Japan and worked at the Mexican Embassy in Tokyo for five years. Those were wonderful times, both in my personal and professional life. I was in charge of cultural activities and promoted Mexican art and culture in Japan."
The ambassador takes a keen interest in all sorts of art manifestations, from ancient and classical to contemporary art, performing arts, even fashion and gastronomy.
During his stay in Japan, the things he loved the most were Japanese art, food and culture.
"I learned about Japanese theater, such as 'kabuki', a very sophisticated form of art expression called 'noh' which is the most ancient, elaborate and aristocratic form of Japanese theater. I used to go to the theater every Sunday, where I met one of the living national treasures of Japan, the director and actor at one of the noh schools, and I even became the first Westerner to ever perform on that stage," he says.
Amb Nualart also loves cuisine from other countries he has lived in, including Thailand and India.
"I believe food traditions are something that help us identify with other cultures," says Amb Nualart.
Mexican and Thai authorities are now considering opening an honorary Mexican consulate in Phuket.
"The Mexican Embassy in Thailand was established nearly 40 years ago. However, more than 25,000 Mexicans visit Phuket and nearby islands every year, so we want to have an honorary consulate here as a reference point to help resolve any issues they might face during their stays," Amb Nualart says.
Mexico and Thailand have always enjoyed strong relations and the ambassador is confident that they will prosper further in the future.
"I have been working with Thai authorities and institutions such as universities and research centers regarding matters that are significant for both countries. These include health, food security and climate change. We are also starting a partnership with the University of Khon Kaen in the field of edible insects," says Amb Nualart.
"We have bilateral trade worth more than 6 billion dollars with Thailand and this number is rising sharply. We trade in manufactured goods, rice, electronic components and auto parts, to name a few. I'm convinced that Mexico's future role in the world is along the same lines as countries in the Asia Pacific or USA. We all share the Pacific Ocean, where the most dynamic economies of the world are located."
— Zohaib Sikander


Have something to say? Scroll down to leave a comment, or visit our Thaiger Thailand Q&A Forum to discuss people, events, to-do and more with the local community.
Leo returns to 'The Beach'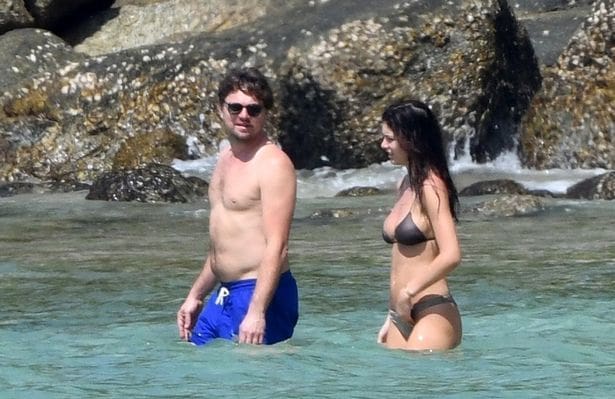 … well, a beach in Phuket anyway.
PHOTO: BACKGRID
It's 19 years since Leo DiCaprio starred in 'The Beach'. The film made both Leornado and Maya Bay famous. Maya Bay on Koh Phi Phi is now closed but Leo has made a return to Phuket island where he shot many of the scenes for the film (including at the On On Hotel in Phuket Town).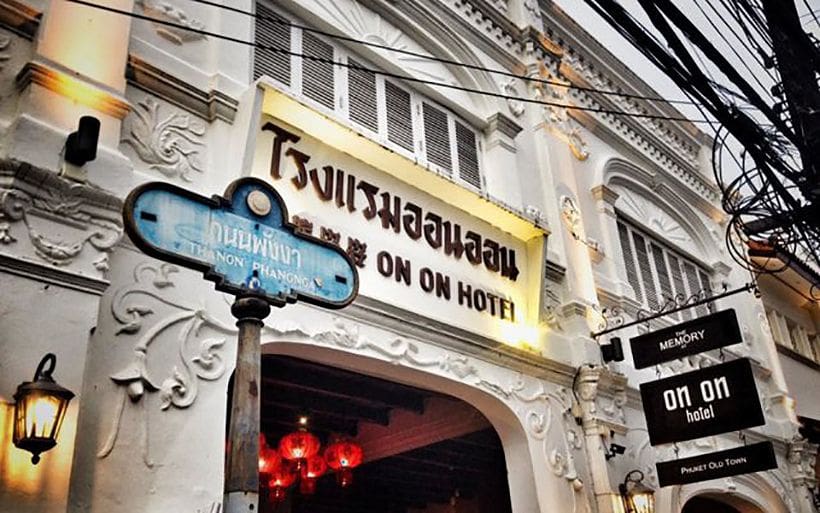 Now the Mirror Online reports that Leornardo has returned to Thailand with his 21 year old model girlfriend Camila Morrone for a break at the luxury resort Amanpuri in Phuket.

Leonardo DiCaprio in the 2000 film shot in Thailand 'The Beach'
The Mirror suggests that the 44 year old is a little out of shape compared to his bronzed boy bod in 'The Beach'.
"But despite a heavy workout regime of volleyball and kissing, it looks like even Leo can't hold back the sands of time."
Leo and his current gf Camila (whose stepfather is Al Pacino) first sparked romance rumours in December 2017, according to the Mirror report, when they were seen shopping together in Los Angeles, where the Morrones lives.
ORIGINAL ARTICLE: Mirror Online
Hua Hin expat postpones attempt to cross the Gulf. On a paddle board!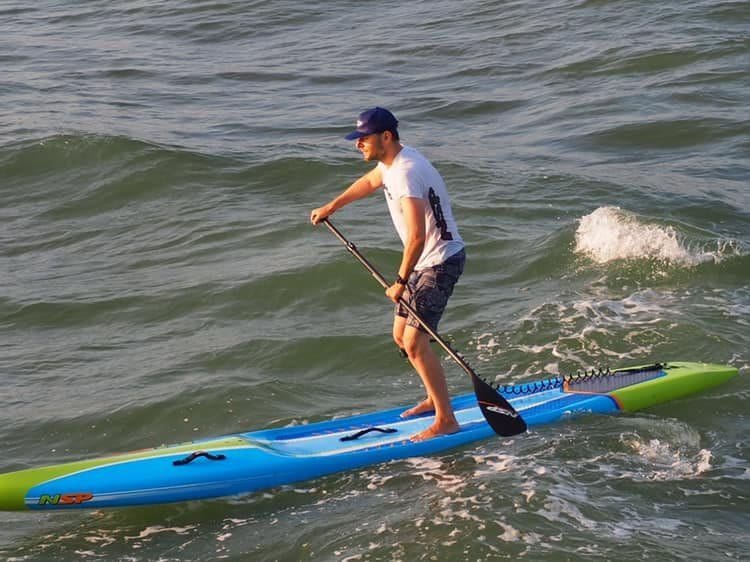 A Russian living in Hua Hin is attempting to cross the Gulf of Thailand. And he's not going on the daily ferry. His mode of transport is just a paddle board.
Vladimir Kruchinin was scheduled to depart on Monday from the shores of Pattaya, according to his Facebook page.
"Exciting times at 4am for the start of our Pattaya to Hua Hin crossing… but it was not to be with technical difficulties with the support boat… back for another attempt soon!"
37 year old Vladimir will navigate the 110 kilometres across the Gulf of Thailand from Pattaya to Hua Hin using just his stand up paddle board. Bad weather on Monday forced him to postpone his initial departure date. He says he first started paddle boarding in 2016 and became hooked after renting a board from a resort at Sam Roi Yot beach.
"At that moment, I fell in love with stand up paddle boarding and within a week I had my own first board", Vladimir told Thaivisa.
He told Thaivisa how he has lived in Hua Hin with his wife and son since 2012.
"Since that time, the sport plays a major role in my life. Thanks to SUP, I have improved my physique, have discovered many interesting places and have found new friends".
"Usually in the daytime, I travel around 20 to 40 kms. When you are surrounded by such beautiful scenery in Thailand, a long way doesn't seem so far. The first time I paddled over 70 km in one day, I realised that much greater lengths were possible.
"I had a dream of crossing the Gulf of Thailand from Pattaya to Hua Hin. At first, I was scared at the thought, but now I am determined to do it. The path will take me across about 110 km. I'm yet to achieve such distances in a day but I believe I am capable".
You can follow Vladimir's progress HERE.
SOURCE: ThaiVisa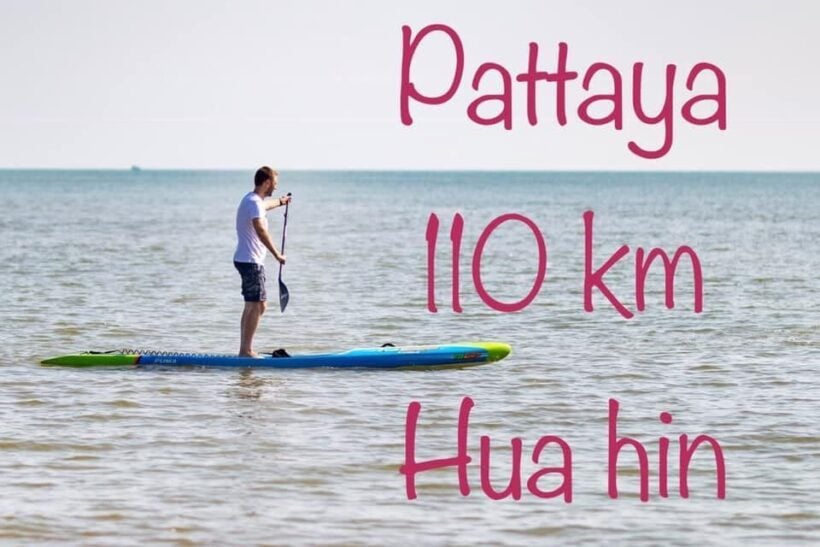 VIDEO: British pianist performs at Thai Elephant Sanctuary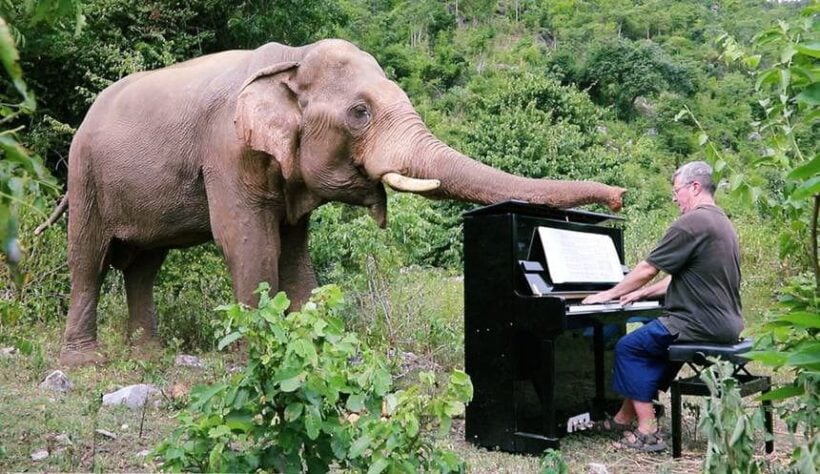 PHOTO: Tree Hugger
Paul Barton is a British classical pianist who seems to have made some new friends. At the Elephants World Retirement Sanctuary in Kanchanaburi province in Thailand, Barton has gotten himself a rather 'big' fanclub.
A frequent visitor to the sanctuary, the musician enjoys taking his piano out in front of a herd of elephants and serenades these mighty pachyderms. In the video below watch as Mr. Barton's music sweeps you away and the surreal image of his audience, trying to quietly eat at the same time, appreciating the finger work.
Having studied at London's Royal Academy of Arts, Barton hopes that these gentle creatures can find some solace in his renditions.
There has been much criticism on social media regarding the treatment of elephants in the tourist trade, with Thailand often being a topic of conversation. Many elephants who come to the sanctuary come from overworked backgrounds which sometimes leaves them disabled.
In this second video (below) watch as Barton plays for a very special elephant, Ampan, who is 80 years old and considered 10 years over the average elephant lifespan. Blind in one eye and barely being able to see with the other, its mesmerising to see a creature of such size have a appreciation for french classical composers.
SOURCE: EuroNews