Thai Life
Go north to Mai Khao and the Sarasin Bridge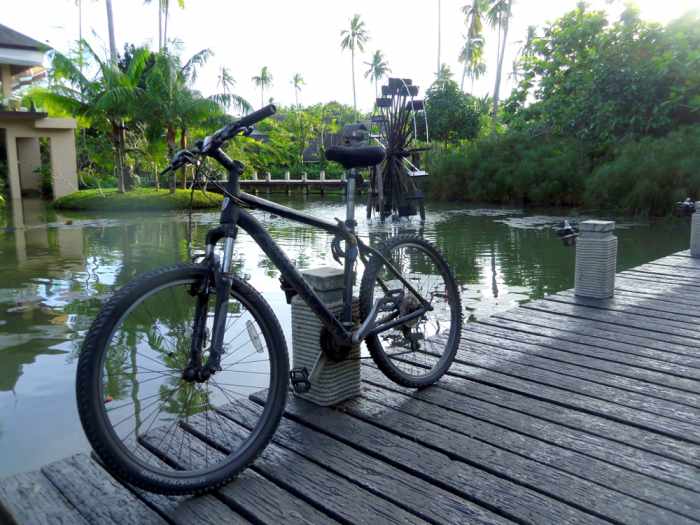 PHUKET: The Mai Khao region in Phuket's northwest has long been home to breeding Andaman sea turtles, not to mention an abundance of other species of flora and fauna, although Homo Touristicus remained noticeable by their absence until quite recently. Nowadays, that's all changed, as a gathering influx of both tourists and residents flood this formerly quiet corner. The opportunities for quiet, traffic-free cycling in beguiling surroundings, it seems, are certainly still a major draw for Phuket's lycra louts.
Peace and quiet are becoming rare on Phuket and are now found only in a few places, of which Mai Khao is definitely one. Here, there's still a vision of a tropical island as it used to be. The sand stretches for miles, palms sway in the breeze and the sea is begging for you to swim, although seasonal rip tides need to be carefully researched prior to jumping in.
There are a few big-name Mai Khao resorts now, but on the whole the area has yet to be overtaken by development. Part of the reason is that Mai Khao is actually part of Sirinath National Park, and as a result, much of the land is protected and currently the subject of fierce debate and investigation.
The national park is a fantastic attraction in itself, spread over 90 square kilometers and comprising a saltwater mangrove forest, a nature trail with a huge wooden walking platform, several lagoons and a wide variety of plants and animals.
Mai Khao remained undeveloped and largely ignored by tourists as late as the turn of the millennium and only two types of visionaries seemed to see any potential in "White Tree Beach" – one reptilian and the other human.
Leatherback and Ridley's sea turtles have laid their eggs on Mai Khao since time immemorial, literally so, since this 850-kilogram species has been around for at least 150 million years. The females return every year between October and February after migrating huge distances, to the very beach upon which they themselves were born, to lay their precious eggs. Human activities such as netting and egg gathering severely impacted the species and they are now on the World Wildlife Fund list of Thai fauna that are "critically endangered".
Mai Khao visionary was one William Ellwood Heinecke, Chairman of the Minor Group, who in partnership with the Marriott Group opened the JW Marriott in Mai Khao in 2002. While seeing the great potential of Mai Khao, Bill Heinecke was also aware of the need to conserve the unspoiled environment, as this was a major attraction to visitors, and one that would become increasingly compromised in Phuket as unregulated development proceeded. His developments were built with the utmost care for the natural environment and he instigated educational programs and the famous Marine Turtle Foundation which became part of the ethos of his Mai Khao resorts.
We had the pleasure of staying at another Bill Heinecke development, the gorgeous Anantara Resort (meaning literally "without end" in Sanskrit) which is dedicated to introducing its guests to the delights of Thai culture, which Heinecke clearly reveres. Heinecke's favorite architect/designer Bill Bensley worked his creative magic in landscaping and designing the 83 pool villas spread around the gorgeous lagoons with wooden walkways, fountains and even splashing ducks that inhabit their very own "duck pool villa".
Complementing the luxury resort's inviting accommodation is a host of services and facilities for the well-heeled. There's even a cycling program that takes guests around the local area with guides and bikes provided.
We opted to cycle around the lakes of Mai Khao on the evening of our stay, spotting mud-bathing water buffalo and fat monitor lizards waddling about the banks. Then we cycled out onto the highway and turned left up to the Sarasin Bridge, keeping well onto the side of the road shoulder to stay clear of the hurtling traffic.
Half of the old Sarasin Bridge stands below the busy new traffic lanes and provides a pleasant picnic and promenading spot for locals while offering glorious views across the expansive estuary to the west and into Phang Nga Bay to the east.
Here we stopped for a breather and gave thought to the bridge's very own ghosts and mythology. The myth is a love story featuring Dam, a poor bus driver who fell in love with Gem, who was, you've guessed it, from a wealthy family. "Not possible", said the family whose hard eyes only understood the lure of filthy lucre and not true love!
Forced apart and unable to see each other, they bound themselves together and jumped off the bridge. On the night of February 22, 1973, the bodies were found tied together by a loincloth and their ghosts still walk the waters to this day.
We didn't actually witness any ghostly sightings, but we did enjoy the most glorious sunset while sitting with a cold beer back on west-facing Mai Khao Beach, enjoying the natural bounty which heading north up to this corner of Phuket can bring.
— Baz Daniel