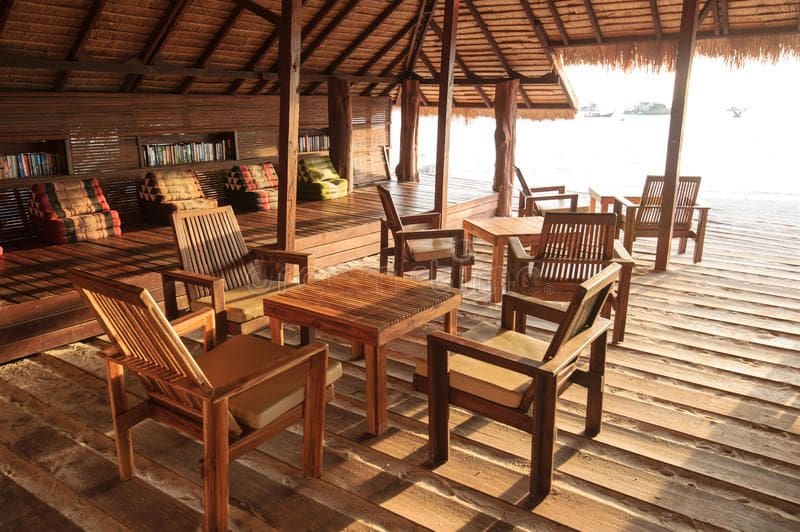 Outdoor furniture can be a sizable investment even here in Thailand. In Phuket it's either the hot sun or rain adding to deterioration. The sun and heat are relentless. But with proper care and cleaning, you can enjoy your outdoor furniture for years.
New furniture comes with care instructions; however this is not always the case in Thailand. So here's a quick reference to help you maintain your outdoor furniture.
Outdoor furniture is available in many materials: wicker, wood or teak wood, fabric, aluminum, iron, steel and resin. Each material requires different maintenance methods.
Monthly cleaning and maintenance can keep the furniture looking good for longer and make your investment last longer too.
You can clean most furniture with soap and water. A pressure washer is useful for cleaning many types of outdoor furniture, but you must remember to use a low setting. A pressure washer is not recommended for most wood furniture.
Teak is the first choice for long lasting furniture and its durability makes it a favorite for patio and deck furniture. Like many tropical hardwoods, teak is saturated with a hard waxy oil substance that protects the wood from bugs, disease, mold and the effects of weather and the sun. This protective oil greatly reduces the damaging effects of weather over the years but does not completely eliminate aging. If left alone, teak's golden brown color will change to a lustrous silver-grey within a year.
Many products are available that will preserve the beauty of your teak patio furniture but it's very important to pick the right one. Some products called 'teak oil' are suitable for indoor teak furniture but may actually promote growth of mold. If you choose to treat your teak furniture, choose high-quality teak oil and make sure the product is intended for use on outdoor teak furniture.

In Thailand we have found it is best to apply the teak oil every three to six months depending how much sun your furniture receives. Follow these steps for oiling to get the best results:
Clean the furniture with soapy water, rinsing with a garden hose or a teak cleaner.
Ensure your teak furniture is completely dry before applying the oil, as moisture trapped within the wood may cause black mildew spots to appear after oiling. Your furniture may take up to a couple of days to dry out fully after cleaning or rain. For a smoother finish sand lightly with fine sand paper.
Ensure the teak is clean and free of dust. For outdoor furniture use high quality teak oil. For a super smooth finish, apply two or three times and sand between layers with fine sandpaper. Teak oil will trap dirt and darken with age. Should this occur, scrub and preferably sand to remove old oil and then re-coat.
Wicker furniture can be cleaned using a hose or pressure washer. Simply remove the cushions and spray off dirt and spills. If it's really dirty, use a sponge and mild soap along with cold water to wash. Allow the furniture to dry completely then apply a paste wax to the frame to keep it shiny and weather resistant. Apply every three to six months.
Aluminum, wrought iron and steel frames can be cleaned with water and mild soap. Many modern frames are rust-resistant or rust free but if your metal furniture is not rust resistant then paste wax can be used to protect it from corroding or rusting. Apply every three to six months.
Mark Dietrich is a professional inspector and property builder with a Master's degree in building engineering. He came to Phuket after working for 25 years in the custom home and inspecting industry in the USA, and has been working in Thailand for more than 11 years.
Visit HERE or email: HERE or call 085-809 8755.