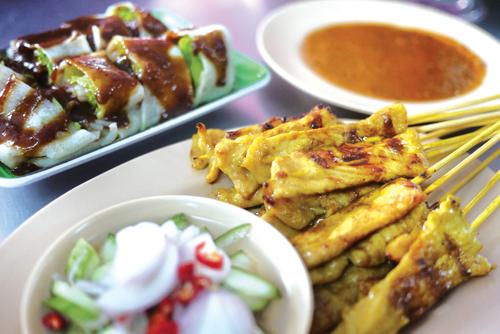 PHUKET: With so many Western-style restaurants and the longstanding popularity of Northeastern-style Thai food in Phuket, it is sometimes easy to forget that the island has its own unique cuisine. You won't find it in the tourist areas though, for an authentic taste of local food, you have to head to Phuket Town, and in particular, to the famous Lock Tien food court which has been serving up classic Phuket dishes for generations.
The style of food at Lock Tien is a result of centuries of intermixing among Thai, Malay and Hokkien Chinese cultures. In the 18th and early 19th centuries thousands of Chinese workers from Fujian Province came to Phuket in search of their fortunes in the dozens of tin mines that were rapidly springing up all over the island.
At several times, these Chinese migrants vastly outnumbered the local Thai population, but overtime they intermarried and began to forge the unique culture known as Baba, a term which denotes the descendants of mixed Thai-Chinese parents. Phuket's Baba culture was deeply influenced by, and still shares much in common with, the Peranakan culture, which is most prominent in Penang, Malaysia – where Chinese migrants intermixed with the Malays.
But Phuket's Baba culture and food developed along slightly different lines to those in Penang, the lack of Muslim influence meant that pork still plays a prominent role in Baba food, unlike its Penang counterpart.
Putting the history lessons aside, let's have a look at some of the most popular and delicious Baba dishes to try when you visit Lock Tien. This is a bit like a food court, with wait staff taking your order, then collecting your chosen food from the various stalls which each specialize in two or three dishes. Then as the food is brought back to your table, you pay for each dish or drink as it arrives.
For starters, try some delicious Moo Satay, tender tiny strips of pure pork, barbecued and served with peanut sauce and cucumber. Next, there is Kien, which is spiced, minced pork stuffed into tubes of tofu skin then deep-fried and served with a sweet barbecue sauce – this one is a must try. Another popular yet very simple starter is Mee Hoon Pa Chang, thin rice noodles stir-fried with soy sauce and topped with fried shallots and fresh spring onions. It is normally accompanied by a delicious pork-bone soup, a thin broth with chunks of pork ribs covered with tender flesh. For adventurous diners, there is Loba, or as the menu describes it in English "assorted deep fried pig offal – but this is perhaps more of an acquired taste.
Finally there are the Por Pia or Fujian style fresh spring rolls, served not unlike Peking duck, they consist of a soft pancake filled with red pork, lettuce, bean shoots, pork skin and several other ingredients, which is then wrapped up, cut into bite sized pieces and smothered in a sweet sauce. These spring rolls are hand prepared by Ko Lai, who has been cranking them out to hungry locals for more than 40 years. He told the Phuket Gazette that he is the third generation of his family to man their stall at Lock Tien. He began helping his parents when he was a child, before taking over from them in his early 20s. Watching him prepare dozens of the rolls with a deft hand, it's clear that he has had plenty of practice and the walls of Lock Tien are covered in photos of Ko Lai with visiting celebrities who came to taste his famous spring rolls.
Next, it's onto the main dishes and here the traditional Fujian saying "It is unacceptable for a meal to not have soup" continues to hold sway. There are several noodle dishes served "dry" with soup on the side and also dishes where the two are combined. The most obviously Thai-Chinese or Baba dish is the Mee Nam Tom Yum Kong, which mixes Hokkien-style noodles, prawns, pork, egg and vegetables with a spicy-sour Tom Yum soup. The "Ancient Style" noodles are similar but omit the Tom Yum soup for a strong pork based broth that is not as spicy. There are also several stir-fried noodle dishes to try, with various combinations of seafood, vegetables and noodles stir-fried in a spicy paste.
To wash all this down you can choose from a wide variety of fruit shakes, some of the more unusual flavors include sapodilla, dragon fruit, cantaloupe or tomato. But to complete your meal in true local style, order a Oh Eaw a concoction of shaved ice, banana jelly, beans and syrup. Very refreshing in the midday heat.
All the dishes are a steal at between 30 to 50 baht, so don't be afraid to try a few different ones. Lock Tien is located in the heart of old Phuket Town, on the corner of Yaowarat and Dibuk roads, opposite a beautifully restored, green Sino-Portuguese building.
— Mark Knowles

Join the conversation and have your say on Thailand news published on The Thaiger.
Thaiger Talk is our new Thaiger Community where you can join the discussion on everything happening in Thailand right now.
Please note that articles are not posted to the forum instantly and can take up to 20 min before being visible. Click for more information and the Thaiger Talk Guidelines.