Thai Life
Boating: Multihulls move on up in Phuket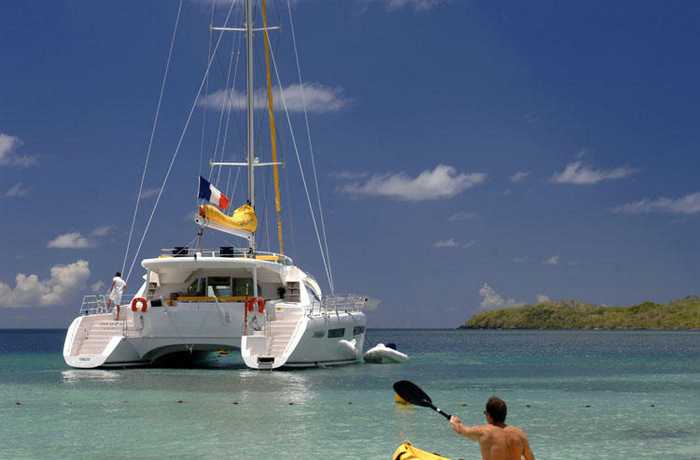 PHUKET: Anyone paying attention to the number of entries in Phuket Raceweek or the King's Cup Regatta in recent years could not have failed to notice the continually rising number of catamarans entered in the events. Cats and other multihulls are on the rise in the Andaman, and Phuket has become their haven.
"They excel in so many areas," explains Andrew de Bruin, who heads the Multihull Solutions office at Phuket's Boat Lagoon Marina.
"Cats are perfect for Asia. They offer good boat speed in light winds, provide shelter and protection from the sun, and they offer additional space, more stability and comfort…
"They are a much more pleasant way to spend time afloat. People don't get seasick on them – and, to a point, the more guests on them at the same time the better the experience is."
Leading the charge are the highly-favored sailing catamarans. "Cats are much better performers under sail these days," Andrew notes.
"The sail-area-to-displacement ratio is much better – think of a car's power-to-weight ratio – and so they can get around much quicker powered just by the wind."
POWERED UP
Even "power cats" are on the up in local waters. "We have a huge range of power cats – that is, catamarans powered by engines only – and these are proving very popular," says Andrew.
"The power cat market is growing. Our first new boat sale in Asia was a Fountaine Pajot power cat. The difference with power cats is again their comfort, stability and space, but most of all their exceptional fuel efficiency."
Without the mast and rigging, power cats offer a big flybridge and today are much more efficient through the water than their predecessors.
"The design is very important," Andrew explains. "Newer designs are much better than some initial designs, many of which can still be seen on the water around Phuket today.
"The early power cats were little more than sail cats with bigger engines and a different deck bolted onto them. Now we have genuine power cat designs, which are semi-displacement vessels. Properly designed, these will cruise at 17-18 knots all day, and hit max speeds of 20-30 knots."
Although Andrew's office in Phuket represents the sole Multihull Solutions franchise for Thailand, Malaysia, Singapore, Indonesia, Hong Kong, Vietnam and the Philippines, the 40ft Fountaine Pajot Summerland 40 power cat sold is now based at Ao Por Marina in Paklok.
"It is a beautiful boat: three cabins, an excellent flybridge and great deck space, all powered by 2x220hp Volvo engines," says Andrew. "As for the design, layout and finishings – it's a Fountaine Pajot, who have over 40 years experience in boatbuilding."
The owner is an avid diver, and catamarans are the ideal platform for diving, notes Andrew. "They don't roll around like monohulls, which can be dangerous when getting in and out of the water," he says. "The owner made a few minor modifications to make his boat his perfect, private dive center."
Yet most cruising cats are designed for charter fleets, and that just adds to the attractiveness. "The boats are pretty much holiday homes on the water and now they are easy to handle – and that makes them very attractive options for people who just want to enjoy their time on the water," Andrew explains.

CAT CONVERSION
The promotion of multihulls over monohulls is not mere gush – Andrew himself is a convert, after sailing into the region on a 23-meter sailboat in 1997. He ended up staying in Phuket, working first as a charter skipper, then for 10 years as a broker, before teaming up with MS to open Multihull Solutions' first office in Southeast Asia.
"Multihull Solutions has been established in Australia, New Zealand and various parts of the Pacific since 2009, and have recognized the growing demand for power and sailing multihulls in Asia, which has led to the opening of the Phuket office," Andrew explains.
"We see buyers coming from the private ownership sector along with the charter market. With the region being such a haven for charter fleets and all the operators wanting new boats, we see this as an area of sales growth for us and our brands we represent."
Multihull Solutions represents several outstanding brands, including Fountaine Pajot (power and sail), Catana, Privilege (power and sail), Tag and NEEL trimarans.
"We find out what our customers are looking for and fit them into the right boat that suits their needs and budget, as opposed to just selling one brand and pushing that brand onto clients whether it suits them or not," Andrew notes.
"Another very large part of the business is pre-owned sales and this is proving to be very popular in this region with more than 70 listings and six sales so far this year. With pre-owned boats, we deal with all brands valued over approximately 150,000 euros."
The future looks bright for Phuket's marine industry, and for multihulls in the region. From an outside perspective and looking forward, Mark Elkington, managing director of Multihull Solutions in the company's native Australia, noted: "We see Southeast Asia as a huge growth area for multihulls. Phuket, because of its yachting community and the number of vessels based there for recreational use or private charter, made the island the perfect choice for a new office to get a foothold in the Asian market."
— Chris Husted