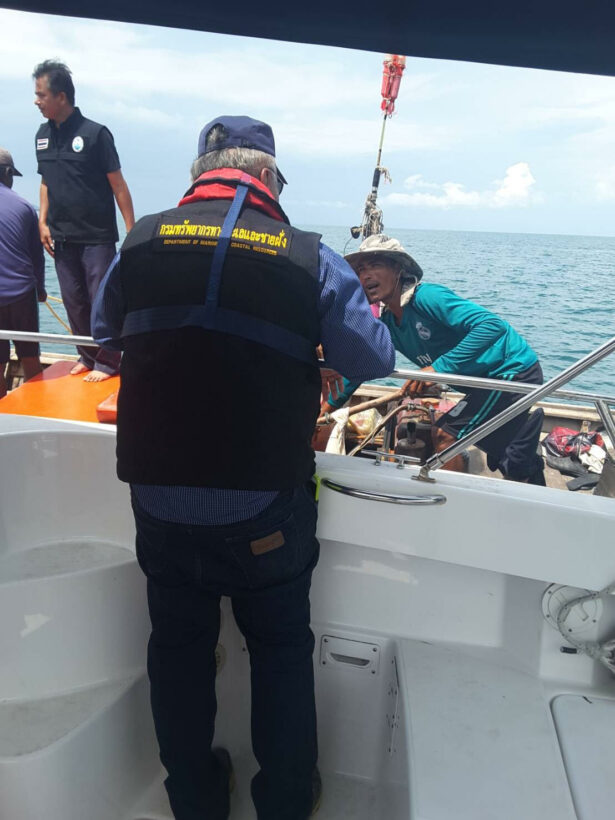 The Provincial Government are pressing all the right buttons and saying all the right things in the wake of the whale shark fiasco. A whale shark was caught in a fishing net last Friday. Video of the whale shark being lifted from the water and the fishermen trying to free it from the net by hauling the shark up on a crane was captured by diving boats nearby. The video and subsequent story has become a big international story and put Thai fishing practices, already in the public spotlight, in an even poorer light.
The fishing boat captain and owner have come out saying they did their best to free the whale shark and they claim it was alive when freed (it had been out of the water for more than 10 minutes, even by their claims.)
Vice Governor Thawornwat Kongkaew says, "We must now provide urgent measures to protect marine animals from being hurt, intentionally and unintentionally. Many endangered marine animals have been injured and died from fisheries activities. These processes must be put into place as soon as possible."
The search continued today (May 22), covering 23 kilometres form where the whale shark was dropped back into the water, which is near Koh Hey, Koh Bon and Koh Kaew Nai. No whale shark, dead or alive, has been spotted since.
Sea gypsy, Niran Yangpan, who is a local fisherman says, "We believed that the whale shark is the one we have seen previously near Koh Racha. The chances that the whale shark is still alive are very low."
"It is believed that if the whale shark is injured or dead, its body would be floating. I have already informed local fishermen. If they find any dead or alive whale shark, they must inform officers immediately. I think if the whale shark is dead, its body will be washed up on the shores of Koh Hey or Koh Aew."
Officials at the Phuket Marine Biological Centre (PMBC) says, "From the video clip we are sure that the whale shark was not on the fishing boat much more than 10 minutes."
While the fishing boat captain says, ""When I knew that it was a whale shark, I was shocked. I immediately asked the boat crews to release it back to the sea. It took about 10 minutes."
See story HERE.
"The diving boat first saw the whale shark on the fishing boat at 1:40pm on May 18. The diving boat was chasing the fishing boat and filming the situation for at least 30 minutes."
"If the whale shark is injured, it will died within two days. It will take about four to five days for the whale shark to float up. If we do not find the whale shark's body soon there is still hope that the whale shark is not dead."