THAIGER TODAY Wednesday, November 8
No smoking zones now in force | Toon tops 100 million baht mark | PM won't rule out starting an NCPO political party | Phuket has a World Champion | Ferries back in service on Gulf | Cabinet approves tax-breaks | 4 year old girl shot in Pattani.
Keep in contact with The Thaiger by following our
Facebook page
.
Never miss out on future posts by
following The Thaiger
.
US cuts Thailand's tariff benefits after long-running pork dispute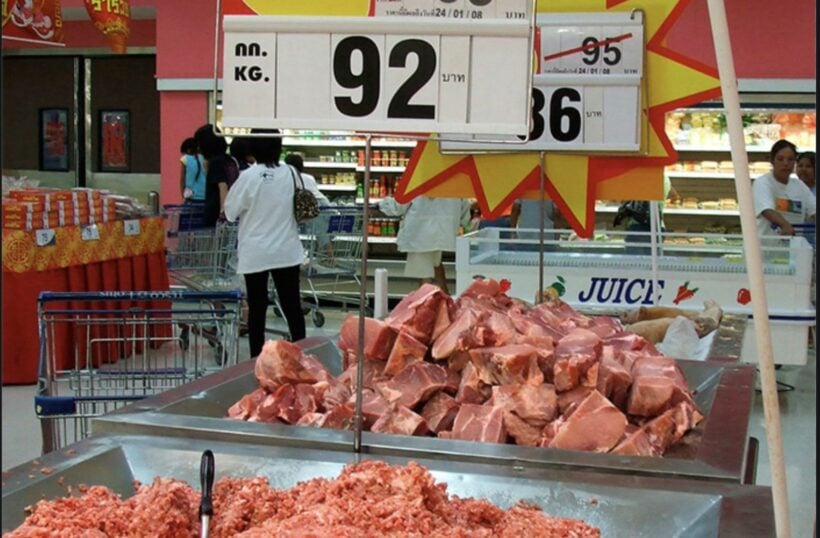 Thailand's duty-free privileges for US$817 million in exports with the US are to be revoked from the end of this year, according to US President Trump in an announcement yesterday. The President blamed a lack of progress in opening the Thai market to US pork products. Trump's letter announcing the action follows more than 2 years of threats and negotiations with Thai officials over issues ranging from access to Thailand's markets for US goods and the documented inadequate labour rights in the south east Asian nation.
Washington will now eliminate some tariff benefits for Thailand, accusing the country of failing to allow imports of pork from US producers.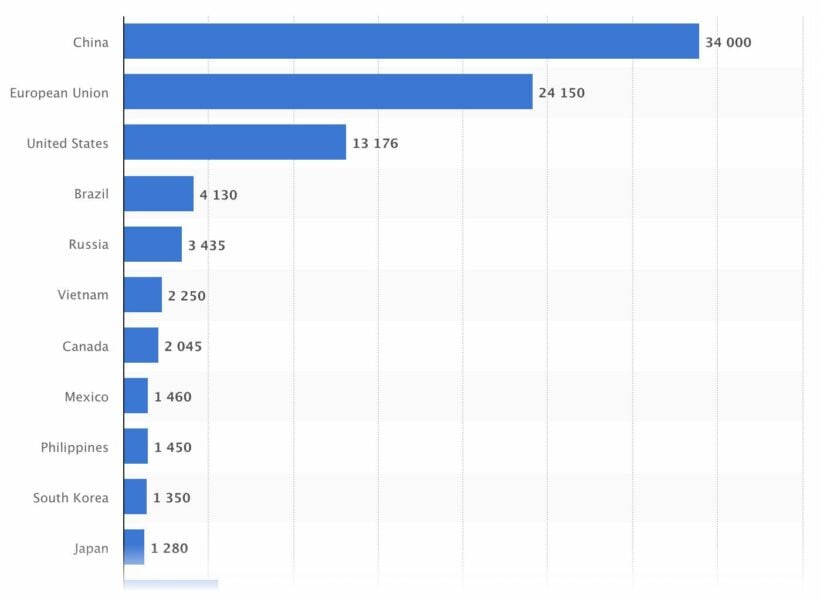 GRAPHIC: Global pork production in 2020, by country (in 1,000 metric tonnes) – statista.com
The suspension of the Generalised System of Preferences access follows a suspension earlier this year on about $1.3 billion worth imports from Thailand, which once had such privileges for about US$4.4 billion in exports to the United States.
The US Trade Representative's office said the list of products includes mango, pineapple, manicure kits, steel pipes and precious stones., auto parts, dried produce, tools, electrical products and aluminium kitchenware.
Writing to the House Speaker Nancy Pelosi, President Trump said… "I have determined that Thailand has not assured the United States that Thailand will provide equitable and reasonable access to its markets."
GSP, Generalised System of Preferences, is a 70s-era program of US trade preferences for developing economies aimed at improving workers' rights and access to broader markets.
"The US Trade Representative's office also announced that it had closed other GSP eligibility reviews with no loss of benefits for Georgia, Indonesia and Uzbekistan. It also said new GSP reviews were opened for Eritrea based on concerns about workers' rights."
SOURCE: Reuters | VOANews | statista.com
Keep in contact with The Thaiger by following our
Facebook page
.
Never miss out on future posts by
following The Thaiger
.
This year's most powerful typhoon will hit Philippines tomorrow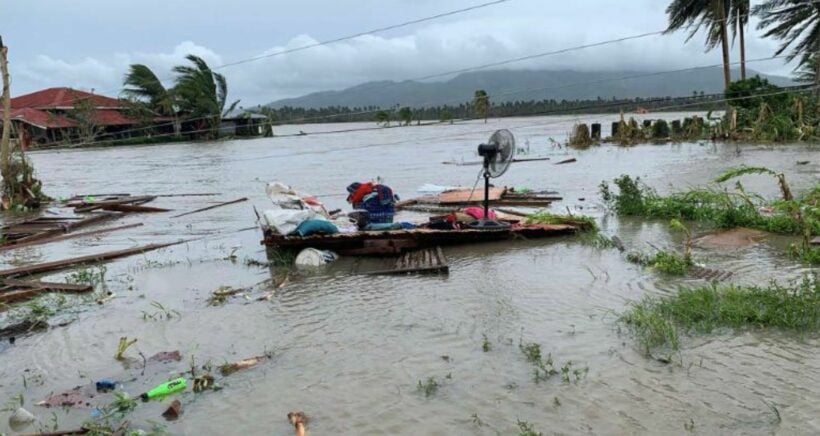 Typhoon Goni continues to bear down on The Philippines in one of the South China Sea's busiest storm years. 220,000 people have now been evacuated as of today.The typhoon, packing "destructive winds', is expected to reach the south-east of the Philippine's main island of Luzon tomorrow morning with the eye of the storm passing over during Sunday afternoon. Forecasters are expecting wind speeds of over 200 kilometres per hour.
Typhoon Goni is known locally as "Rolly".
A warning has been issued "moderate to high risk" of storm surges up to 3 metres high along the east coast over the next 2 days.
On Wednesday this week Typhoon Molave smashed into Vietnam's central coast, killing up to 35 people and flooding low-lying villages and then dropping heavy rain on southern Laos and Central Thailand. Molave killed 20 people as it passed over The Philippines.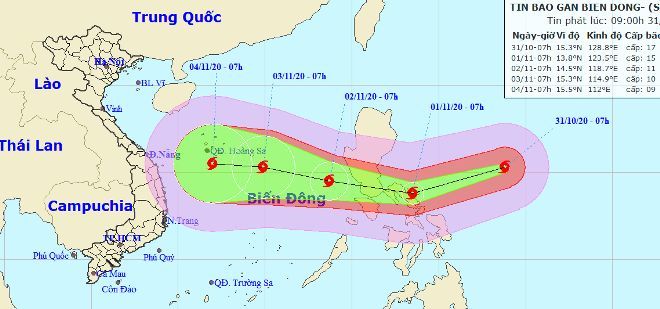 GRAPHIC: Typhoon Goni will reach Philippine's island of Luzon tomorrow.
Schools are being used as emergency shelters as well as government-co-ordinated evacuation centres and gymnasiums. Authorities are ramping up preparations in the Bicol region southeast of Philippine capital Manila, readying rescue vehicles, emergency response teams and relief goods ahead of the storm.
The Philippines averages around 20 storms and typhoons every year, wiping out harvests, infrastructure and homes. The deadliest storm on record for The Philippines was Typhoon Haiyan, which dumped huge wave surges on the central city of Tacloban killing over 7,300 people in 2013.
Keep in contact with The Thaiger by following our
Facebook page
.
Never miss out on future posts by
following The Thaiger
.
Suvarnabhumi's new terminal ready for 2022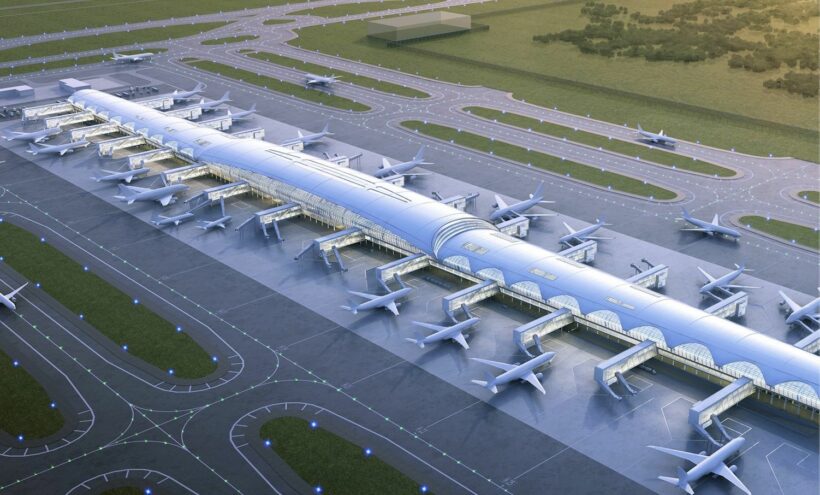 The extension of the Suvarnabhumi terminal will be operational by the start of 2022, according to Thai transport minister Saksayam Chidchop. The new Satellite Terminal 1 at Suvarnabhumi International Airport will increase the total capacity of Thailand's largest airport terminal by 15 million passengers a year, allowing the total airport capacity to cope with traffic up to 90 million per year.
The 4-level concourse building has 28 aircraft contact gates, 8 of which will serve aircraft up to the A380 jumbo size. A new underground automated people mover and baggage handling system connects the new building to Suvarnabhumi's main terminal.
The concourse's contemporary design is infused with subtle cultural references that add to its "Thainess". It includes a diamond-patterned ceiling, with crisscrossing arched ribs infilled with timber-coloured slats. Interior gardens follow the trend of Singapore's Changi adding a tropical landscape.
Construction on the 3rd runway has also commenced and should be receiving aircraft by 2023.
Suvarnabhumi Airport management has also used the downtime, whilst the airport has been quiet during the 'disruption' to fix the potholes and 'sinkage' in parts of the existing runways. Some 700,000 square metres of runway and taxiway service is under repair at this time, soaking up a budget of 4 billion baht.
The new terminal and repairs come at a time when world airline traffic is at its lowest for decades. The world wide Covid-19 pandemic has closed borders, grounded entire airline fleets and decimated the world's travel industry. Since March when air traffic plummeted, there has been a gradual ungrounding of fleets, primarily in non-commercial and non-passenger-carrying fleets. Commercial scheduled traffic is still very low.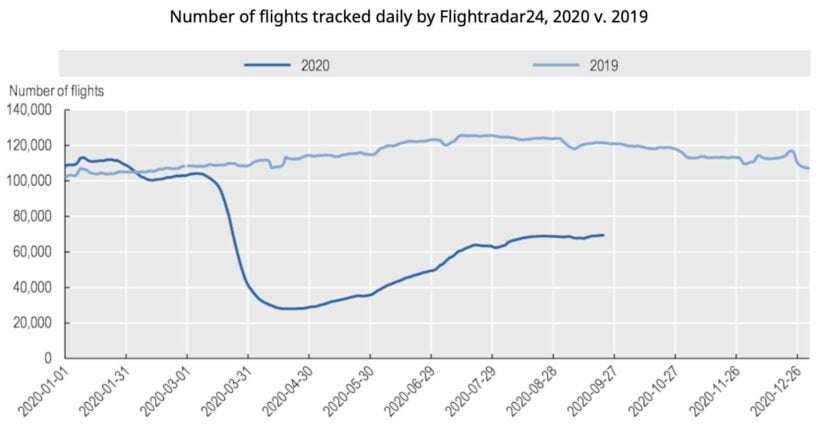 Keep in contact with The Thaiger by following our
Facebook page
.
Never miss out on future posts by
following The Thaiger
.