Songkran launches around the country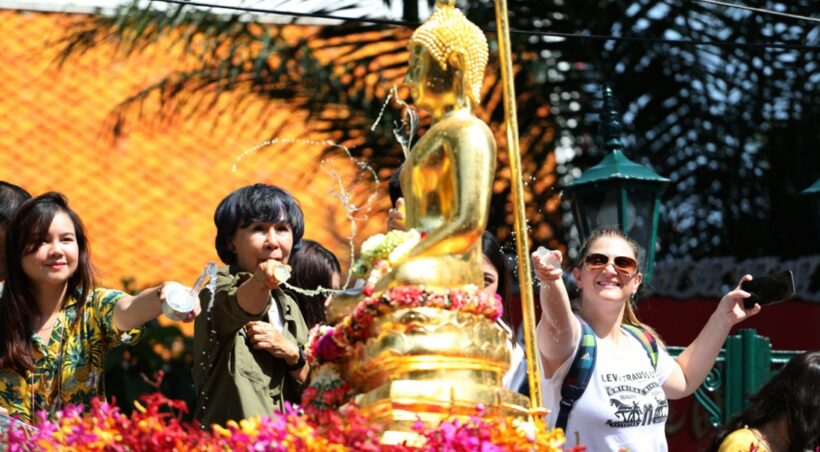 Police continue to push public safety measures but traffic still poses challenge.
As holidaymakers and locals heading home started to reach their destinations nationwide yesterday for the traditional Thai New Year celebrations this weekend, various sites confirmed their readiness to host impressive events and also implement public safety measures.
At Bangkok's Khao San Road Thai actors Chatchawal Phetchwisit, Wichan Meesom and Kosawis Piyasakulkaew and singer Treechada "Ice R-siam" Kimtin to promote safe Songkran celebrations. They urged people to refrain from wearing too-revealing clothes (or risk a 5,000 baht fine), sexual harassment/molestation (up to 10 years in jail and up to 200,000 baht fine), or using high-pressure water guns (sellers face up to six months in jail and up to 50,000 baht fine).

Khao San Road, which is famous for water wars every year, is expected to draw 30,000 visitors a day from today until Sunday. Some 960 police would guard the road and nearby areas during this period.
The Bangkok Metropolitan Administration (BMA) kicked off the Songkran Festival with a beautiful procession carrying the famous Phra Buddha Sihing image from the National Museum to a temporary shrine in Lumpini Park where it will remain until Sunday. The procession through the streets of old Bangkok was flagged off by BMA Governor Pol General Aswin Kwanmuang.
The BMA will also host an alms-offering rite at 7am today for 166 Buddhist monks before hosting Songkran-related activities at the park, including a Songkran beauty queen contest.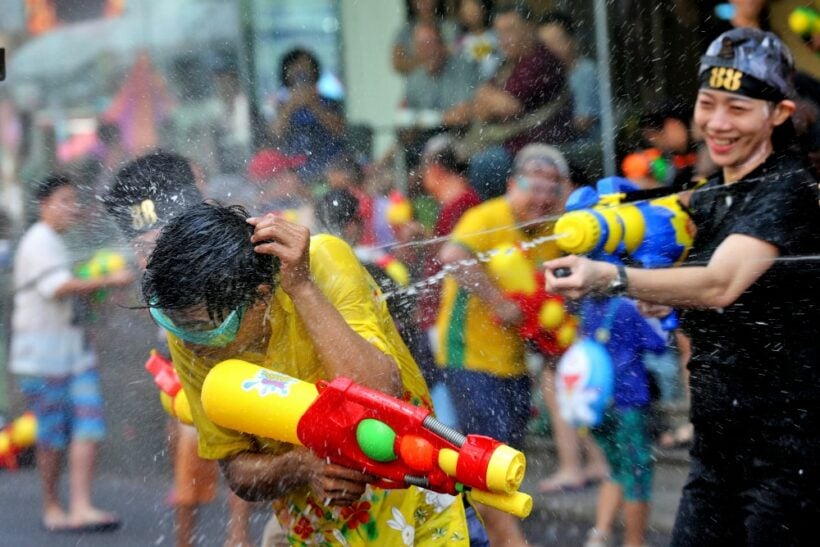 Down South, Thais and Malaysian and Singaporean visitors started Songkran water wars at the site for "Hatyai Midnight Songkran" on Sanehanusorn Road in Songkhla, many hours ahead of the event launch, while security officers were there to guard revellers.
Revellers got an early start in Bangla Road, Phuket yesterday afternoon as the water guns were out early with people firing off the first salvos. Foam started pouring from the roofs of some of the popular clubs as the night descended into a wet, slippery mess – all good fun.
Chiang Mai Governor Pawin Chamniprasert led officials and public members in a morning alms-offering rite for 60 Buddhist monks at the Three Kings Monument Plaza in Muang district. It marked the 722nd anniversary of the establishment of Nophaburi Sri Nakhon Ping Chiang Mai as the capital city of the Lanna Kingdom. The rite also launched Songkran celebrations.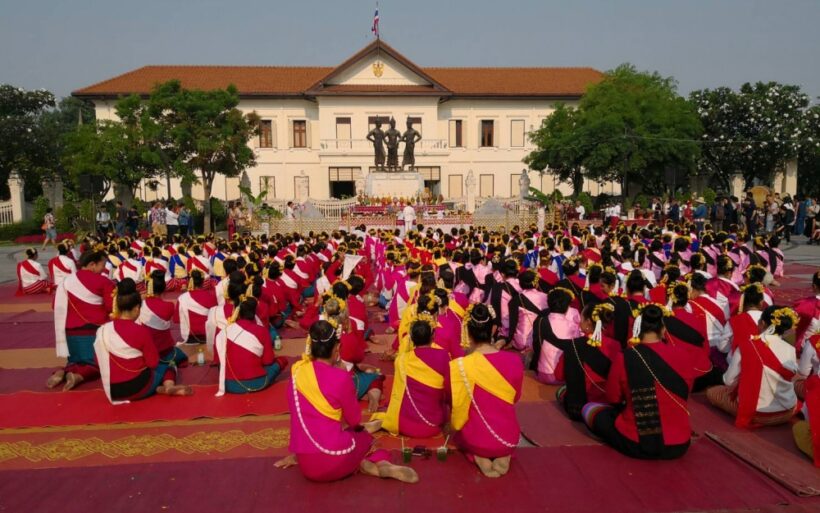 Various sites were ready for the celebrations, including the Tha Pae Gate plaza, the Wat Lok Molee for Lanna-style merit-making activities and the "Khu Muang" old city moat famous for its water wars. The latter site also saw eight emergency tents set up and a ban on the sale of alcohol.
Meanwhile, travellers from Bangkok heading upcountry for the five-day Songkran holidays were warned to prepare for severe traffic jams on highways later last night. Earlier in the day yesterday, heavy traffic congestion were already reported at various parts of the Northeast-bound Mitraparp Highway and the North-bound Asia Highway. By yesterday afternoon, Highway No 304 witnessed a 40km-long traffic jam between Nakhon Ratchasima's Wang Nam Khieow district and Prachin Buri's Na Dee district. Cars and vehicles were stuck bumper to bumper and could only move at a crawl pace.
Besides the vehicles of holidaymakers, other factors contributing to the traffic jams were some trucks plying and violating the ban on them running from April 11-17 as well as some ongoing road construction, a police source said.
On the North-bound road, vehicles caused some congestion on Highway No 11 (Phitsanulok-Uttaradit) while the Indochin intersection in Phitsanulok, which had some ongoing construction, allowed more motorists to still drive using alternative routes to avoid jams.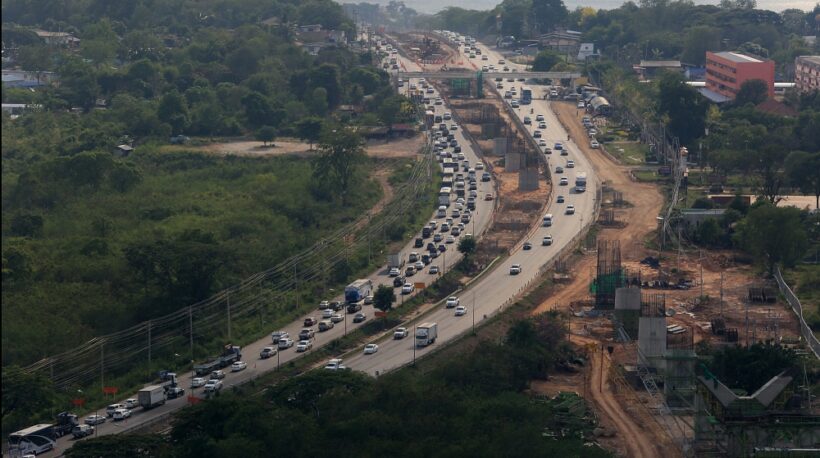 - The Thaiger & The Nation
15 year old dies in Chiang Mai boarding house fire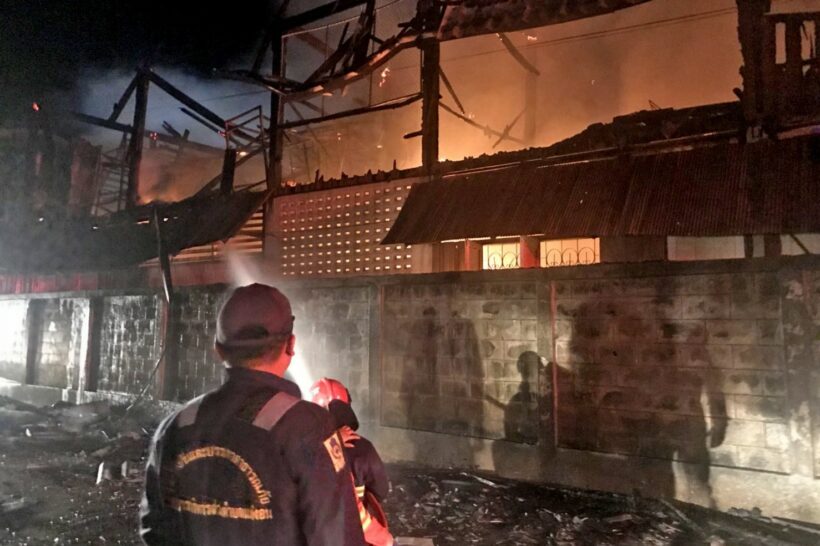 PHOTO: Chiang Mai City Life
A 15 year old girl has died following a fire that engulfed the living areas of a Christian boarding school in Fang district, north of Chiang Mai city, this morning. Fang police were alerted at 1:30am about the fire at the Christian Paolo School that is run by the Evangelical Fellowship of Thailand.
Ten fire engines were dispatched to tackle the fire that was raging through the two storey boarding house. All but one of the 74 children escaped, assisted by firefighters. The boarding house accommodates 28 boys and 46 girls, most of them from hill tribes.
After the fire was eventually extinguished hours later, the charred body of Saenghom Omsin was found on the second floor. The students told police that they believe the fire was started by a short circuit in a ceiling fan in her room before it spread.
Police suspect that Saenghom went underneath her bed instead of running out.
SOURCE: The Nation, Chiang Mai City Life
Chiang Mai: Spanish man arrested in Lampang over UK cocaine bust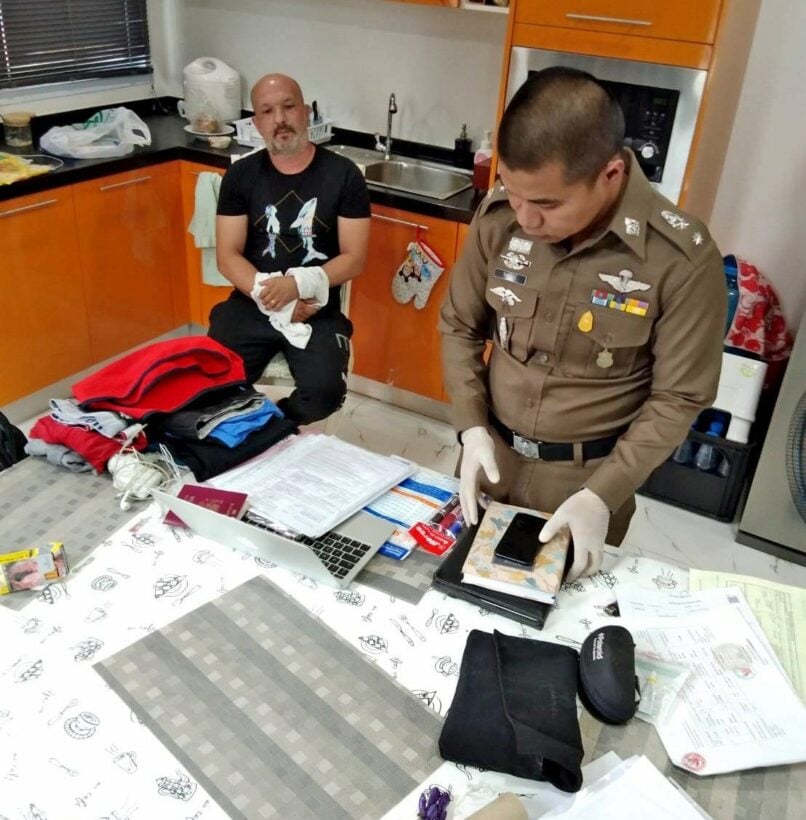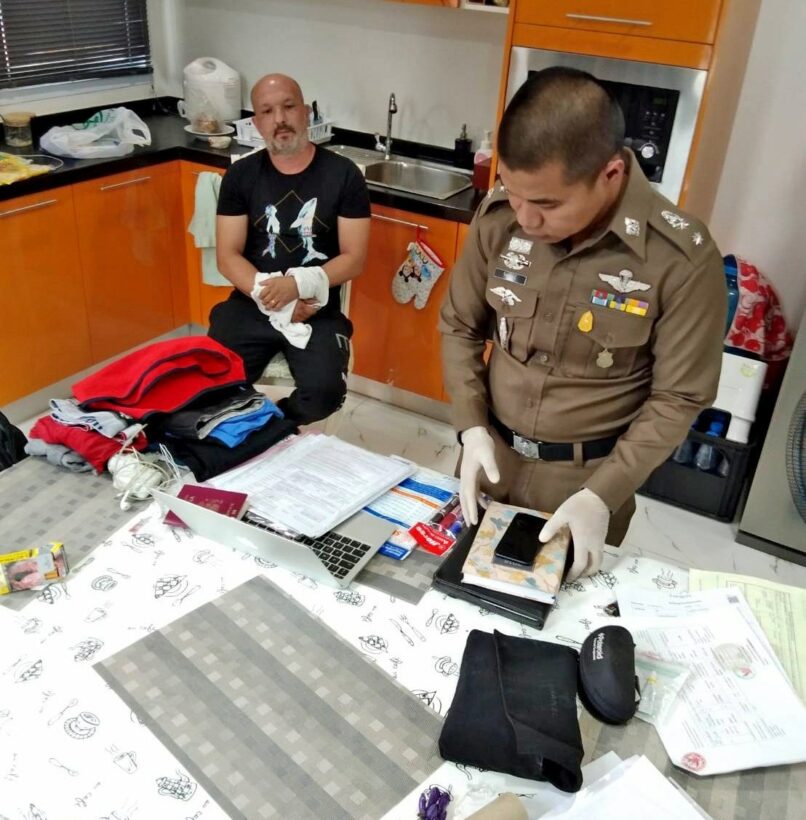 Heavily armed drug suppression police have arrested a 36 year old Spanish citizen at a noodle shop in Lampang in northern Thailand at the weekend.
A warrant for the arrest of Spaniard  Francesco Jesus Gutierrez Marcos was issued in Thailand last Friday following representation from UK authorities and an official extradition request.
Marcos is alleged to be a member of a five person gang that imported 513 kilograms of cocaine into the United Kingdom. UK authorities said that Marcos fled to Thailand after the bust at the end of January this year.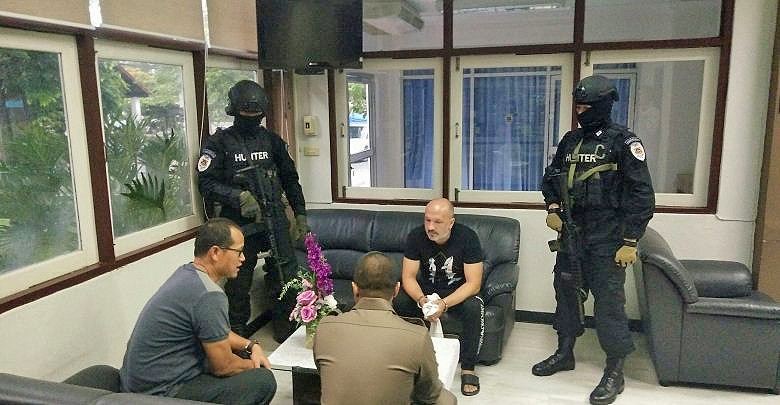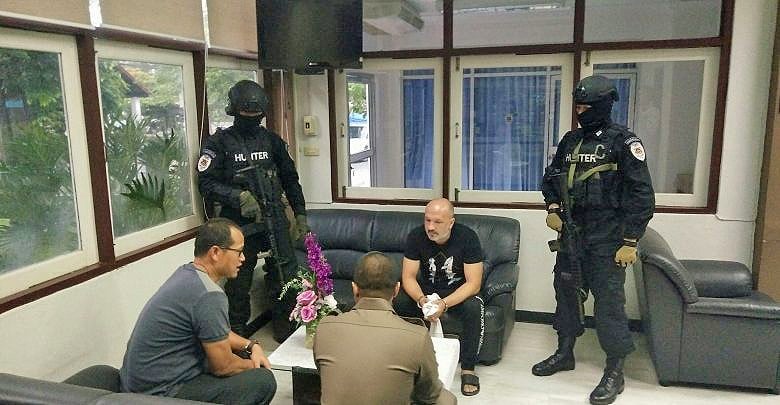 SOURCE: INN
Chiang Mai: Governor visits 74 year old rape victim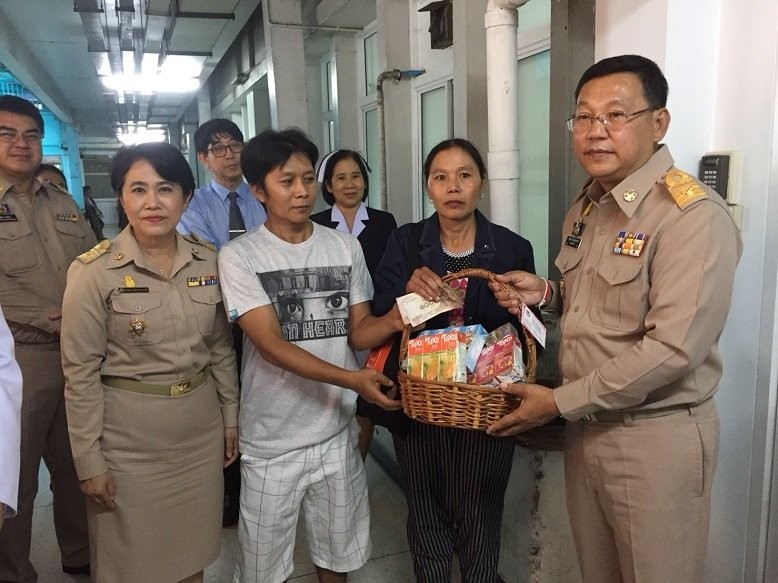 PHOTO: Chiang Mai City Life
Chiang Mai's Governor, Supachai Iamsuwan, visited the elderly sexual assault victim from earlier this week.
Read the story HERE.
The new governor, along with officials from the Office in Social Development and Human Security, visited 74 year old Sudjai Sukhamton at her home.
Social Development and Human Security say they will be following the Governor's visit with regular checks on her trauma and to provide additional services.
The attacker, 30 year old Suchart 'Tim Tinyam' Sukasem, had served time in jail in the past and was recently working as an attendant at a local carnival. The attack on 74 year old Sudjai occurred on the night of July 9.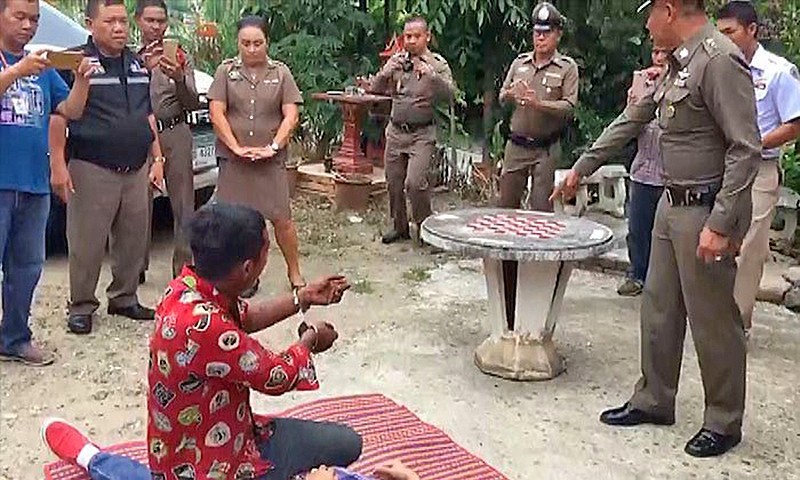 Original story HERE.