Songkran launches around the country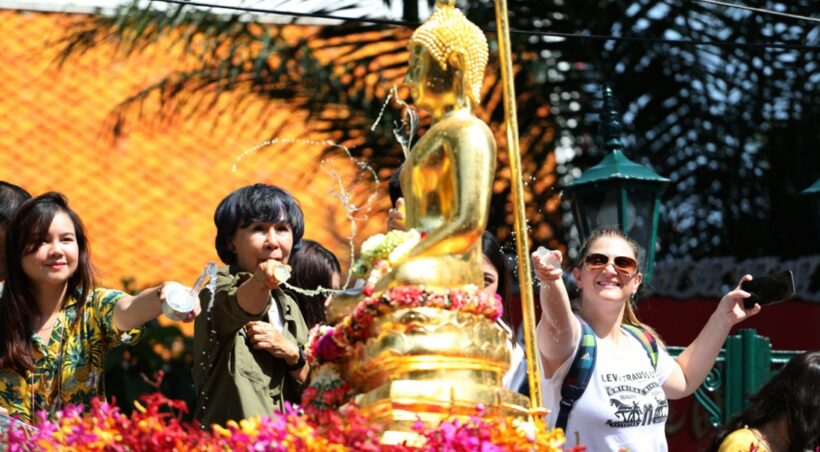 Police continue to push public safety measures but traffic still poses challenge.
As holidaymakers and locals heading home started to reach their destinations nationwide yesterday for the traditional Thai New Year celebrations this weekend, various sites confirmed their readiness to host impressive events and also implement public safety measures.
At Bangkok's Khao San Road Thai actors Chatchawal Phetchwisit, Wichan Meesom and Kosawis Piyasakulkaew and singer Treechada "Ice R-siam" Kimtin to promote safe Songkran celebrations. They urged people to refrain from wearing too-revealing clothes (or risk a 5,000 baht fine), sexual harassment/molestation (up to 10 years in jail and up to 200,000 baht fine), or using high-pressure water guns (sellers face up to six months in jail and up to 50,000 baht fine).

Khao San Road, which is famous for water wars every year, is expected to draw 30,000 visitors a day from today until Sunday. Some 960 police would guard the road and nearby areas during this period.
The Bangkok Metropolitan Administration (BMA) kicked off the Songkran Festival with a beautiful procession carrying the famous Phra Buddha Sihing image from the National Museum to a temporary shrine in Lumpini Park where it will remain until Sunday. The procession through the streets of old Bangkok was flagged off by BMA Governor Pol General Aswin Kwanmuang.
The BMA will also host an alms-offering rite at 7am today for 166 Buddhist monks before hosting Songkran-related activities at the park, including a Songkran beauty queen contest.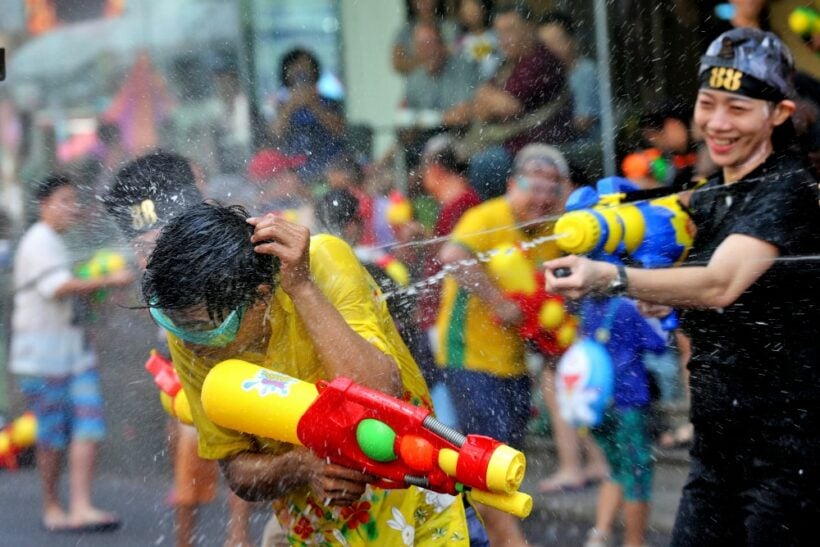 Down South, Thais and Malaysian and Singaporean visitors started Songkran water wars at the site for "Hatyai Midnight Songkran" on Sanehanusorn Road in Songkhla, many hours ahead of the event launch, while security officers were there to guard revellers.
Revellers got an early start in Bangla Road, Phuket yesterday afternoon as the water guns were out early with people firing off the first salvos. Foam started pouring from the roofs of some of the popular clubs as the night descended into a wet, slippery mess – all good fun.
Chiang Mai Governor Pawin Chamniprasert led officials and public members in a morning alms-offering rite for 60 Buddhist monks at the Three Kings Monument Plaza in Muang district. It marked the 722nd anniversary of the establishment of Nophaburi Sri Nakhon Ping Chiang Mai as the capital city of the Lanna Kingdom. The rite also launched Songkran celebrations.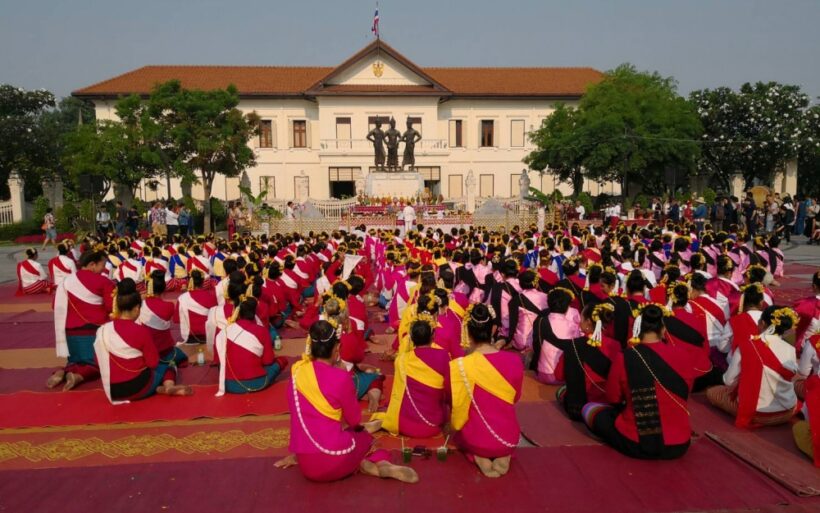 Various sites were ready for the celebrations, including the Tha Pae Gate plaza, the Wat Lok Molee for Lanna-style merit-making activities and the "Khu Muang" old city moat famous for its water wars. The latter site also saw eight emergency tents set up and a ban on the sale of alcohol.
Meanwhile, travellers from Bangkok heading upcountry for the five-day Songkran holidays were warned to prepare for severe traffic jams on highways later last night. Earlier in the day yesterday, heavy traffic congestion were already reported at various parts of the Northeast-bound Mitraparp Highway and the North-bound Asia Highway. By yesterday afternoon, Highway No 304 witnessed a 40km-long traffic jam between Nakhon Ratchasima's Wang Nam Khieow district and Prachin Buri's Na Dee district. Cars and vehicles were stuck bumper to bumper and could only move at a crawl pace.
Besides the vehicles of holidaymakers, other factors contributing to the traffic jams were some trucks plying and violating the ban on them running from April 11-17 as well as some ongoing road construction, a police source said.
On the North-bound road, vehicles caused some congestion on Highway No 11 (Phitsanulok-Uttaradit) while the Indochin intersection in Phitsanulok, which had some ongoing construction, allowed more motorists to still drive using alternative routes to avoid jams.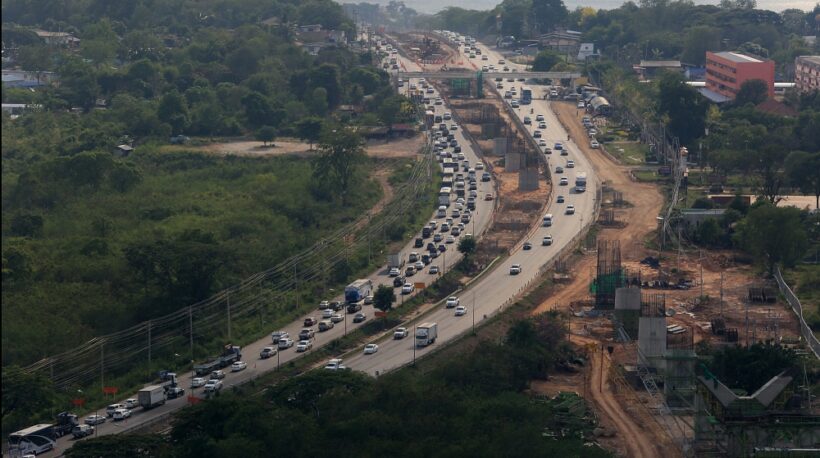 Greed unravelled the trio's grisly plot – Phrae double murder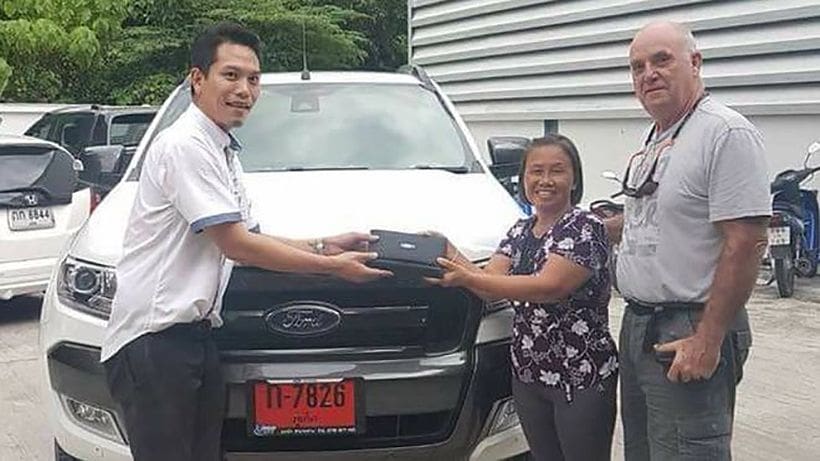 PHOTO: Alan and Nod receive the keys to their new pick-up truck.
The bodies of 64 year old Alan Hogg and his 61 year old wife, Nod Suddaen, wee unearthed yesterday morning following a short investigation where greed brought the plot unstuck for the killers.
After a few hours of interrogation three men admitted to collusion in the plot to murder the married couple.
Included in the latest interrogations was Khun Nod's brother, Warun Satchakit, who was first set free on bail after initial questioning over the couple's stolen white pick up, but was released before his later arrest when the car was located last Sunday.
The other two arrests are reportedly local friends of Khun Warut. In the confession they detailed the method of killing the pair. Warut confessed to organising and carrying out the killings. It is understood that he fired the gun that killed Mr Hogg and bludgeoned Khun Nod to death with a hammer.
Warut told police he then took the bodies to an area behind the house, near a creek, to bury them with a small excavator/back hoe. The corpses were found lying next to each other about 2 metres underground.

Happier times for the married couple – Alan and Nod
During the interrogation Warut has told police that the couple 'repeatedly criticised him' and that that he'd tired of the constant criticism and went about planning their deaths.
The plot unravelled after the killers allegedly stole the dead couple's new pick-up and tried to get a quick sale for cash. A Lao man bought the car and was driving south on Sunday night when he heard about the missing couple and the missing car. He reported to police in Ayutthaya and was able to provide police with information that led to the trio's arrest.
Police initially arrested Khun Warut after CCTV footage showed him entering the couple's home and driving away in the pickup last Thursday but he denied any involvement in their disappearance. He was charged with theft of the pick up and released on bail of 100,000 baht at the time.
Friends of the couple had alerted police about their concerns over the missing couple as early as last Tuesday, two days before Khun Warut was first arrested.

A backpack full of meth pills headed for Chiang Mai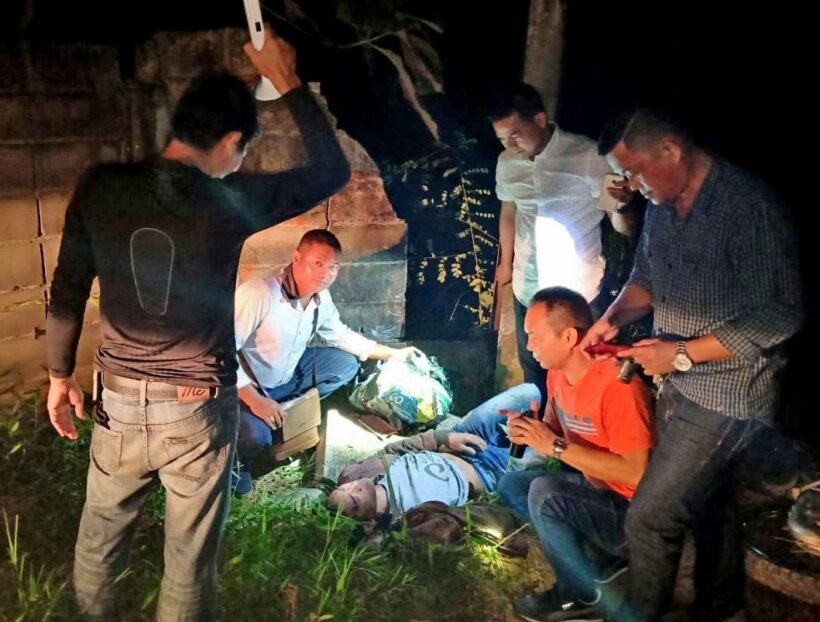 A Chiang Mai man has been arrested las night after allegedly trying to smuggle 100,000 methamphetamine pills into the city from the Myanmar border, 100 kilometres away.
Police at a checkpoint in Mae Ai district had signalled for a motorcyclist to stop but he sped off. With officers in pursuit, he lost control of his motorbike and came to grief on the roadside, tumbling off his bike.
The meth was found in his backpack.
32 year old Chana Jabu was taken to the district hospital with bruises and then arrested.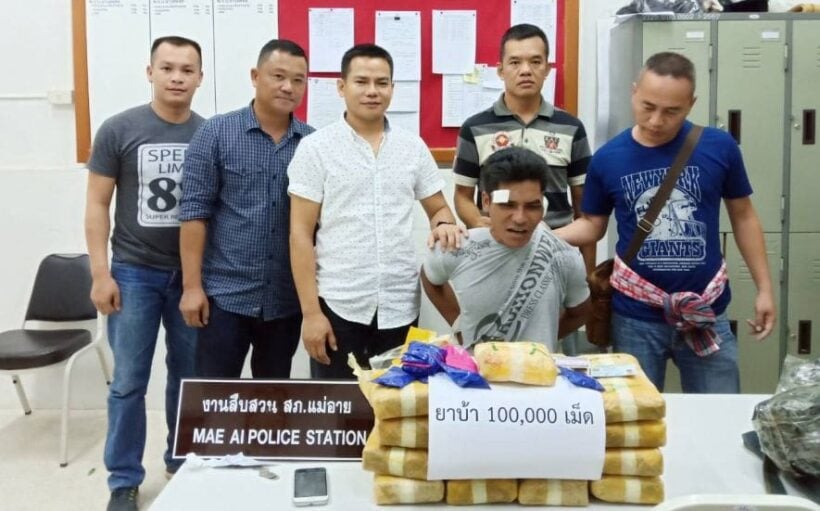 STORY: The Nation
Two motorists died in Phuket road accident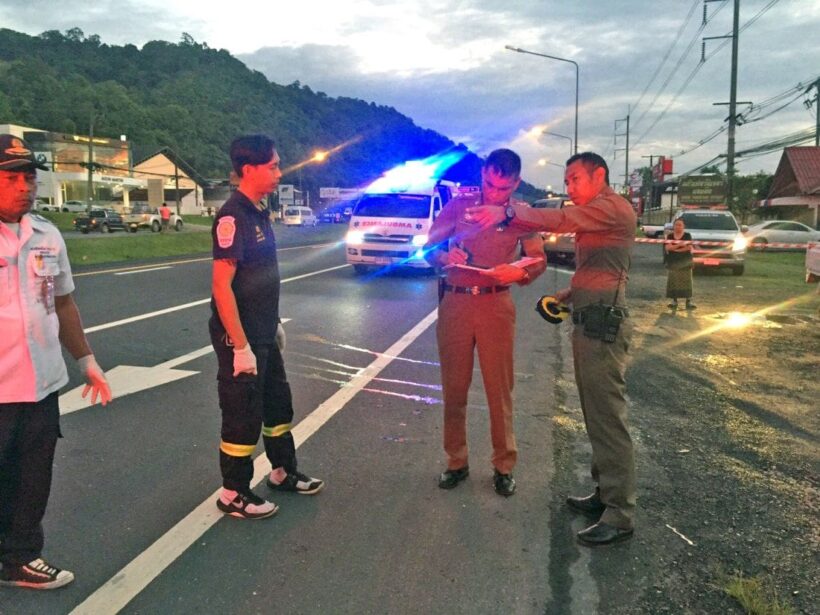 PHOTOS: CITY LAW 201 / Newshawk Phuket
Two motorists havedied in a road accident on Chalermprakiat Ror 9 Road (Bypass Road), southbound this morning.
The Phuket City Police were notified of the accident at 5.45am this morning.
Emergency responders and police arrived at the scene two find one deceased female and one deceased male.
Two identification cards were found with their personal items. The dead are 36 year old Mipha Tabe-er and 42 year old Wan Tapiaw. Both are from the Chiang Mai province.
A motorbike was found nearby. Their bodies were taken to Vachira Phuket Hospital.
At this stage police speculate that they collided with a light pole and dies instantly. Police are continuing their investigation and checking CCTV footage nearby to find the exact cause of accident.