Social media aroused. Thailand pioneers penis whitening laser service.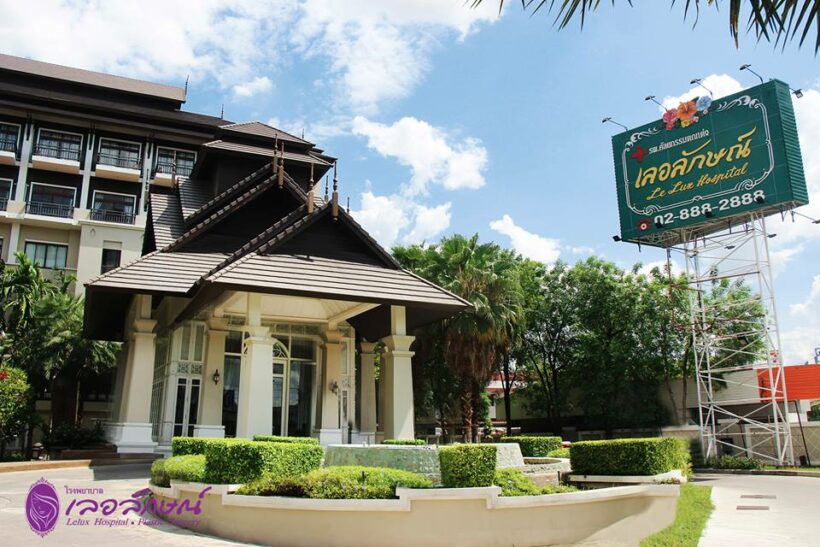 PHOTO: Lelux Hospital, usually advertising as a dental clinic, is now providing services a little lower on men's bodies
Thailand is probably the first country in the world where services are available to lighten the skin tone of male genitalia.
Health authorities, however, have expressed worry and warned people about possible adverse impacts from such treatments. "The skin of the private parts is sensitive. Such laser services may cause irritation, allergies and inflammation," Health Service Support Department deputy director-general Dr Thongchai Keeratihuttayakorn said yesterday.
He added that such services would do more harm than good. "What if your skin becomes spotted?" he asked rhetorically. Thongchai said he had never heard of such services being available in other parts of the world.
He also pledged to encourage the Food and Drug Administration (FDA) to check if equipment used in such services had already been approved. "If not, the service provider will be liable for punishment," he said.
Laser services for skin lightening are nothing new in Thailand. But a social media post about lightening male genitalia has become the talk of the town.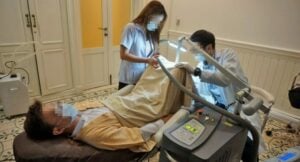 A Facebook user, who goes by the name of "Atittayapa Photiya", posted a message about the services. She described herself as working for the Lelux Hospital
"New services. Reduce pigmentation. Make penis whiter. No pain. No recuperation needed. Let's tag people who should do it," the post said.
The hospital has confirmed that the services are available and insisted that they are not dangerous. A patient who had used the service said he "loved" laser facial treatments and had been keen to try the service when he found out it was available.
"And I am impressed with the results," he said on condition of anonymity.
"I will complete the programme of five laser treatments."
Lelux Hospital's genitalia whitening services have attracted about 100 men a month and they cost around $650 for five sessions. Urologist Dr Kampanat Pornyoskrai said laser treatments on genitalia might have different results depending on each particular person.
"Usually, the male genitalia is darker than other parts of the body because of androgen," he said.
"No other medicines can change that."
He said lasers could be used to whiten faces and might work as well for genitalia for some people.
"But before you go for it, study the bad points of laser treatments first," Kampanat said.
Keep in contact with The Thaiger by following our
Facebook page
.
Never miss out on future posts by
following The Thaiger
.
Sir Sean Connery dies at 90 years of age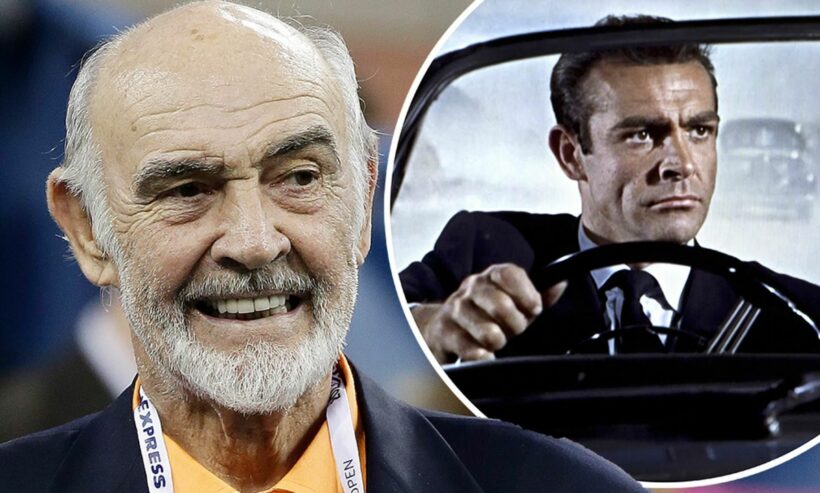 Sir Sean Connery has died at the age of 90. The Scottish actor was best known for his portrayal of British spy 007 "Bond… James Bond", doing his first Bond movie in 1962 in "Dr. No". According to his son, Jason Connery, he died peacefully in his sleep in the Bahamas.
He was knighted by the Queen at Holyrood Palace in 2000. He also received the Kennedy Centre Honour, and was knighted by Queen Elizabeth II. Scottish newspaper The Sunday Herald called him "The Greatest Living Scot" while People Magazine didn't just vote him "Sexiest Man Alive" in 1989 but "Sexiest Man of the Century" a decade later.
He was the first to bring the role of James Bond to the big screen , appearing in 7 of the Bond franchise films, and the first of 7 actors that have played the role. Sir Sean was often voted the best actor to have played 007 in the long-running franchise in many polls.
His acting career spanned 5 decades and he eventually won an Oscar in 1988 playing an Irish cop in "The Untouchables".
Sir Sean's other films included The Hunt for Red October, Highlander (a Thaiger favourite), Entrapment, Indiana Jones and the Last Crusade and The Rock.
Jason Connery said many of his family were with him and around when he died peacefully in his sleep.
"We are all working at understanding this huge event as it only happened so recently, even though my dad has been unwell for some time."
"A sad day for all who knew and loved my dad and a sad loss for all people around the world who enjoyed the wonderful gift he had as an actor."
Sir Sean was also a long-time supporter of Scottish independence, saying in interviews in the run-up to the 2014 referendum that he might return from his Bahamas home to live in Scotland if it voted to break away from the rest of the UK.
Keep in contact with The Thaiger by following our
Facebook page
.
Never miss out on future posts by
following The Thaiger
.
100+ foreigners ripped off in education visa scam on Koh Pha Ngan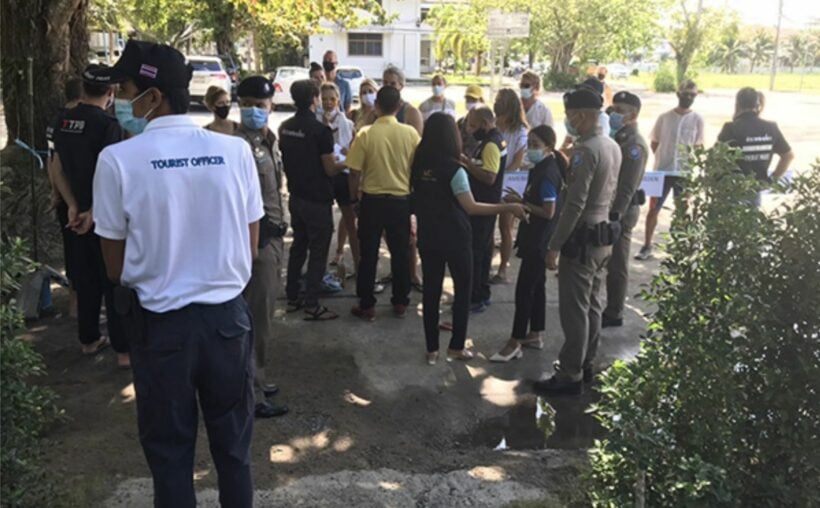 A language school in Koh Pha Ngan has ripped off more than 100 tourists claiming that they were able to issue them with a 1 year education visa.
A group of the victims have made an official report with the local police over the scam. The tourists were from the US, UK, Germany, France and Russia. Manager Online report that more than 100 people had been allegedly conned by the school in the Sri Thanu area of the island. The report explained that the people had originally heard about the school being able to get them a 1 year education visa from teachers working there.
The group have now made an official report, sending documentation to Koh Phangan district chief Poonsak Sophonpathumrak and the island's chief of police Pol Col Phisit Wisetwong and Immigration police.
They allege that they had been asked for 40,000 baht each for courses at the school on the understanding that the school would issue visas for them, changing their Non-B into an ED-Visa, as a way of extending their time in Thailand.
They told police that they had put down a 50% down payment tot eh school. Their visas were promised five weeks ago. But when no paperwork turned up they headed to the mainland Surat Thani immigration office where they were told it wasn't possible to change a Non-B into an education (ED) visa. When they confronted the school they were told there would be no refunds.
This isn't the only case of institutions and bogus visa agents taking advantage of the current confusion on visa amnesties and extensions. Immigration police are sorting through a range of similar cases.
Police assure the victims that they are investigation the case.
SOURCE: Manager | Thai Visa
Keep in contact with The Thaiger by following our
Facebook page
.
Never miss out on future posts by
following The Thaiger
.
US cuts Thailand's tariff benefits after long-running pork dispute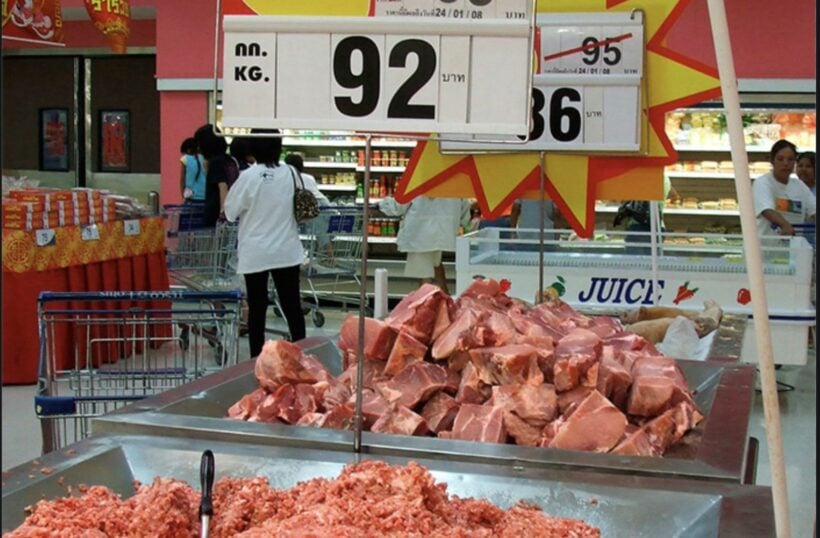 Thailand's duty-free privileges for US$817 million in exports with the US are to be revoked from the end of this year, according to US President Trump in an announcement yesterday. The President blamed a lack of progress in opening the Thai market to US pork products. Trump's letter announcing the action follows more than 2 years of threats and negotiations with Thai officials over issues ranging from access to Thailand's markets for US goods and the documented inadequate labour rights in the south east Asian nation.
Washington will now eliminate some tariff benefits for Thailand, accusing the country of failing to allow imports of pork from US producers.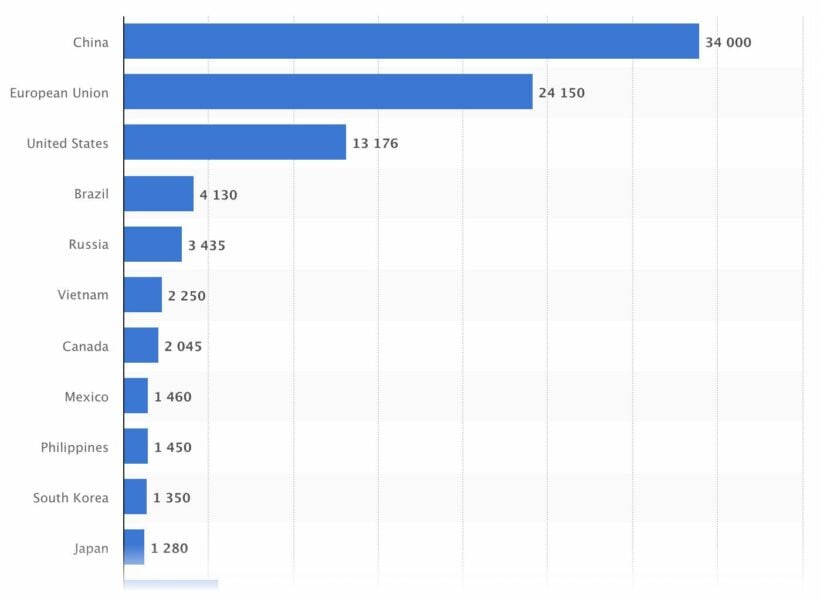 GRAPHIC: Global pork production in 2020, by country (in 1,000 metric tonnes) – statista.com
The suspension of the Generalised System of Preferences access follows a suspension earlier this year on about $1.3 billion worth imports from Thailand, which once had such privileges for about US$4.4 billion in exports to the United States.
The US Trade Representative's office said the list of products includes mango, pineapple, manicure kits, steel pipes and precious stones., auto parts, dried produce, tools, electrical products and aluminium kitchenware.
Writing to the House Speaker Nancy Pelosi, President Trump said… "I have determined that Thailand has not assured the United States that Thailand will provide equitable and reasonable access to its markets."
GSP, Generalised System of Preferences, is a 70s-era program of US trade preferences for developing economies aimed at improving workers' rights and access to broader markets.
"The US Trade Representative's office also announced that it had closed other GSP eligibility reviews with no loss of benefits for Georgia, Indonesia and Uzbekistan. It also said new GSP reviews were opened for Eritrea based on concerns about workers' rights."
SOURCE: Reuters | VOANews | statista.com
Keep in contact with The Thaiger by following our
Facebook page
.
Never miss out on future posts by
following The Thaiger
.